Why we take "well-balanced diet" seriously at home
Chicken is a staple at home. I know that there are new brands in the market, but I've always stuck to the one I grew up with and know so well – Magnolia Fresh Chicken.

I usually get free range chicken because I think that it's the better option, but I don't mind getting whole chicken either. I'm a big believer of the notion that trusted brands will not risk losing their credibility by intentionally messing up their products to fool their consumers. Magnolia's one of them trusted seals.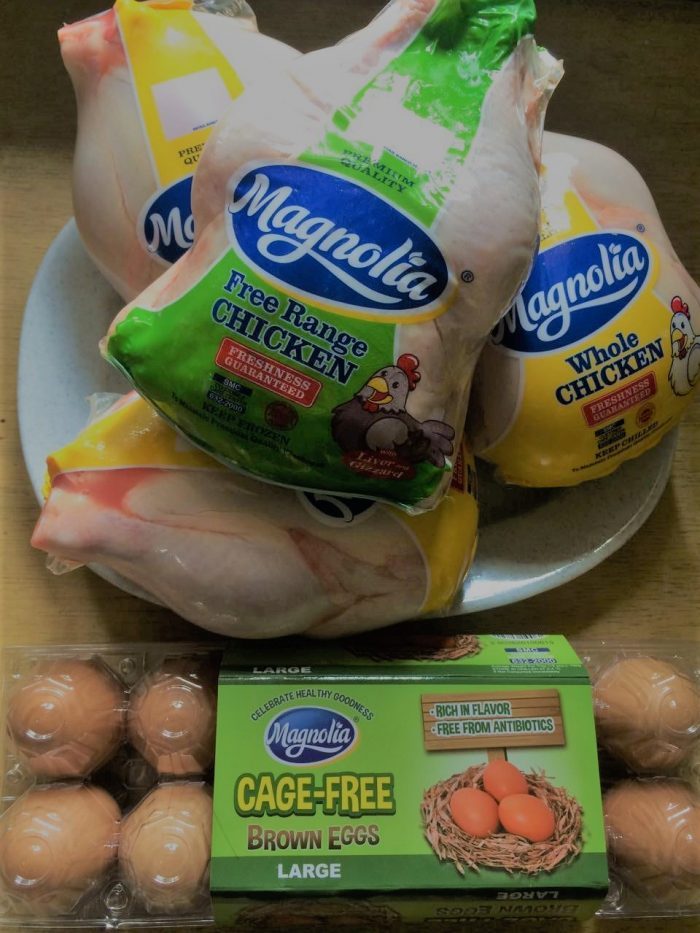 The chickens are raised in a well-controlled environment wherein heat stress is avoided.

Water is used for processing the chickens. Magnolia has a waste-water treatment facility at their dressing plants.

Chickens are raised in a clean facility with a lot of space for them to access to food and water.
Magnolia's tagline, Magsiguro, Magnolia. Sigurado ka dito, rings true to me.

How we love our chicken:
Here at home, we bake, roast, fry, stir-fry or use chicken in broths and soups, like Tinola!

If baked, I usually add broccoli, potatoes, beets, and carrots to go with it. If fried, I usually serve it with munggo or chopsuey.

Stir-fries are great because you cook the vegetables in them.

My kids are big rice eaters but we teach them to eat more meat, fruits and vegetables and slow down on the carbs. I explain to my kids that an unhealthy eating lifestyle as a child can cause so many health problems for them when they're adults. So the best time to start eating right is when they're young.
Miseducation on food
I used to be miseducated about food and diet. I used to think that vegetables are the healthiest food in the planet and that as long as my kids are consuming as much as they can with it, they have better chances at living healthier lives – even without meat.

I also used to think that hotdogs, crackers, biscuits, donuts and even cake are good breakfast options!

In the past few years, I've learned more about nutrition and what it really means to serve your children a well-balanced diet. But not without suffering the repercussions of being so diet-ignorant.

The visit to the pedia
It was a visit to our children's pediatrician that made us realize that we needed to feed our kids better. When she checked our kids, she told me that they are all underweight and undernourished which came as a shock.
We thought that although we ran a tight budget on our food, we still fed them well and right because we served them a lot of vegetables and they ate a lot of rice. We didn't realize that serving them less meat would cause problems in their growth and development!

And that, in fact, it could be that they are shorter than many of their peers because they don't consume as much meat as they should.
Our pediatrician advised us to increase our kids' protein intake. Aside from milk, we needed to give them more meat, like chicken, fish and beef.

That's actually the reason why decided to take on a regular job online. It was because we needed to raise our budget to be able to provide better meals to our children.

For a mother, it was quite traumatic to find out that even though I have tried my best, my best was not good enough.

I started reading up on well-balanced diets and learned so much more about healthy eating. I would also ask my good friend, Chef Len Santos, from time to time, about how to prepare good, nutritious meals to my children.

I learned from her about "real food" and how to serve tasty "real food" to my kids. She's my God-sent!
I know some parents would say that you can find proteins from other sources, and that's true, but it can be too much unnecessary work and I really  have no problem getting the protein from meat products as long as they are within quality standards.

I think that my children are happier, brighter, stronger, more energetic than before. I'm so glad wisdom caught up with me on time!