We booked our room at Albergo di Ferroca a.k.a. Albergo hotel via Agoda.com.
We availed of the book now, pay later scheme which was great because it allows you to reserve your room for a week or so until you have the funds to pay for it.
The deadline for our reservation was December 26. That was when the site claimed our payment online. We were so anxious about confirming our reservation that we called the hotel itself when our payment was taking too long to get through. We were quickly assured that the reservation had been made but that we'll have to wait until the deadline for the site to take our money.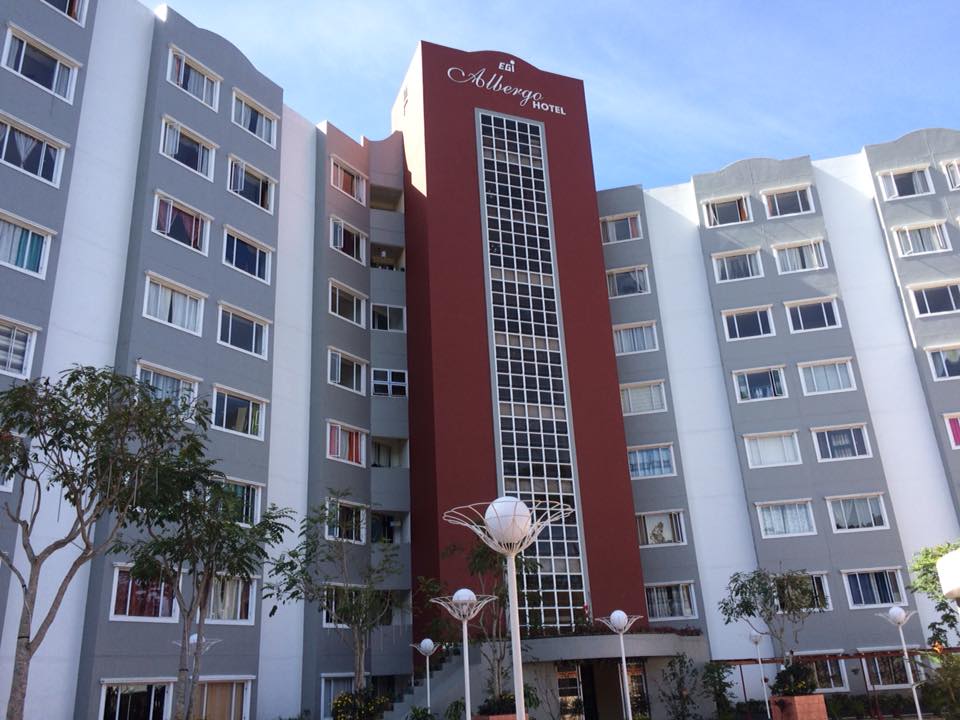 Coffee on the balcony
I was going to book an AirBnB unit at first but couldn't find anything we like within our budget. Besides, I had a friend who recently booked a unit in Baguio but was forced to move into a hotel when she saw that the unit was infested by cockroaches.
My requirements were simple — large windows and a balcony to sip coffee at in the evening. I mean, what a waste of a stay at the city of pines if you won't get to have coffee overlooking whatever, right?
I also like hotels, to be honest, because of the convenience and safety they usually bring. The only reason I consider staying anywhere else is budget. If I have all the money in the world, I would stay at hotels all the time.
Blocked booking
Anyway, the room we booked was a De Luxe room, with two twin beds. According to the receptionist, the regular cost of our room is Php 3,500 a night, while bigger rooms would cost you a thousand or two higher.
We got ours at Php 3, 327.50 a night instead because of the discount Agoda offers. I learned later on that you get an even bigger discount if you book using their phone app.
The room is actually intended for two guests, but you're allowed to bring 2-3 small children and don't need to pay an additional fee if you don't request for an extra mattress. We don't need an extra mattress since Judah insists on sleeping on our bed nowadays anyway, so no need to spend more than the actual cost of the room.
We booked for 3 nights, 4 days (December 29 to January 1).
When we arrived, they assigned to us a room facing the back. I was so disappointed with the view when I peeked out the window. It was a good thing that the room wasn't ready yet, we came earlier than our check-in time, they transferred us to one facing the road.
It's not the view one would hope for when in Baguio, but it beats the view of the first room, hands down. You can see the courtyard below and if you look across the road and far, you still get to see the skies and the trees. That's good enough for me.
I was trying to book for one more night via the same app, but was denied. We were informed by the receptionist that they already blocked it and that we can only book directly with them for the regular cost of the room.
We would have taken it except that they also informed us that if we book for one more night, they'll have to move us to another room because our room was already booked.
That's when we just decided to just book a room at a less classy hotel that costs so much less. A night at a shabbier hotel with just the same quality of service wouldn't hurt.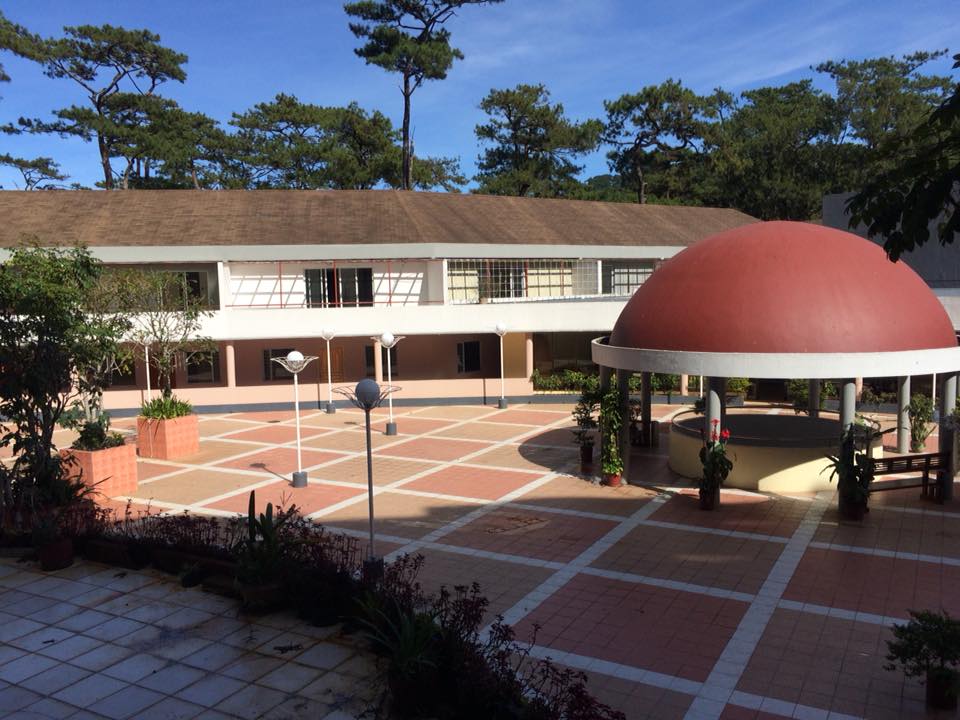 Service and Amenities
What you'll get from Albergo, in our experience, is a clean room, comfortable twin beds, cable TV, water heater, and a handful of warm staff who, in my opinion, are doing their best in making the most out of what they're given to provide the best service for their guests.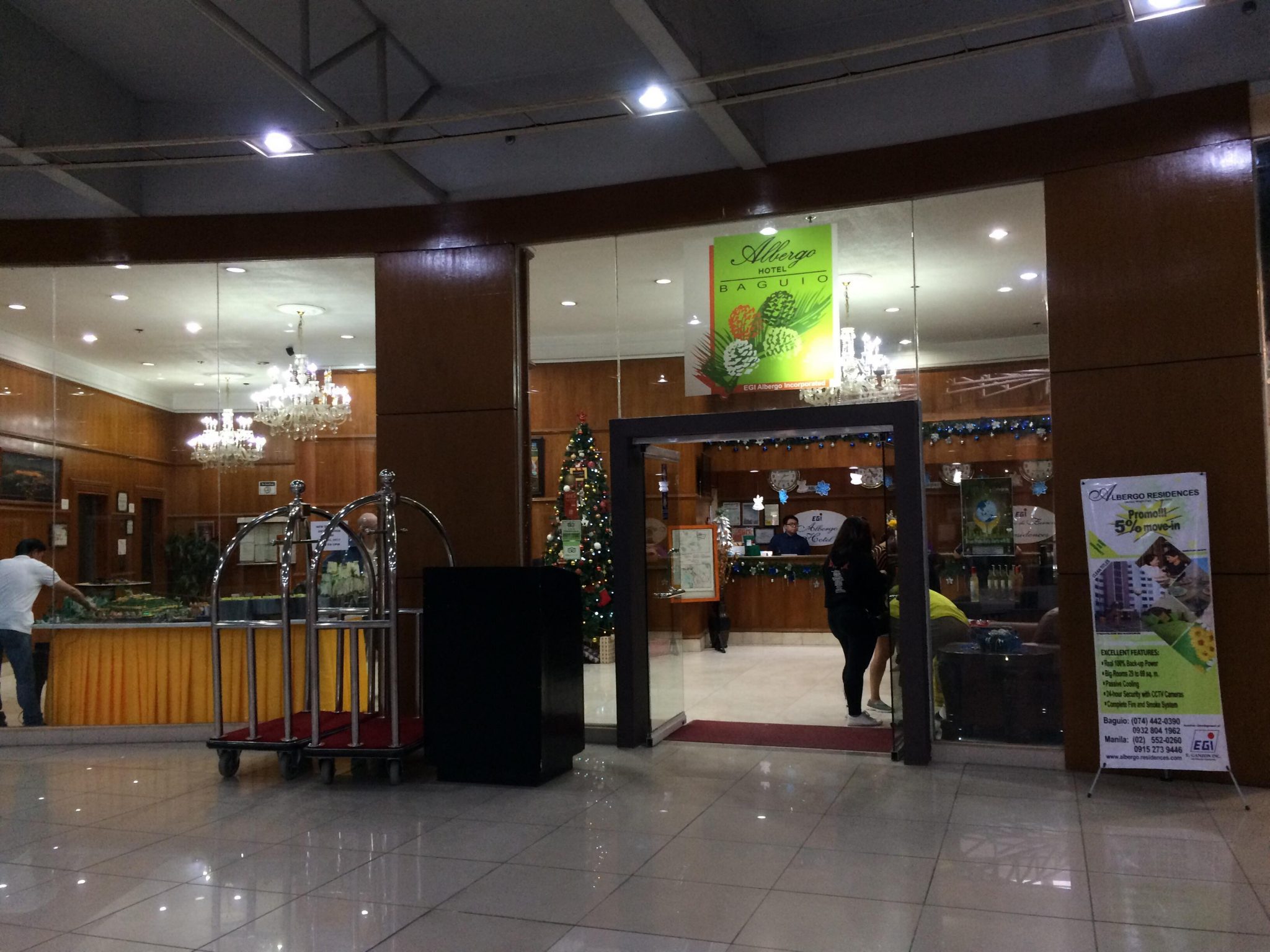 Complimentary breakfast
It's funny how the kitchen staff refused to lend us a tray on our first complimentary breakfast because they may "run out of trays to use to serve their function room guests."
They couldn't deliver our breakfast that day and Jay had to fetch it and bring them up to our room. He had to go back to get our coffee, too. So you imagine doing that without a tray, haha!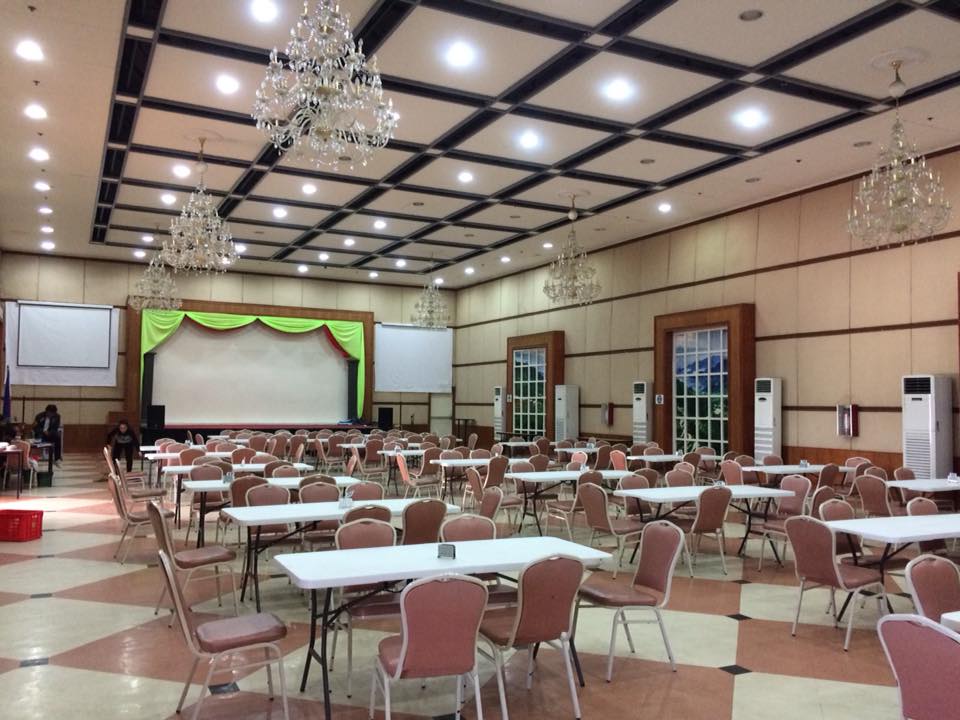 We could have eaten our lunch downstairs but we didn't want to leave the kids. Judah might wake up and will try to look for us. Or worse, open the windows and stick his body out. Our room was on the 9th floor.
It was slightly better on our second morning. They delivered our breakfast meals for a fee of Php 15.00 per meal. I thought it was strange to charge food delivery to hotel guests, but we agreed anyway so Jay wouldn't have to go down to the second floor to fetch our food again.
The staff that brought our food to our room was nice and greeted us a happy new year.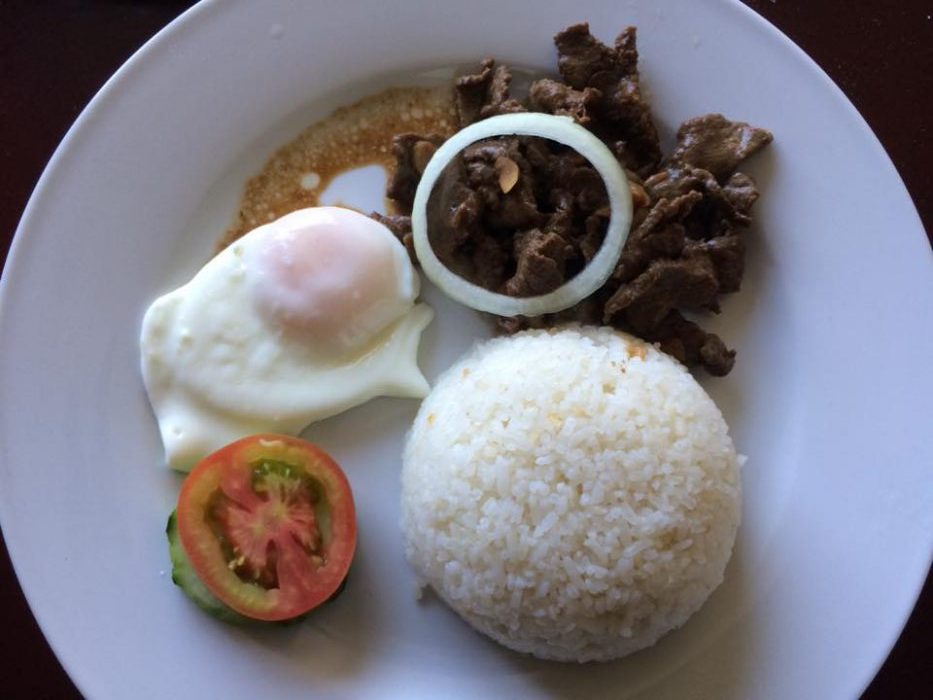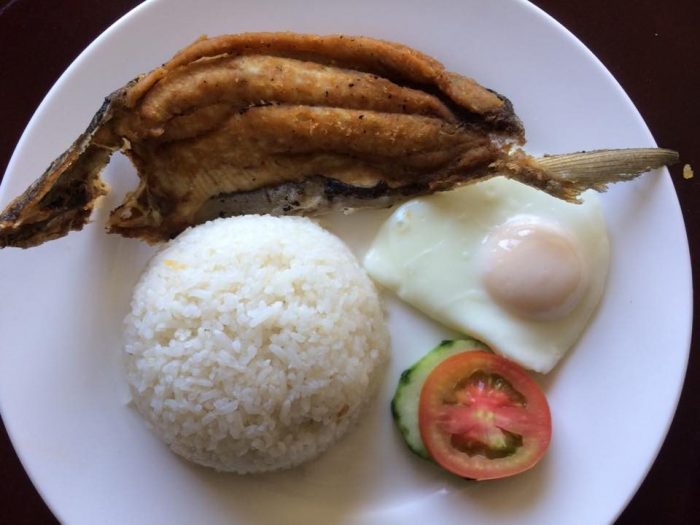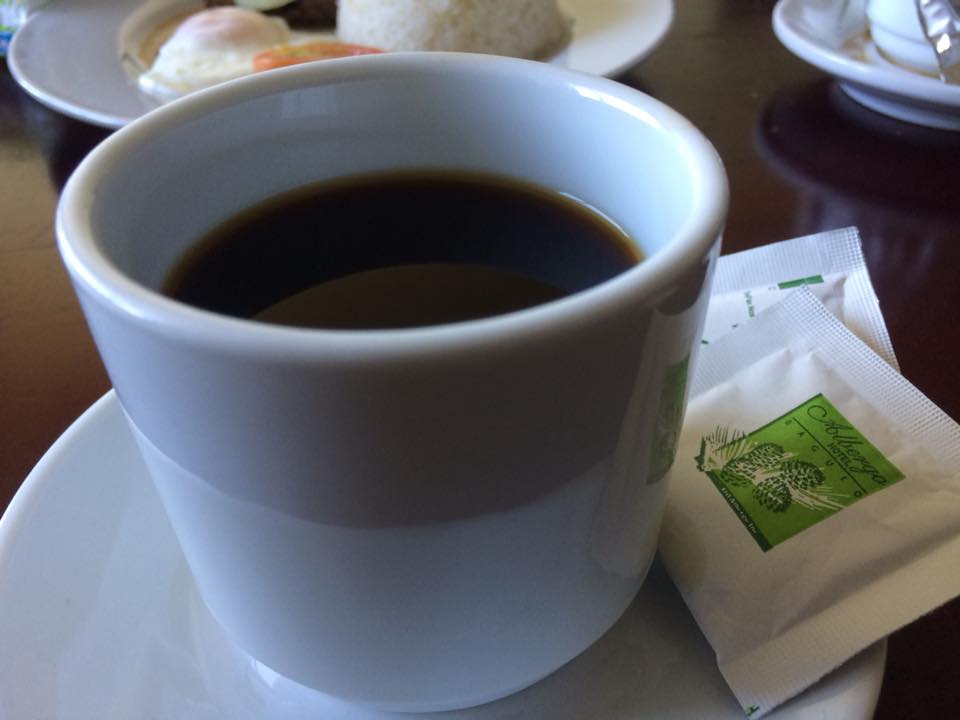 Our breakfasts were delicious, by the way. We got to try Tapa, Daing, Daing na Bangus, and my favorite, longganisa, which I ordered on two consecutive mornings.
Since we're out the whole day and just come back after dinner, we just leave our used dishes and our trash outside our door for the staff to pick up.
Speaking of food, you're allowed to bring as much as you want in your room but there's no refrigerator to stock them in.
There are two small complimentary water bottles and coffee cups with sachets of instant coffee and cream beside them. We have to get hot water at the dispenser at the end of the hall, but that wasn't always available for us when we checked.
There's a handful of restaurants and convenience stores at the ground floor. There's Amare la Cuncina, Roadhouse Barn, and Bato-bato Korean restaurants. Volante pizza is just a few steps to your left, right across Wright Park, and a Shakey's branch next to it. They usually close much later than the cafeteria.
The cafeteria is open until 8 PM only, if you want to order food. We found it a bit too expensive for the quality, so we just ate out for dinners in the following days before going back to the hotel.
We also found a couple of coffee shops – Coffee and Pine and Cafe Adriana at Outlook Ridge, with spectacular view nearby.
Beds and baths
I'm glad they have water heater because the water would be freezing if there wasn't any. I know because I've experienced Bagiuo's icy tap several times growing up. I wasn't up to doing that for four days!
Another guest review says that they didn't get any toiletries. We asked Albergo about it and if they provide towels when we called and they said yes. We brought our own soap, shampoo and toothbrushes anyway.
True enough, they provided them, but the tissue rack was empty. We bought our own tissue and didn't bother to ask the staff about it anymore.
We also had to ask for additional pillows upon arrival because there was only one pillow for each bed. The staff said there are two more complimentary pillows (upon request) and he brought them to us.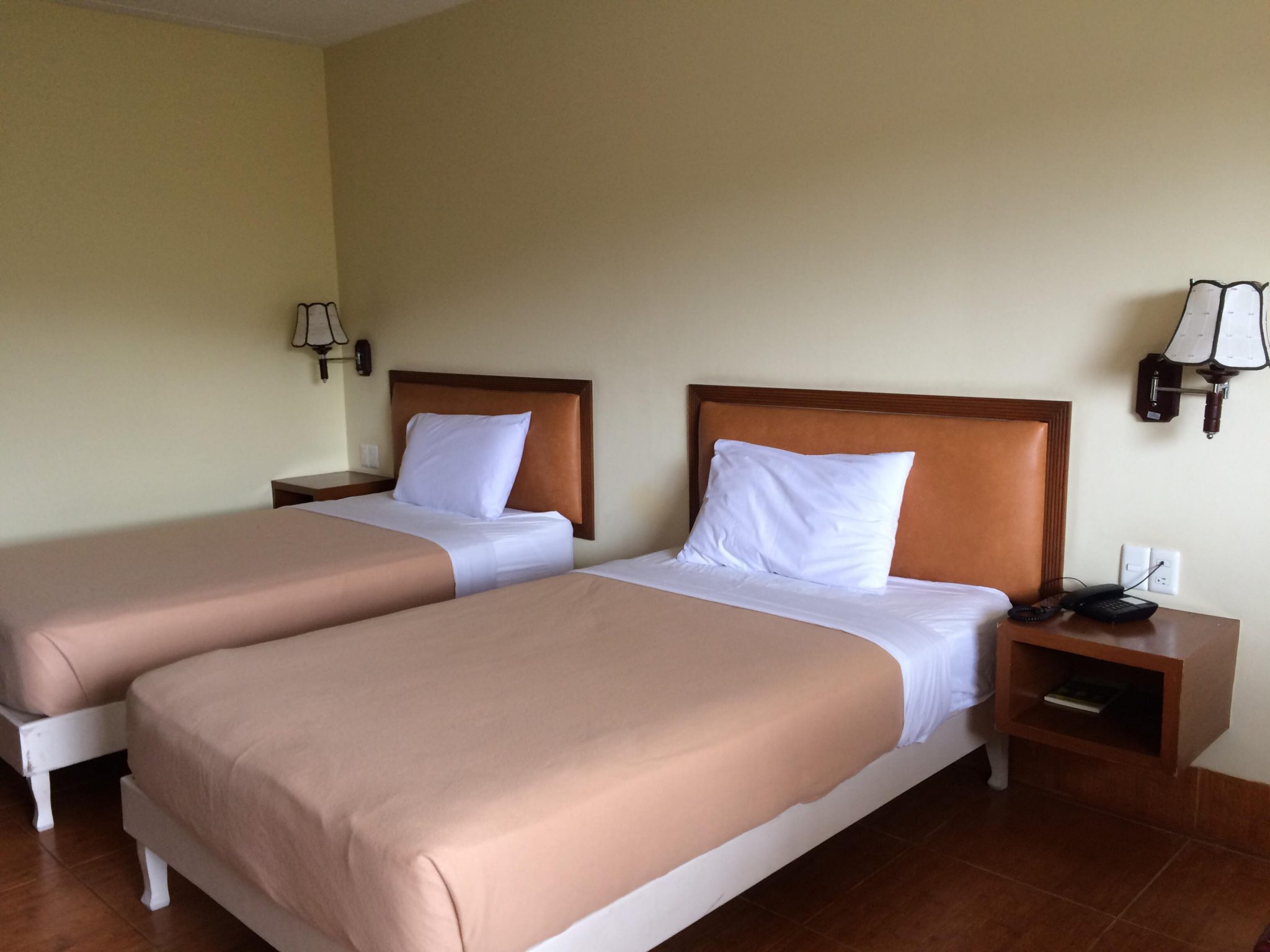 Wifi, lights and locks
There's no wifi in the rooms.
Wifi is available in the lobby of the ground floor and the 8th floor. All hotel guests are provided the password in case we need to access it.
Someone posted a review online complaining about the lights that malfunctioned and how she got trapped in the bathroom during her stay, so I was a little uneasy about the locks. We did not encounter any problem with the bathroom locks, although we instructed the kids not to lock the door whenever they use it, just to be on the safe side.
The light by the doorway flickered on our first evening, but when one of the staff came to check it out, it worked and didn't cause any more problems for us since.
There is no air conditioning unit. Most hotels in Baguio don't install Air Conditioning units because the weather is generally cool.
Convenient location
What I love about Albergo hotel is the location. It's not in the city proper so you get peace and quiet in the evenings. We were out most hours of the days we were there, from about 8 AM,  but would go back around 7 or 8 PM and stayed in the evenings.
Wright Park, where we rode horses, is just across the street on the left and passing through it will get you to the Mansion. Minesview Park is a bit of a walk from the Mansion but very doable.
It's also along the way to Camp John Hay where I was told your kids can do activities at on Christmas season, and Baguio Country Club, where the Christmas Galaxy is located.
Sadly, I didn't get my coffee evenings at the balcony because our room didn't have one. I got those from the coffee shops.
Our stay was far from perfect, if I am to be honest. For the price, even with the discount, I expected a bit more from the service, but the problems we encountered weren't too big to get stressed over. And we're a low-maintenance family, so we can let the little things pass.
After all, we made good memories in Albergo as a family, and for me, that counts.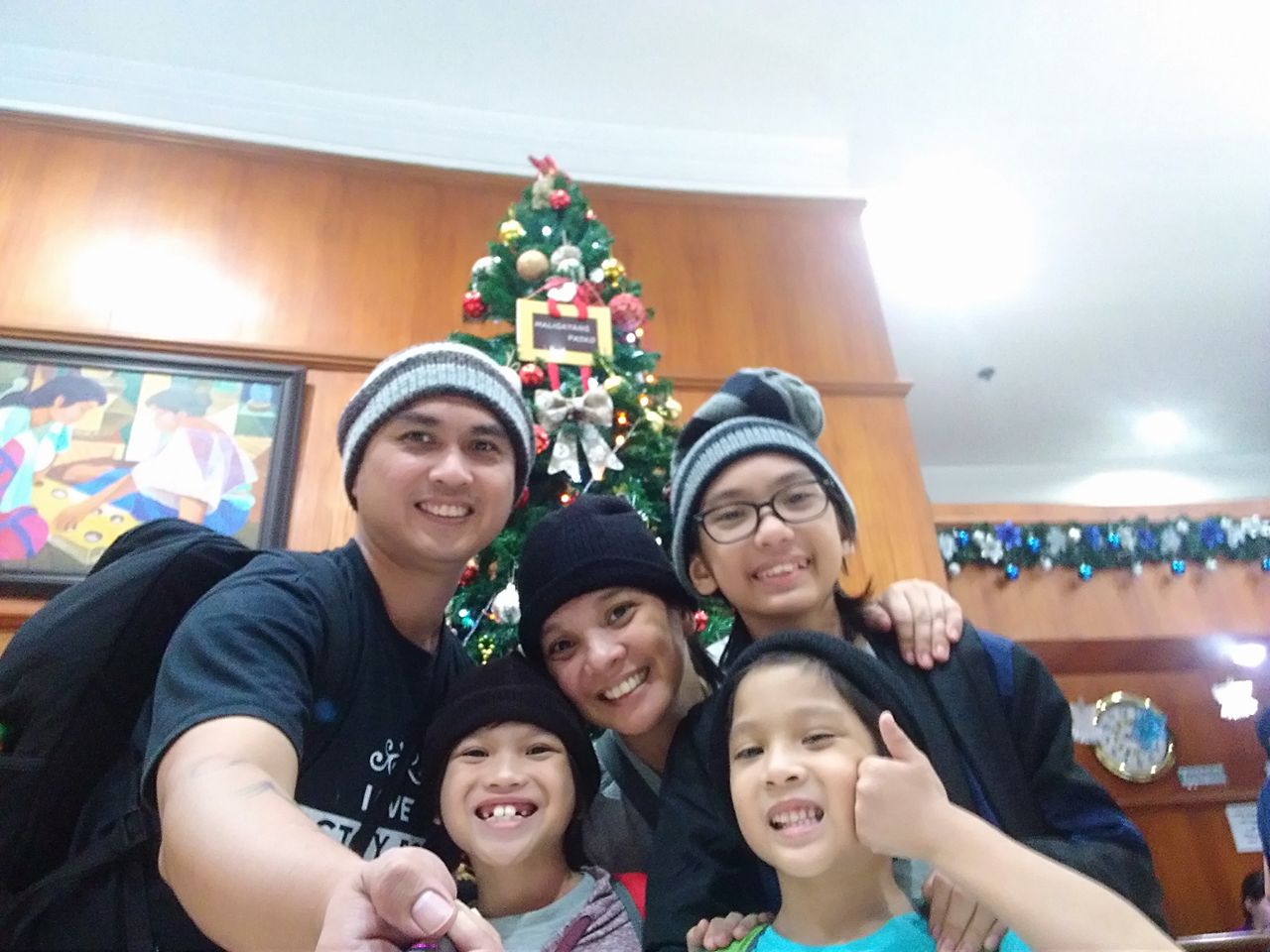 Albergo hotel is located along Villamor Drive,  Barangay Lualhati, Bagiuo, Benguet. For more details, you can contact them at the following:
Albergo Hotel
Website: http://www.albergohotelbaguio.com/
Facebook: https://www.facebook.com/albergohotel/