I've seen photos of The Christmas Galaxy at Baguio Country Club a couple of years ago and thought right away to bring the kids to see it when we get the chance. It made Baguio more enticing to run off to with your kids on Christmas, which has been one of the things Jay and I have been dreaming of since we got married.
But of course we cannot leave on Christmas eve because it's when we usually have dinner with my side of the family. It's a tradition. Plus, it has been a request that my parents made to me and my siblings that no matter how busy our lives get, we would always come together on Christmas eve.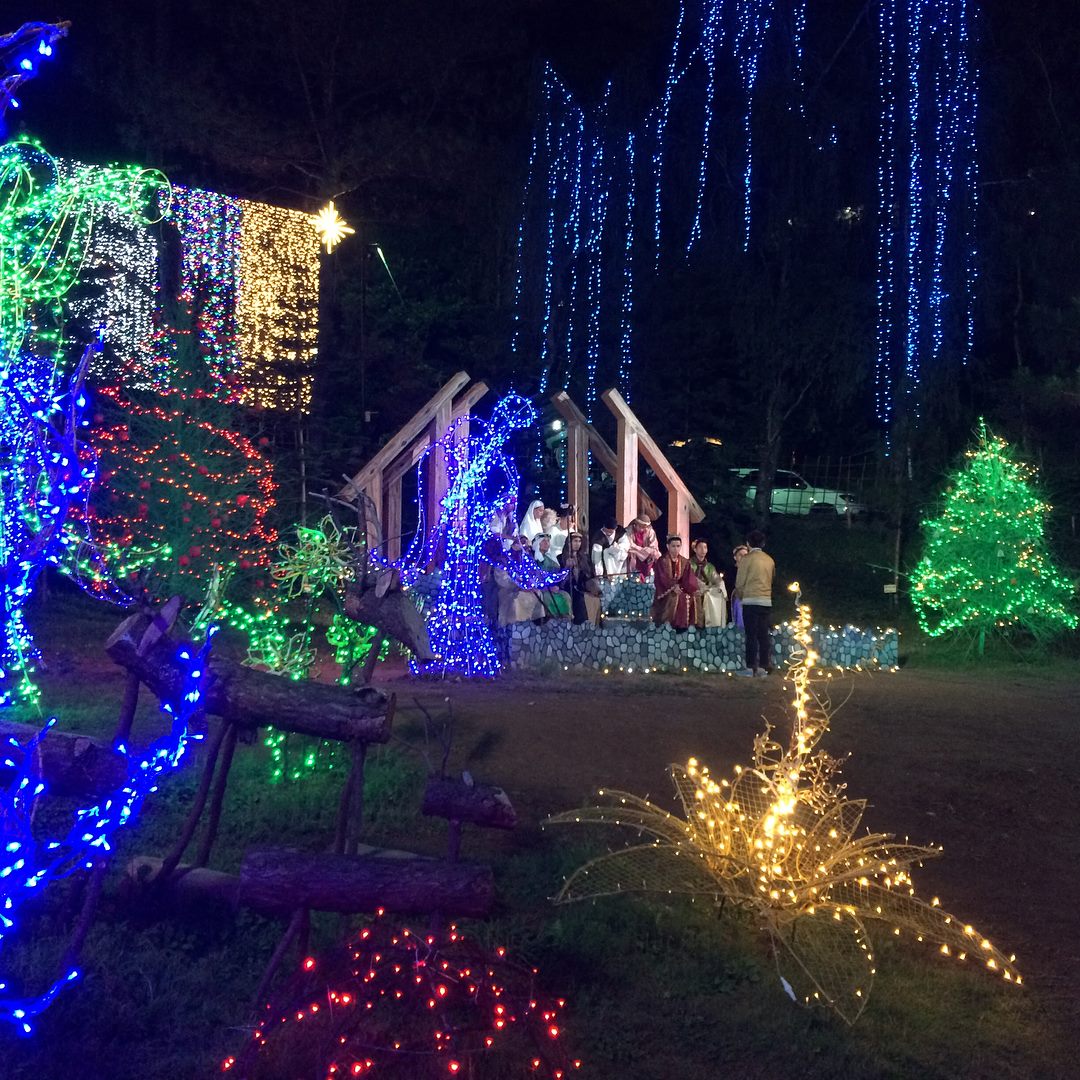 Too early for the lights
Anyway, we came a little early. I think we were there at 5:30 PM, but there was a long line of people waiting to go in already. We went on our first evening in Baguio.
The entrance rate for kids is only Php 50 and Php 120 for adults. In my observation, that's the standard rate for most tourist spots in Baguio.
I'm not good with measurements but it was quite small, you can walk around it in less than 5 minutes, unless you plan to take photos with every single standee or booth. That, then, will take you about 15 minutes or so depending on your skills in maneuvering your camera.
It looks ordinary, with a few stand-out booths, but the lights would give the place a much better look once they are turned on at 7 PM.
We learned that there were to be performers, so we decided to wait and just enjoy the candies and the steamed corn they were selling at the place.
Other activities they've listed in the program include having your photo taken with Santa and the snow.
The show and the snow
The show turned out to be a narration of the birth of Jesus. The staff placed ropes to keep the crowd from blocking the pathway from the entrance to the other end of the village where the nativity was.
The kids had a bit of a hard time seeing the whole presentation because there were adults blocking their view which annoyed me a little.
We had to carry our two younger kids so they could see what was happening, but later on, I pushed judah forward to the very front of the crowd because that's where he should be. The adults didn't complain, after all, they could still see the show. They were actually inviting him to go in front, so that sort of eased my irritation.
After the short presentation, the towers started to bubble up and squirt tiny soap suds in the air, creating "snow" effect. We were warned to bring extra shirts, so we knew to stay away from it as soon as they started falling, to avoid getting ourselves wet in the chilly night.
It would have been fun for the kids to play under it but they're all nursing colds and cough, it wouldn't be a good idea to get them soaked in the cold weather.
I'm not sure if they had other shows in line, but we felt that we waited long enough and the kids were begging to go back to our room, so we headed towards the exit right after the "snow" and left for our hotel.
I did see that there were people asking to take photos with a girl in a Santa outfit.  I peeked as we were making our way at the side towards the main road where we can get a taxi. I'm not sure if she's the "Santa" for the guest photo ops and I had no way of confirming it because we were already outside and the place is crowded.
Here are some of the photos we took at The Christmas Galaxy:
Things we like about it
1. Judah and Lukas like the place. Mostly because they like buying candies at the "Candy store" which was the first thing that caught their eye when we lined up to get in. Judah also said something about wanting to see the show again, so it must have made that good impression on him.
2. The snow effect is creative. I saw some of the kids enjoy playing with the suds. It's not for me, but if it makes kids that happy, it must be good.
3. Low entrance fee.
4. It's easy to get a cab. Unlike other places we've been to, you can get to Baguio Country club in a taxi and there are a lot of taxis dropping off passengers, so you can easily take one if you want to leave.
Things we didn't like
1. It was too small to be considered a theme park. You don't want to come early because you can be in and out in 30 minutes, show, snow and selfie-taking included.
2. Nothing much to do but take photos. There weren't even many benches to sit at. It was clearly set up for photo-ops and selfies.
3. Some of the actors seemed embarrassed.
4. The snow was creative, but could have been better. The kids love the soap suds, but it's a little meh for adults like us.
Recommendations:
It's not unlike the other lighted set-ups you will find in Manila where you can have photos taken for free, like in BGC. The Christmas setups in SM malls are much more extravagant.
However, if you have young kids like ours, you can take them there. They will still be excited about the colorful lights and decorations.  The place does have this Christmas-y spirit and vibe that makes it a memorable experience, especially for the toddlers.
Or maybe they just want to eat all the candies.
The Christmas Galaxy is located at Baguio Country Club, Country Club road, Camp John Hay. It is usually open to the public in Christmas season (late October to early January).