I promised the kids that I will teach them to cook more this school year. We started our home school year in January and home cooking would be a great life skill to teach them.
Besides, they love helping me out in the kitchen. They don't mind chopping veggies and would beg me sometimes to let them put the ingredients into the pot, so why not take advantage of their interest in the kitchen, right?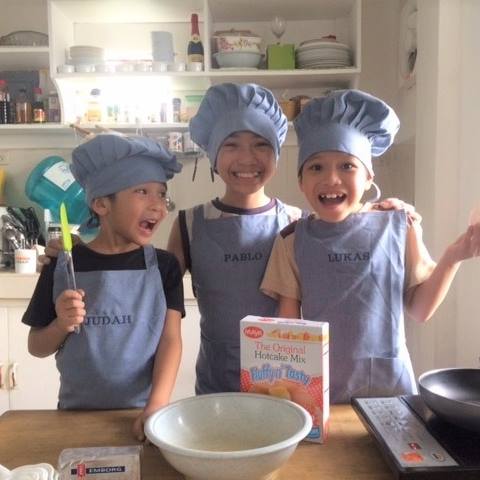 So I started teaching them basic Filipino dishes, like Sinigang (Tamarind soup), Chicken Adobo, Tinolang Manok (Boiled Chicken in ginger soup) and some of their other favorites, like Chicken A la Chy, a chicken dish cooked with cream and mushrooms, that I learned from their Ninang Chy.
Classy Clean Up
Now let me be honest, it's not an easy task to teach the three of them together, and not because it gets messy, but because they're too eager to take their turn.
With regards to the mess, one of my cooking mentors told me that it's both classy and admirable that you clean as you go. So I am trying to pass that on to my kids and the two older ones seem to have picked up the habit fast.
Anyway, I was so amazed watching them cook, so I thought about giving them the YouTube channel they've been asking for.
Well, they wanted a gaming channel, but I don't think it's a good idea to allow them that. But a cooking channel that features them sounds great.
More Life Skills to learn!
They can practice so many skills doing their channel. They can practice their speaking skills, hosting skills, learn some production points along the way, and of course, their cooking skills. Eventually, I hope they will also learn to do video editing, online entrepreneurship and the marketing side of things.
Home Cooking with the Tornadoes is basically for our two youngest boys, Lukas and Judah; although Pablo is welcome to introduce the ingredients or be featured in an episode or two.
Pablo already runs his own channel, All Things Pablo, where he creates animations and meet other YT animators from around the world.
When he started out on uploading his animations, his dad was still helping him with the editing all that and I was helping him with the basic SEO stuff.
But he's long taken over everything about his channel – including the editing and the SEO stuff, and has successfully hooked up with other Five Nights at Freddy's animators from Indonesia, US, and other parts of the world, through a forum he was invited to.
He's a minor, so we do check up on the forum consistently to make sure all's clean. So far, it's mostly geek stuff in there, haha!
Home Cooking with the Tornadoes Episodes
So far, we've shot 4 episodes.
Episode 1 was cooking Pancakes, which turned out to be hilarious. They are obviously NOT pancake-making experts, haha!
We had Pablo join Lukas and Judah in this episode.
Episode 2 was Lukas taking on the Lead Chef's role in cooking Chicken A la Chy. He did an amazing job, but the weather wasn't great, and because we only use a phone camera to shoot these episodes, the focus was going haywire.
However, in 3:24, lighting struck and the Tornadoes were caught offguard, haha! Their reactions were caught on cam and it was priceless!
Episode 3 had the Tornadoes baking Red Velvet Cake using Maya's Red Decadent Cake mix. They were successful in this one, and the cupcakes they baked were yummy!
Their latest, Episode 4, is their take on the CheezWhiz Cheeseventions Challenge. They made Toasted CheezWhiz Rolls. We've submitted their entry, which is actually just a photo of their creation, but I really wanted to capture them making it. So here goes:
It's been a lot of fun shooting the vids and planning the dishes. I usually teach the dish on another day and then let them do it when we shoot, so it's basically as raw and their reactions as authentic as as they come.
Just to be clear, we are not presenting them to be kitchen experts here. Just kids learning how to cook and hopefully, providing great, informational and sometimes, funny entertainment to those who view them.
Here's where I invite you to subscribe to their channel and follow their Facebook page. We hope to see you there! And if you have any suggestions or dish suggestions, feel free to email us at [email protected] We would love to hear from you!