Review: Kids Plus+
My kids don't seem to have allergies, nor are they sensitive to any kiddie brand product (so far!), so it makes me more open to checking out new bath products designed for kids especially when they seem to hold so much promise.
For example, Kids Plus+.
I was really curious to try Kids Plus + out because, first of all, these are products manufactured by the famous Tupperware brand. I'm sure you've heard of Tupperware, right? And Tupperware has been a trusted brand for years, so I don't think the company would introduce products that would taint their well-preserved reputation. So I was pretty sure the bath products will live up to expectations somehow.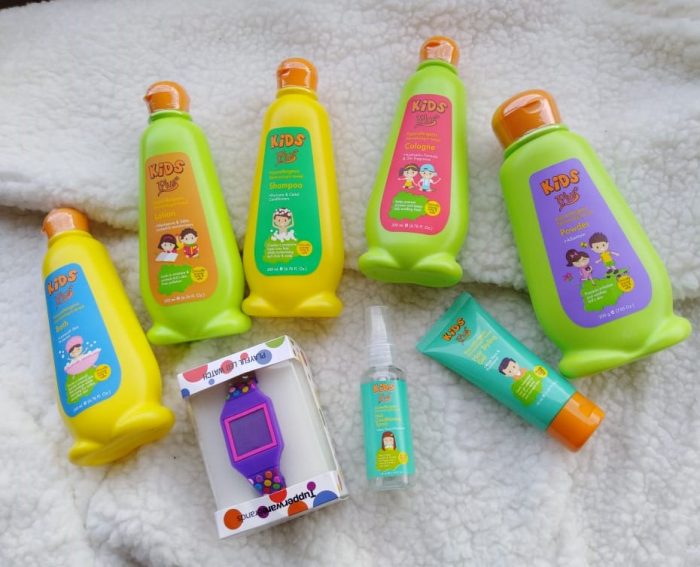 Also, I heard that it's specifically designed to serve as protection for kids between 3 to 11. I have two boys ages 7 and 9, so it's for them!
I have a favorite brand but it's made for babies. But let's face it, my kiddos aren't babies anymore. Heck! They don't even smell like one. But it's not just about how they smell, I would love my kids to grow up smelling fresh all day and all night ,but this is more on hygiene.  Kids above 3 years have needs that are not met by products created for infants. And I thought that perhaps, Kids Plus + would better serve that purpose.
So, this week, we tried the Kids Plus+ line – from liquid bath soap, shampoo, powder and cologne, to lotion and hair styling gel and hair conditioning spray.
All these products are hypoallergenic and dermatologist-tested, and they all have the same fun and fruity smell, which I like; but each one has been formulated differently, as well.
Kids Plus+ Styling gel and Hair Conditioning spray
Kids Plus+ hair styling gel and conditioner has Aloe Vera and Penthenol. We all know that Aloe Vera aids in the hair's growth, but Panthenol repairs the damages from external causes.
I guess I like these products because they're safe to use. I can leave my kids to work it on their hair and I won't get too worried about it being toxic.
I also like that it's easy to wash off. Unlike other gel products that gets sticky and takes a lot of soaping to get off your hands and hair.
If you like sleek, clean looking hair styles, this is good. But definitely not something that can make longer hair go up in spikes. The more you put on your hair, the more it will weigh it down.
Kids Plus+ Powder
Kids Plus+ Powder has Allantoin which is probably what gives it it's soft, moisturizing effect. I'm not much into lotions because of our weather, but powder, I like. I like that it is easily absorbed by the skin, leaving it with a soft, fresh scent.
Kids Plus+ Lotion
While I'm not fond of lotions for myself, I have enjoyed putting it on my children.
My 9-year old read the bottle and told me that the label says it protects the skin from pollution, and I think that it's a good reminder to do something about protecting our kids' skin. I wonder, though, if it can also protect against the harmful effects of the sun even without SPF.
I was once told that if a product has too many ingredients with names you can't even pronounce, it may not be wise to use. I checked the back, and although this one has quite a lot of ingredients, I can pronounce them, haha! I can't say I know all of them, but yeah, they're not tongue twisters. So I think it's pretty safe.
Kids Plus+ Cologne
I like putting cologne on my kids because I want them to smell fresh all the time. The powder helps me achieve that, and like I said above, I love it. But the cologne is great, too.
The label says the scent of this one lasts 3 hours, while most colognes can last you only minutes, especially if you have an active child.
Kid Plus+ Shampoo
Kids Plus+ Shampoo has Puricare and Cetiol conditioners.
I can't say I understand exactly what Cetiol is, but according to Google, it is skin-friendly. So I would assume that this one is safe for kids' skins and scalp.
Puricare, on the other hand, serves as a protective layer over hair strands, to fight off the effects of pollution.
What I noticed about the shampoo is that it lives up to his promise to leave the kids' hair soft. My kids' hair responded well to it. And it isn't hard to wash off.
Which is what I can't say for Kids' Plus+ Bath. I only mean the washing off. It wasn't easy to wash off my kids.
The label says the Bath has Lamesoft Skin Protector, which I would assume is meant to protect your kids' skins and leave it soft and smooth.
I like its effect on my kids' skin, to be honest.
Just for fun, I commissioned my Lukas and Judah to do a  Kids Plus+ Vlog on their YT channel:
Aren't they a riot?
Final verdict:
All in all, I think that Kids Plus+ products are worth looking into. I don't see any "ingredient" that is potentially toxic to the kids. In fact, the ingredients highlighted for each product are beneficial for the kids, such as extra layers of protection added from pollutants and all that.
Plus the scent! The scent it leaves their skin is lovely. I love it when my kids smell fresh and clean and good.
It's also important to note that the products expire three years after opening. I'm not sure how long other products expire, but I think that the information helps us in determining if a Kids Plus+ item on your shelves is still good and safe for the kids to use.
To know more about Kids Plus+ products, please visit the following links:
Tupperware Brands
Website: Tupperware Brands
Facebook: tupperwarebrandsph
Instagram: tupperwarebrandsph
Twitter: TupperwareBrandsPh