How to Open a Fun Savers Club Account at Metrobank
I sent my 9-year old off to Metrobank to open a Fun Savers Club bank account last July 17. He was accompanied by his dad. He recently bagged a project as a voice talent for an insurance ad, and I thought it was only right that the check be in his name and deposited in his own bank account – just like his 12-year old brother, Pablo, when he played roles in a couple of musicals.
We chose Metrobank simply because Pablo's receivables were in Metrobank checks, and because they accept checks under the child's name.
We originally opened a bank account for him at Banco De Oro but found Metrobank more convenient, so we transferred his savings.
(READ: The Working Child and his Savings Account)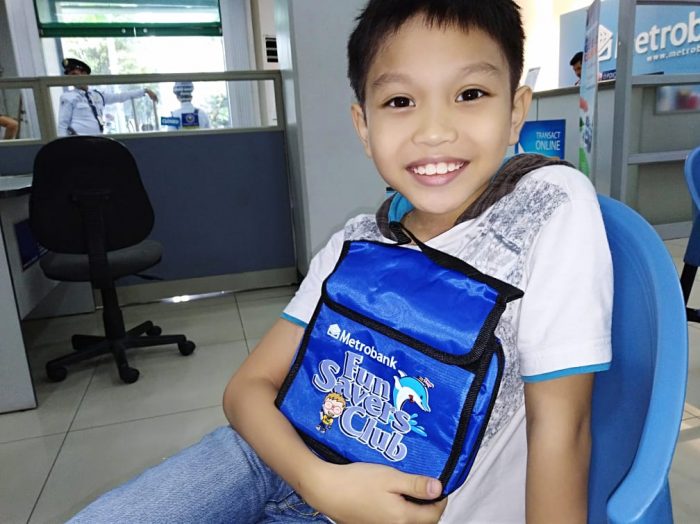 We observed how approachable and helpful Metrobank staff are. They even let the kids use their private restroom once while we were waiting in line to deposit Pablo's check. Talk about excellent service!
Anyway, when Lukas got a voice talent project, it was a no-brainer to have him open an account at the same bank his kuya opened his.
In the previous years, there were more requirements to open a Metrobank Fun Savers Club account. The child must produce a Birth Certificate certified by the NSO, a valid ID, a parent's valid ID, and two 2×2 photos
But my  husband said that the staff told him that they have a new list of requirement which only includes:
A valid ID (with the child's signature)
A birth certificate from PSA.
Parent's valid ID, if the child's ID has no signature.
The minimum amount for a child to open an account is PHP 500 and PHP 4,000 for it to start earning interest. The interest rate is 0.25% per annum.
That's basically all you need to know about opening a Fun Savers Club Account at Metrobank.
(READ: School Allowance and Money Management)
We think that having a bank account is a good tool to teach our 9-year old about managing his money. Lukas is excited to see his earnings go into his passbook, but he's also excited to spend some of it. It's an opportunity to educate him on money, savings, and investments.
It's good to teach kids about money while they're young, but it's better to be on a look out for actual opportunities to educate them, such as when they do paid projects or join kiddie bazaars.
I think that teaching money principles is good, but teaching with real-life experiences is better.
"The speed of your success is limited only by your dedication and what you're willing to sacrifice" –Nathan W. Morris.