5 Reasons why you should enroll your child at ALOHA Mental Arithmetic
Lukas has been progressing slowly but beautifully in ALOHA Mental Math. It's been quite challenging to juggle our schedules lately, so we weren't able to consistently bring him to his classes for the past three weeks.
But when he does go, I can't help but appreciate the process by which his Math skills are being developed.
At his last session two weeks ago, he was introduced to the "small friends, big friends" technique in calculating larger numbers, which was pretty cool. It's like sight words in Math.
For example, the friend of 4 is 1, and the friend of 2 is 3. They all add up to 5!
Teacher Kim, as always, also conducted exercises that help sharpen his memory, his recognition and imagination skills. (You should watch this teacher teach. It's such a wonder how she can maintain the mood and fun in a two hour sesh, hehe!)
Mental Math in the real world
A friend of mine said to me that she wasn't sure how beneficial Mental Math really is in the real world. She says that in real world, people don't really need to solve equations that quickly.
In my opinion, no, you don't have to be that quick, but it's good if you are. It benefits you and the people around you.
Hey! I love having a Math whiz around at the restaurant when everyone's chipping in. Or when a seller's Mathematical skills is questionable.
Or when you're trying to measure out a land area and calculating the costs to pay for property so you can make a quick decision. Being quick in Math is a good thing!
But more than that, ALOHA Mental Arithmetic provides kids training that goes beyond Math.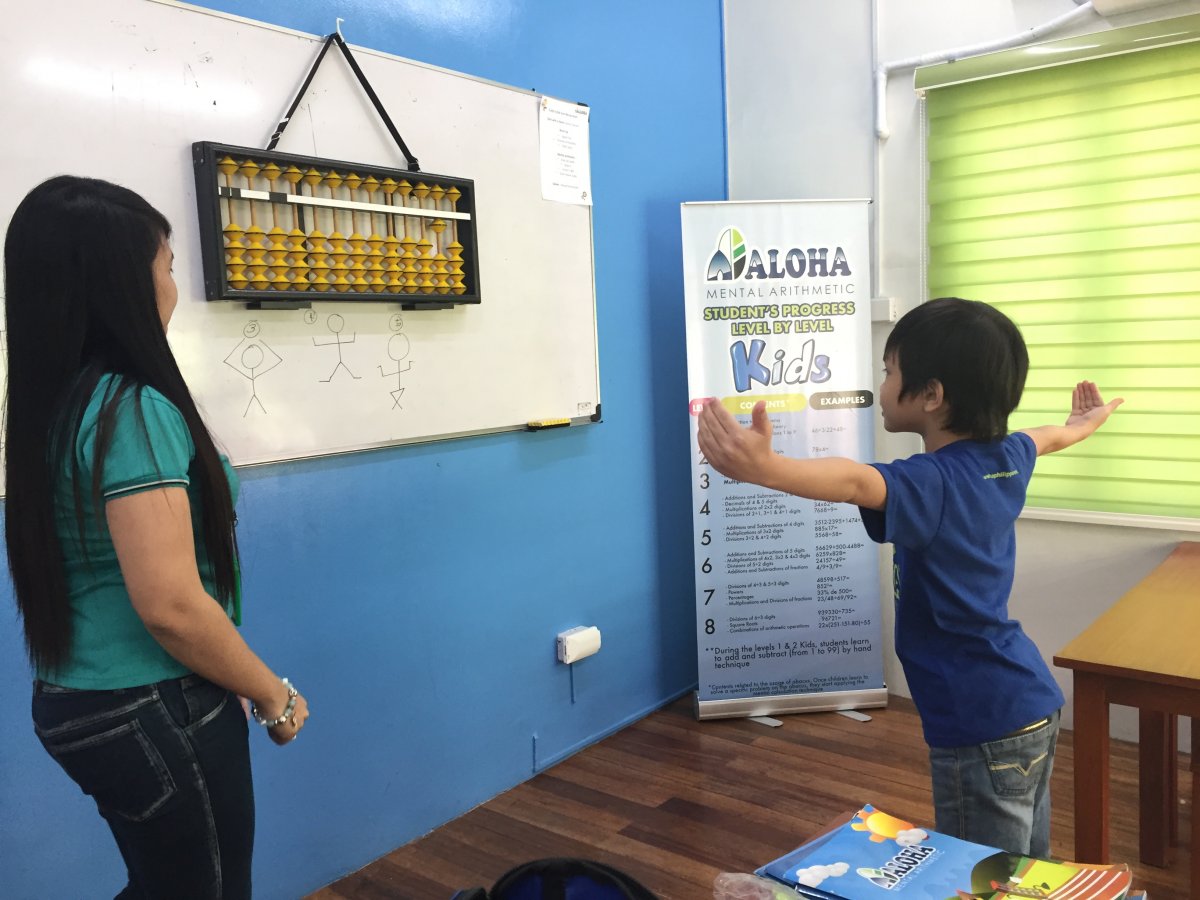 Here are 5 things your kids will get from the training:
1. Learning Math skills and Techniques
Let's face it. Many of us hate Math. But with ALOHA Mental Arithmetic, students will learn techniques that help them solve equations with ease.
They may even find Math fun from thereon. Like what happened to our Lukas!
2. They learn to handle pressure
I don't know about you, but Math can add unnecessary stress to a child when they have a difficult time with it.
But with ALOHA Mental Arithmetic, I saw how Lukas became more objective in approaching equations and less focused on how complicated some of them are.
He sees the possibilities of solutions more than the difficulty it imposes.
And I think this would translate to real life situations, not just in Math, wherein a child learns to handle pressure more objectively than emotionally.
3. It builds their confidence
In my humble observation, there's  something about Math that when you're not good at it, it can make you feel less intelligent than others.
But because of the skills they acquire from training in ALOHA, they see Math less and less intimidating and develop confidence in themselves and what they can possibly do.
4. It sharpens their memory
As I've mentioned earlier in this blog, ALOHA Mental Arithmetic classes include exercises that help hone and sharpen a child's memory, including his visual memory skills.
My dad has photographic memory, which is why he did well as a lawyer here in the Philippines. Growing up, I was amazed that he knew all his law books from cover to cover.
So what I'm saying here is that a sharp memory can actually be very useful in many other professions, not just Math; and the training in ALOHA Mental Arithmetic can help your child with that.
5. Takes their minds off gadgets
Bringing a child to his ALOHA Mental Arithmetic sessions is a good way to take his mind off the gadgets and be productive.
Lukas usually waits for his brothers get off their MAPEH classes on Tuesdays, and to be honest, isn't it so much easier to just hand a child a gadget so he won't be so unruly while you wait?
Well, since he's started at ALOHA, instead of gadgets, we've been working on his home exercises.
I know it sounds nerdy, but it's an opportunity to bond with your child. I know I have been doing so and it's been a lot of fun!
Tingnan ang post na ito sa Instagram
More than Math!
ALOHA Mental Arithmetic is really more than just the equations. I wasn't very keen about sending my kids to an academic supplementary program at first because I was afraid to over bombard my kids with too much academics.
But it turned out to be such a wonderful experience for Lukas and I'm glad that he's undergoing this training. I'm pretty sure that aside from the Math skills he will gain from it (which is a given), he will also acquire life skills that will prove useful as he grows to be an adult.
If you're interested to know more about ALOHA Mental Arithmetic, you may visit their website at  www.alohaphilippines.com .