11 Filipino students bring home awards at ALOHA International Mental Arithmetic Competition
ALOHA Philippines, the premiere mental arithmetic program in the country, triumphantly announced that 11 of their trainees brought home top awards from the recently concluded ALOHA Mental Arithmetic International Competition held at the Marco Polo in Guangzhou, China last July 20, 2019.
Every year, thousands of students from more than 40 countries all around the world, including Philippines, China, Russia, Spain, Bangladesh, India and Mexico, are invited to participate in this prestigious Math event.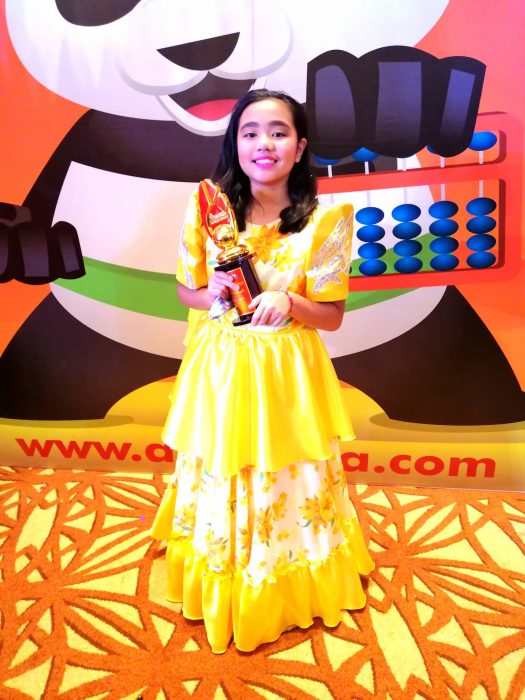 This year, Colegio de Santa Philomena, Bulacan student Desiree Ann Quebada, a trainee of ALOHA Greenhills, bested all other participants and was declared champion of the said international competition.
Not too far behind were 1st Runner ups, Christoff Ang (Xavier School/ALOHA Greenhills) and Rafael Hernandez (St. Francis de Assisi School, Plaridel, Bulacan); 2nd Runner ups, Niels Krishoff Lavina and Joshua Ranoa (Colegio de Santa Philomena Bulacan); 3rd Runner ups Aerin Faith Cayaba , John Vic Cabbuag, Jairus Ignacio (St. Francis de Assisi Bulacan), Diane Nicole Allado and Dustin Eryk Buhain (Colegio de Santa Philomena).  Also trainees of ALOHA Greenhills.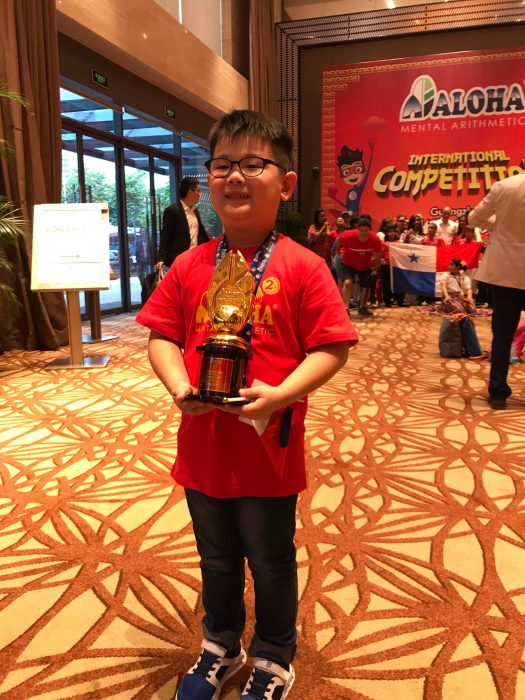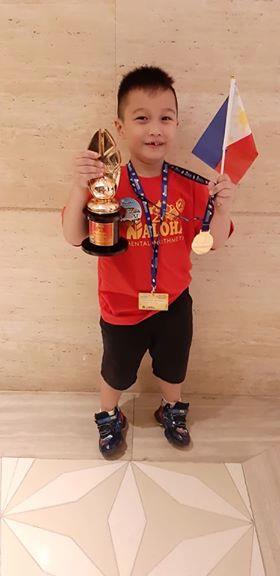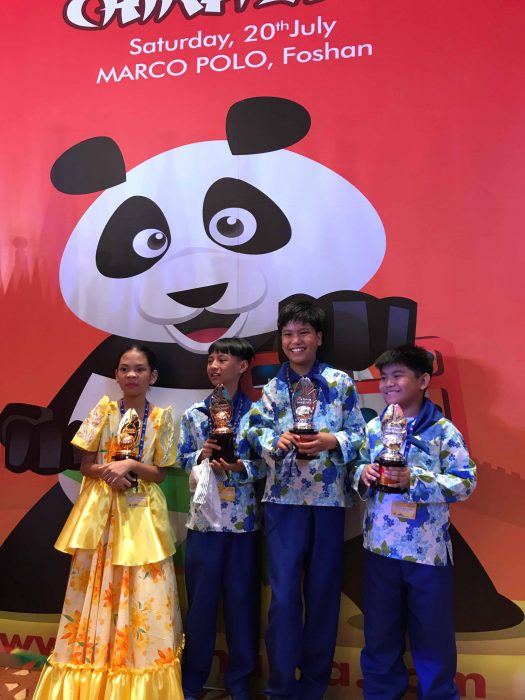 ALOHA Pampanga's Ryan Warren Merdegia, placed 3rd Runner up, as well.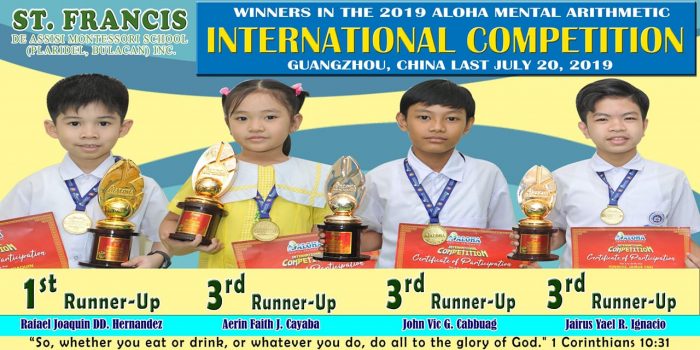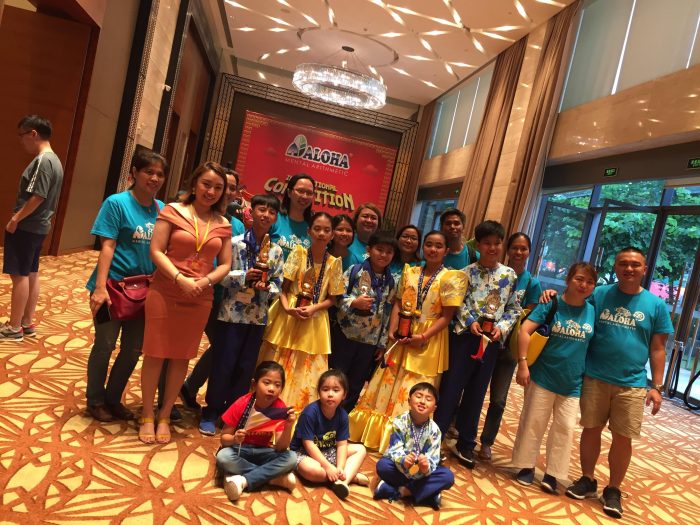 This is not the first time ALOHA Philippines brought home an award. Last year, their only representative, Bulacan-based, 8-year old Ricardo Alex Aimer T. Reyes, didn't do half bad, placing 3rd Runner up at the same competition held at the World Trade Center in Moscow, Russia.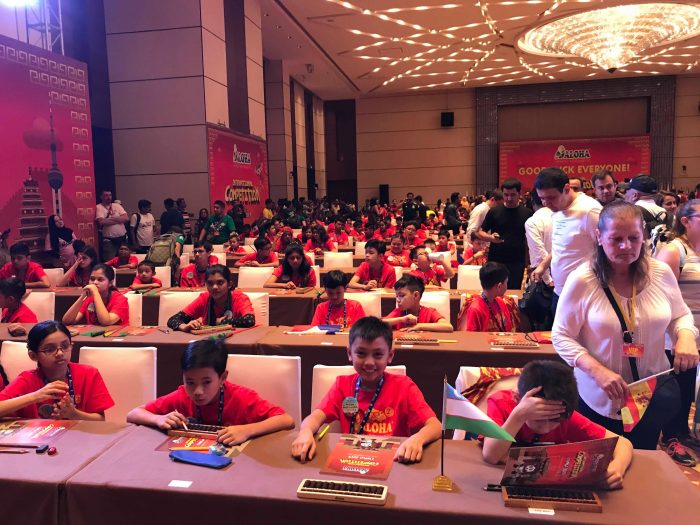 Here's a peek at what happened at ALOHA Mental Arithmetic International competition this year:

What makes the experience so much more exciting is that the participants are treated to cultural entertainment. This year, they were introduced to the Chinese culture through performances of the Lion Dance and Wing Chun or a Chinese Martial Arts demonstration; while the participants performed cultural dances from their respective countries.
Performers who scored high were rewarded with prizes!
Aside from Mr. Loh Mun Sung, ALOHA Founder President, Mrs. Kiran Motwani, ALOHA International Director, the event was also attended by consul generals and officers from various embassies.
Mr. Alexander Smirnov, the Consul General of Russia in Guangzhou praised the 'high organization level' of the competition. (Credits: ALOHA)
What is ALOHA?
In a nutshell, ALOHA Mental Arithmetic, or Abacus Learning of Higher Arithmetic, is an abacus-based Math program that trains students to calculate simple to complex equations mentally.
It's a very effective method that has helped students all around the world appreciate and enjoy Math, and gain confidence in solving number problems without using calculator or any other gadgets.
It is a very useful skill that can be applied, not only in school but also in real-life situations.
And while the primary focus is on Mental Math, the training also benefits the child in other areas, such as enhancement of their memory, creativity and analytical skills, and the development of their visualization, observation and spatial skills.
Plus, it teaches them how to handle pressure with grace.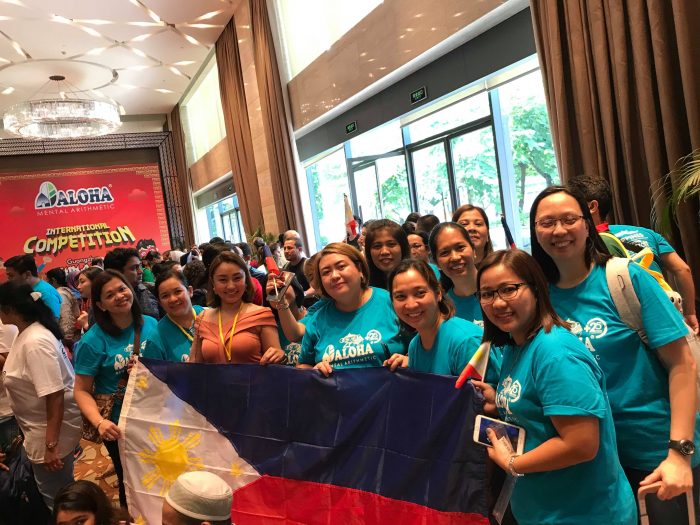 ALOHA Rates & Fees
If you're interested to have your child train at ALOHA, here are the basic fees:
Program fee is PHP 2,300 – 3,500 which is good for 8 sessions (1 Month).
PHP 1,800 Registration fee + ALOHA kit (ALOHA shirt and bag, lanyard and ID, Abacus, International Certificate and Report card, plus a chance to compete in the annual, regional, national, and international competitions)
PHP 1,500 for the workbooks
PHP 2,500 monthly tuition fee
Please note that rates may vary depending on location.
Here are the programs offered at ALOHA: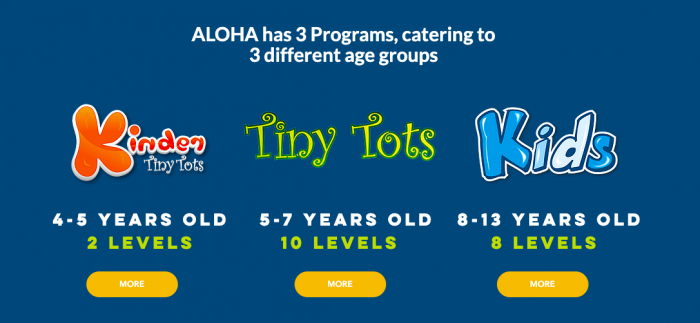 To know more about these programs, please click here.
ALOHA Centers
At the moment, these are the existing ALOHA centers, as well as school-based centers, in the Philippines:
 GREEN HILLS
2/F Washington Gateway, 67 Washington St. Xavier Greenhills, San Juan City
(02) 357 6800 / (02) 296-8357
09456238545 / 09183160808
OLONGAPO
#38 Gordon Ave. New Asinan, Olongapo City
(047) 610 91188
DAET CAMARINES NORTE
Lag On, Daet Camarines Norte
63 935 659 8986
CABANATUAN CITY
Mabini Street near Maharlika Highway
63 932 869 1213
SAN FERNANDO PAMPANGA
2/F MMH Bldg. Gen. Hizon Ave, San Fernando Pampanga
63 933 470 0328
TUGUEGARAO
2nd floor Castilio Realty Mabini, Corner Washington St., Tuguegarao City Cagayan Philippines
(078) 255-5071 / 0956
SUBIC BAY
2F Storemax Bldg. Canal Rd. cor. Aguinaldo St.Subic Bay Peninsular Hotel compound, Subic Bay Freeport Zone
09472444859 / 09673806073
CAVITE
2nd floor Sidcor Bldg., Brgy. Bayanan, Bacoor Cavite
(046) 418-0830
ALOHA Batangas, Davao, BGC, Iligan and Cagayan De Oro are underway.
AA Total Achievers Academy
2nd Floor G & A Building, Bayani Road Fort Bonifacio,, 1630 Taguig
8864614 / 09338557157
Ant Clickin Talkin
2F Cluster G Blue Bay Walk Macapagal Blvd. Pasay City
09161940997/ 09239322145
Assist 'n Achieve Childcare and Tutorial Center
Morning Sun Townhomes Gate 1
Taguig
0917 822 3179
IAngel Learning Center, Inc.
5513 D.M. Rivera St., Poblacion Makati City
2383966
LEAP Manila
Unit 10 2F Pwesto Community Mall 56 Holy Spirit Dr. Quezon City
(02) 964 2341 / 09173256807
Little Harvard Academy
125 Speaker Perez, Corner N.S. Amoranto (former Retiro) Quezon City
8993168/ 09231673545 /09158253545
Mathworks Tutorial
Mayon cor. Dimasalang St. Quezon City
09178113108
POD Learning Center
2F Bedrock Bldg. Dahlia Fairview Quezon City
(02) 964-2716/ 0977 857 3763
REGION 3
Divine World Academy of Zambales Inc.
Govic Highway, Dirita Iba, Zambales
Smart Achievers Academy – Subic Inc.
Blk 4 Lot 3 & 4 St. James Subd. Calapacuan Subic, Zambales
Smartkids Montessori Inc. Olongapo
#2 21st Place West Bajac Bajac
Olongapo City
St. James School of Subic
Asinan Poblacion Santa Rita, Olongapo
09087881720
Colegio de Santa Philomena
54 Paltao Pulilan, Bulacan
(044) 326 0085
St. Francis de Assisi Montessori School (Plaridel Bulacan) Inc.
Banga 2nd, Plaridel Bulacan
REGION 2
Montessori de Cagayan
103 Reyes St., Brgy. Leonarda Tuguegarao City
078-844-7716
ALOHA continues to offer franchising opportunities to those who want to bring this amazing mental Math program to your location.
For inquiries, you may call 02-357-6800, or please visit ALOHA Philippines at their official website and social accounts:
ALOHA Philippines on Instagram 
*This is a sponsored post.