Philippine Ballet Theatre's ENCORE (The Best of PBT USA Tour 2019)
OH. MY. GOSH! Awe and amazement were plastered all over my face after watching Philippine Ballet Theatre's Encore last night.
It was truly a fantastic evening at the ballet as the company, led by the beautiful ballerina, Kim Abrogena, crowd-favorite, Ma. Regina Magbitang, and my personal favorite PBT lead, Veronica Atienza, performed heart-stopping choreography, as well as relived well-loved PBT classics.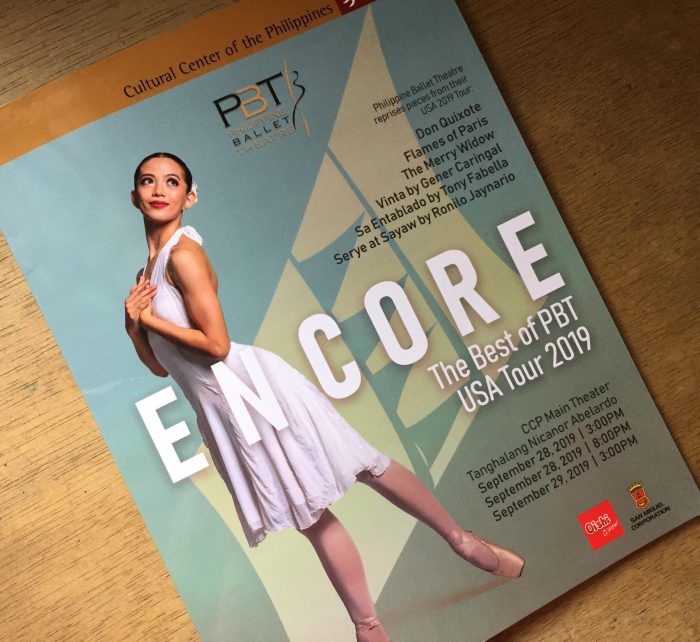 The men were not to be outdone. Matthew Davo, Dominador Delmo, Mark Joseph Pineda, Kazier Policarpio, Julafer Fegarido, and Jared Tan showed the audience what danseurs are made of. Such display of extraordinary talent!
I have to say that although Act 1 was beautiful and classy, and I truly enjoyed seeing my favorite "The Merry Widow" number all over again, it was Act 2 that had me hanging on the edge of my seat.
View this post on Instagram
I've seen Kazier Policarpio perform as part of the ensemble in the past, and I was glad to see him perform a pas de deux with Ana Mikaela Samson to a beloved Filipino classic, Ngayon at Kailanman.
There was so much life and soul to that number. Love, love, loved how the expressions on his face and his movements told the story to us all.
Dominador Delmo's star also shone bright that night. From his pas de deux in Flames of Paris with Regina Magbitang to the heart-wrenching number, Hanggang sa dulo ng walang hanggan, which he shared with, again, Regina Magbitang and Mark Joseph Pineda.
View this post on Instagram
My 8-year old Judah leaned over to me once and asked why Delmo kept losing the girl and I jokingly whispered back, "maybe he needs to change the color of his shirt."
Throughout all numbers that Delmo's characters lose the girl, he was wearing red, haha!
Guest artist, Jared Tan, also performed the poignant "Anong nangyari sa ating dalawa" so beautifully.
Just so you know, I usually pay a lot of attention to danseurs in shows because I have two kids, both boys, who are training in ballet. So that's where my interest lies.
I brought one of them with me last night, but my 14-year old, Pablo, had to stay behind because his class is already rehearsing for their yearend ballet recital. How I wish he'd seen these men fly!
View this post on Instagram
At one point, when Jared Tan and Veronica Atienza performed, our 10-year old Lukas gasped and wondered out loud, "how'd they do that????"
The show was beautiful, and colorful, and powerful and electrifying…my heart didn't know whether to stop beating as the dances tugged at its strings, or to beat twice as fast as the dancers defied gravity, leapt distances, twirled and twisted, dipped and did hundreds of pirouettes. OH. MY. GOSH! They set the stage on fire!
This is, by far, the best performance I've seen from PBT and I look forward to seeing more.
View this post on Instagram
The Philippine Ballet Theatre had recently concluded a very successful dance tour in the US. ENCORE (The Best of PBT USA Tour 2019) showcases the most applauded numbers in the tour.
You can still catch the show today at 3PM. You can either purchase your tickets at Ticketworld or simply drop whatever it is you're doing and head on now to CCP to watch it.
I promise, it's worth the rush!
Follow the Philippine Ballet Theatre on Facebook for news on their upcoming performances.
Special thanks to my friend and fellow ballet mom, Paula Ruga, for inviting us to see the show. Happy, happy Birthday to you!!!