REVIEW: Sweeney Todd, The Demon Barber of Fleet Street
We were lucky to still be able to buy tickets to Atlantis Theatrical's Sweeney Todd, The Demon Barber of Fleet Street on its last week's run. Take note, we got tickets for the Thursday show. Who on earth watches a musical on a Thursday night? Apparently, everyone in Manila when it's Lea Salonga on the bill!
Embarrassingly so, the last time I watched a Lea Salonga was in Repertory Philippines' My Fair Lady. And she was phenomenal in it! But now that she's more mature, and JUST BECAUSE SHE CAN, Lea takes on an unconventional role as Nellie Lovett and slams the character home.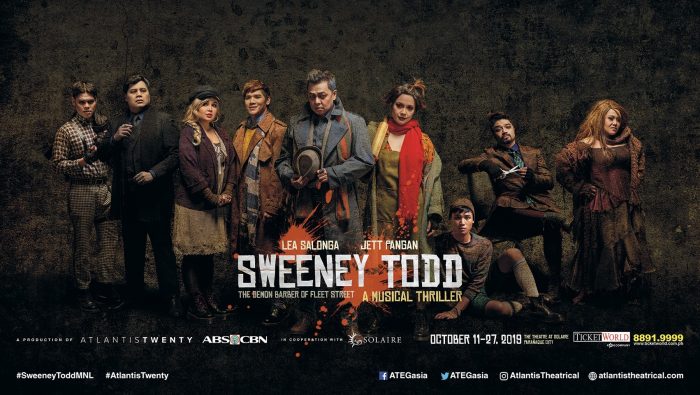 No offense intended to the rest of the cast, who were all amazing actors, by the way, but Lea shows us why she has a Tony and the rest do not.
(Not yet, anyway. I always have hope for Filipino actors in the international stage.)
I'm sure you've read so many reviews on the show already, so I'm just going to play favorites here.
No Princess Lea here
Let me start with the queen – Lea Salonga.
Lea is not Lea. So when they say there's no sight of a Disney princess anywhere in Sweeney Todd, believe them.
She's transformed into this evil, scheming, cunning deville  of a woman who manipulated Benjamin Barker a.k.a. Sweeney Todd by using his thirst to avenge himself and his family against him.
Ugh! She was so vile, you want to scream her eyeballs out.
But Lea had the funniest deliveries, too, in my opinion. Or was that her impeccable timing? She had us all both in stitches and in shock, I can't even distinguish between the two anymore.
Lea may not have the titular role in Sweeney, but she was definitely the star of the show!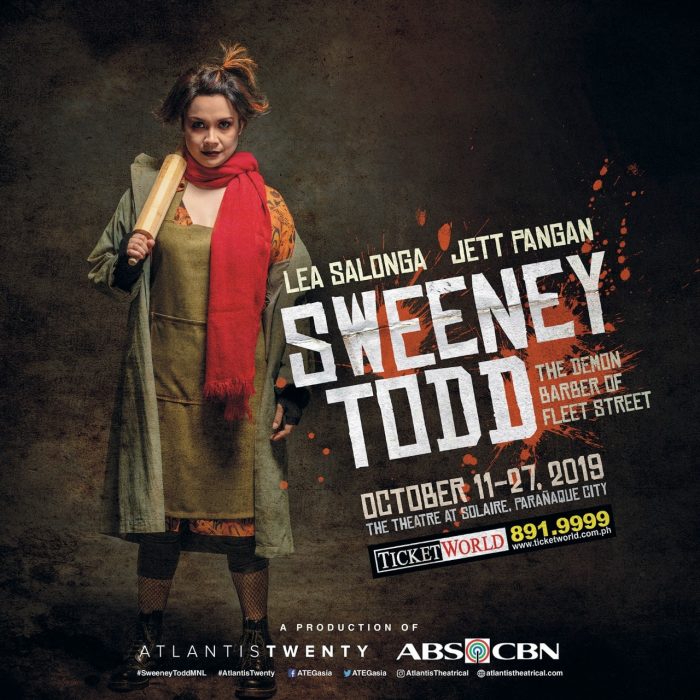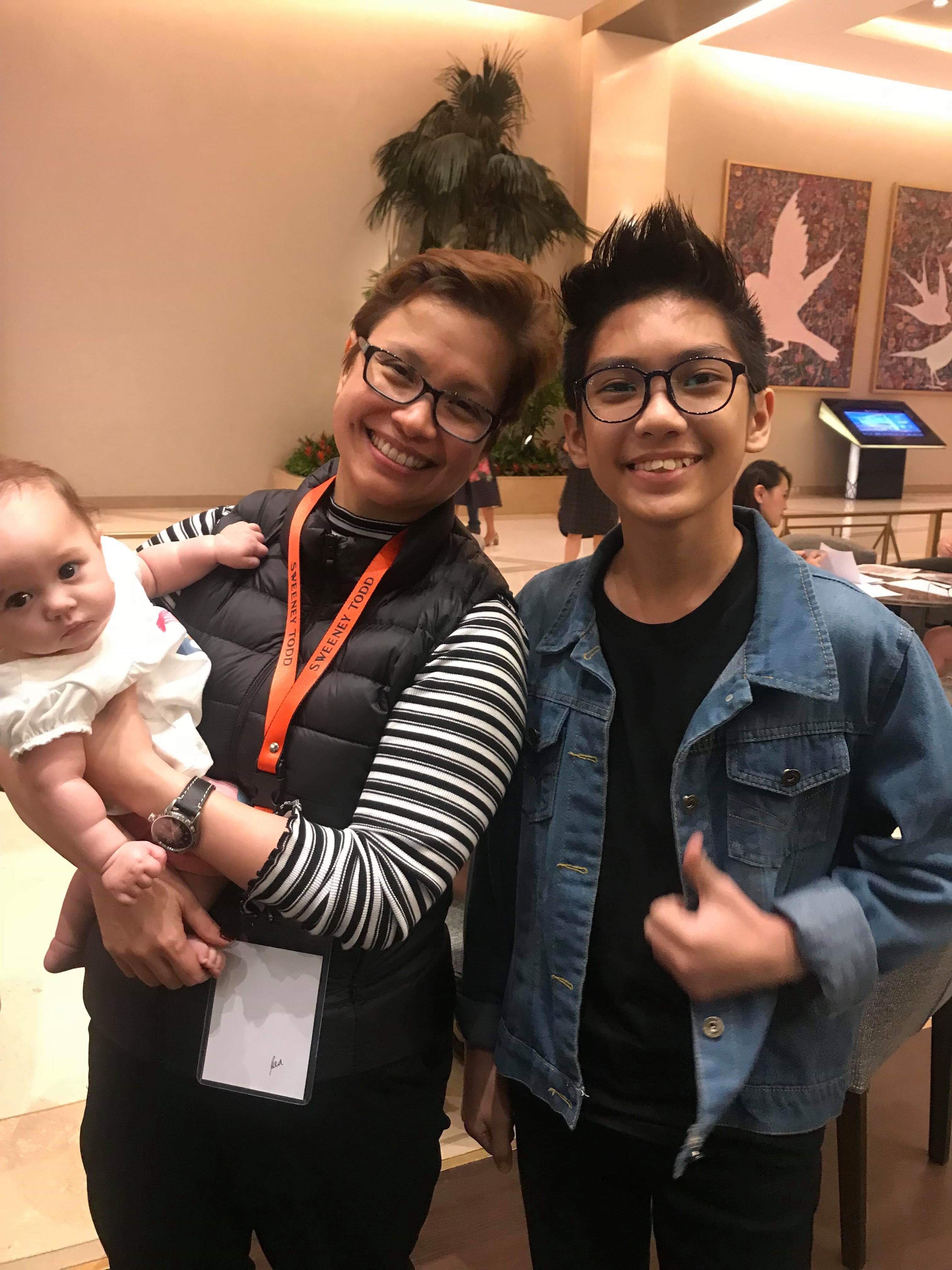 Watch out for Luigi Quesada
My other favorite would have to be Luigi Quesada who played Tobias Ragg, the mentally handicapped teen who tagged after Nyoy Volante's Adolfo Pirelli, and later on served Mrs. Lovett's human-filled pies to the customers. Eeew, I know!
I've only seen him perform once – in Waitress, as part of the ensemble, and I knew he originated the role of Marty in Dani Girl, but whoa! This kid will unscrew your jaws to land on the floor.
I'm not just talking about the vocals, we all know it's there since he's been picked to sing the show's most popular song, Not while I'm around, but the kid can act. Seriously.
Luigi attacked the depth and complexity of his character so effectively, and has made himself relevant against the star power of his more senior co-actors. If there's a young actor to watch out for, it's this kid.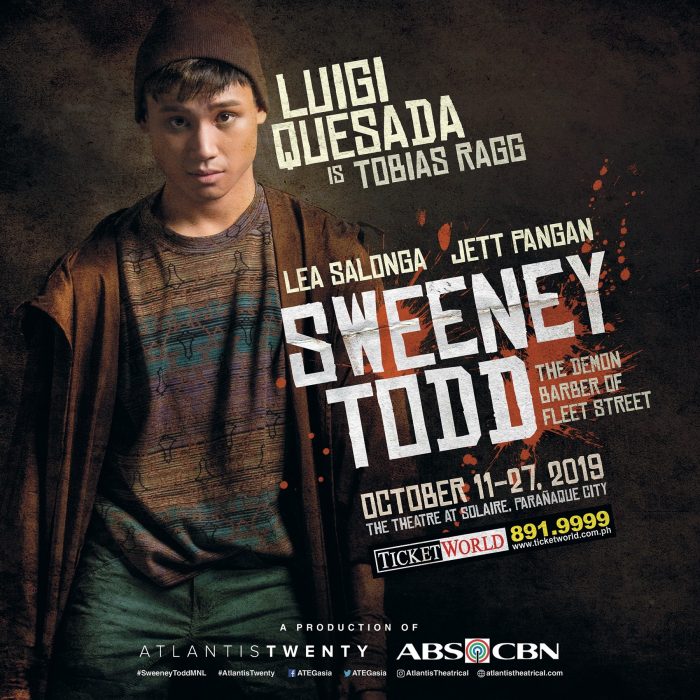 Jett Pangan is Sweeney Todd
I'm so glad to finally be able to see Jett Pangan in a musical. I've always thought his voice was out of this world since his Envelope Ideas days. He is quite a mature actor, too. Less on the theatrics, ironically so. I enjoyed his performance a lot and me thinks he's a perfect Sweeney. My teenager, on the other hand, was blown away.
"Now you know why you should listen to your voice teacher when he teaches you how to sing proper, yeah?'' I tell my kid. He nods, convinced.
I'm disappointed to read in his interview that he's not doing any theatre show for a while after this. I'm curious to see him tackling another character.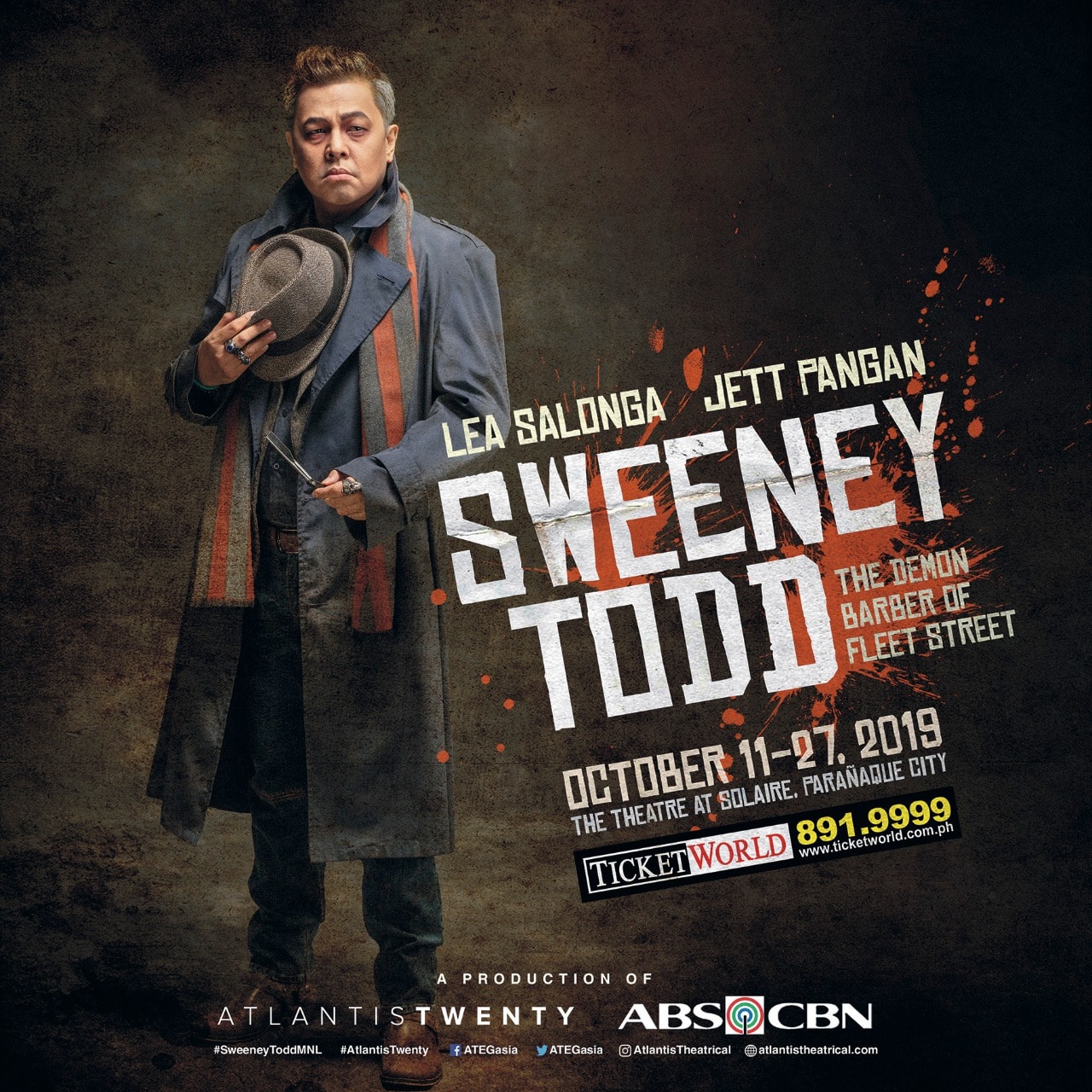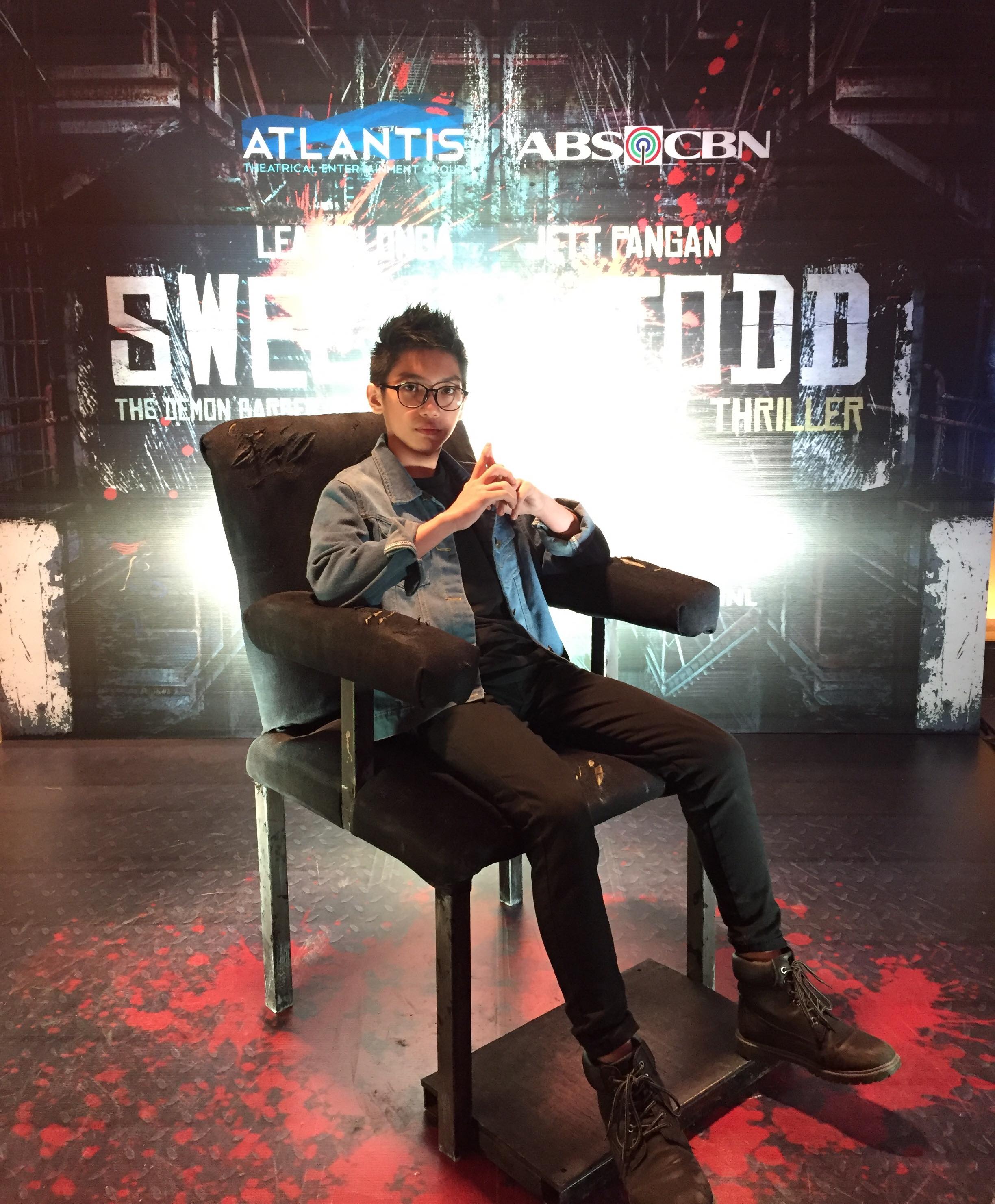 Notables
You can't miss Arman Ferrer as Beadle Bamford. I've been a fan of this kid's vocals since watching him in Side Show. He doesn't disappoint, still, as his voice soared along with one of Philippine's finest baritones, Andrew Fernando, who played Judge Turpin, in their duet, The ladies in their sensitivites.
There is something particularly distinct in Andrew Fernando's acting. Pablo has been mimicking the back slashing scene to this writing.
I've seen Mikkie Bradshaw-Volante in a number of musicals, mostly, contemporary, but this is the first time I've heard her sing in classical placement. I'm impressed. She plays Benjamin Barker's abducted and abused daughter, Johanna, in the show.
The set designed by David Gallo is fantastic! I kept wondering if the cars hanging above were real. And I totally loved how Pangan and Salonga drove in and out of the stage in the bloody red car.
Given the difficulty and intricacies of the music of Sondheim, they have no less than Gerard Salonga as Music Director and Manman Angsico for its vocal direction.
Costumes are by Rajo Laurel, Choreography by the incomparable Cecile Martinez , lighting design by Aaron Porter, hair and make-up design by Leslie Espinosa, and Sound Design by Justin Stasiw.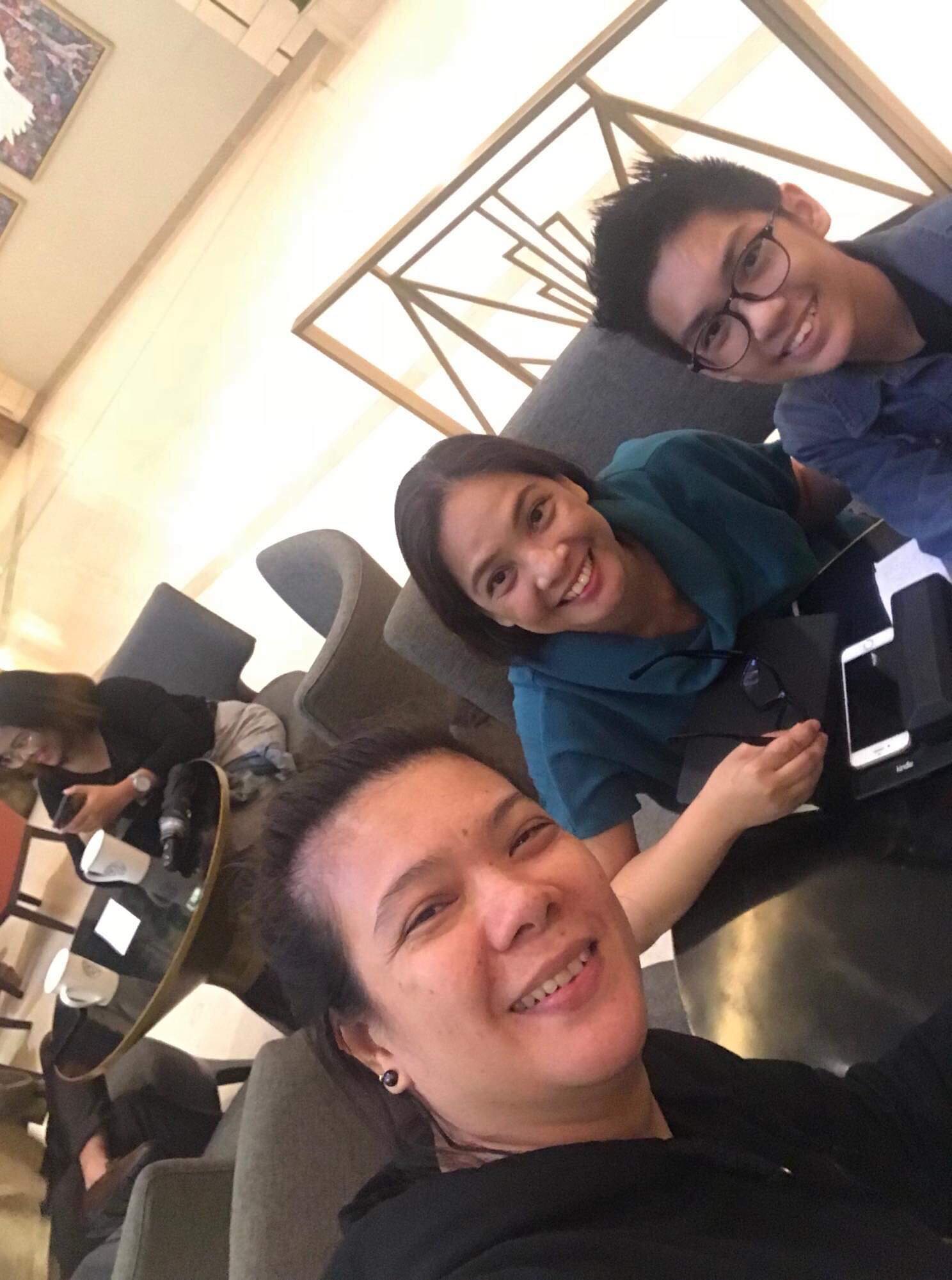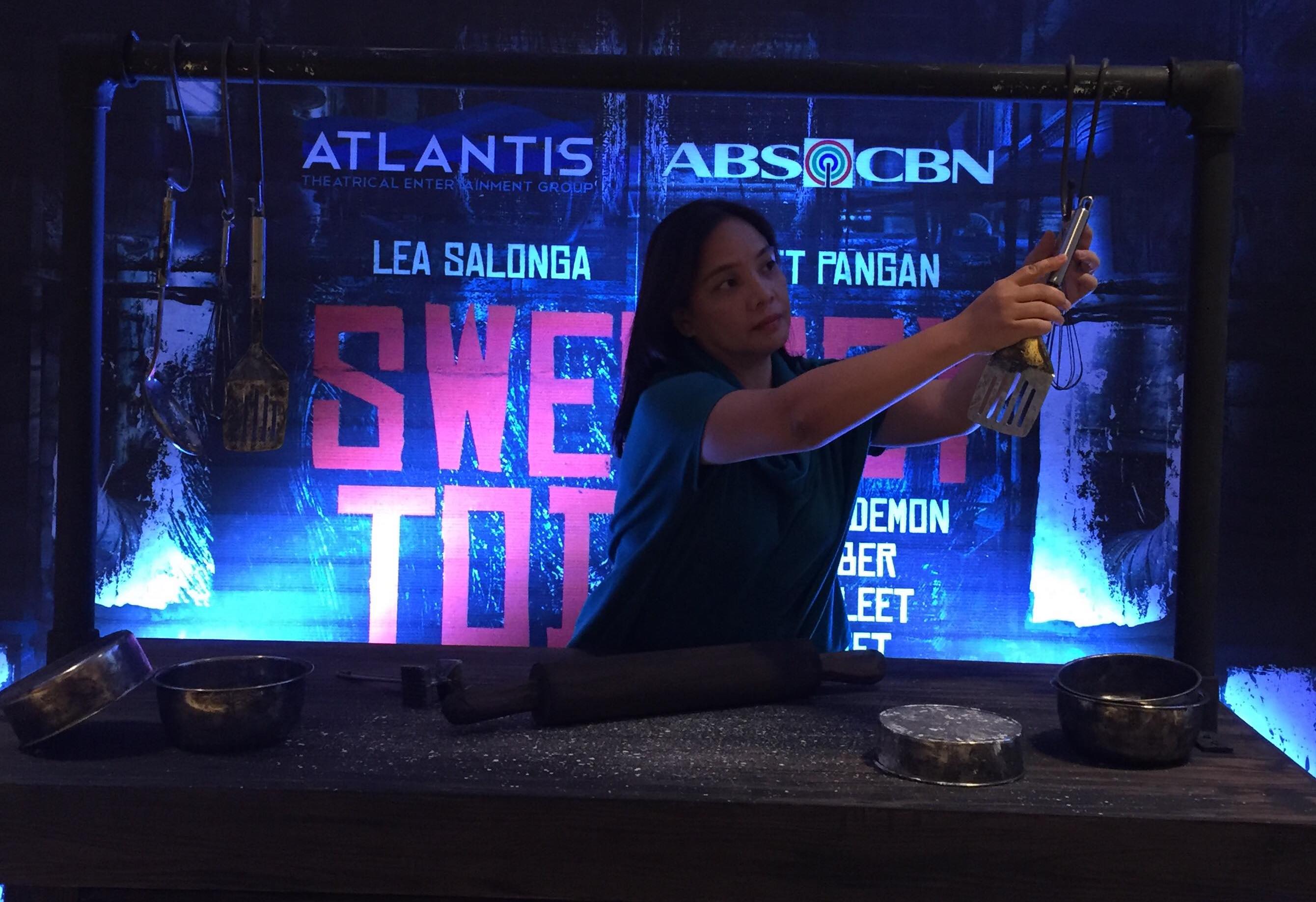 Sweeney Todd: The Demon Barber of Fleet Street also stars Gerald Santos as Anthony Hope, Ima Castro as the Beggar Woman, Nyoy Volante as Signor Pirelli, and Dean Rosen as Jonas Fogg.
Steven Conde, Sarah Facuri, Christine Flores, Jep Go, Kevin Guiman, and Emeline Celis Guinid, complete the cast.
Sweeney Todd is as they tell you that it is. It is dark and brooding and tragic. You will either love it or stop eating pies for good because of it.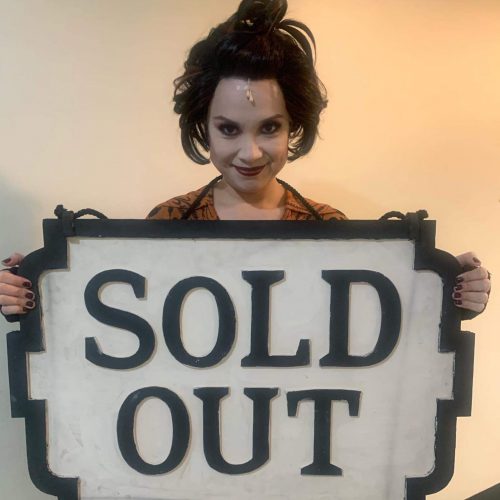 Directed by Bobby Garcia, Sweeney Todd: The Demon Barber on Fleet Street runs in Solaire, Manila until October 27.
However, I just learned that they're all sold out, so off to Singapore you go if you want to catch the show!
Singapore Repertory Theatre (SRT) will stage Sweeney Todd: The Demon Barber of Fleet Street (with the same cast) at the Sands Theatre, Marina Bay Sands in Singapore from November 28 to December 8. Tickets are available at SRT's official website.