Back to Writing for Smart Parenting
I'm back at writing for Smart Parenting, yay!
I was a Contributing Writer for the website and the magazine back in 2015 but I quit for a couple of years. But now that I think I can deliver better, I'm back and excited to write many interesting pieces for SP readers.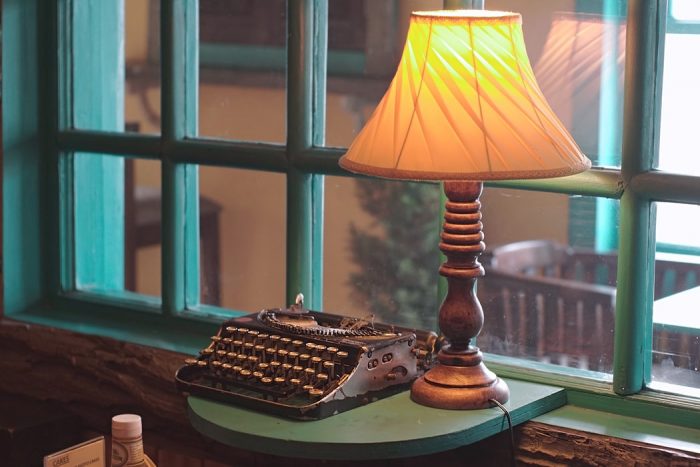 So far, I've published 4 articles (well, technically, only three, but one of them was published as two articles) since I've been back:
Behind the Glamor: Supporting a Child in the Performing Arts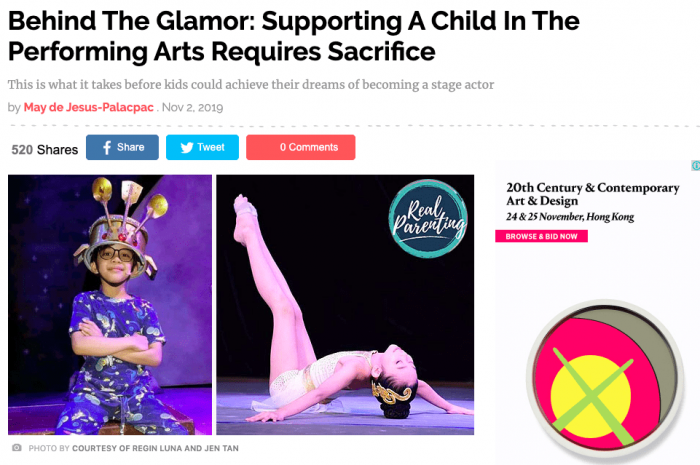 When my Editor, Lei Sison (she's actually the publication's Associate Editor (AE), but I answer to her), asked me if I'd be interested to write again for Smart Parenting, her first suggestion was an article about my son, Pablo, and what it's like to be a parent to a child in the performing arts. I thought it would be best to interview parents of other children in the performing arts to provide more perspective.
I know of many families in the entertainment industry, but I chose the ones that I felt were most relatable to regular families. I interviewed Jen, the mom of Chi Chi Tan, whose journey as a performer I am privileged to keep track of, and Regin Luna, the father of Bourne Luna, who is an 8-year old musical stage actor who have acted in 9 Works Theatrical's A Christmas Carol and PETA's Tagu-taguan Nasaan ang Buwan.
I've, of course, included my own son's journey in the article, plus I sought favour from the inimitable actress, Emeline Guinid (Matilda, Beautiful, Sweeney Todd, etc), whose children are in the industry, as well.
However, my Editor found my submission to be too long and agreed to publish my article in two parts: Chi Chi's and Bourne's stories were put together in Part 1, and Pablo's and Emeline's kids were put together in Part 2.
When your child wants to be a Singer, Actor or Dancer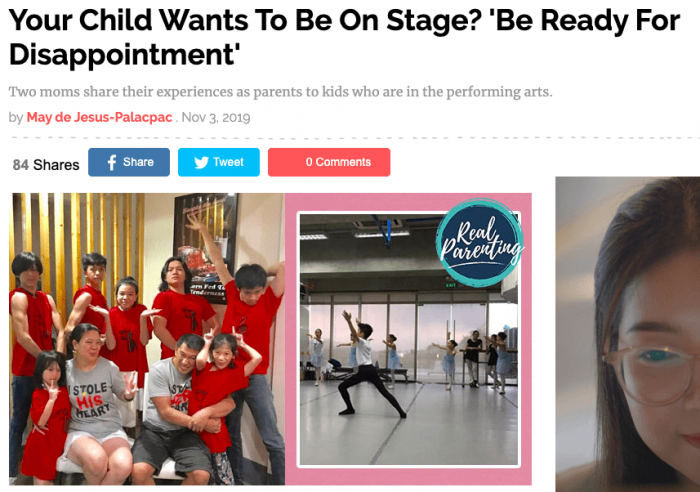 This is Part 2 of the supposed article.
The article was intended to show angles in parenting a child in the Performing Arts. Chi Chi Tan's was on how to maintain a child's career with her education; Bourne's, which is from the point of view of a father.
My son Pablo's story was on dealing with a disappointment early in his career, and Emeline's kids' was from the perspective of a parent who's also in the industry, supporting the careers of multiple performing children.
I'm really hoping that parents who want their children to break into the entertainment industry learned a thing or two from us.
Read Part 2 HERE.
Your Teen hates school? This Center offers Alternative Learning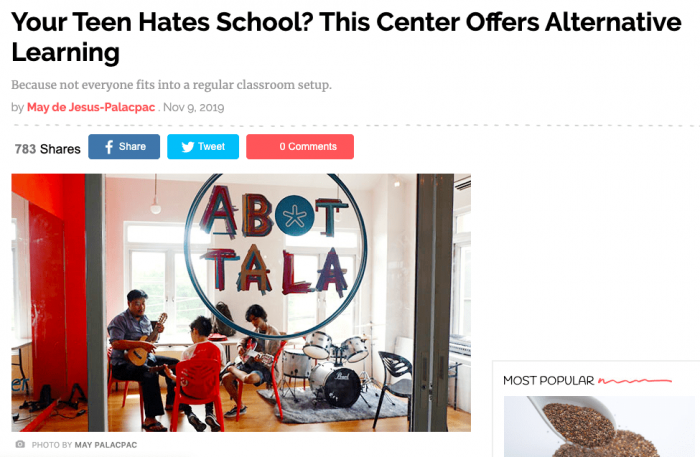 My 14-year old son, Pablo, recently attended High School, but not just any other high school, but Abot Tala, an alternative High School, the first of its kind, in Taguig.
What is an alternative High School, you ask? It's a High School that offers more than run of the mill programs. At the moment, the classes my son takes include Brand & Marketing, Photography, Fencing, and Painting. He is 14 years old.
I've been keeping tabs on Abot Tala since their introduction at a homeschool event a year ago, but it's only when I came to observe the classes and the current roster of students that I was convinced more than ever that it was the right high school to release my son to. I think there are many non-conventional learners out there who need to find out that this school exists.
My Editor said that they wanted to feature Abot Tala some time ago but couldn't agree on a schedule, so I grabbed the opportunity to check it out in person. Went there, wrote about it, and enrolled our son for high school, haha!
Know more about Abot Tala HERE.
Raising Teens: How Dads can Reconnect with their Young Adult sons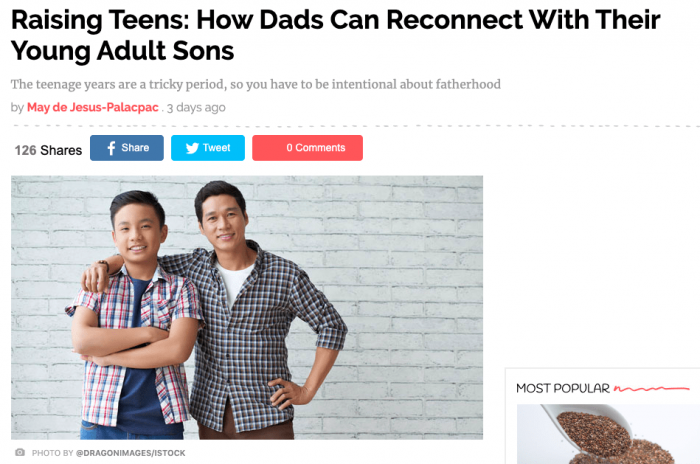 This was both easy and challenging to write for me. I am familiar with the topic and have enough material for it, but it was a bit difficult to put all the information together into a cohesive piece.
The key was the interview I had with the father of one of my son's closest friends, Greg.
Raising a teen is difficult as it is, but raising a teenage boy is a totally different ball game.
Read more about parenting a teenage son HERE.  
Realising a Dream
I have always been a writer, it just wasn't my ultimate dream growing up, so I spent more time pursuing something else for many years.
I published my first work when I was 11 years old for a church newsletter, and wrote short stories, scripts, essays and articles during my years as a student.
And although I was not fondly active in school organisations, I earned some respect as a student writer, having published works, including a 2-part investigative series on the mysterious disappearance and alleged murder of a fellow La Sallian student in the DLSU-D's official publication, Heraldo Filipino, and winning in a couple of small short story writing competitions for students in both universities I went to. I was also fortunate to have some of my submissions published in newspapers and magazines.
As a teenager, I wanted to write for the local Cosmopolitan magazine, then I got married and I wanted to write for Entrepreneur, Working Mom and Smart Parenting.
I was able to realise two of those goals – Working Mom and Smart Parenting. I also got to write for a couple more magazines and websites. I don't want to get too detailed here, you can find this information in my Work-with-May page anyway.
But freelance writing is the kind of work that pays you by the bulk of your submissions and it was difficult for me to meet this requirement because my kids were small then and needed me to take care of them. Now that my youngest is nearing 9 years old, I can now write about topics that I love in my free time (which I did not have before).
Fully Housewifed will continue to be my virtual home, of course, and I will continue to update you with more of my personal stories here. But I do spend a lot of time waiting for my kids to get done with rehearsals, so it's a great time to make myself productive, yeah? After all, additional income is not a bad thing – the kids are growing and no one warned me boys eat this much!!! ?
So, here I am, back to being a Contributing Writer for one of the most popular, if not the most popular parenting web magazine in the Philippines. And I hope to be able to come up with quality, helpful, accurate and informative articles for Filipino families all over the world.