Ballet Philippines' Cinderella dazzles!
I took our two younger kids to see Ballet Philippines' Cinderella at the CCP last Sunday. This would probably be the last ballet show we will see this year, aside from the kids' recital featuring "Jewels" on the 15th. I've yet to find out the lineup for next year's performances, but I'm excited. I'm sure the shows will be great as always.
To be honest, the kids weren't too keen on watching another Cinderella show at first because they've seen a previous staging by another ballet company a year ago, and they felt that they've had enough of the story. But Ballet Philippines' version turned out to be quite a treat!
Monica Gana is always wonderful to see taking lead, but the two stepsisters, Prunella and Griselda, played by Jemima Reyes and Denise Parungao, stole the show. They are now, officially, our favorite ballet brats, haha!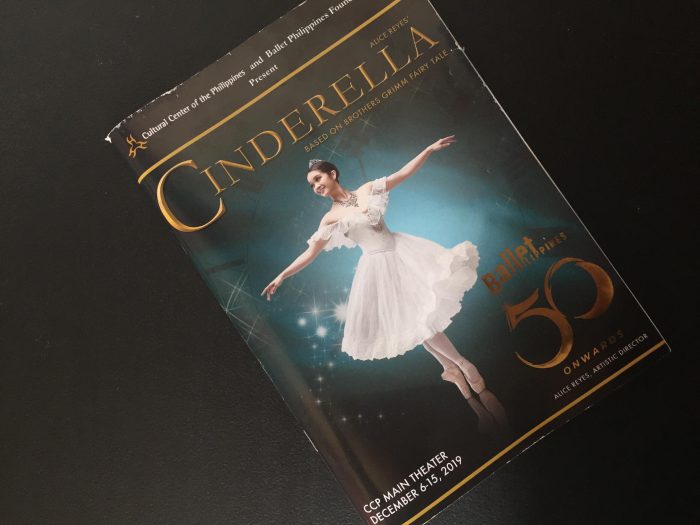 BP's Cinderella was light and playful . There were sprinkles of laughter from the audience all throughout . The choreography was absolutely fun and the dancers were very engaging.
Young children may enjoy the garden scene with all the dancing animals. There were hip swinging peacocks and striped bumble bees, bluejays, swans, an owl, the bright red cardinal, fireflies and butterflies.
And yes, the mice are there, too!

I was especially thrilled to see Liza Dela Fuente dance the role of the Widow Brunhilda. I've seen other mature women in other ballet performances, but I think this is the first time one was given a more lengthy number.
As a child, I fell in love with ballet but was never given the chance to do it. And to see someone who continues to dance at 50 is such a delight!

In the previous ballet shows I've seen, the older women had less significant roles. Brunhilda is a big one and we were privileged to see Dela Fuenta perform. She's so good!
I'm just wondering about the storyline though(I've not read the Grimm version!) , didn't the king fall in love with the widow? Wouldn't that bring Cinderella back into the abuse cycle again since they will be together in one family? Hmmm.
Ballet Philippines' Cinderella also cast Earl John Arisola as Prince Charming, Sarah Alejandro as The Fairy Godmother, Victor Maguad as Prince Fortune, Erl Sorilla as Prince Desire, Butch Esperanza as the Prime Minister, Emmanuelle Guillermo as The King, and Lester Reguindin as The Dancing Master.
View this post on Instagram

The show continues to dazzle this coming weekend with shows at 2PM and 6PM on December 14, Saturday, and closes with a 2PM show on December 15, Sunday. at the Cultural Center of the Philippines Main Theater.
Tickets are available at https://www.ticketworld.com.ph/.