Traditional Filipino Parol (Christmas Lanterns)
One of my fondest memories of Christmas when I was a child was my mom playing the Christmas album that featured traditional Christmas songs on the cassette player and seeing my brothers make the traditional Filipino parols (Filipino Christmas Lanterns) in Decembers
I'm not sure if my parents commissioned my brothers to make these parols, but they used to make them every year, until they didn't. My mom said they stopped making them when my brother almost accidentally burned our house one New Year's Eve.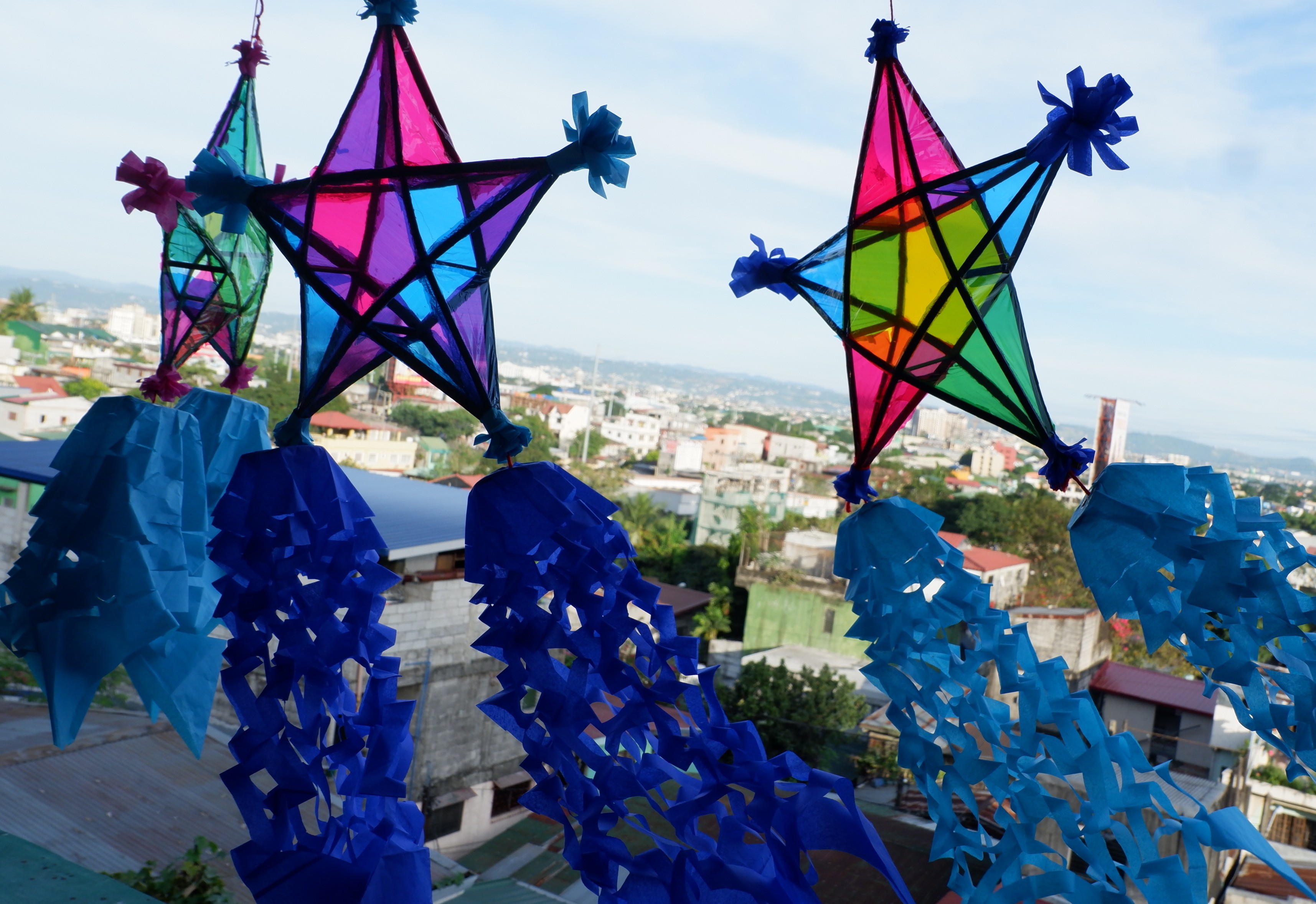 In the Philippines, we don't take down the Christmas decors until January. Some even celebrate the season until mid-month. So on New Year's Eve, the lanterns were still hanging on our ceiling. On of those New Year's Eve celebrations, my brother, Willy, who had a lit sparkler in his hand, shouted "Happy New Year" and jumped up, with his arms straight up in the air. The sparkler got caught on one of the tails of the parol and immediately set it aflame!
I don't know who it was that went into the house to get the fire extinguisher to put it off. In fact, I think I was asleep the time it happened because I was very young, and I was just told about it in the morning when I went looking for the giant parol.
But we've had that dark smudge on our ceiling for a long, long time to remind us of that almost fateful night, hahaha!
Parol Kits!
For years, I've been wanting to hang a parol outside our house during Christmas season, but the costs of these things when sold in the streets can be too pricey. Making them would have been cheaper, but Jay and I didn't know where to buy the bamboo sticks to make them, until I saw a fellow homeschooling mom Kahna's post on FB stories!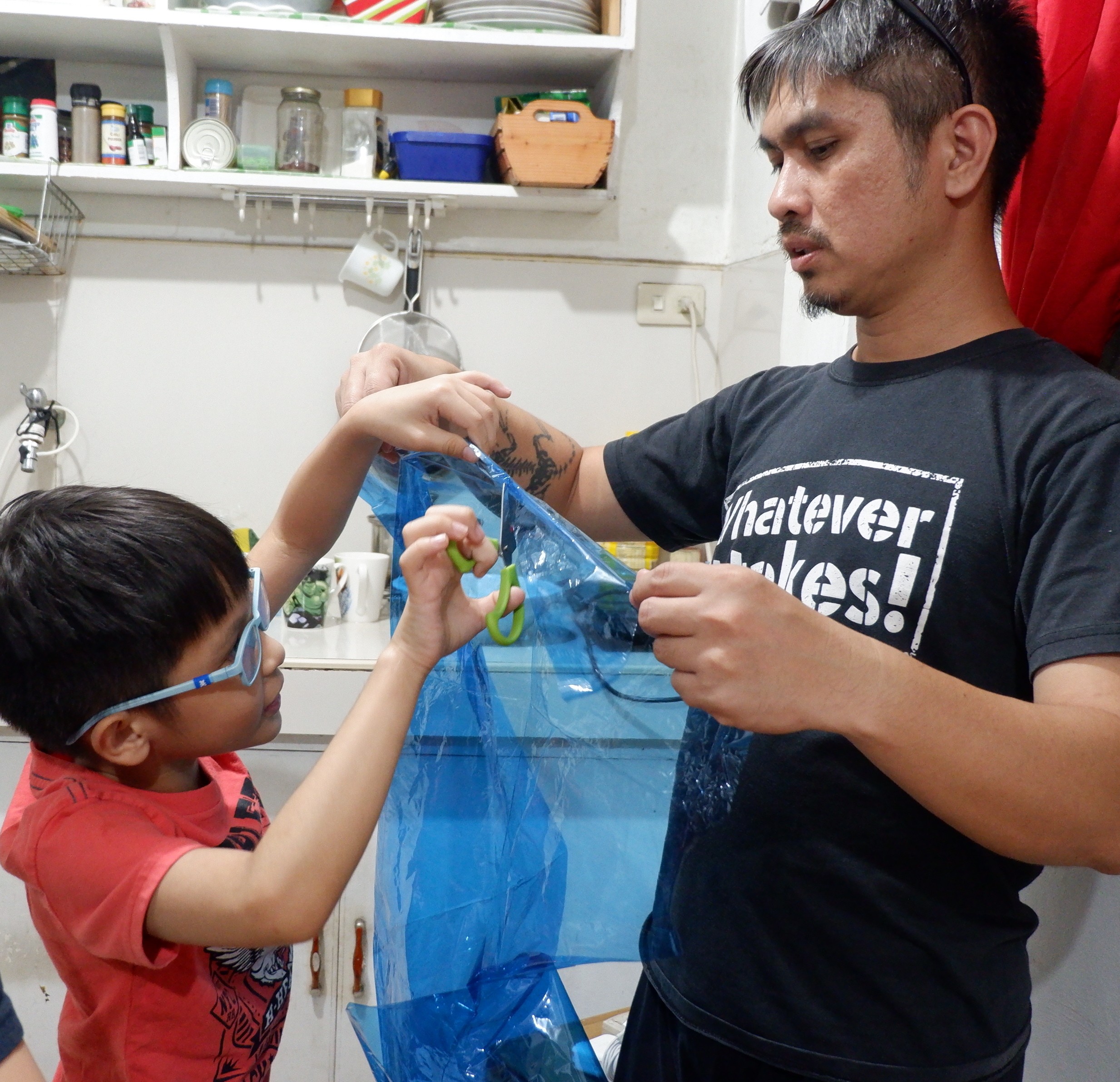 I immediately messaged her to ask where she got the materials she used and she informed me that she found a parol kit seller in BF Homes Village in Paranaque.
Kahna was nice enough to offer to get the kits for my kids as gifts and send them over to me via a motorcycle delivery service. I couldn't wait for the kids to start making them.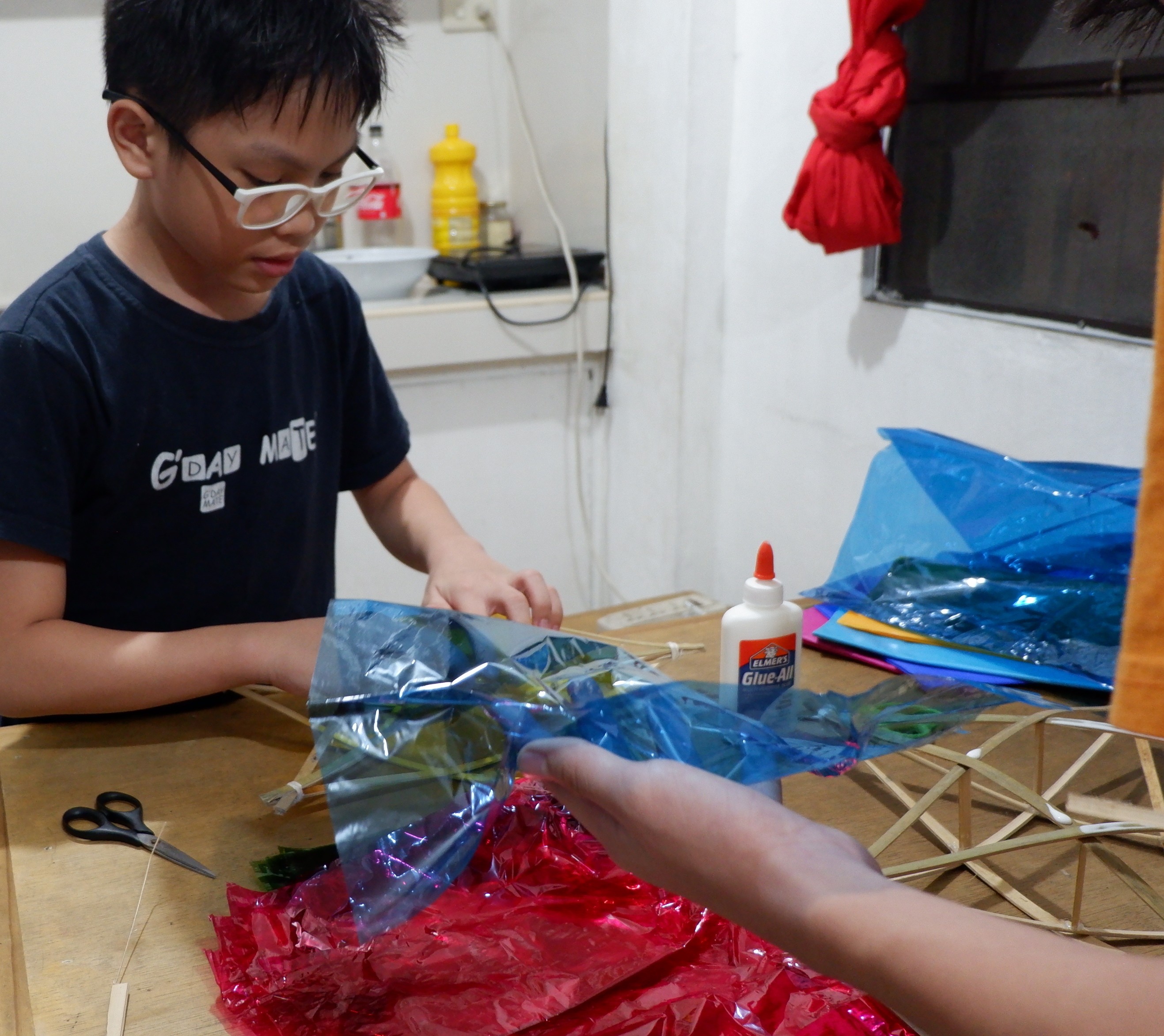 The bamboo sticks were already formed and tied together as in a star, so we just had to wedge small sticks in between and glue the cellophane and Japanese paper on them.
Kahna sent me a link to a tutorial video on YouTube as guide. Here it is:
It's pretty easy to follow along, although we did not put the floral decors and went for a simpler, more classic parol design.
Jay and I took charge of the more intricate tasks, like the wedges, the tail, and the little details to cover the sticks on the ends.
The boys, on the other hand, worked on sticking and cutting the cellophane to cover the star.
We would have made them do them all, except that we didn't have too much time to make them and we've been working on the lanterns for two nights and one morning already.
The goal was to have the stars hanging outside our window by Christmas Eve!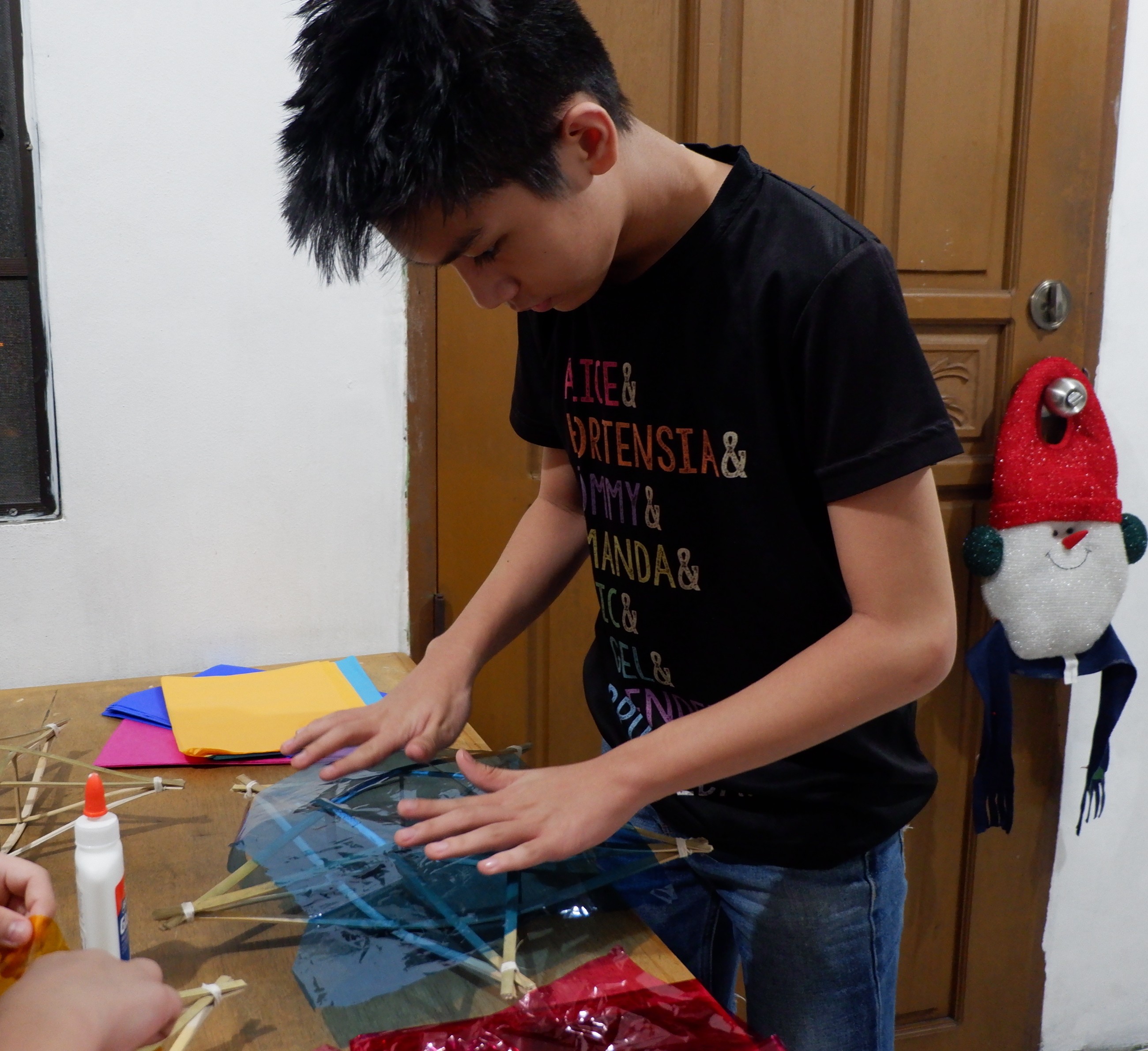 And there they are right now, right at our balcony, hanging like dreams!
I'm hoping to preserve the bamboo sticks once we take these babies down, so we can use them again next year.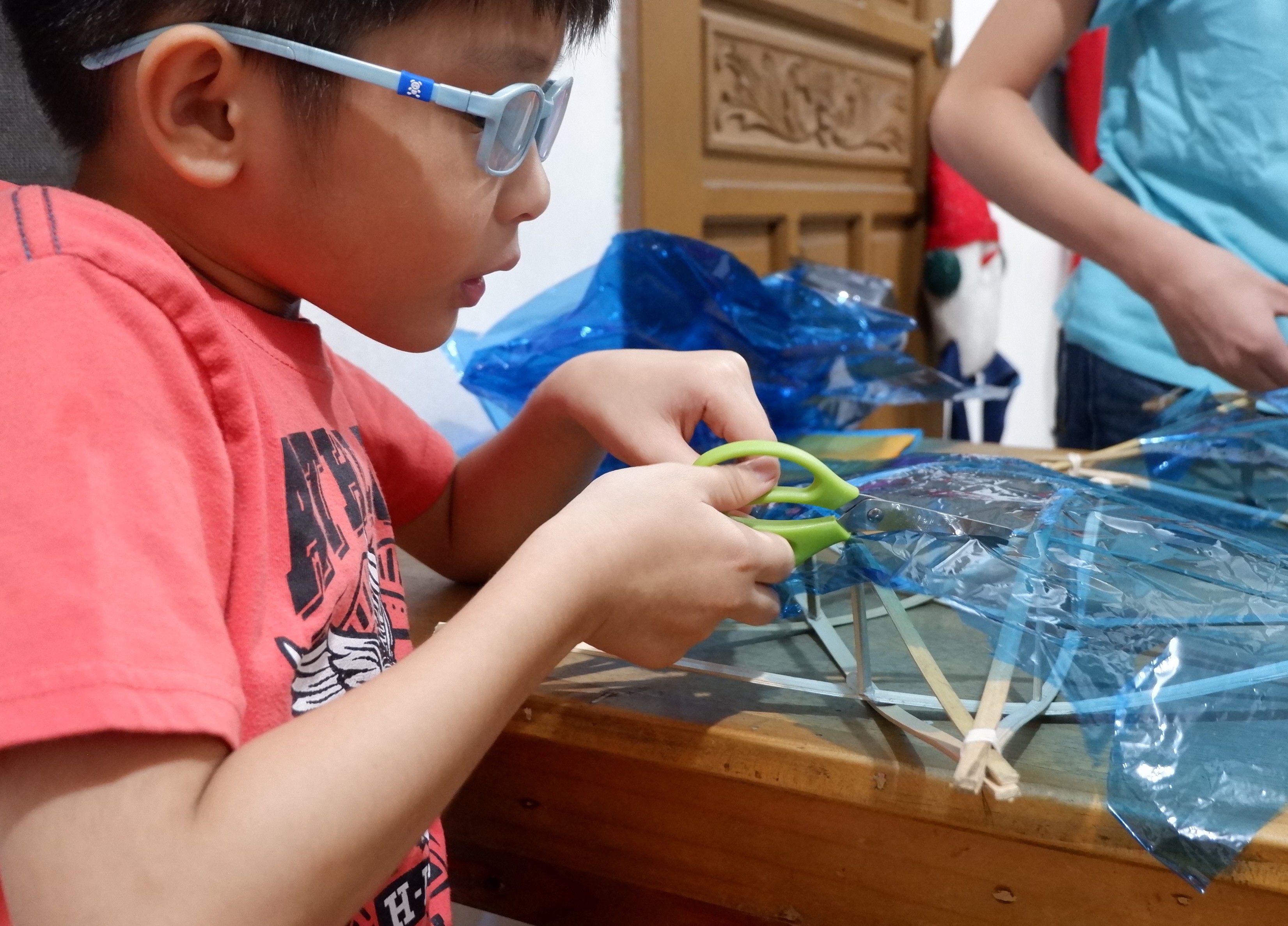 I've always liked the simplicity of the traditional Filipino Christmas Parol (lanterns). It speaks volumes to me about our culture during this season.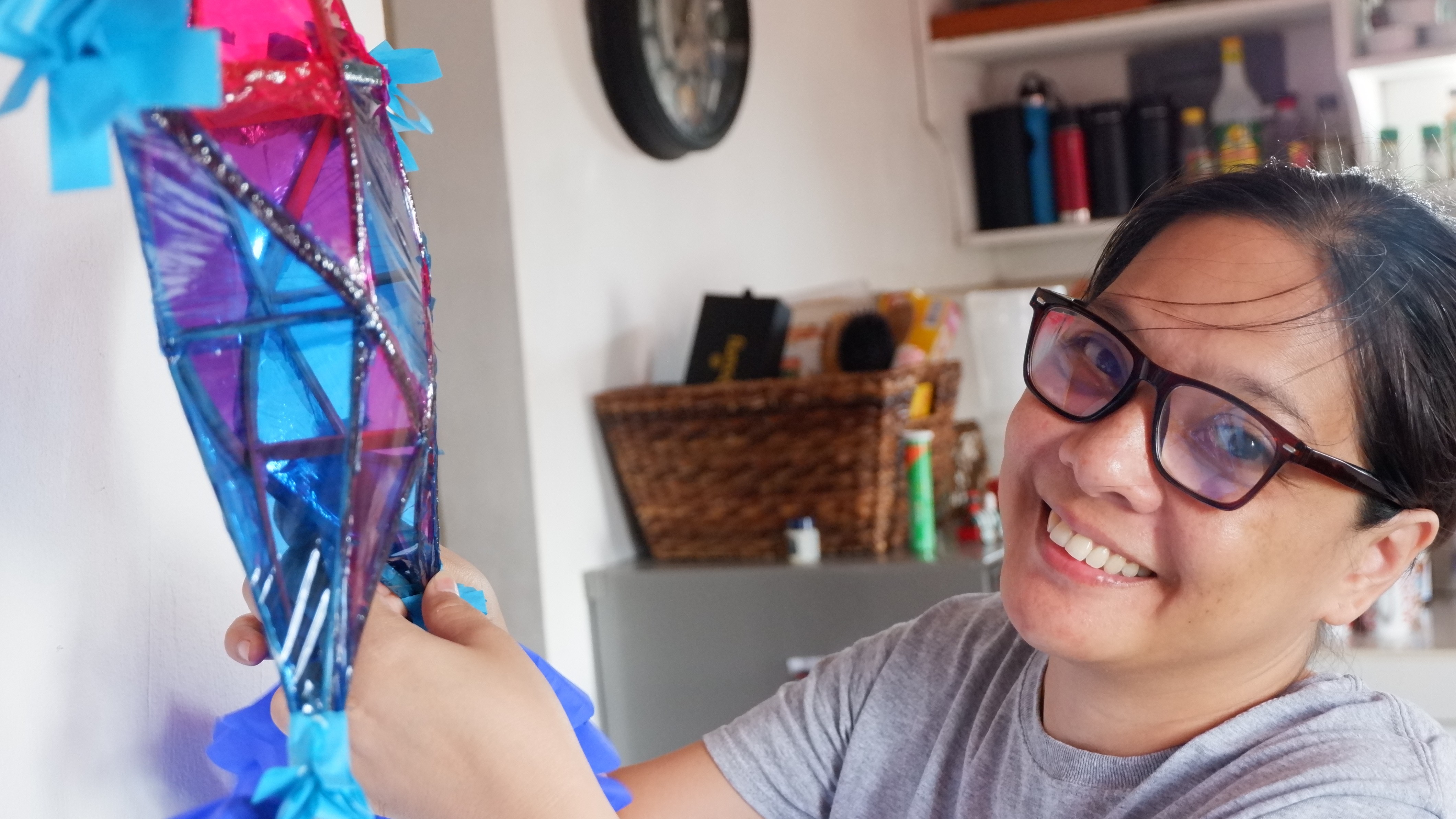 But more than that, Parols also serve as a reminder of that bright star that led the Magis to the baby Jesus (Matthew 2: 1 – 12). This is something we always talk about with the kids on Christmas. May our Christmases always remind us of that one night when God gave us the ultimate gift of salvation through that humble birth in the stable.
"For to us a child is born, to us a son is given; and the government shall be upon his shoulder, and his name shall be called Wonderful Counselor, Mighty God, Everlasting Father, Prince of Peace" Isaiah 9:6.