My husband, Jay, and I have always wanted to have a more relaxed, unhurried Christmas celebration with our kids, and this year, we decided to do just that.
To be able to accomplish this, we kept our list of extracurricular activities to a bare minimum, which was the practical thing to do, considering that my work break started only on the 20th and Jay's, on the 23rd. The kids also had their Ballet Recital last December 15, and the weekends leading to it were quite hectic.
Our Christmas Traditions as a family will have to start after the kids' show, which also means we had to let go of many other activities if we want to stick to our priorities as a family.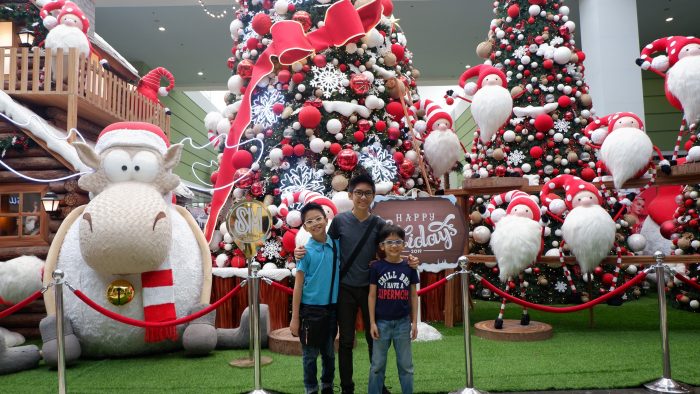 We just didn't want to get ourselves caught up in the busyness of the season and miss the real reason why we are celebrating it in the first place. We didn't want Christmas to pass us by and wonder where Jesus was in all of that.
So, we only committed to three big parties this year, all of which were held within our area – one with fellow homeschooling families in our church, one with our Bible Study group, and lastly, one at our eldest son Pablo's high school community, Abot Tala, which also coincides with their block presentation when the teens showcased their output from the classes they joined in the last three months.
Christmas Traditions 2019
We waited until after the recital to have our Annual Family Thanksgiving because we didn't want it to feel rushed and ill-prepped since it jumpstarts our Family's celebration of the Christmas season. This time of the year is special to us. Jesus is special to us.
The kids had been baking chocolate chip cookies throughout December, so I figured the baking of whatever sweets can wait until after Christmas. With so little time, we wanted more meaningful activities to do with the kids.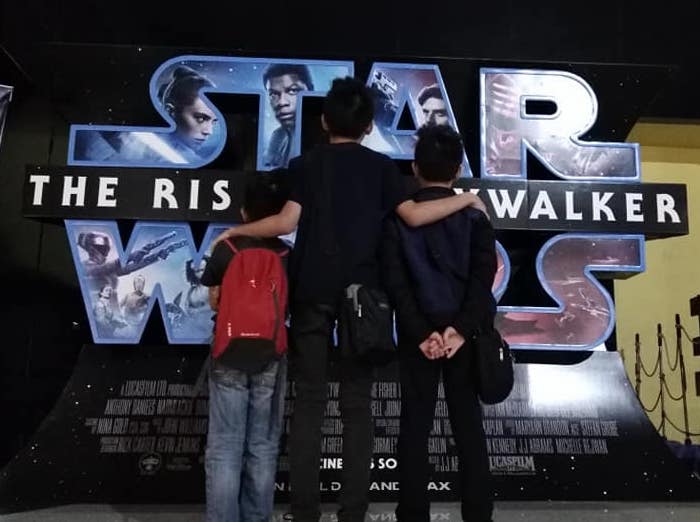 It was a spur of a moment decision when Jay took the boys to see Star Wars, and for some donuts and men talk, but I think it was to become the first of many Boys' Day Outs in our family's Christmas Traditions. While they were at it, I took the opportunity to catch up with two of my closest friends in church, then met up with the boys when they were done, supposedly to go to the Lights Show in Makati.
But the boys weren't so keen in braving the traffic to go to Ayala Triangle and neither were Jay and I, so we let it go.
In its place, we had Parol Making.  Since we don't have a big Christmas tree that we can put a star atop of this year, I thought that hanging the star lanterns out on the balcony was the best substitute. They look so nice outside, swaying with the wind.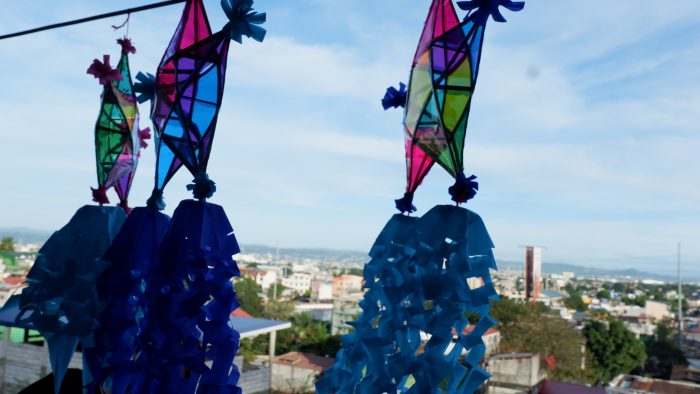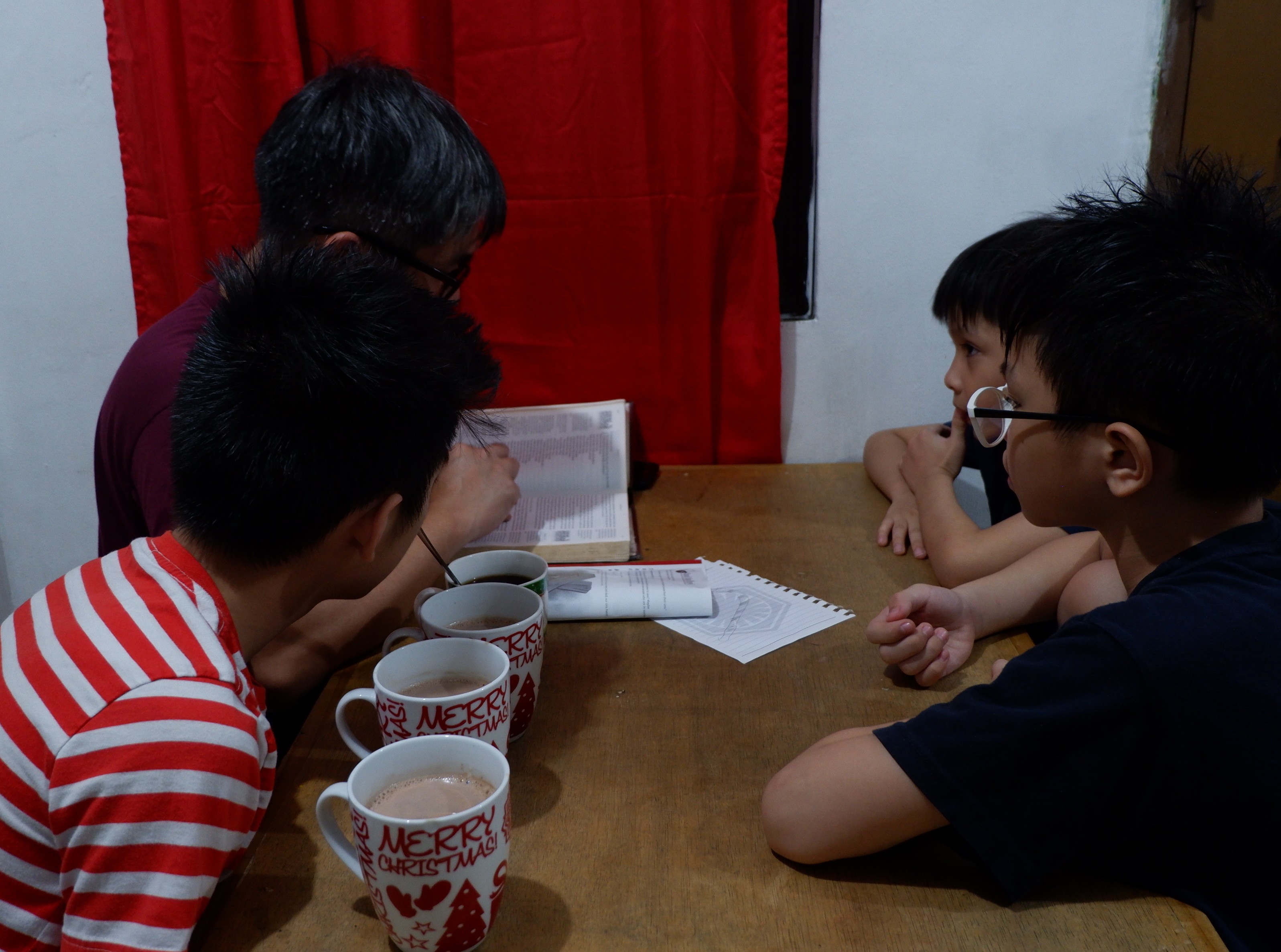 We made sure to take up the Advent Devotions. Using the material they give out in Kids Church as guide, Jay discussed the three colours of Christmas – Red, Green, and Gold and what they signify.
Happy Birthday, Jesus!
We begged off from the annual Noche Buena with my side of the family, but we took the kids to see their grandparents, and spend time with them on the 23rd.
It was a sweet visit for us, and my mom and dad seemed genuinely happy to see the kids after many weeks.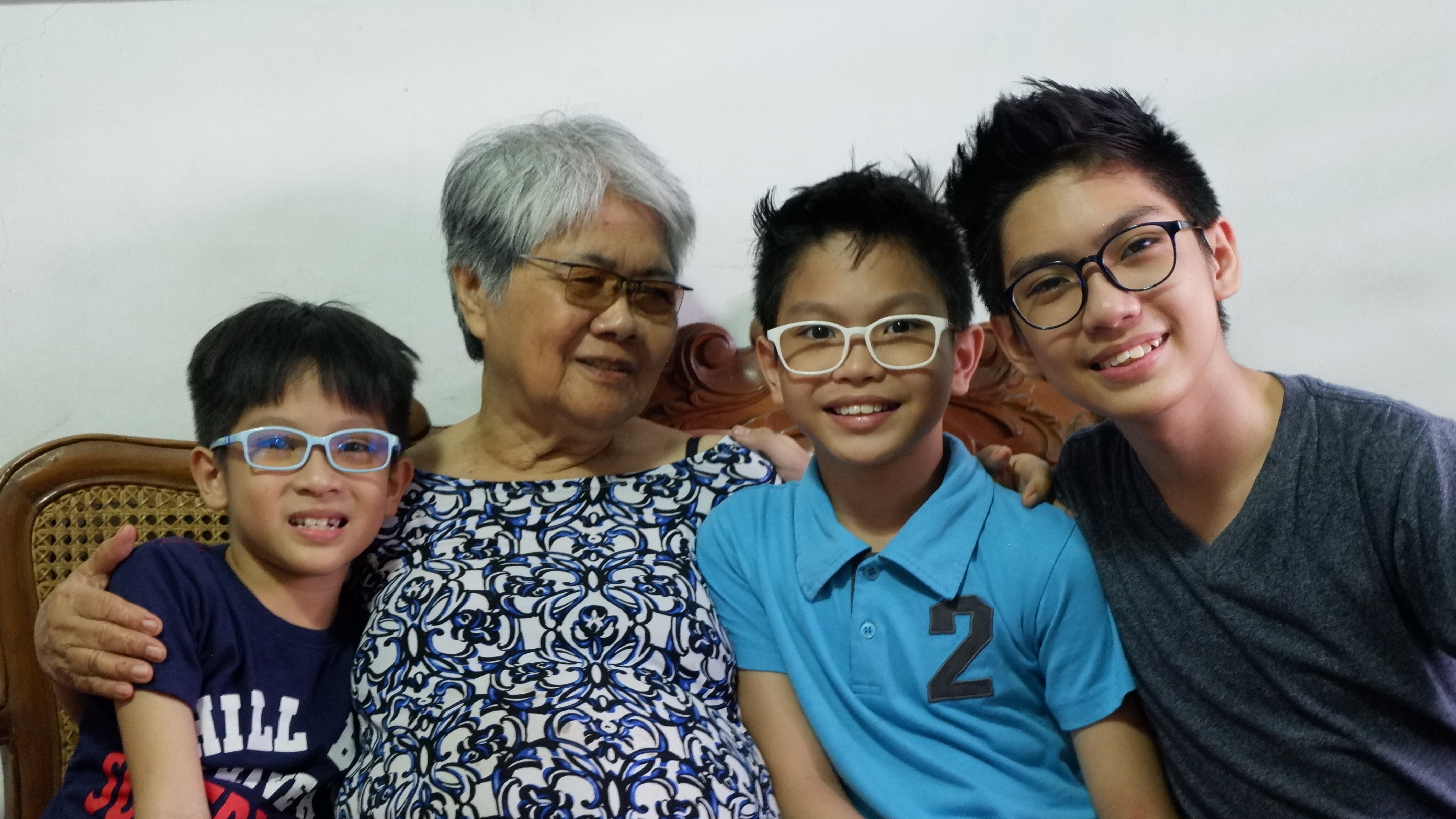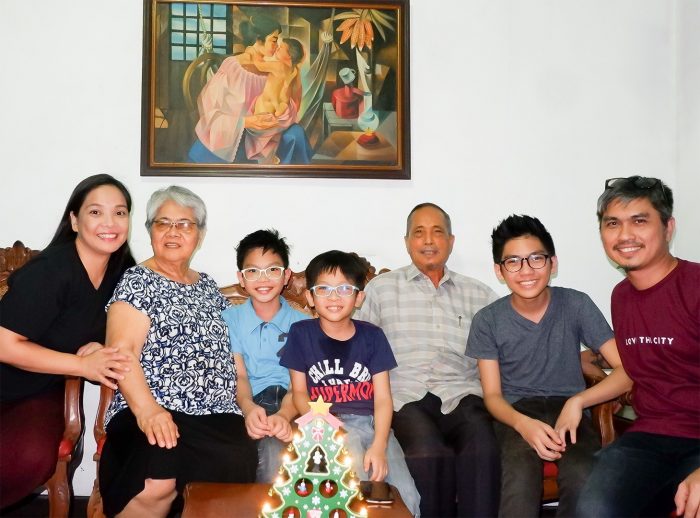 Christmas Eve Dinner
For the first time in years, we had our Christmas Eve dinner at home. Yay!
We don't really do the Noche Buena when the clock strikes twelve, we eat dinner at our usual time we have it. But we do let the kids stay up really late so we can greet each other Merry Christmas.
We served sausages and ham at their request, and we also prepared a cheese board and baked oatmeal-raisin cookies, which was given to us as a mix in a jar for Christmas by one of Pablo's mentors in Abot Tala. Don't you just love food gifts?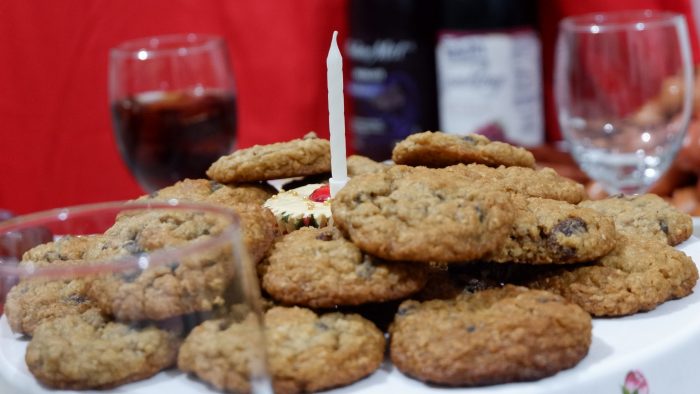 We wanted to buy a cake for the candle-blowing to celebrate Jesus' birthday, but no one wanted to eat cake, so we decided not to buy one and used one of the Christmas-themed cupcakes we had left for the occasion.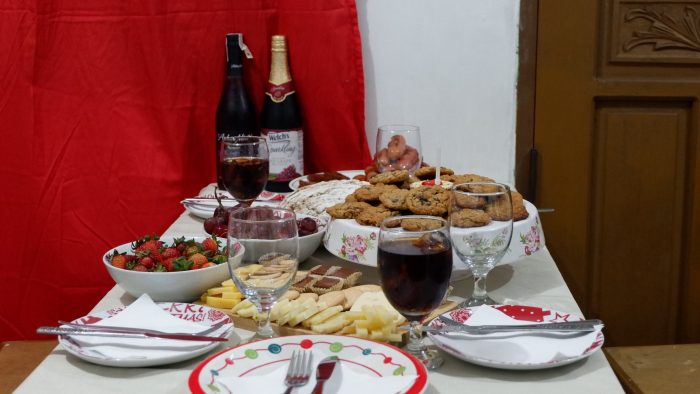 There were a handful of gifts to open, after which, we sent the kids off to bed, while Jay and I stayed up for a few more hours, having a little of the cheese and wine, and simply enjoying the quiet, wee hours of the morning together.
I can't remember the last time we stayed up all night knowing we didn't have to wake up so early to be somewhere else the next morning.
To sum up our Family Christmas Traditions this year, here are the stuff we did:
1. Family Thanksgiving Dinner & Setting up the (wooden) Christmas Tree.
2. Parol-Making
3. Dinner to celebrate our kids' talents and gifts after their ballet performances.
4. 3-Day Advent Devotions.
5. Boys' Day Out with Dad.
6. Celebrate the season with friends and family. (Parties with Fort Homeschoolers, Abot Tala Community, and Victory Group; A visit to the grandparents' house).
7. Happy Birthday, Jesus! (Christmas Eve Dinner)
Then there's the yearend trip to cap it all off. We're taking the kids to Ilocos this time, we're so excited!
Dressed down holiday
This year was probably the most dressed-down Christmas holiday we've ever had, and both Jay and I are very happy about it.  This is the way we've been wanting to celebrate it. Unhurried, restful, and Jesus-centred.
We've come to a point in our lives that we need more than 3 days to rest, refresh and recharge for the year ahead. Personally, I want to use this time to read my Bible and spend time with God through prayer and reflection, and I'm thankful for friends who understand.
2020 is going to be eventful and exciting, I just know it!
Let me end this blog by greeting you a very Merry CHRIST-mas, and leaving you with this blessing –"The Lord bless you and keep you; the Lord make his face shine on you and be gracious to you; the Lord turn his face toward you and give you peace (Numbers 6:24-26)"
"For to us a child is born, to us a son is given; and the government shall be upon his shoulder, and his name shall be called Wonderful Counselor, Mighty God, Everlasting Father, Prince of Peace" Isaiah 9:6.