The Watercolour Hobbyist
I ticked off something in my bucket list recently, and that's learning how to paint.
But I'm doing more than that for some time now. I've also been teaching kids who love to paint with watercolour for two years now, and witness them translate their hearts into their pictures.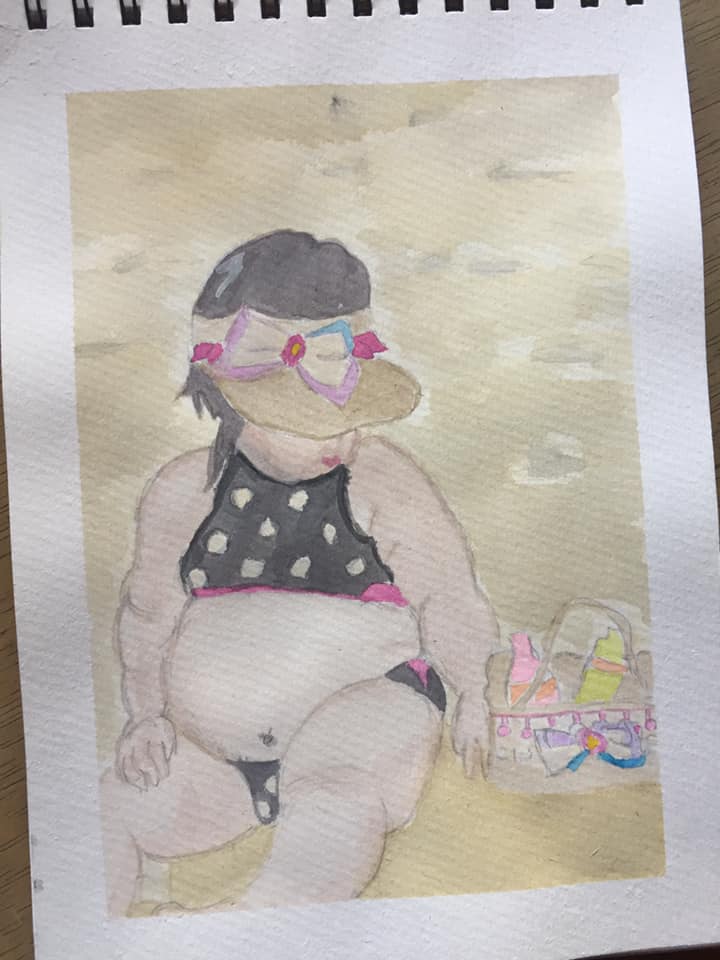 Facebook says I learned to paint in 2016. That was when a friend of mine, Alelie, sat me down to teach me to paint a simple pot of daffodils. I was thrilled about my output and have been signing up for workshops as much as I could since then.
But my love for the arts started way more than that.
Beyond 2016
As a child, I used to draw pictures a lot. My father had this sheets of paper clumped together which he used as scratch papers. I remember always sitting on his chair when he was out and drawing scenes and characters on those sheets.
I had two favourite subjects, then. One was a sibling of 4 kids, where the two older ones took care of the two younger ones on their walk to school. The other was a 4-piece girl band I named "Banda dito, Banda doon" who played in barrio fiesta settings.
I seldom received any encouragement for my drawings. No one took a second look…well, except for when I was in grade school and I had this classmate, Wilma, who loved to draw female faces in comics style.  She would look at my drawings and give me an approving nod.
Although my drawings were not acknowledged, they were handy for projects and homework that required the skill. I guess I was just raised in an environment where arts were not exactly celebrated and appreciated, nor was it considered a lucrative career, just as the performing arts was not considered promising.
Joining the weekend drawing class was not in the books, and when my classmates showed me their art works the following week, I immediately felt inferior seeing that they learned shades and shadows, and how light comes into play in the pictures. I did try some of the techniques they told me about for myself, on the floor of my room; but I had no one to tell me if I was doing it right, or explain to me how to do them. Later on, I resigned to simply admiring other people's works and staring at paintings in galleries, and at the museums.
But I have always wanted to learn how to do it, and after years of staying away in insecurity, I stepped out of my so-called comfort zone to try to learn it.
A Student of the Arts
At the moment, I am a student, taking online classes to have more in-depth understanding of Modern Art (which is a personal preference) and the artists – oh, how amazing it is to find out the history behind Piet Mondrian's New York Boogie Woogie, or the story behind Monet's Water lilies, or catch of glimpse of Vincent Van Gogh's mind when he painted "Starry, Starry Night" –and learn other forms of visual arts!
I've also signed up for Online Watercolour painting classes, to learn more, not just in technique, but to develop my own, personal and unique style.
My humble dream is to have a series of original paintings that I can hang on the walls of my dream house and they'd be interesting conversation starters for our friends and people whom we will open our doors for.
A former classmate, a legit artist, Frederick Agustin, has challenged me to dream bigger – we'll see.
I teach
I also teach basic watercolour painting to kids and have opened a 2-day workshop for moms who are looking at learning watercolour painting as a form of rest and leisure.
My IG handle, @thewatercolourhobbyist is where I post some of my watercolour works – both those I've based on other artists' works and those of my own. I've been working on ballet pictures recently. The one I'm currently working on is based on a photo of my son's co-actor in Matilda.
I also shoot some Watercolour tutorials for kids and upload them on YouTube. I'll be announcing a giveaway soon, in relation to this, so stay tuned!
A friend of mine asked me if I envision myself teaching long term, and it's hard to answer that right now. The Pandemic has brought our lives into a standstill, which is probably how it is possible for me to host online workshops. If anything, I see myself painting with my own kids for a very long time.
All I know is that I love painting – and how watercolour has its own life – and how I sometimes have to follow its lead. I love that we can recreate a moment in strokes and colours. And I love sharing all that I have learned to others.
I love how different pictures look even though they're based on the same template. I love how one's personality, preferences and personal choices come out in the paintings.
I especially enjoy the company of the kids. I love seeing them get excited as their pictures start taking shape. I love hearing their young thoughts and fresh ideas, and when they overflow with them — and I love it more when they gun for it!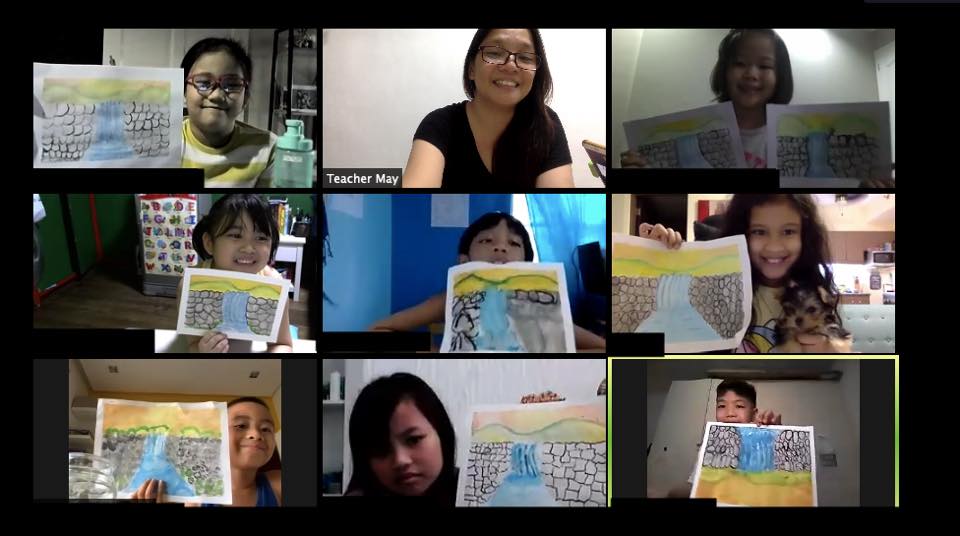 Here's a disclaimer – my workshops are very basic and are for those who just want to learn watercolour painting for personal enjoyment. If you're after a Rembrandt or Monet type of painting career, perhaps my workshops are not for you. And I say that as lovingly and respectfully as I can.
I teach for hobby. To promote a form of relaxation and explore and discover one's own creativity. Nothing more – but nothing less.
Would you like to hold a watercolour workshop with me? I accept bookings for group watercolour workshops for kids or adults with a maximum of 10 participants on Zoom. You can email me at [email protected] or message me on Facebook. 
I hope to paint with you soon!