Balcony Farming in Quarantine
I've always wanted to plant vegetables in our mini balcony, but for some reason, my attempts to do so had been futile. Perhaps it's because I've been too busy attending to so many things and I haven't really had the time to pamper and nurture my plants. Because really, one of the things I've learned in balcony farming is that these plants need proper attention, caring, nurturing, and yes, sometimes, spoiling! But I'll get to that in a bit 'cause I've got quite a mouthful to say about that last part, haha!
I see many plantitos and plantitas on Facebook, but I don't see myself as one. I think I'm more of a newbie urban farmer, I like edibles and don't really appreciate decorative plants so you won't see any inside our home.
Our balcony farm consists of  Okra, Green Chillies, Eggplants, Pechay, Kangkong, Tomatoes, Sage and some basic herbs, such as Basil and Wansoy Coriander. I got all our edible gardening kits from a fellow homeschooling mom, Mics Camus-Goce Flordeliz of Gardenscapephils Inc. who posted about her kits in a homeschooling group on Facebook.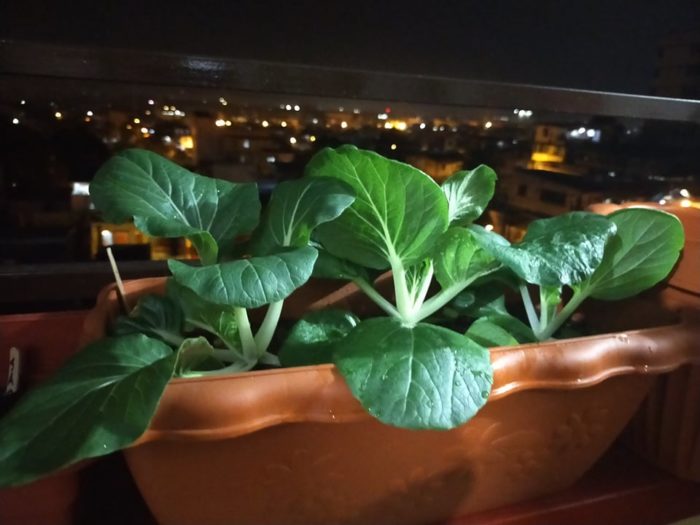 Mrs. Pots!
What I really wanted was to teach my kids to grow food as part of our homeschooling. So I handed each a kit and let them follow the instructions on how to plant the seeds, and they did so. I made sure they planted a variety of seeds so we can learn how to grow different vegetables.
When we started our mini balcony farm, we didn't have too many pots. In fact, I only had 4 small ones sent to me by a plantita friend from church, and a couple of plastic ones that came along with previous seedling kits we bought which have not been useful at all! The kits came with seedling bags, which I thought was going to work for a while, until we were ready to get pots, only for us to find out not too far ahead that we needed the pots ASAP, haha!
Because my kids and I were so new at it, we found it a little hard to care for plants in seedling bags. I ordered long pots from Lazada and when they arrived, we immediately transferred the baby plants that were ready to be transferred. It's a good thing that the first seeds we planted were the tough ones – Pechay, Okra and Eggplants. They thrived right away in their new pots.
The kids took turns watering the plants in the mornings and afternoons, or whenever they need their soil moistened. Our 11-year old, Lukas, among everyone else, does most of the research on how to care for each plant. He tells me which ones need more sun, which need less water, and all that.
View this post on Instagram
Help from Old Timers
I, then, started planting more seeds in new pots which I kept buying, hahaha! I have another plantita friend, fellow homeschooler and blogger, Donna Donor of Everyday Adventures with Donna and Kib, who helped me get affordable good soil and pots from a store near her house. She's also been one of the old timers in the planting world, so she would calm me down with troubleshooting tips, especially when our Okra's leaves started to yellow and wilt, gah!
I also consulted with my friend who legitimately owns and runs a huge vegetable farm in Bicol, Arnel Bautista.  Two things that stuck with me in what he shared were healthy soil and rain!
Apparently, rain has a different effect on the plants and I saw that the last two days when it has been raining and I saw how the plants responded to the rainwater!
We used to bring down all the pots to the floor whenever it would rain, but now, we try to put them on the sill so they can get some rain on; though not all of them are fond of it, we discovered.
Getting to know our Veggie Tales!
Pechay (Or what we fondly named, Depechay Mode)
We noticed that our Pechay plants love the sun but thrive on rainwater the most! You should see them now. They're all erect after yesterday's rain showers.
And they're not hard to manage at all. We just need to keep the soil moist at all times.
There were times when the sun was too hot that the soil would dry up so fast, and we would scamper on watering the Pechay plants because they'd seriously wilt on you when it's too dry. But it's magic when you take a peek after a minute or two, and you'd see them back up again.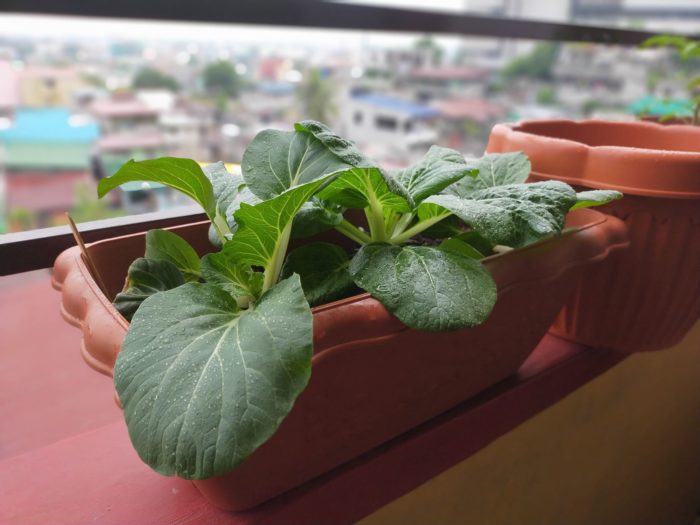 Okra
The Okra plants were a little tricky. We first planted them in long pots and for the first two weeks, they looked like they were doing well. But after a while, their leaves were turning yellow and we noticed that they were slowly dying.
That's when Donna told me the story of their Okra. She said her mom transferred it to a bigger pot and it grew in inches. Now, it's planted on the ground and they harvest its fruit almost every week!
And I go…whoa! So, it's a tree! Haha!
So, we had to transfer them to bigger pots, two in each, which Donna said is okay. But we're observing if we're going to need to give each one its own pot, as I read in one group that it may not bear fruit if they share a pot with each other.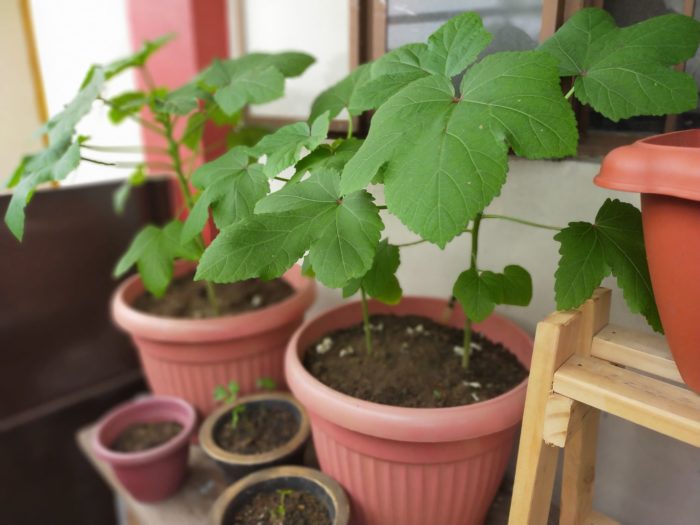 Tomatoes and Eggplants
So far, our tomato plants are growing slowly but surely. It's not a very sensitive plant, I can tell you that much. It doesn't wilt right away when the soil is dry, nor does its leaves turn yellow when you overwater them.
I just saw it droop a little yesterday against the rain. Not sure if it hates the rain, or if it's only because the drops were a tad too big to handle for them. But they're still okay. Nothing major for me to panic.
The Eggplants are the same. They respond the same way as the tomatoes, though they didn't react to the rain the way the tomatoes did. They seem to be okay with it. But I learned that they're big plants, too, so I'm going to have to get new pots to transfer them. Right now, they're still in long pots and it's okay because they're still small. But they're going to grow into little trees, so we're going to need to give them the right amount of soil.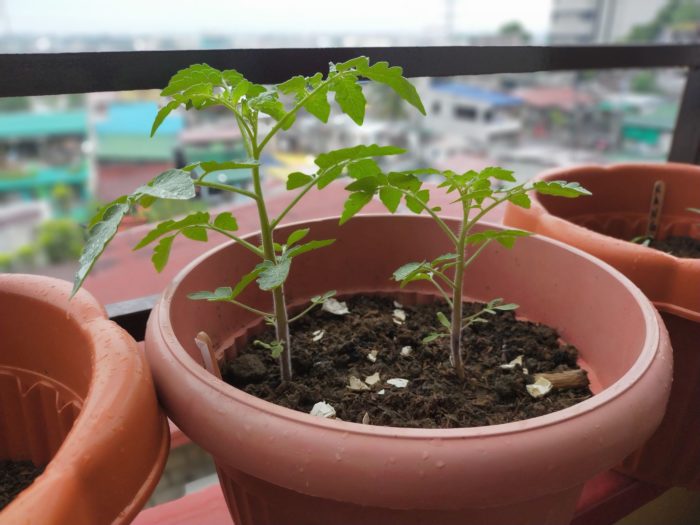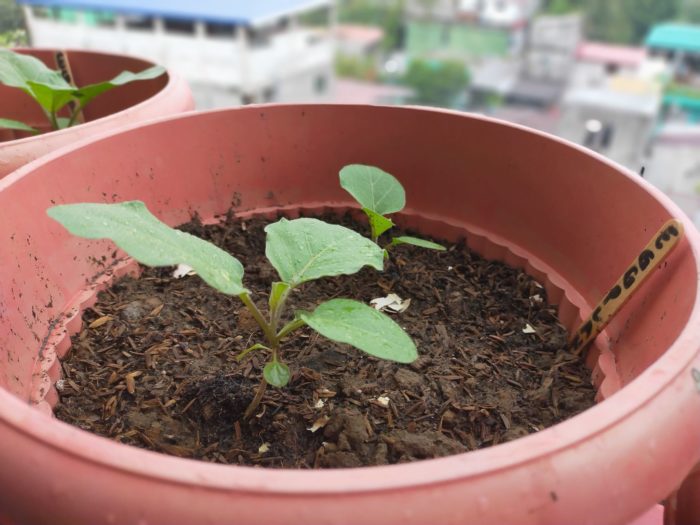 Green Chillies (Pepper Inokra Panigang)
I find Green Chillies a bit of high maintenance plants, haha! But let's see. I just realized that they just got transferred and I've read in many posts that when you transfer plants, you need to keep them away from the sun for a while.
For the past three days, I've been carrying them in their big pots all around our balcony. They don't seem to like the sun very much, and just a ray of sunlight would cause them to droop – and me, panic!
So I've lifted them up on the balcony sill, because I thought they'd love the rain, but they didn't; I put them down on the corner, but when a bit of ray hit a leaf or two, they reacted, so I had to find another dimmer corner to put them. So spoiled!
I have to admit I was a little annoyed that I had to do all that for one plant, haha! I mean, I like low-maintenance anything. But I do want to get my chillies, so I really hope this pampering bit will gain us some really good fruits from these plants.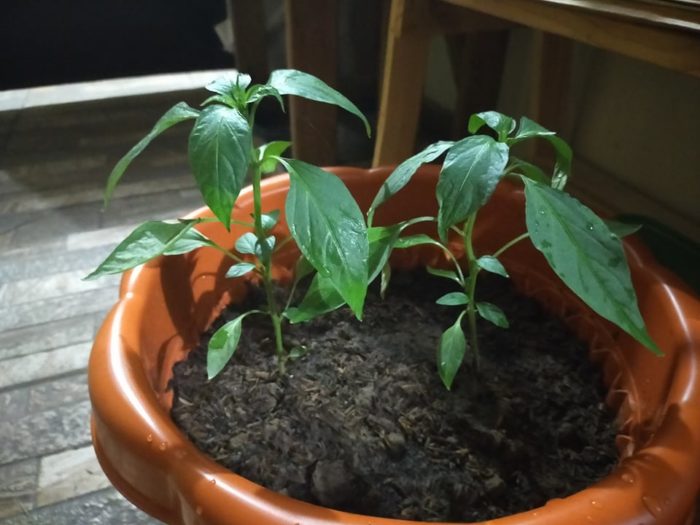 Kangkong
We recently just planted Kangkong and we're overjoyed to see Baby Ks sprout within its first week! I think the rain did them good, as well, because today, we saw two new sprouts in the pot. I've yet to get to know this veggie tale, but I'm excited!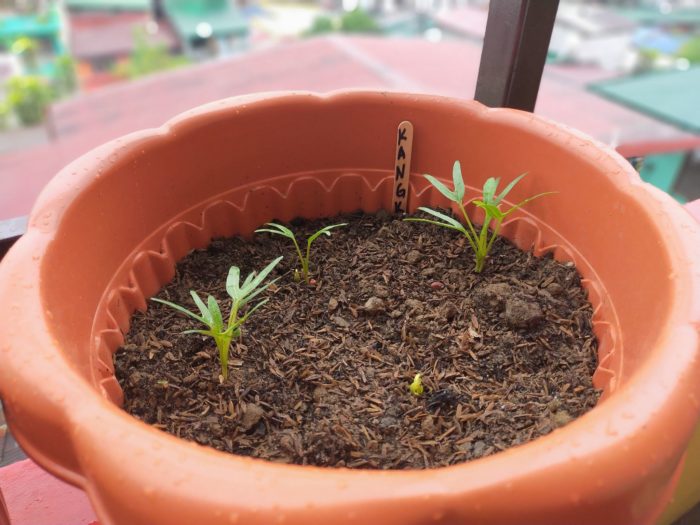 Sage
This is our second attempt to plant Sage. The first time wasn't so successful. Lukas did a quick research and told me it needs full on sun, so I put the baby plants up on the sill where the sun would hit it most. So far, there's no sprout out.
As you can see, we planted them in seedling bags. That's because the new long pots just arrived. We're giving it a few more days before we try again.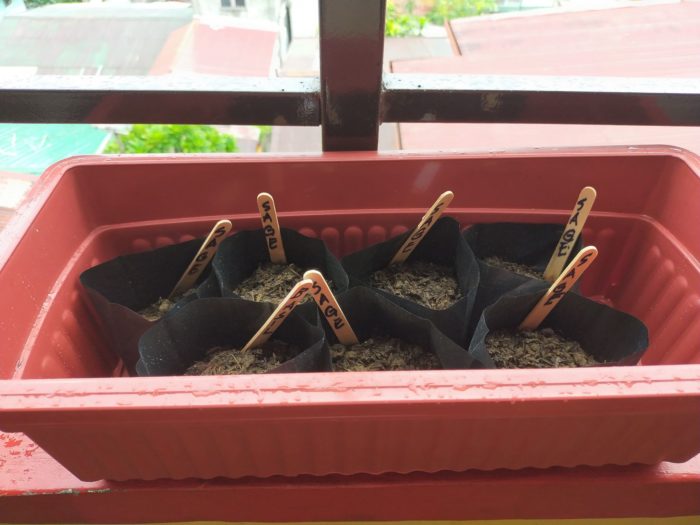 Basil and Wansoy Coriander
Basil is like Pechay, it's quick to grow. I saw a friend's post wherein they just planted plenty of seeds in one long pot and just transferred them to the ground later on when they were ready. Since we don't have that, I think we'll just grow a few of them, socially distanced, in a long pot.
I'm pretty sure we can keep Basil small. Can we?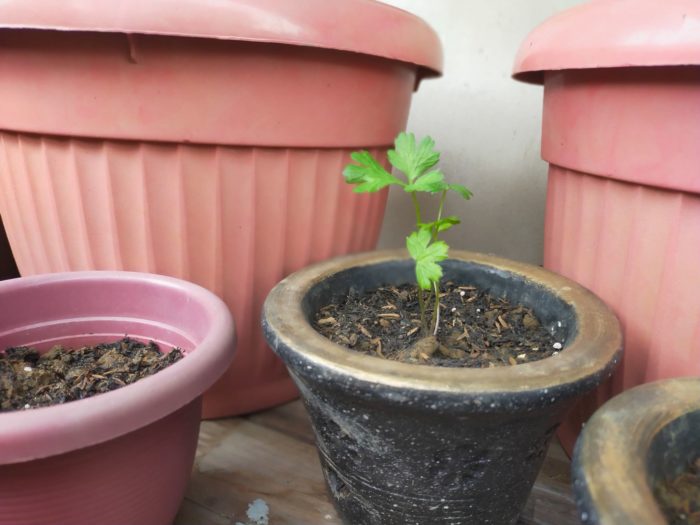 Wansoy Coriander is a bit fragile to care for. A strong squirt of water can push it down to the ground. Funny story, it's supposed to be ready for harvest after three weeks, but we can't really harvest it because they're so few, and well, no dish to add them in. So we just leave them for the meantime.
I hope they're still okay when we finally want to cook them.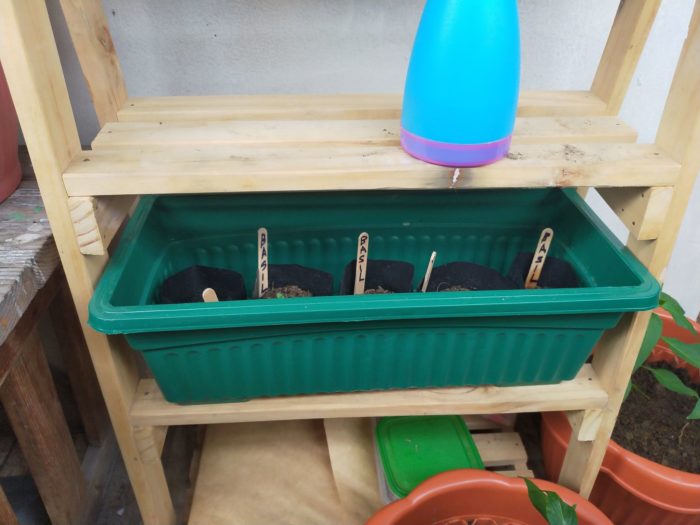 Speaking of harvest, Jay and I were also talking the other day. Pechay's due for harvest in a week or so, and it's looking like it, too! But we're sort of hesitant because we feel sorry for it. It's been blooming so beautifully – almost like a flower – so yeah, we're not so excited about cutting it off. But it's its life cycle, so wish us well when we clip off the stems a few days from now.
Surrounded by Plants
You know what inspired me to attempt a balcony farm? A red chilli plant we used to have at home when I was growing up. I'm so fond of spicy food and love putting red chillies on my sauces. And everyday, I would go out our door, pull a couple of chillies from our plant, wash them and put them in my food. Growing a red chilli plant is one of my goals.
I used to not stay in the balcony so much, but the landlady had the floors tiled and there's something about being surrounded by our vegetable plants that sort of calms me down. I love painting and reading my Bible in their company nowadays. Sometimes, I even take my laptop out and work out here because I find it most peaceful for me. (It helps that we can see the mountain ranges from here, too!)
Even the kids love looking at the plants everyday. Today, my eldest son, Pablo, was touching the leaves gently and it made me think how much we've been missing having lived in cities that don't really have too many plants around.
I do dream of owning a farm we can recluse to from time to time; and perhaps, retire to, when we're old and the kids have gone on to pursue their own independent lives. I feel that it would make it much more exciting for them to visit on holidays when there's a lot of space and nature to enjoy with their families.
As a child, I spent a lot of my hours in our little garden. My parents loved taking care of plants. I remember we had Duhat, Apple Mango, Santol, Langka (Jackfruit); as well as, florals and those house plants plantitas go crazy about. I played a lot in that garden.
I remember being woken up at 12 midnight because our Engkantada plant, which only bears flowers and opens once a year, was at its season and they wanted me to take a picture with it. I gave a big smile for the camera before going back to bed. Look!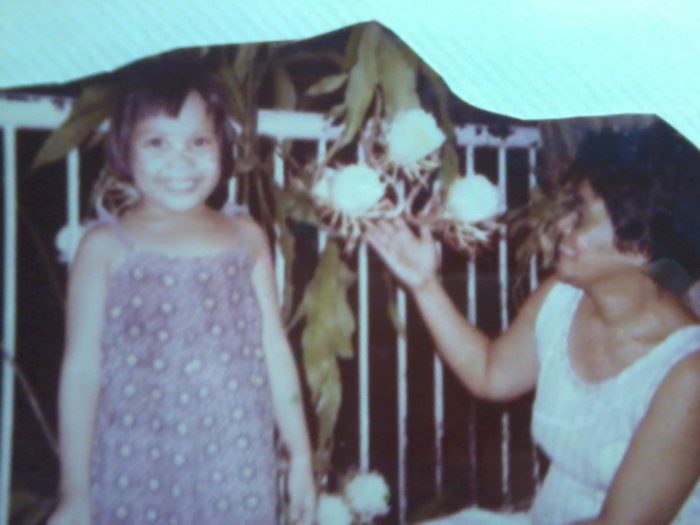 I hope that we can give our kids and their children that experience one day. Who knows, yeah? Scriptures say, "No mind has seen, no ear has heard, no mind has known what God has in store" (1 Corinthians 2:9) and I choose to hold on to the hope that God will bless the desires of our hearts.
I hope that my next blog about our plants will be all about the harvest. Until then, we'll continue to learn and study how to grow and nurture our mini balcony farm. And if I do learn something new and useful, I'll update you!