5 Gutter Cleaning Tips You Must Know
If people were to finally understand the importance of properly cleaning their gutters, there would be far less property damage and far less injuries. When the fall season comes, everybody should get prepared for doing this type of cleaning, so that their roofs are ready for the winter and snow that's ahead. Of course, you can just leave everything as it is and not clean a thing, but that will probably cost you some repair money afterwards.
Now, since we cannot all be gutter cleaning experts, I can completely understand why people feel overwhelmed with the whole idea of getting this part of their residential or commercial building in order. It can take so much work. Plus, you might not even know how to do it the right way, meaning that all the work you do can be in vain.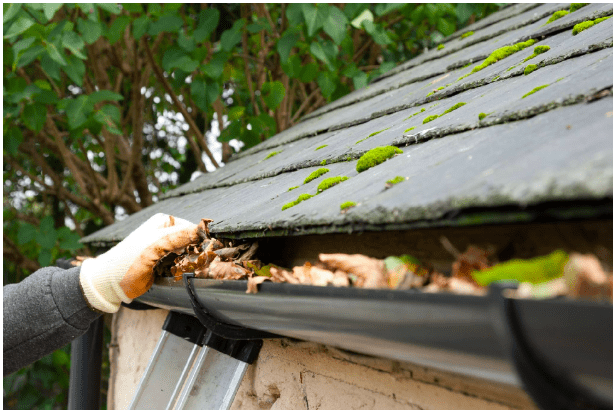 How about you don't let the work be in vain? You have two possible options to ensure that everything runs smoothly. The first, the safest and the most obvious one is to simply find gutter cleaning experts in your area and let them to the trick. The second option is for all those people who are stubborn and determined enough to want to do everything on their own.
It goes without saying that you shouldn't just jump right into it without knowing what you are doing. If you're really determined to do things all alone, you will need to make sure that you are doing those things the right way. Guess what you will need for that? Why, of course, you will need some gutter cleaning tips and tricks to help you go through the whole process successfully.
Luckily, you can find a lot of these tips online. Just make sure that you are getting your information from trusted sources, since the whole job can be rather dangerous both for you and your property if you don't do it precisely how it should be done. Read this guide to get properly acquainted with the process and continue reading this article to get some tips you absolutely must know if you decide to do this project alone.
Get The Right Ladders
You might think that the ladders you will use are simply an auxiliary prop designed to help you reach the places that you need to clean. While that is their primary purpose, you should definitely give more credit to this auxiliary prop. After all, the ladders are there for your safety, as well as for making sure that you do the job efficiently. You don't want to grab just any pair you have and be done with it, because that can not only prolong the time you need to have the project done, but it can also cause some injuries.
Your ladders should be strong and sturdy, so that you feel stable when you stand on them. In addition to that, this prop needs to have enough space to fit a bucket that you will need when cleaning out the debris from the gutters. Make sure that they are not too heavy, because you will need to carry them around and you don't want that to be a complicated process that will get you tired after a few minutes.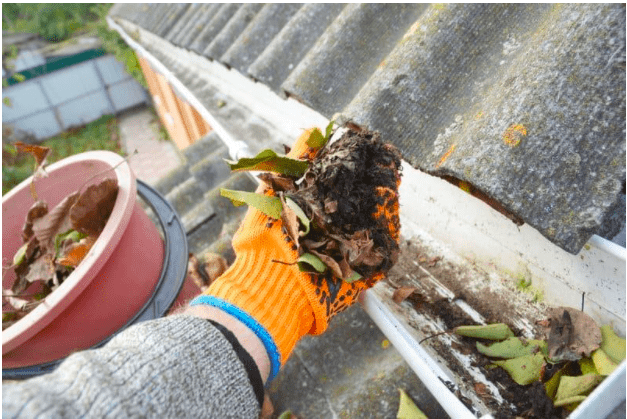 Don't Forget To Flush
No, it's not what you are thinking. I'm not teaching you bathroom etiquette here. What people usually forget to do when they have taken out all the debris is too flush the gutters. Doing this has two different purposes, but before we get to those, you'll need to learn how to choose the right hose for the job. The perfect hose will do a perfect job.
So, it would be best for you to choose a hose featuring a pistol-grip spray nozzle, because that will allow you to use only one hand to adjust the water pressure. This type will help you do the job quickly and efficiently, but don't worry if you don't own it. Any other hose can do the trick, it's just that you might get more tired and it might last longer with other types.
Let's get back to our purposes of flushing the gutters. As I have already said, doing this is important for two different reasons. First of all, it will allow you to get rid of any remaining small debris that you might not have been able to reach. More importantly, though, it will help you check whether there are any leaks in the gutter system that need to be repaired.
Here's your 6-step guide to cleaning the gutters: https://www.familyhandyman.com/article/the-right-way-to-clean-your-gutters/
Protect The Hands
It's time to talk about your safety now. Before you even start this project, you will need to make sure that your hands are properly protected. This means that you should get the right gloves, the ones that fit perfectly and won't fall right off of your hands in the middle of the job. Wearing gloves protects you from any cuts, but also from the dirt and the bacteria that might have accumulated in your gutter over time.
Protect The Eyes
Similarly to the above, you also need to make sure that your eyes are properly protected. You never know what might fly out of the gutters once you start meddling with them. There might be rats, birds, bees, wasps and similar creatures and you definitely don't want any of these to touch your eyes. Plus, you don't want the bacteria and the dirt to reach your eyes either, so make sure you wear the right gear.
Call In Professionals
Now, if this all sounds a bit too much for you and you don't think you would be able to manage, or you are worried about injuries and property damages, the best thing you can do is call in professionals to do the work. This is probably the most useful tip I can give you. And, remember, if you are one of the clumsy ones who risk slips and falls when climbing a ladder, for the love of God, let gutter cleaning experts take care of this for you.
*This is a guest blog by Rona Carcido.