Quarantine Home Eats: Samgyup sa Bahay
My first Samgyupsal experience wasn't that much fun. My husband, Jay, took us to this one in BGC where we had to line up for a long time before we could get a table, which is pretty common because Samgyupsal restos has become such a phenomenon in Manila.
But it wasn't the waiting that got to me. The place was so cramped, the tables were so close to each other, and you have to walk sideways between tables to get to the one the staff assigns you.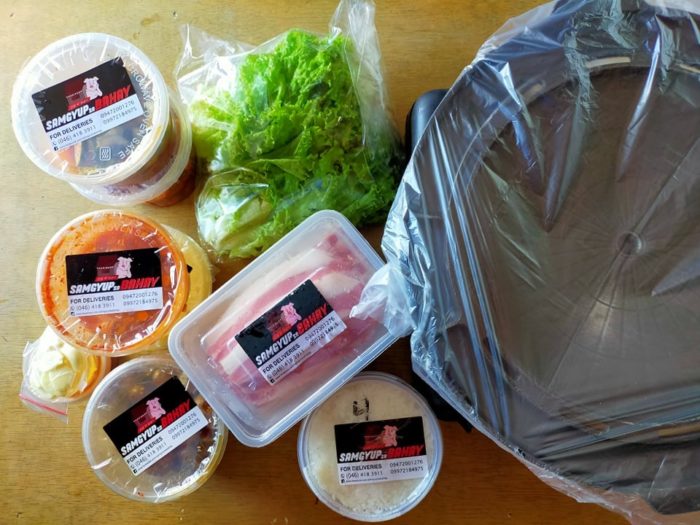 At that time, the two younger boys were still smaller (and more active), so it was a bit of a challenge to manage them in such cramped space. And it was so hard to prepare anything because there weren't enough elbow space. I felt so crunched and suffocated, I couldn't wait to get out of there.
My second time was pleasant. A couple of female friends had dinner at a quieter and classier version of a Samgyupsal restaurant, so I was able to enjoy the food much better.
Craving Samgyup
I've been wanting to have a Samgyupsal meal for weeks now. Obviously, we can't go out with the kids because of the quarantine, but I've been seeing tons of delivery services online and thought I'd check out the ones that I came across with on Facebook and see if we can have a set delivered.
One of my challenges in finding a good Samgyupsal service is the inclusion of a grill because ours broke down. I asked a couple of services I read about from other bloggers, but neither had grills for rent. So I went searching for one that has what we need on Facebook business and chanced upon Samgyup sa Bahay – 삼겹 사 바하이.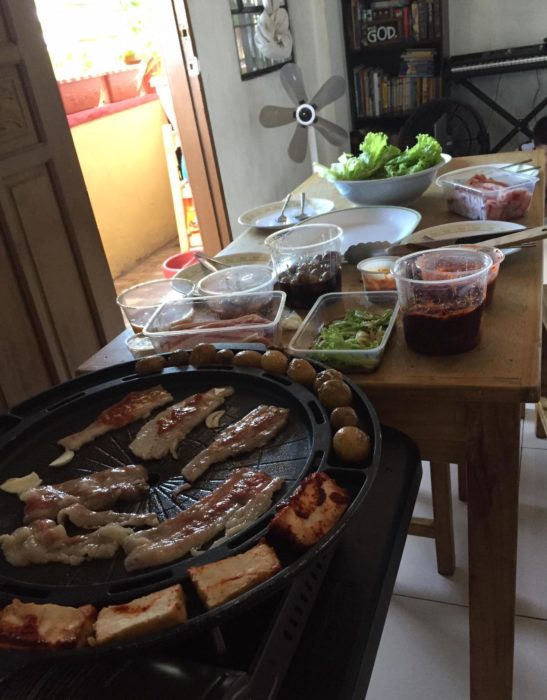 The great thing about Samgyup sa Bahay is that they have an official website, which was great. It's easy to create a fake page on Facebook, really, but if a restaurant invests in a website, that counts for something.
And of course, they also include free use of grill when you order. I was ecstatic!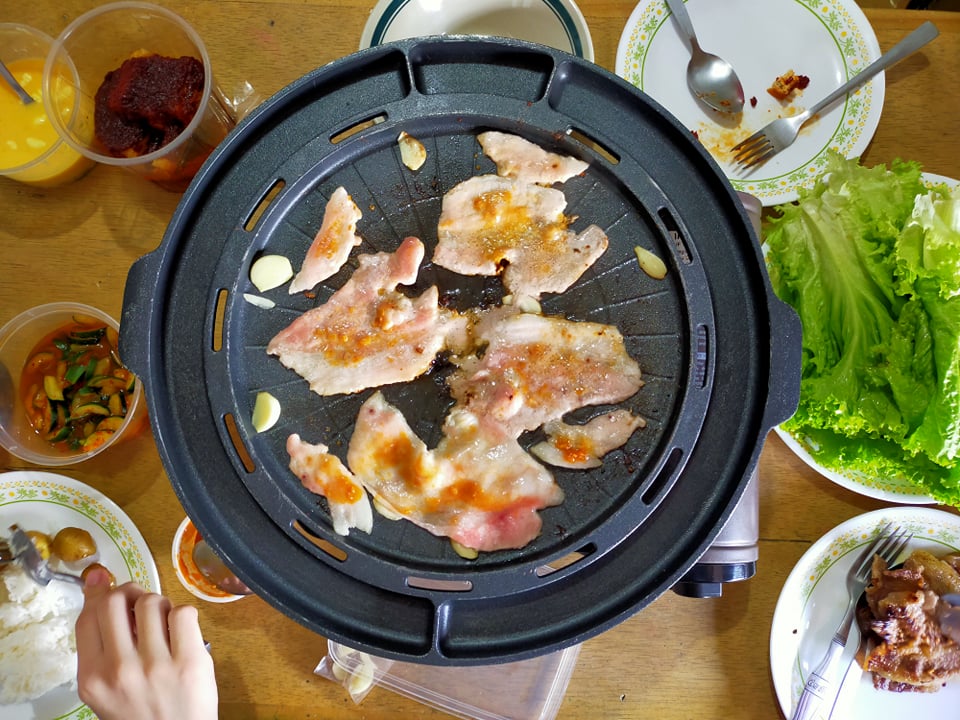 Basic Samgyup packages offered
Samgyup sa Bahay – 삼겹 사 바하이offers both Samgyupsal packages and Hot Pot options. Since I prefer to grill, we ordered package SSB-4 worth PHP 1,799, which they said is good for 4-5 pax.
The basic package include Pork, Beef, then Bean Paste and Sesame Oil for sauces. Side dishes incuded are Kimchi, Sweet Baby Potatoes, Cucumber Salad, Korean egg, Korean Braised Tofu, rice, lettuce and garlic.
If you must know, for both times we ordered the package, it was enough for our lunch and dinner. They are quite generous with the servings.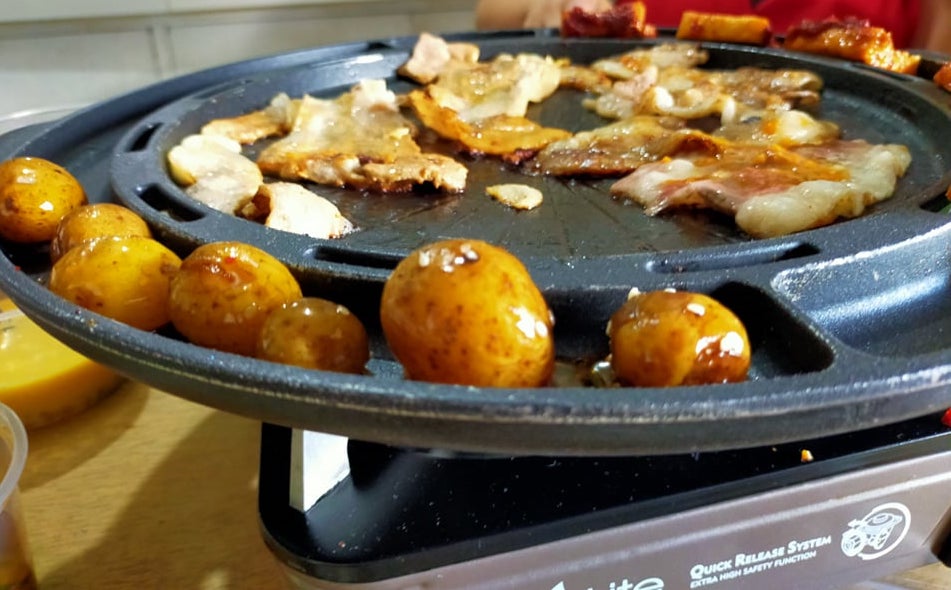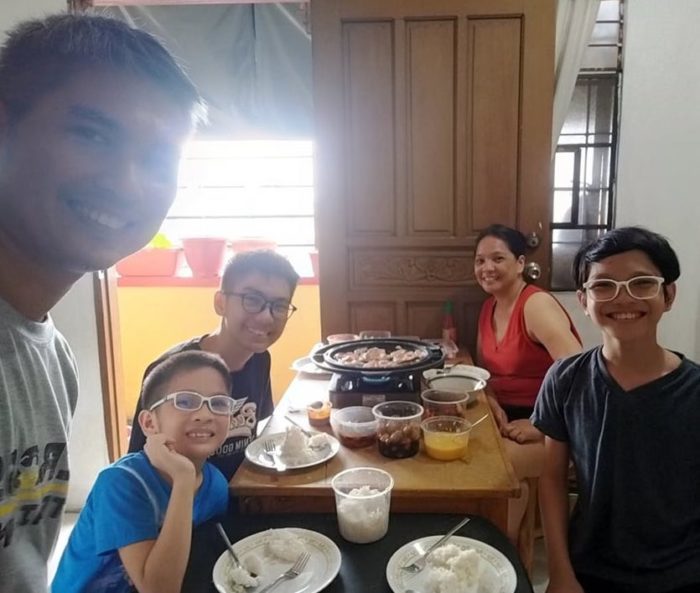 We didn't try the flavoured meats nor ordered any add ons, but we were quite satisfied with the package we got. Perhaps next time, we'll try some of the flavoured meats, or add japchae or kimchi rice to our orders. We'll see. And yes, there was a next time. We ordered again because we thought the quality of food that arrived, and the service was topnotch. It made me feel like I brought home my second samgyupsal experience which I mentioned at the beginning of this blog.
As for the grill, they send one of their people to pick it up the day after. It took a while for them to pick up the next one, but it's fine. We just messaged them to remind them we still have it here and they made sure to have someone pick it up right away.
If you're looking for quality Samgyupsal home delivery, try Samgyup sa Bahay – 삼겹 사 바하이 . You may order via their FB page, their website OR call them directly. Here are the details:
Samgyup sa Bahay – 삼겹 사 바하이

Official Website: http://samgyupsabahay.com/ 
Facebook page: https://www.facebook.com/Samgyupsabahay
Mobile: 0997 218 4975 (Globe) / 0947 200 1276 (Smart)
Telephone: (046) 418 3911
Viber: 0947 200 1276
Email: [email protected]