How to make Graham Apple Cups
Last night, I was pushed to recreate a Thankgiving favourite so I could serve a nice, delicious dessert for the kids to enjoy on our Family Thanksgiving dinner.
The kids actually requested for a milkshake but some of the ingredients were not available at the supermarket, so I decided to make a simpler version of Apple pie using crushed Grahams for the crust and top.
(Read: How we celebrate Thanksgiving)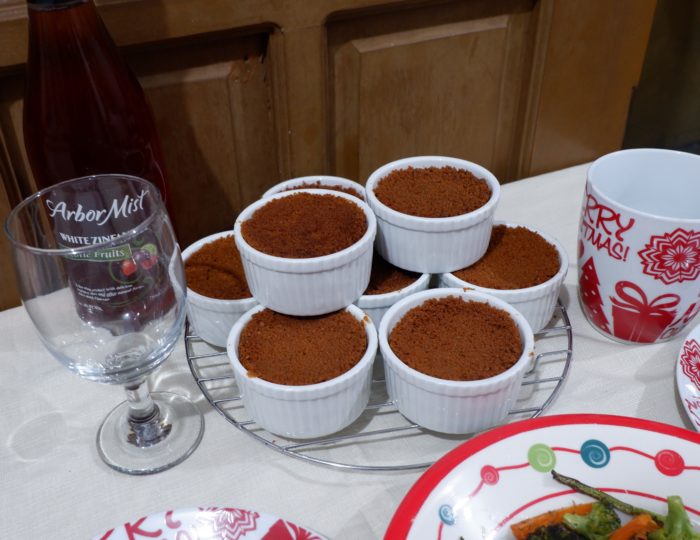 I received a request for the recipe, so I thought I'd share it on the blog instead, in case there are more families out there who'd like to make the same.
By the way, it's delicious!
Here you go:
View this post on Instagram
Ingredients: (Makes 10 small Ramekins)
3-4 Ripe Apples , sliced into small pieces.
2 Bars of Unsalted Butter
2 packs of Crushed Grahams
3 TBSP All Purpose Flour
1/4 C Water
1/2 C White Sugar
1/2 C Brown Sugar
How to make your crust and top:
1. Melt 1 bar of butter, pour into a mixing bowl.
2. Add your crushed grahams into your butter and mix well.
3. Using a spoon, put some graham into your ramekins and press it so it will make a firm crust. Leave some for the toppings.
4. Chill.
How to make your sauce:
1. Melt 1 stick of butter in a sauce pan.
2. Once the butter is ready, add the water, flour, and sugars, and mix well until the grains have dissolved well into the butter.
How to prepare your Apple Cups for baking:
1. Get your chilled ramekins and put sliced apples in them.
2. Pour in your sauce.
3. Put your crust mix on top and smoothen.
How to bake:
1. Pre-heat your oven to 200 degrees.
2. Put in your ramekins and bake for 10 – 15 minutes.
3. Serve!
Best served chilled!
So easy and so simple, yeah? Definitely something you can do with the kids in the kitchen and enjoy eating afterwards. I got the sauce recipe from an apple pie recipe called "Apple Pie by Grandma Ople" at allrecipes.com , but altered the dough part because I didn't have the pastry to use. Kids love Grahams anyway, so they enjoyed the lot.
Plus, the Vanilla Ice Cream on the side was a great match!
Original recipe says you can serve hot and cold, but we liked this one best served cold.
Go ahead, try it with your kids. Let me know how yours turns out. Enjoy!