Break the Habit and #PledgeToDoubleCheck what you serve your family
Food should be enjoyed, I agree. I love seeing my kids happily munching their food and drinks, and it gives me great pleasure when I see my husband loving his meals. But I've learned along the way that having a great time with food isn't enough.
Did you know that the food you eat has plenty to do with your body's state and condition? If you're feeling sluggish – that's food. If you're feeling weak – that can be food. If you find yourself in a bad mood –  food's involved, believe it or not.
I say it again, food should be enjoyed, but that isn't all there is to it. It must also be nutritious and beneficial for your family!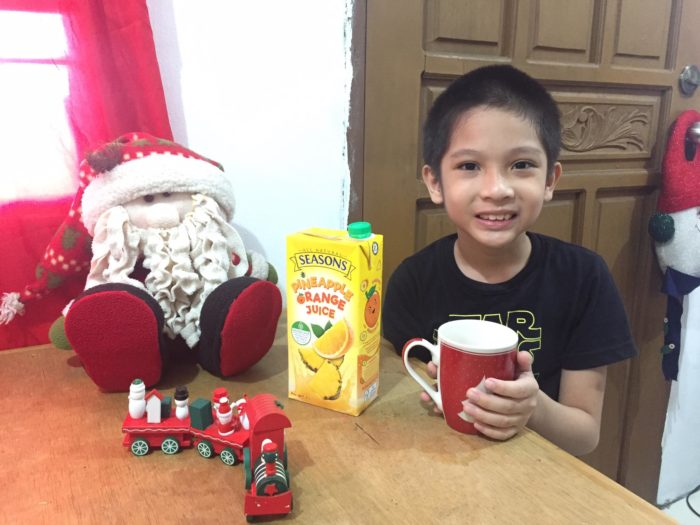 I remember when my eldest was still a toddler, I thought hotdogs were healthy because they're meat, or crackers are healthier than chips, or that any fruit juice is a better option than soda. Of course, later on, I realised how badly mistaken I was and how much I needed to learn about nutrition, and have thankfully tried to do it better when my two younger boys arrived.
It's not too late to break the habit!
Don't feel bad if you started out wrong as I did. It's not too late to break bad food habits, especially if your kids are still young! You can still teach them how to choose the right food and identify healthy options. All Natural Seasons Juice by Dole have started the mommy movement #PledgeToDoubleCheck which advocacy is to push us to be wiser and smarter when we do grocery shopping!
The #PledgeToDoubleCheck movement is "a call to be more conscious about your grocery shopping habits and to inform and properly educate yourself about the ingredients of the products you are buying."(PR)
Here's a hint: If you see lesser ingredients on the label, that would most likely be the healthier option to serve your family. The more ingredients, the more suspicious the nutritional benefit would be.
What's more, if you find so many names on the label that you don't understand, it's most likely full of artificial additives and preservatives that are not beneficial at all to your kids' health, nor yours. Best not to consume too much of it…or at all.
View this post on Instagram
The #PledgeToDoubleCheck Movement
When you pledge to double check, you are committing to educating yourself to be more aware of what brands are authentically  "natural" and "healthy."  You might be shocked to find out that some of the brands we have been using for years that we thought were the healthier alternatives are actually harming the health of the very people that you want to protect and take care of.
According to the copy I've received, "well-known celebrity mommies like Jolina Magdangal, Neri Miranda and Pokwang, together with some sought-after mommy bloggers such as Pehpot Pineda, and Peachy Adarne have spearheaded this movement of breaking the bad habit of not checking the label and starting to read and scrutinize the contents of the food and drinks that they buy." (PR)
Other moms who have joined the #PledgeToDoubleCheck movement have these to say:
"[As] a meticulous [and] curious mom, checking the back label helped me to verify the nutritional claims, compare brands, and choose which one offers the best buy for my family," said Mommy Erlyne Penaroyo from Makati City.
"Double checking the back label of [the] products I shop from the groceries made me a more cautious and practical mom I am. It ensures my family's safety most especially these times of pandemic. Dole's All Natural Seasons #PledgeToDoubleCheck made me realize to double check all the things before purchasing and consuming," according to Mommy Dyanna Cañas from Biñan City.
"I always double check the back label of each items I [buy] especially for my kids because I always want to make it sure na healthy ang lagi kong binibili at binibigay sa kanila at may natural ingredients na makakatulong sa health nila. I am very conscious mom lalo na sa mga binibigay ko sa aking family, kaya super important sakin na i-double check lagi ang back label," Mommy Kimberly Fajilan from Batangas City added.
"It's good to be aware if a certain food is high in sugar, carbs or in sodium. [and] also for the calorie content and ingredients, sometimes 'pag puro preservatives malalaman mo agad kasi hindi familiar ang ingredients," said Mommy Gec Cajucom from Parañaque City. (PR)

View this post on Instagram
Join us!

I, myself, have actually completed an online course on Child Nutrition & Cooking, because I wanted to serve better, healthier food to my kids. And I also want them to learn and establish the habit of choosing food that will not only be delicious, but also nutritious and health-sustaining. I don't want to risk my kids' health just because I did not do my part in being diligent enough in checking what I'm feeding my family.
I think all moms should all join the movement and educate other families about checking the ingredients to know what's in their food AND IN THEIR JUICES. Heck, it's about time we take charge of our kids' nutrition!
View this post on Instagram
"Join this movement now and be part of the change! Post a photo of yourself holding and reading the back label of any food or beverage product and tell us what you discovered when you double-checked. Don't forget to use the hashtag #PledgeToDoubleCheck and tag @allnaturalseasons so you can influence other mommies, and little by little, we can all take the next steps towards creating a healthier lifestyle for us and our children."