Bringing school online was not exactly on everybody's minds before the lockdown, but here we all are, using the web and technology in our attempt to continue our children's education in the new normal.
Our family has been homeschooling for a long time, so we were pretty much lucky that we didn't have to adjust so much to the changes brought about by the pandemic and the long lockdown. But I have heard of so many families, schools and teachers who struggle with the unfamiliarity of the new school system.
This is why I think it's great that Lenovo has come up with Lenovo EdVision Summit to help educate and equip our educators for what we now know as the new normal in education.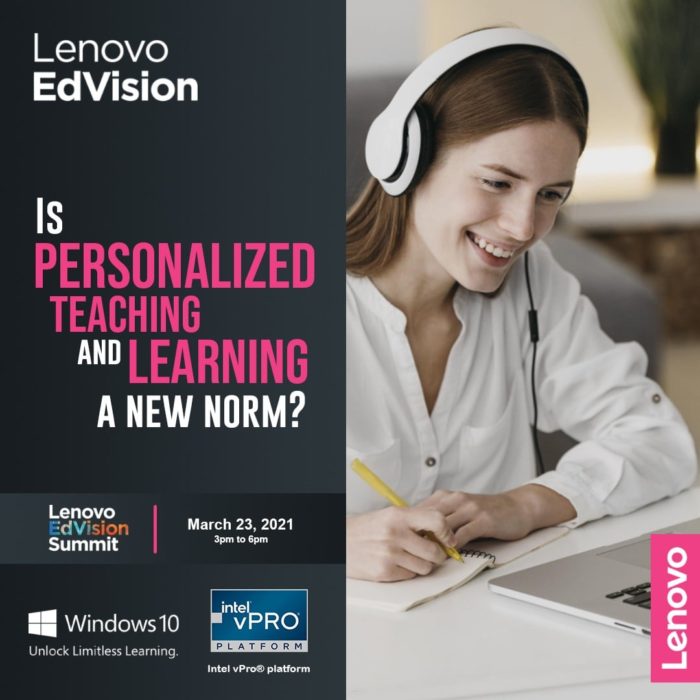 The theme for this year's Lenovo EdVision Summit is "Bridging the gap in learning and technology in the not so new normal."
At this point, we should already know that it takes more than having a stable connection or learning how to work Zoom to implement an effective online schooling.
Even if we have been utilising the internet and technology in schools for years, no one really anticipated that teachers will be holding their classes via video conferencing platforms, and schools will be holding their events online in 2020. At least, not in the way things panned out.
The sudden shift to online schooling has caught all of us off guard. The truth of the matter is that most of our local schools and teachers in the Philippines have limited experience in employing technology for teaching and lack the essential skills in navigating technology. Some of them have not even used online educational tools and software prior to the pandemic.
But just imagine what they can do when they get their hands on the numerous technological resources that they can utilise to make educating online smoother and easier for them, and more interesting and engaging for their students.
Through the Lenovo EdVision Summit, all these challenges will be addressed and solutions will be discussed by top educators and tech innovators from the Philippines, Singapore, Malaysia, Hongkong, and Indonesia.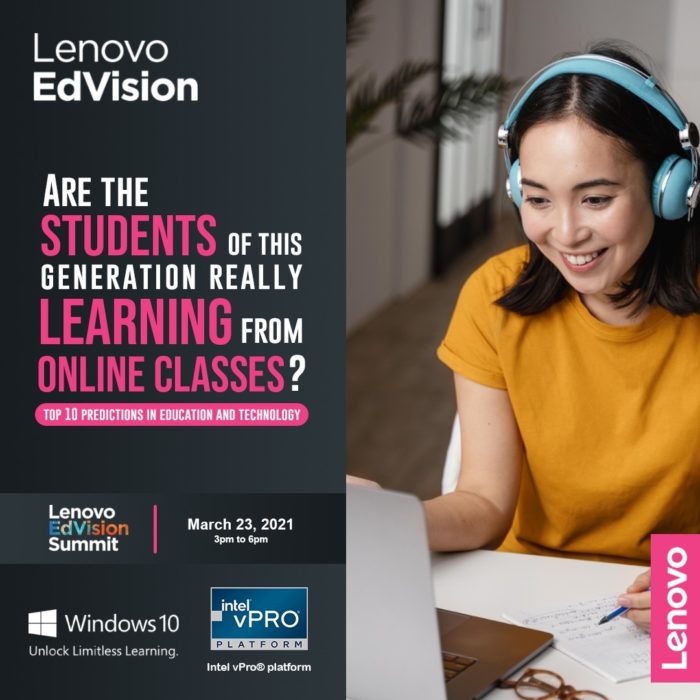 Topics included are the Top 10 Predictions in digital education and how to prepare for it, "ensuring teaching continuity using today's technology, and several panel discussions on teaching in the new norm, breakout sessions that tackle blended learning, collaborations, digitization of education, and much, much more.
The Lenovo EdVision Summit will also touch on topics on how to prepare today's students for the new world that they're getting into.
(READ: Lenovo EdVision at EduTech 2021)
The business landscape is fast changing and students must be equipped with the skills they need to keep up with the modern advancements in technology as they head towards careers that may not have been introduced just yet. In line with this, Lenovo has collaborated with Intel and Microsoft to bring you the latest in SMART technology for education which have been proven to improve the quality of learning for the 21st Century learners. Lenovo laptops run on Windows 10 and are powered by the latest Intel core processors.
You'll learn all these at the Lenovo EdVision Summit.
The Lenovo EdVision Summit is a virtual event, so wherever you are in the world, you can join the summit online.
Lenovo EdVision will be on March 23 at 3-6PM (GMT). To register for and know more about the online summit and the speakers, please click this link: Lenovo EdVision Summit