Wolvit Biotin 2 months later
I've always said that I'm not much into beauty products and skin care when I was younger, not only because I didn't care much for makeup, but because I felt I had no need for it. As a teenager until I've reached early motherhood, I've been told my skin was one of my best assets and I wore it proudly.
Okay, scrap that! I wore it arrogantly, ha! I was proud of having clear skin without making so much effort. I wasn't even using sunscreen unless I was going swimming at a beach. I took pride in my own definition of "simple beauty," haha!
I realised how wrong I was, of course, when I neared my 40's. In fact, I was told by a Dermatologist that I'm now going through skin and other health issues because I didn't take proper care of myself.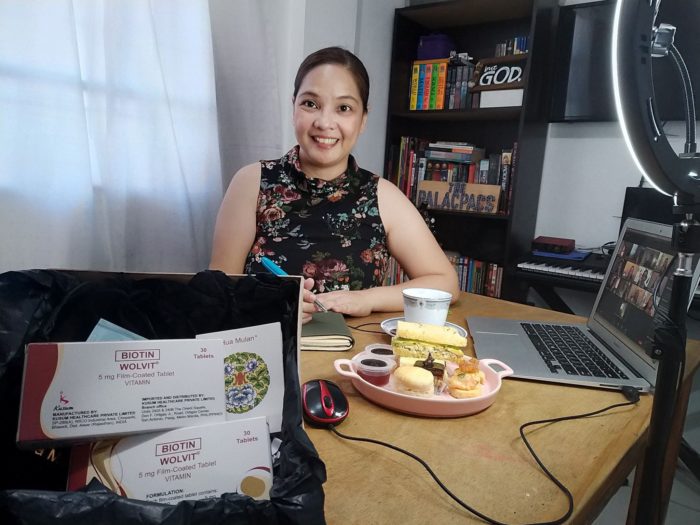 When I gave birth to my youngest son, Judah, I started getting scared at the amount of hair fall I was having. I texted friends and they said that it was normal for breastfeeding mums and that, perhaps it's because I tie my hair all the time; So I did the most sensible thing  – cut my hair short.
They also said it could be because I had to deal with a lot of stress having to care for two babies and a toddler. At that time, Lukas was barely 2 and Judah was just an infant, and Pablo was only 4 years old.
My friends were correct about the breastfeeding part and the stress, and the part that I tied my hair often, but they were wrong about it being normal.  We do lose strands of hair a day, just not as much as I had!
My problems didn't end there. I started developing eczema on my fingers and feet, and I've developed really bad nail issues that I'm too embarrassed to tell anyone. I tried home remedial treatments and ordered nail cream treatments, but they don't seem to work. I've been stressing about this for years  and because money was also an issue, it's only been recently that I've consulted a Dermatologist who prescribed meds to help me.
And then I learned about Wolvit Biotin when I joined the Wolvit Biotin Bloggers Meetup on Zoom last February 27, thanks to the lovely Frances Sales of Topaz Horizon who organized it. There, I learned about Biotin and how it can possibly help my case.
View this post on Instagram
What is Biotin?
Biotin is also known as Vitamin B7 or Vitamin H, a water soluble vitamin that supports the growth of hair, skin and nails. If you have any issues on those, it's a pretty good chance your Biotin intake is insufficient.
Biotin can be found in common food such as nuts, meat, egg yolk, milk products, leafy greens, apples, and so forth. However, if you are not a nutritionist, I think it's hard to know if we are getting the adequate amount of Biotin in our diets until it manifests in some way that shows we aren't – such as in my case.
Celebrities, like the Kardashians, who make a living out of their looks are known to take Biotin, so it's safe to call this a beauty pill, though I think it's more familiarly referred to as a magic pill.
Not just a fad pill!
Just so you know, Biotin isn't just some trend that celebrities have been asked to promote to get the sales rolling. This is actually something that's been studied for years, and there have been studies on cases of Alopecia and brittle nail syndrome in which patients showed improvement after Biotin supplementation.
Biotin is not just recommended for women who have vanity issues, it's recommended as a safe supplement to promote hair, nails and skin health. There are lots of topical beauty products, but what we must understand that our physical health all starts from the internal.
According to Dr. Angela Camagun, the Dermatologist who discussed with us the benefits of Biotin, based on "practical experience and theoretical substantiation," Biotin helps those suffering from hair loss, Acne, transparent hair syndrome, Seborrheic Dermatitis, and Vaginal Candidiasis.
My experience with Wolvit Biotin
It's been two months since I started taking Wolvit Biotin. I decided to take two tiny pills a day because admittedly, my nails and skin issues are not exactly on the mild side. But if you don't really have issues and would like to just make sure you have sufficient Biotin, then one pill is enough for you.
If you do feel you've taken too much, don't worry, you are not OD'ing as you will simply lose the excess naturally.
So how did my issues fare with Wolvit Biotin after 8 weeks?
First thing I've noticed was that my nails are stronger and do not break or chip easily. And they grow more quickly nowadays, too. I'm the type that likes to keep my nails very short, so I'm bound to notice these changes when I have to cut my nails every week now.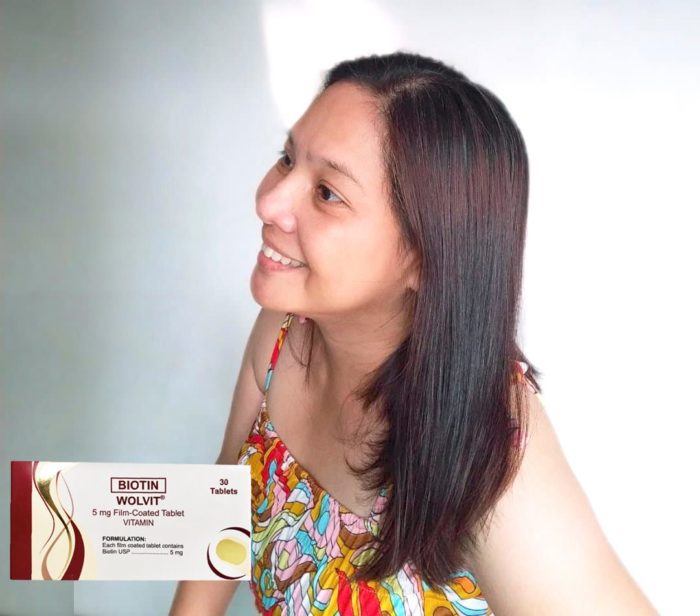 I have significantly less hair fall. My husband and kids also noticed that they didn't need to vacuum so much of my hair off the floor anymore, even if I still keep it all bundled up on my head. It also feels healthier when I touch it.
I usually end up with a lot of strands of my hair in my hands when I run my fingers through my hair, it's no longer the case and it makes me very happy.
Also, I think that my longstanding eczema is getting better. It hasn't itched that much in weeks, and the skin wasn't getting too dried that the skin split as they used to prior.
I'm a bit insecure to show you this photo because I was not gifted with beautiful hands, and apologies, I wanted to go to my favourite nail salon to get my nails done, but….ECQ. So please bear with my poor excuse of a manicure, haha!
Anyway, I thought I'd show you how the skin on my right hand's forefinger that's been healing nicely.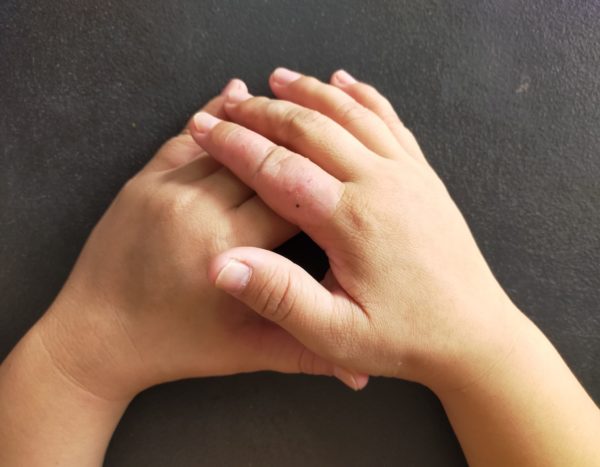 I still have a couple of problematic nails on my feet, the Dermatologist I consulted did say it will take time to recover as I've had the problem for years. So I guess, some nail issues can't be overcome by Biotin alone but I'll continue to take Biotin to help the healing along.
For moms who are wondering what you can do to maintain your hair, nails and skin health, drink lots of water, take your supplements, don't forget to include Wolvit Biotin, exercise regularly, and eat lots of fruits and vegetables!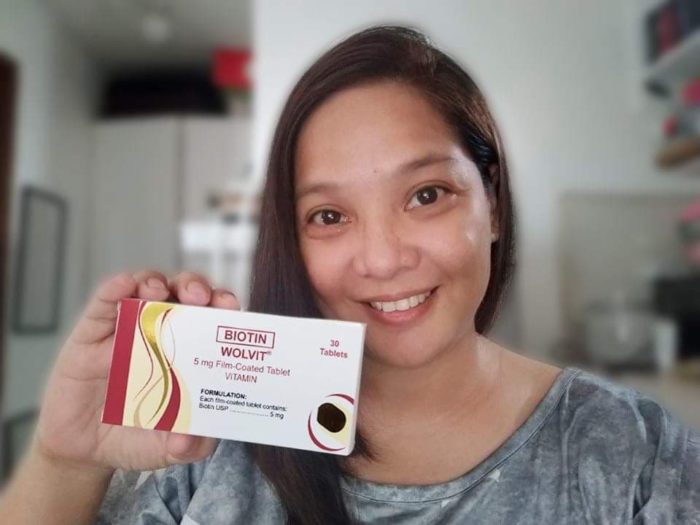 Wolvit Biotin is an over-the-counter supplement, so you don't need prescriptions for it. We order our Wolvit tablets from Watson's in BGC, but you can also find at at Southstar drugstore.
A box of 30 tabs will only cost you PHP 225.  So affordable for health and beauty pill, don't you think?
If you want to know more about Wolvit Biotin, please visit WolvitPH on Facebook and WolvitPH on Instagram.