REVIEW: ARDP's Puso ng Pasko — A Christmas Ballet worth adding to your Christmas Traditions
Last night, December 2, Friday, was the opening of the first full-length Filipino Christmas ballet, Alice Reyes Dance Philippines' Puso ng Pasko at the CCP, which is the perfect culminating show in the CCP Dance Series before the iconic theatre closes down for renovation in the next two years.
A collaboration between two national artists – Ryan Cayabyab, National Artist for Music and ARDP's founder, Alice Reyes, National Artist for Dance, Puso ng Pasko celebrates Filipino culture and highlights our unique Christmas traditions.  It features the refreshing works of emergent Filipino choreographers, Ronelson Yadao, Erl Sorilla, John Ababon, AL Abraham, Dan Dayo, Bonnie Guerrero, and Lester Reguindin.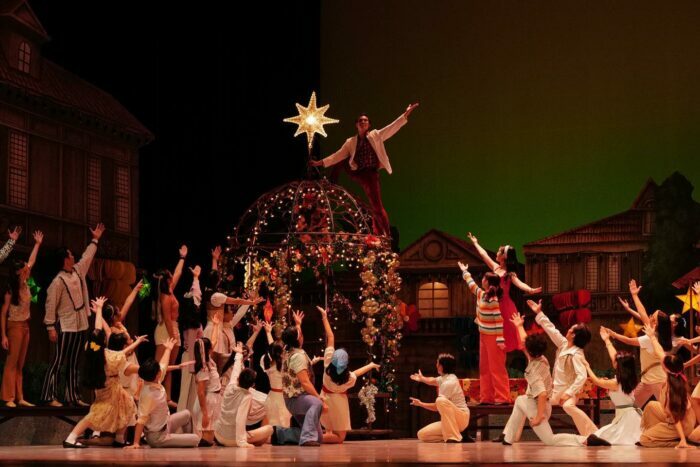 I meant to say this about ARDP's previous offering, Premieres & Encores, and it goes the same for Puso ng Pasko, that the latest ARDP performances are giving other theatre disciplines a run for their money.
While they haven't lost the classic touch when the show calls for it, ARDP dares to toe into more challenging territories. The dancers have ventured deeper into acting, dancing to a fusion of different genres, and diving into choreographies that will leave you gasping for air!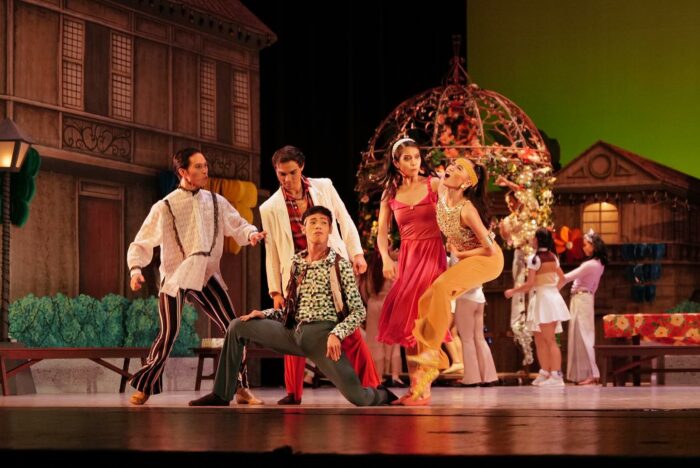 For instance, the bench choreography that had the male dancers flipping their female partners from one bench to another, jumping from one to another, themselves, and finally completing the number with Stephanie Santiago leaping unto Richardson Yadao's back while the latter balances himself on a narrow bench sitting atop two other benches— the two holding their poses, with their wide grins plastered on their flushed faces….O. M. G. ! I'm telling you, my heart almost stopped!!! You have to see it to die, hahaha!
Kidding aside, my source told me that the number took long, gruelling hours of rehearsals to master. One faulty move can injure the dancer –all for the love of dance and the audiences they do it for.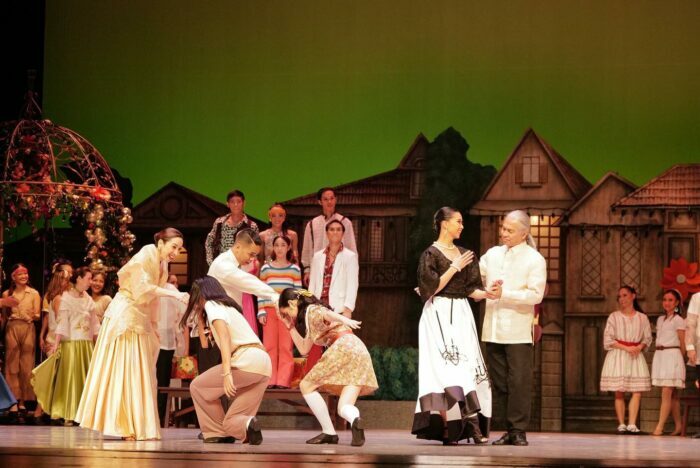 The vibe is nostalgic. If you don't immediately tear up on the first number, which I did, the scene for "Isang taong lumipas" by Ryan Cayabyab will surely win you over, especially when the lights slowly dim and the five young friends sit together to watch the twinkling of the lights from the beautiful lanterns and parols adorning the homes in Tres Reyes.
It was my absolute favourite picture.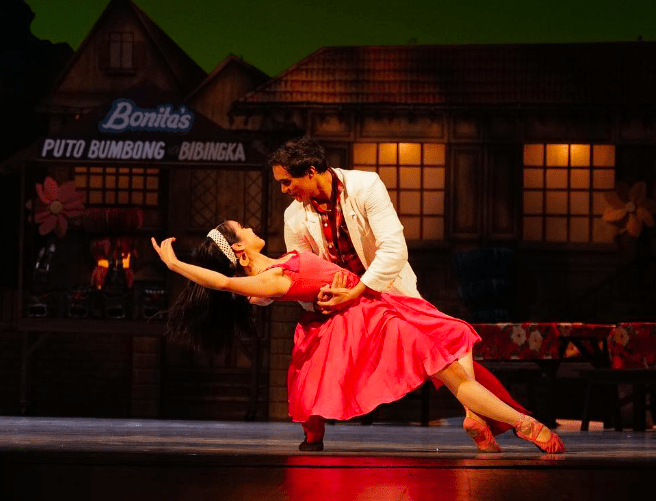 My second favourite would be the romantic pas de deux between Ejay Arisola and Monica Gana to Mr. Ryan Cayabyab's "Ano'ng gagawin mo ngayong pasko?"
The last time I've sighed over a romantic dance was when our son, Pablo, was 2 years old and we were given tickets to see an aerial show. Arisola and Gana's duet was so heartfelt, it made me want to fall in love all over again.
Puso ng Pasko is a sentimental love note for those born before the digital generation of today.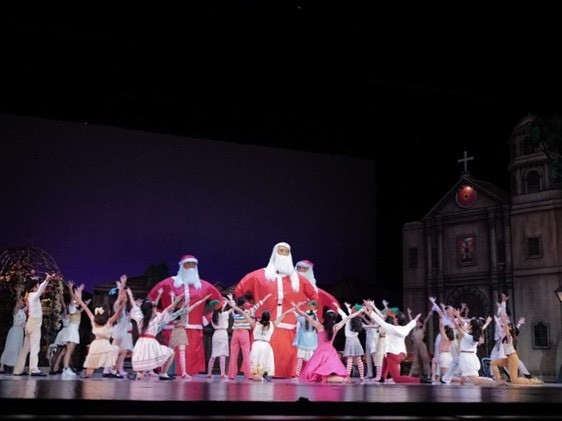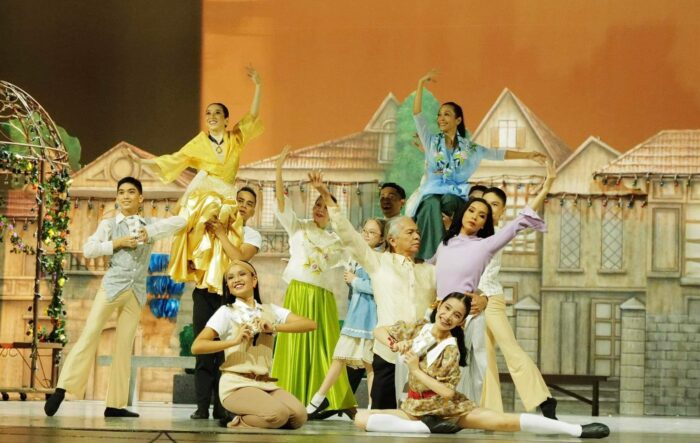 What I love most about the show is it's masterful balancing of energies from different generations — from the youthful exuberance of the students of School of ARDP, the stamina and grit from the Philippine High School for the Arts and PASP Regional Dance Training Program, the strength, skill and finesse of seasoned ARDP company dancers, and the experience and elegance of the veteran performers – all coming together in one dynamic production. What a colossal feat to achieve! Bravo, ARDP!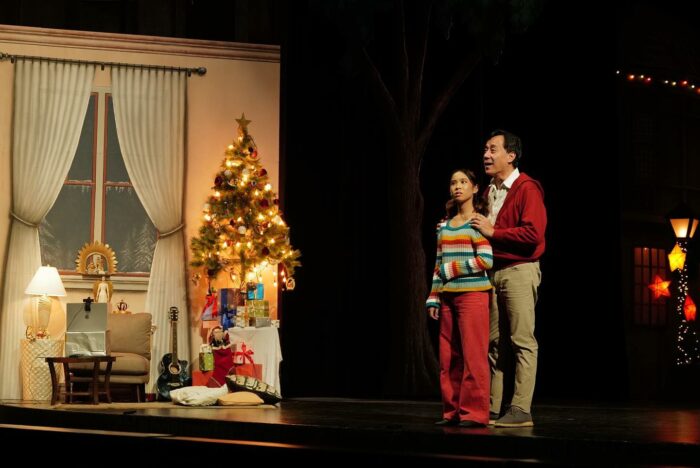 Renowned thespian, Audie Gemora leads the cast as California-based Lolo Val and School of ARDP's promising dancer ,Trisha Lim, plays his granddaughter, Angelita, to whom he shares fond memories of his youth.
Here are some clips of the show shared by Mr. Gemora on his Instagram page:
View this post on Instagram

And here are National Artists, Ms. Alice Reyes and Mr. Ryan Cayabyab, taking their bow after the show at the opening gala:
ARDP's Puso ng Pasko ran 5 shows at the CCP Main Theater last December 2, 3 & 4, 2022 and at the Metropolitan Theater last December 17, 2022.
The Filipino Christmas Tradition is back onstage on December 1 & 2, 2023 at The Metropolitan Theater this year!
Advance Ticket reservations will be from November 3 – 13 only.
You can contact us using the following details below:
Bring your kids, bring your family, bring your friends, BRING EVERYONE and add this show to your family's Christmas traditions!!!!