A Frill-less Christmas Holiday Break for the Fam
It all started when my parents informed us that they made plans for themselves on Christmas eve. We've been living with them since October while we wait for the construction of our house to be complete.
Christmas eve, Christmas day, New Year's eve and the first day of the New Year 2023 all fell on weekends which meant Jay had to go to work and help out in the kids services. If you didn't know yet, my husband works as the Music Director for the Kids Ministry for our church, and while his work nowadays focuses mainly on the production side since they launched Kids Church Online during the pandemic, his role also includes helping out in the physical services, most especially during events.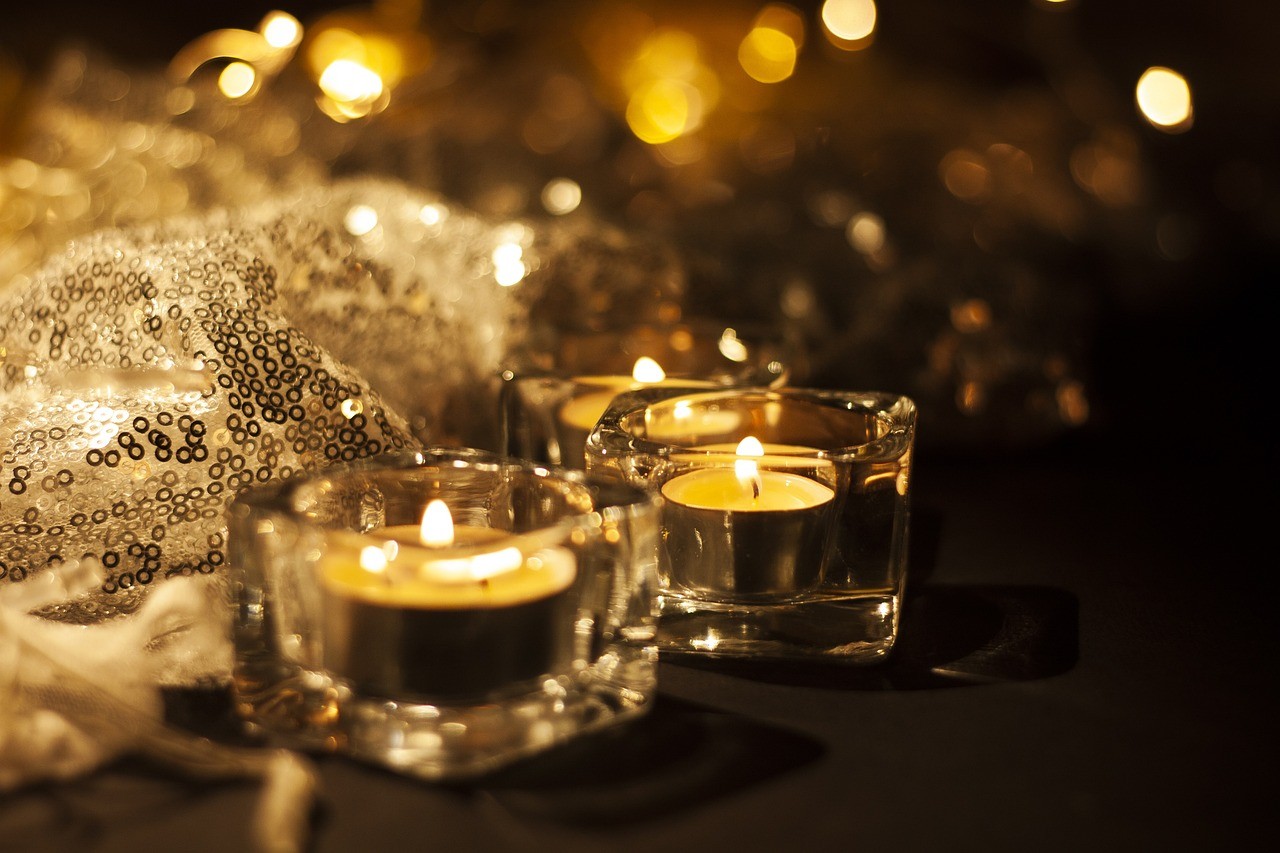 Wherever Jay goes, we go
Since the parents won't be home, we thought it was best for us to find rooms to rent near Jay's workplace so going home won't be too difficult. It would be hard for Jay to go to and from work because the point-to-point bus services were not available on holidays. We wanted to join the Christmas eve services anyway, so we might as well camp nearby.
We found two Airbnbs to host our stay in BGC. For Christmas, we stayed at an apartment unit at a small village behind Uptown mall, and for New Year's eve, we were offered a stay at one of the beautiful units of Cozy Nook Manila.
Unlike the previous years, BGC restaurants closed early on Christmas eve. Only Denny's was open. We ordered off their all day breakfast menu and just dropped by 7-11 to buy chips and sodas before walking back to the apartment.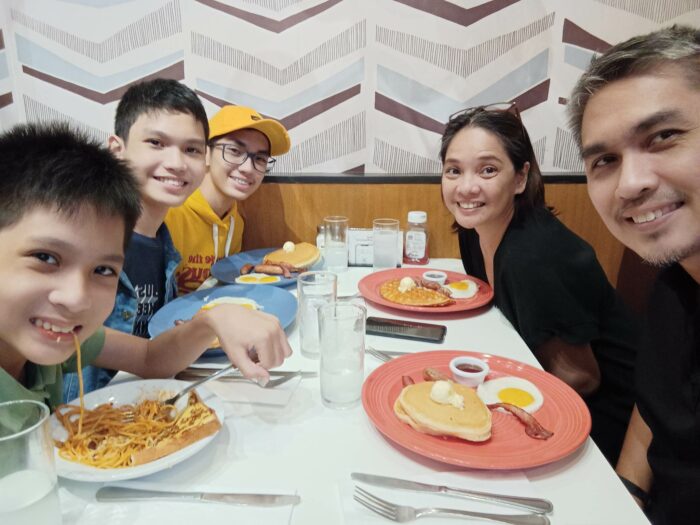 It was a very laid back evening for us. The kids wanted to watch Godzilla, so we let them, while Jay and I just had coffee and talked. Sometime in the evening, Pablo taught me one of their dances at their Christmas show and had a good laugh about it, haha!
We had lunch at Mary Grace for Christmas day but we forgot to take photos! I remembered, but then I forgot again. We invited our sons' friend, Althea, who lived nearby,  to join us and we focused more on catching up with her and enjoying the family chat over lunch than taking photos. One photo would have been nice, though. But oh well…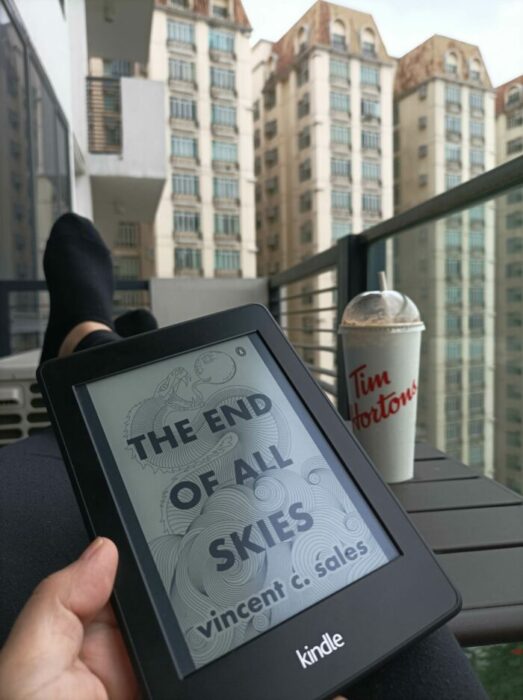 A Peaceful NYE at Cozy Nook
New Year's eve was slightly different. The kids and I stayed at the condominium unit after having lunch at one of the restos in Venice Mall, while Jay left at 3PM for the 4PM service. He was back by 6PM and just like our Christmas eve, we pretty much relaxed and just did whatever it was we felt like doing. There were no special activities, not even a feast. Before coming back to the unit, we already got ourselves a couple of pizzas, drinks and chips and we didn't feel the need to buy any more food than that.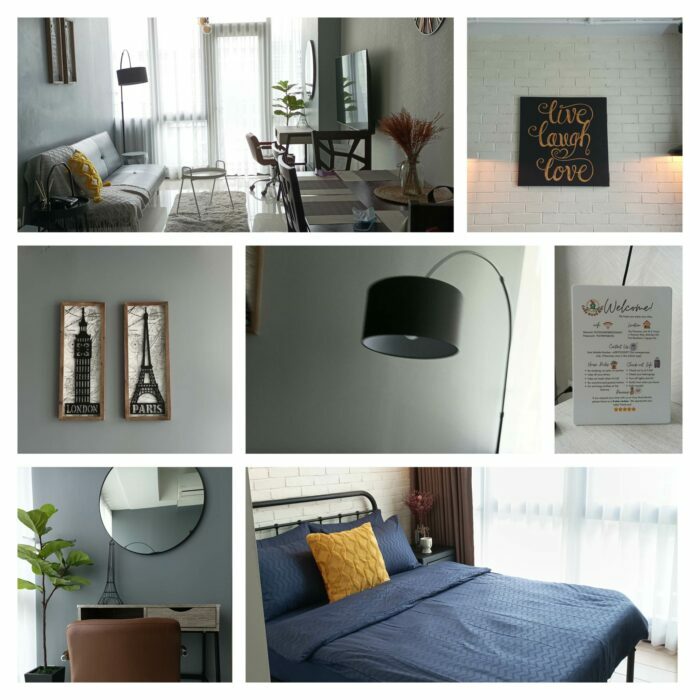 It was surprisingly very quiet at McKinley Hill.
I know it may be sad for some people, but it reminds me so much of our New Years when we took trips to avoid dealing with the the loud, smoky firecrackers of Manila.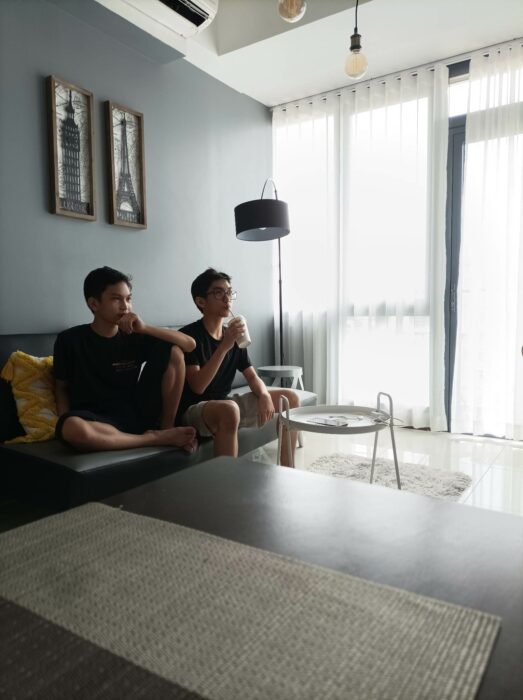 Traditionally, we eat our dinner at 10-ish and just stay up watching movies, like LOTR, Harry Potter or the Marvel movies. But at our trips, we'd usually be tired from all the places we went to for the day and would be sleeping by the time the clock strikes midnight.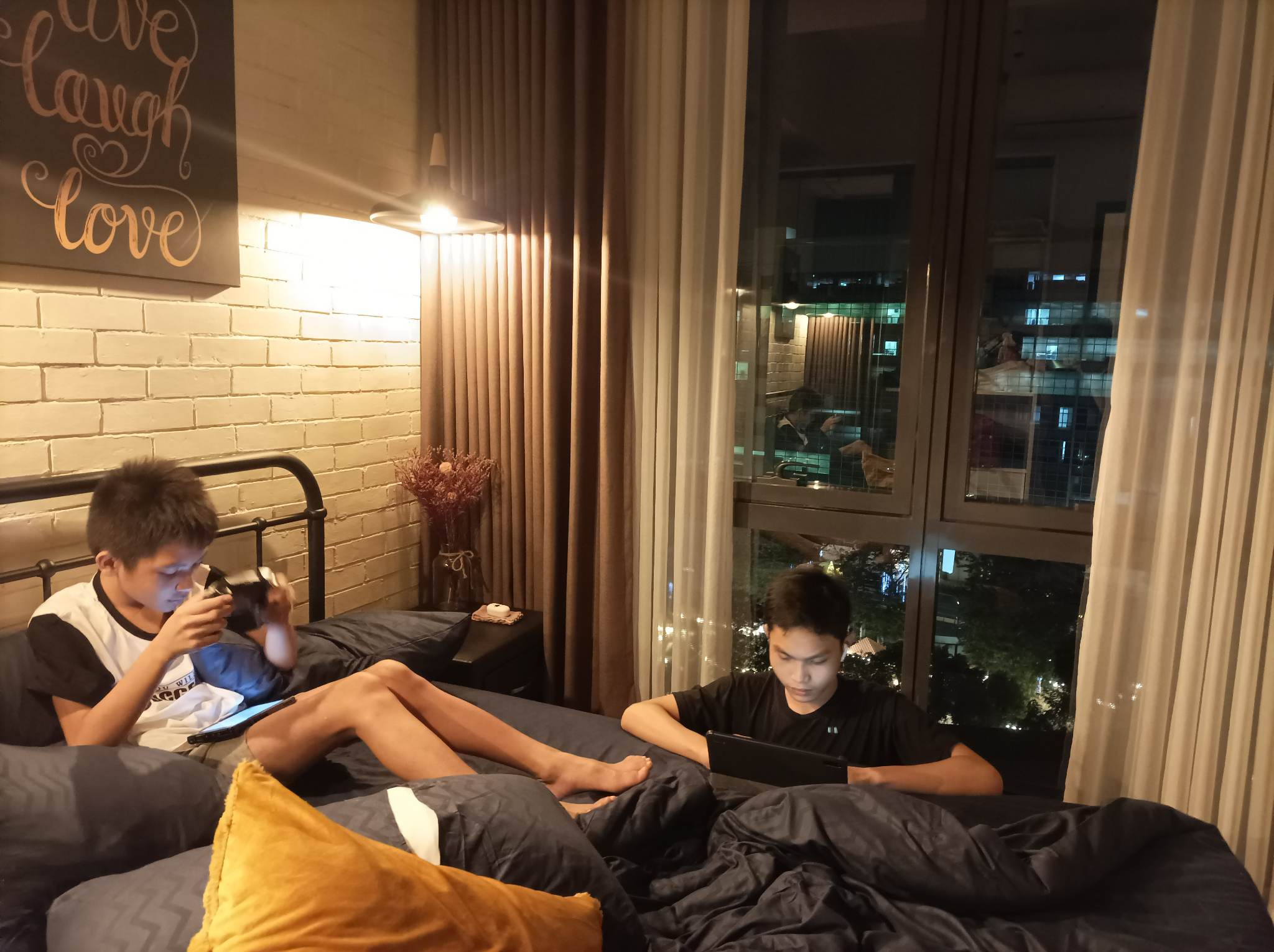 I thought of bringing the boys to the countdown at Bonifacio High Street where the New Year's eve party was happening – you know, the countdown and firecrackers and performers and all that, but Jay wanted to stay at the unit and enjoy the comfort it offered us. Our last quarter had been so eventful — with our move to the South and the boys' hectic schedule, so none of us really minded not going. We watched Wednesday on Netflix, instead.
We woke up early the next day so the kids can use the swimming pool, but they came back 15 minutes later because they couldn't handle the cold, haha! The wind's been quite chilly the past two months, so the pool water was cooler than usual.
But that was fine, we wanted to check out on time, anyway, so we can leave our backpacks in Jay's office and have lunch somewhere near before he clocks in for work.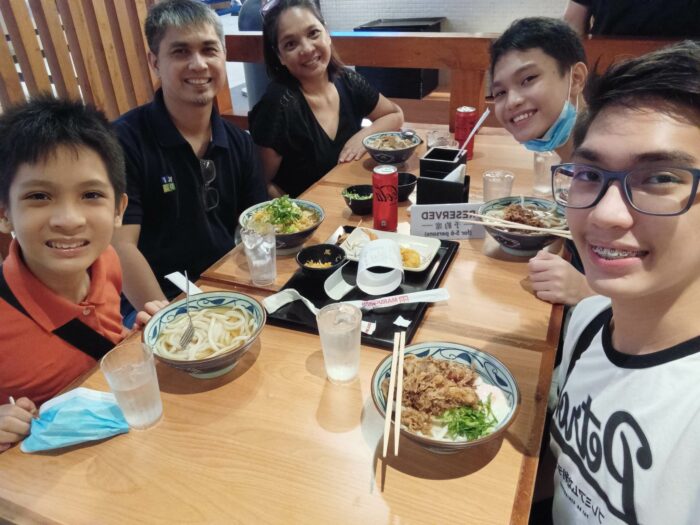 I told Jay I wanted to eat where we know we'd all be satisfied, so we went to Marugame for ramen, instead of trying out some fancy restaurant we may not really like.
The real thing
Our prayers were short and simple, but heartfelt. Jay led them over meal times. Our conversations were light. We talked about our favourite blessings during the year — and the ARDP show came up more than once. Our trip to Boracay also made it to our top list of blessings for 2022. We also shared a bit about our personal faith goals for the year which included a family trip, levelling up in their dance classes, aligning courses to their goals, and staying healthy all year long, and at one point, reminisced about the annual trips we took in the previous holidays.
Jay told the boys that he and I were struck speechless at how God had sustained us during the last quarter, especially when they were going to their rehearsals for the show and their recital everyday, since November. "I don't know how we were able to afford that," Jay exclaimed. We both know it has to be God because our expenses and our income didn't quite make sense, considering that we were also incurring expenses for the construction for our house.
We didn't have the heart to tell the kids no when they've worked so dang hard the past two years. So the truth is, we went for it with our eyes closed and our knees bent.
"If you then, who are evil, know how to give good gifts to your children, how much more will your Father who is in heaven give good things to those who ask him!" Matthew 7:11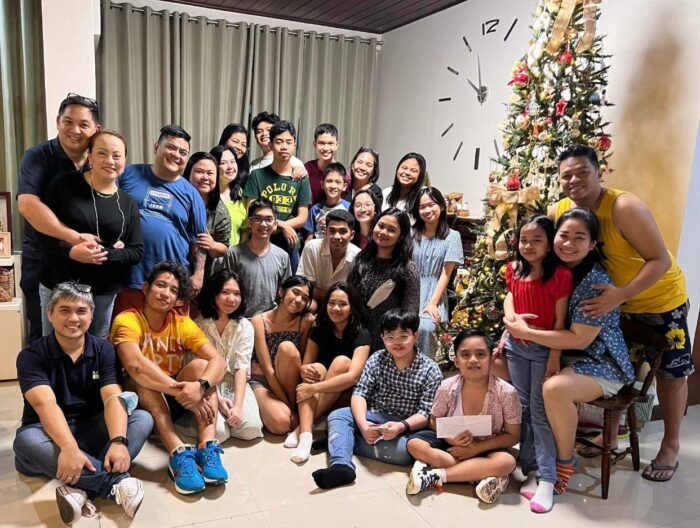 This year, we didn't do any of our annual Christmas traditions, except attend the Annual Happy Birthday, Jesus party with old friends. We found it impossible to do anything else because most of our stuff are still in boxes as we await moving into our new home. That, and because the boys were out the whole day until the 17th and work for me concluded on the 23rd. And of course, Jay served the church.
This is probably the most un-refurbished, frill-less holiday season we've ever had, but it's okay, as long as we were together.
And as long as we were all grounded enough to know that Jesus is the only the reason why we celebrate this season, that is all that matters.
Happy New Year, everyone!
Note: Our heartfelt thank you to our friends, Leo & Honney Natividad and JC Agpalo's family for allowing us to stay in your Airbnbs and at such short notice.