Kids learning Urban Design at The Metropolitan Museum of Manila
I was thrilled to find out that Judah got a slot at the Urban Design Workshop at The Metropolitan Museum of Manila in BGC. It's one of the most unique workshop for kids I've heard of, I didn't really know what to expect. To be honest, I wasn't sure if he was interested in Urban Design, I just know he's a bit interested in engineering; but like I said before, without a clear trajectory in terms of what he wants to do in the future, it opens him to a whole new world of possibilities to test and see.
I've never been to The M museum before. According to Wikipedia, it was originally situated at Roxas boulevard, and since the museum's Associate Director for Education and Public Engagement, Alec Madelene Abarro, mentioned that the workshop was their first event in their "new location," I'm guessing they just recently moved.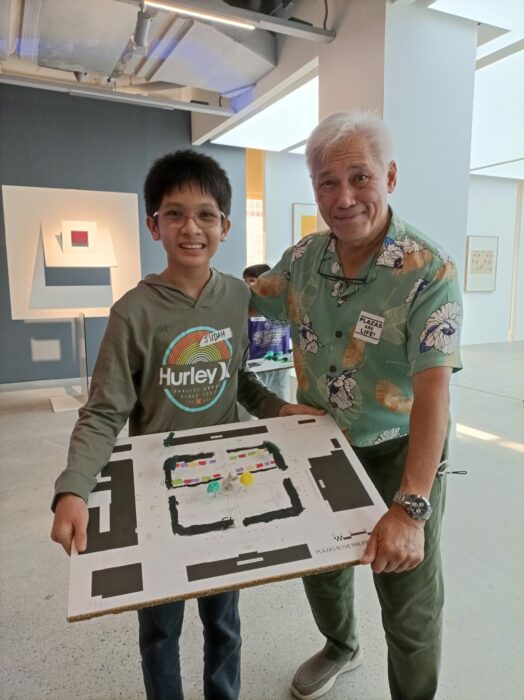 We found ourselves in the middle of a gallery of beautiful modern art, my painter heart was so happy! I wasn't sure how many kids were there, I didn't count, but by memory, I'm estimating that it was more or less 20 kids.
The speaker that afternoon was award winning Landscape Architect and Urban Designer, Mr. Paulo Alcazaren.
He greeted the kids and talked a little about urban design and plazas. He answered questions and then let the kids get to work.
The kids were all given a board and little pom poms that they can stick to their boards to represent trees. The kids were instructed to design their own plazas using the materials we were told to bring – pencil, ruler, glue and coloring tools. Judah chose to bring poster colours.
View this post on Instagram

The parents were given seats that surrounded the kids' workshop area. I watched Judah from where I was and noticed that he was giving away many of the pom poms. I have to admit, I was worried a little that he may not have understood the task, but he proved me wrong.
When it was his turn to present his design, I realized that he imagined his plaza to have a lot of people. He had an area where he placed bazaar stalls and right across were restaurants, coffee shops, an ATM and an information booth where city guests can come and inquire about the city's events, sites and whattabouts.
There was a lot of space for kids to run and play, or maybe use their scooters in front of the coffee shop. Judah also indicated that there was an elevator that leads up to a sky park. I imagine it to be very popular with people in the evenings.
View this post on Instagram

Judah placed a handful of trees in front of the monument, in the middle of his plaza. I wasn't sure if there were instructions for them to add as many trees as possible since they were given plenty, and I was kind of worried that his design was not too "earth-friendly," but despite that, in my humble opinion, it's a well-thought-of urban plaza, after all, a plaza was defined by Mr. Alcazaren as a place in the middle of the city where people gather.
Judah simply made his plaza more appealing for people to come over and hang out at. (I still think that it could use a bit more trees, hahaha!)
After the activity, Judah and I decided to see some of the paintings on our way out. We're planning another trip back with the family, so we can see all the art works together. I'm pretty sure that they will like the basketball court that they had on the leftmost part of the floor we were in. It's part of the exhibit "The Plaza as Urban Heritage and Public Space" curated by Mr. Alcazaren, himself.
View this post on Instagram
On our way home, I asked him how he found the activity and he said that he enjoyed it more than he thought he would. He said that what he liked the most was that he was given a lot of room to create and use their imagination.
Ms. Abarro mentioned that they are planning more events in the future. I'm not sure what they are yet, but you can keep tabs on their announcements via their Instagram page: @metmuseummanila 
If you want to visit The Metropolitan Museum to see the exhibits and the featured art works, they are open from Tuesdays to Saturdays. But you need to pre-register via the link on their Instagram profile.
Special thanks to fellow homeschooling mom, Ilene Riego, for sharing about this event in our homeschool community.