Nature Essentials' Moisture Soap and Massage Balm
I've tried some Nature Essentials products before and they have not disappointed me yet. I like the fact that the company uses natural ingredients which I think is a must in this time and age.
I think that it's important to try to go healthy in every way. The world has evolved. Everything, from the food you eat, the products you use, or the quality of air you breathe, contributes to your state of health. You don't need to be an expert to figure that out.
(READ: The housewife tries Maracuja oil by Nature Essentials)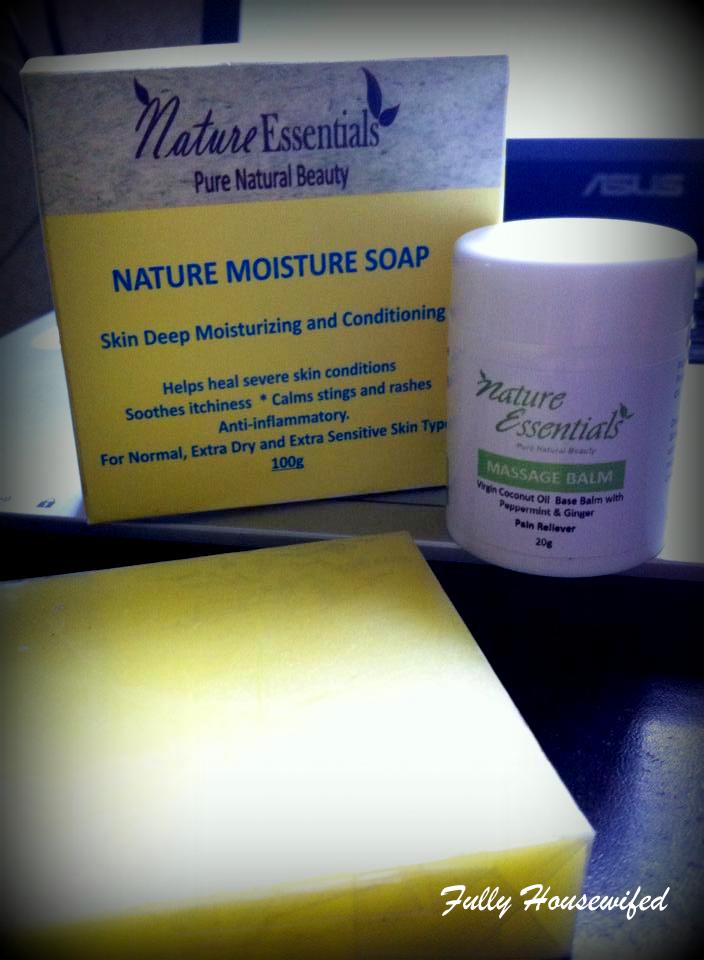 Massage Balm
Anyway, when my small jar of massage balm came, the first thing I noticed about it when I opened it was how clean the content looked. I put it under my nose and I fell in love with the scent. The label says Virgin Coconut oil, Base Balm with Peppermint and Ginger.
It's got Peppermint in it, no wonder it smells so good!
Plus, can anything in this world be any healthier than coconut products? I remember the time when everyone I knew were taking Virgin Coconut oil and it was being sold in boxes for really steep prices.
Do you remember that? I still hear health-conscious people talking about it.
My friend, who's gone clean in most everything she buys for her family, highly recommends coconut products. In fact, it was because of her that we've ditched all other cooking oils (except for olive oil) in favor of coconut oil. That's how healthy that is.
Anyway, the label on the jar also talks about the benefits of ginger, which was one of the very few ingredients in the balm. It says that it promotes blood circulation and is anti-inflammatory, which makes it great for muscle and joint pains.
Did you know that a lot of the minor health problems you experience are related to your blood's circulation? When you're feeling more tired than usual, when you're experiencing cramps, or when your scratches are taking longer to heal, these are all related to your blood circulation.
Massage balm and migraine
I knew exactly when to use my jar of massage balm. Every month, I go through migraine, which basically stops my world because of how painful it gets. The scent of the balm alone helped soothe my headaches.
Because I'm a writer who's stuck a certain pose as I type on my desk for hours, most of my back pains are concentrated in my upper back, shoulders and neck. I could really feel the peppermint penetrate through my skin and relieve me of some of my discomfort when I used it.
I have my Nature Essentials massage balm in my desk drawer now, so I can easily get some whenever I need to.
I also use it to give my kids back rubs and they're all so senorito-like, lying there, loving every minute of it, haha! It helps calm them down and put them to sleep, especially our youngest who is such a ball of energy!
By the way, you can't use the balm on the kids' faces, just on their legs, arms and back.
Nature Moisture Soap
I used to buy bars of soaps from an all natural soap stand in ATC when I was in my youth. I love soaps like this because they're gentle to the skin.
Nature Essentials made the soap unscented so it can be used for babies. That's how gentle it's made.
I used it on my face the night I got it and in the morning, I saw that my face was brighter and so much clean-looking than the day before. I checked the skin of my face with my fingers and it felt supple, not dry and squeaky.
Soaps that do that (dry and squeaky) usually cause break outs.
I also tried it on my kids and I really felt how soft their skin got. I wasn't afraid to use it on their faces because I knew it was safe for them.
Nature Moisture soap has healing properties. It's good for really dry skin, like the areas I'm having problems with such the balls on the outer side of my feet and my elbows.
I also like that it helps soothe itchiness. You see, I've got boys and they're pretty rowdy, I can't help them being bitten by insects and ants. And the worse part is when they start scratching them hard.
I tried it on our youngest and immediately, his scratching stopped. Label says it calms stings and rashes. I haven't tried it on those yet, but I tend to take the manufacturer's word when I've tested that everything else they say on the label is true.
So there goes my verdict on Nature Essentials Moisture soap and Massage balm. If you're interested to purchase these products, you can order them online or connect with Charm at the contact details I've included below.
Happy Healthy!
Disclaimer: I received samples of Moisture soap and Massage balm from Nature Essentials, but the views and opinions expressed here are my own.
Nature Essentials
Facebook: https://www.facebook.com/natureessentialsph
Instagram: https://instagram.com/natureessentials/
SMS/Viber: sms/viber 09166272545