Celebrating our son's 9th birthday at La Traviesa Hotel Resort, General Trias
All I really wanted was for Jay  not to miss his son's 9th birthday.
We don't normally tag along Jay when he has out-of-town training and ministry events but we both thought that it would be a good idea that we come as a family this time and celebrate Pablo's birthday in the company of the ministry we so love.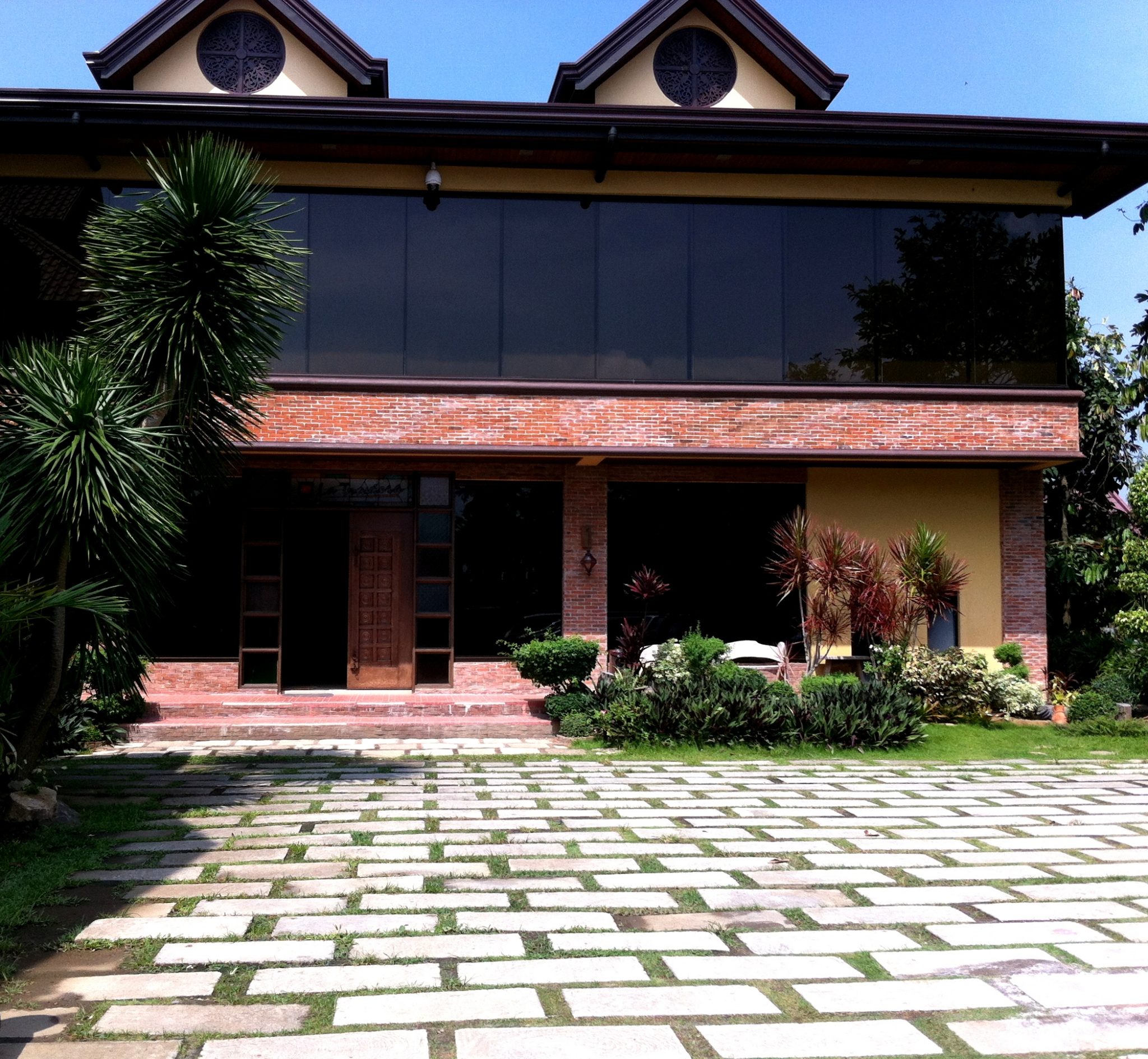 We were happy to find out that Pablo's friend, Maxene, was also going to celebrate her 8th birthday the same way.
The venue was to be La Traviesa hotel Resort and knowing that there are certain standards set in choosing venues for such events, I had a feeling the place was going to be good.
Travel time to La Traviesa from Manila
La Traviesa is not very far. It's located in General Trias Cavite which is now easy to travel to because of CAVITEX, a road leading to Cavite from Baclaran and Coastal areas. Travel time used to be three hours, if I remember correctly, but with CAVITEX, travel time was just for an hour and a half (no heavy traffic).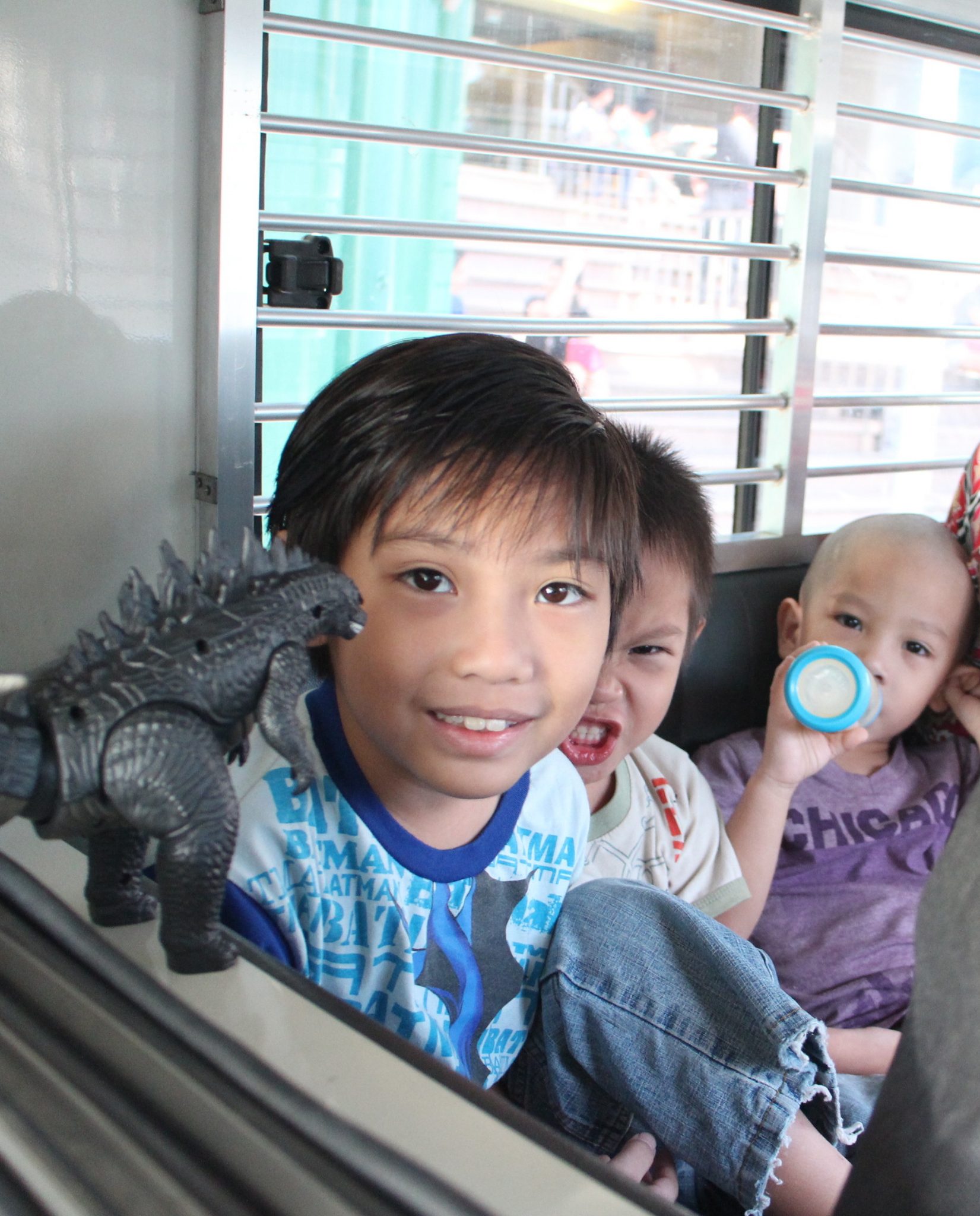 La Traviesa is no Taal Vista Hotel, but there's appeal in its simplicity. Jay and I have stayed in several provincial hotels when our band was touring back in the days, and mind you, those hotels weren't too shabby either, but La Traviesa outclass them all.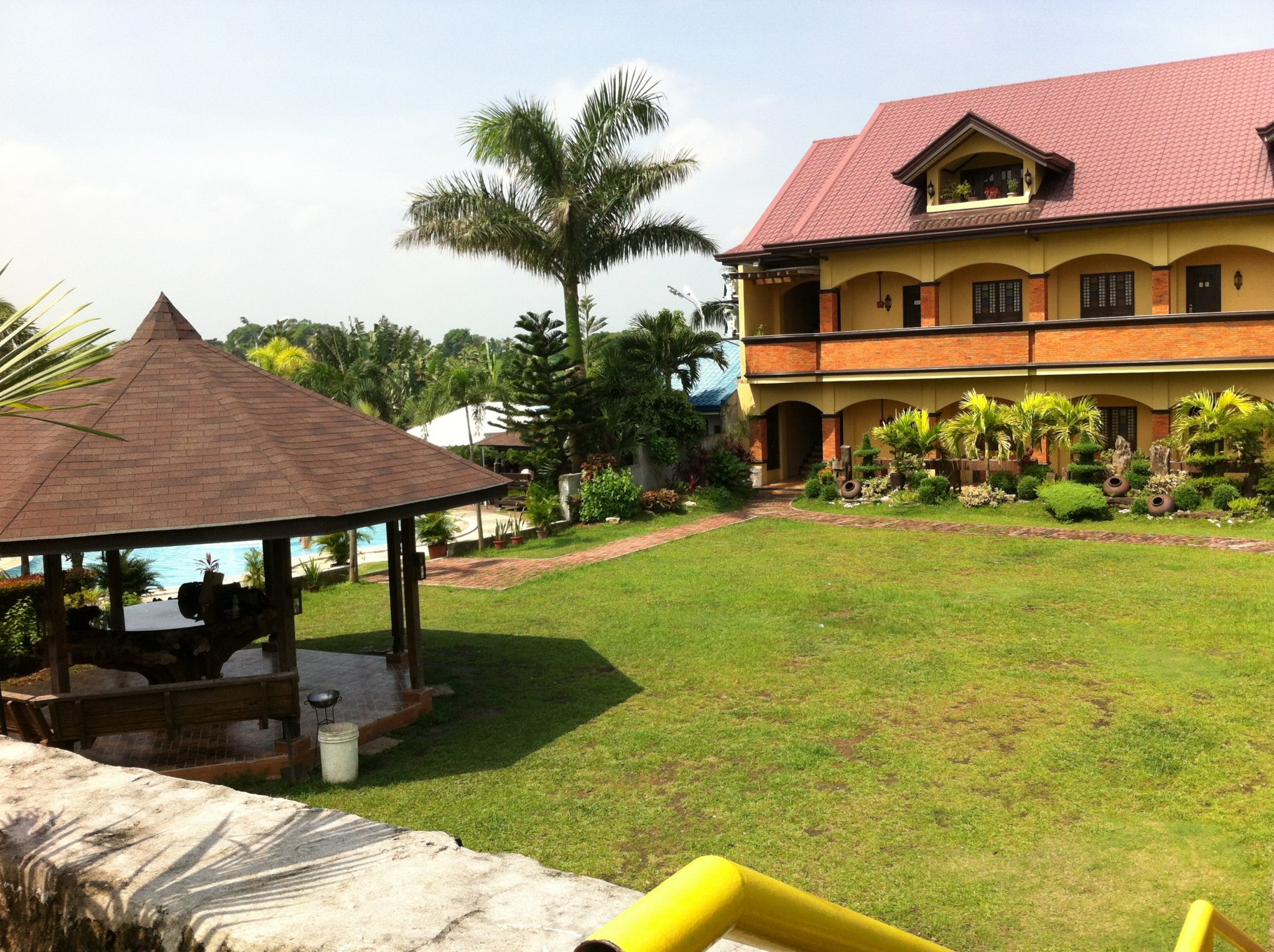 The best kiddie pool we've seen so far
The hotel resort's main features are the two swimming pools – a kiddie pool and an infinity pool.
I'm not very good with measurements but that kiddie pool was huge!
The kids had a lot of room to chase each other in the water and do all sorts of fun things even during peak hours when there were many who came in for a swim.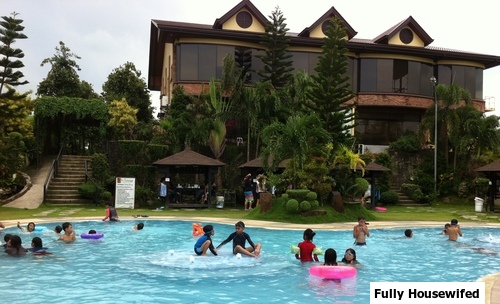 The level was safe enough for me to step off the pool and just sit by the shade, playing lifeguard, while my kids enjoyed the water. I strapped in Judah with a life vest  just in case he trips, but I was pretty sure our two older kids were going to be alright without me wading after them the whole time.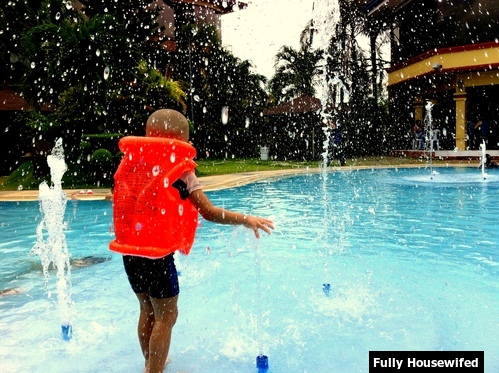 I was surprised to find the infinity pool bigger than I perceived. Unfortunately, I wasn't able to do any laps because my kids started climbing out the kiddie pool to join me.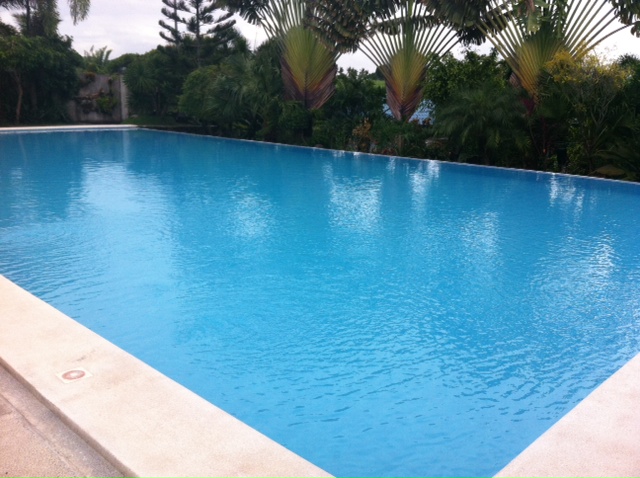 I only stand 5″3 and I couldn't reach the bottom where I was, it wasn't wise to have three little kids who can barely swim to be all over me in that pool.
I'm not so sure if there was a lifeguard around, I didn't see one, but that's something every resort must have.
I loved the rooms!
I loved that instead of plain white linens, they added printed comforters to highlight the beds.
The air conditioning was constantly cold (too cold sometimes). I learned later on that it was solar-powered, how cool is that?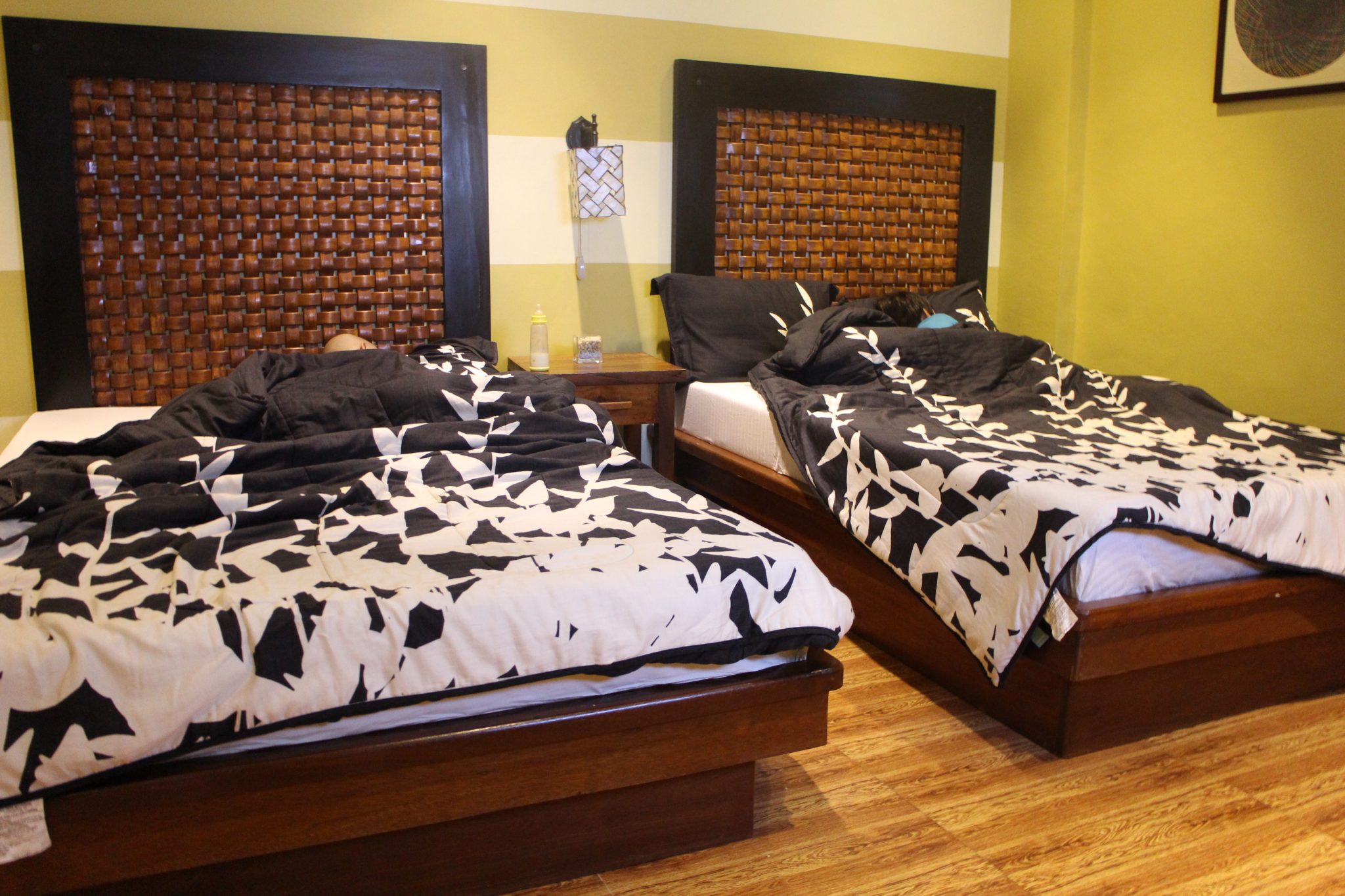 I'm not sure what type of room we were in, but our room had two queen-sized beds and a sofa bed by the window.
I liked the mahogany table so much, it's perfect for my workstation!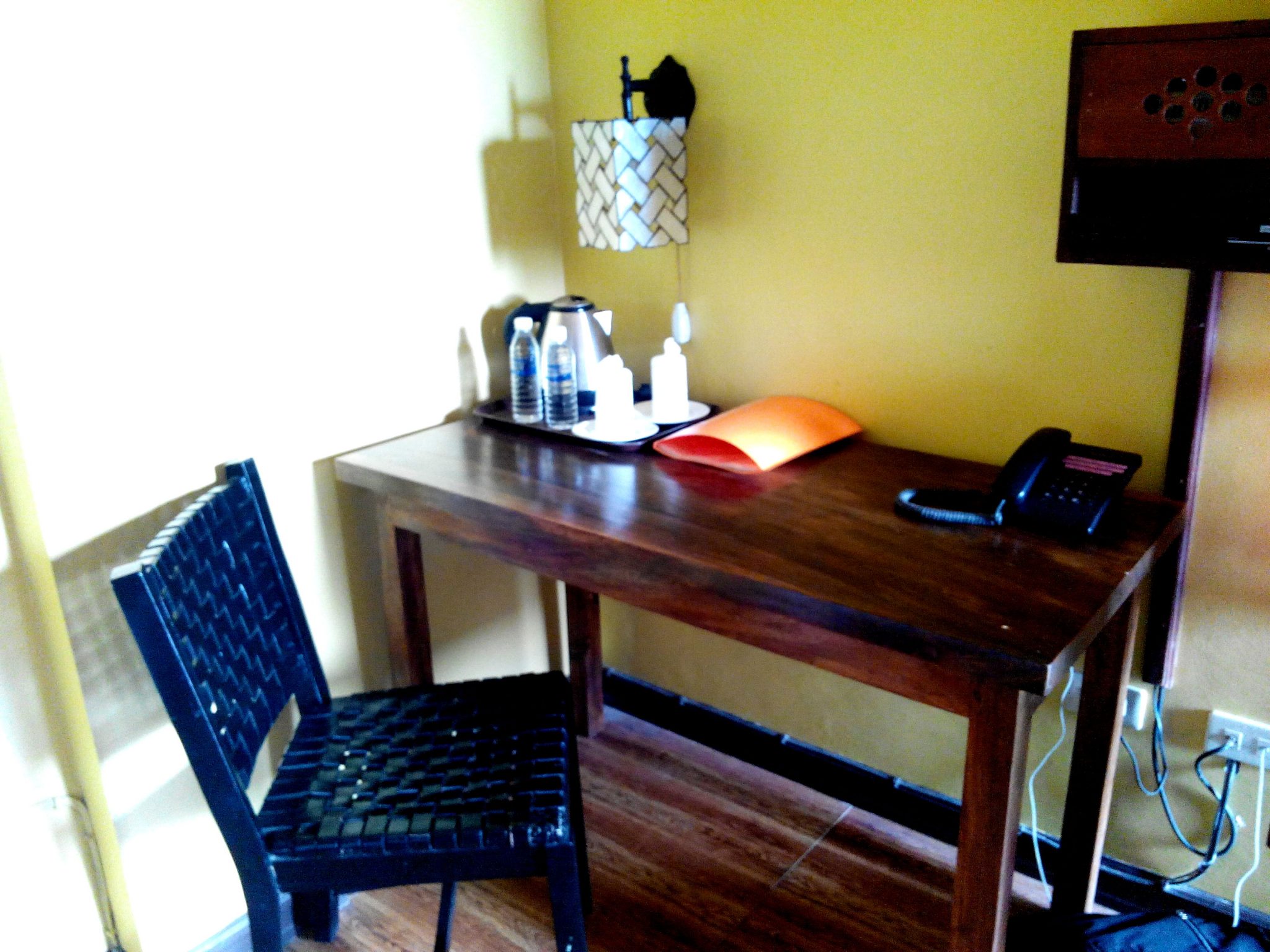 I also appreciated the capiz lamps by the bed and by the table. They're so pretty!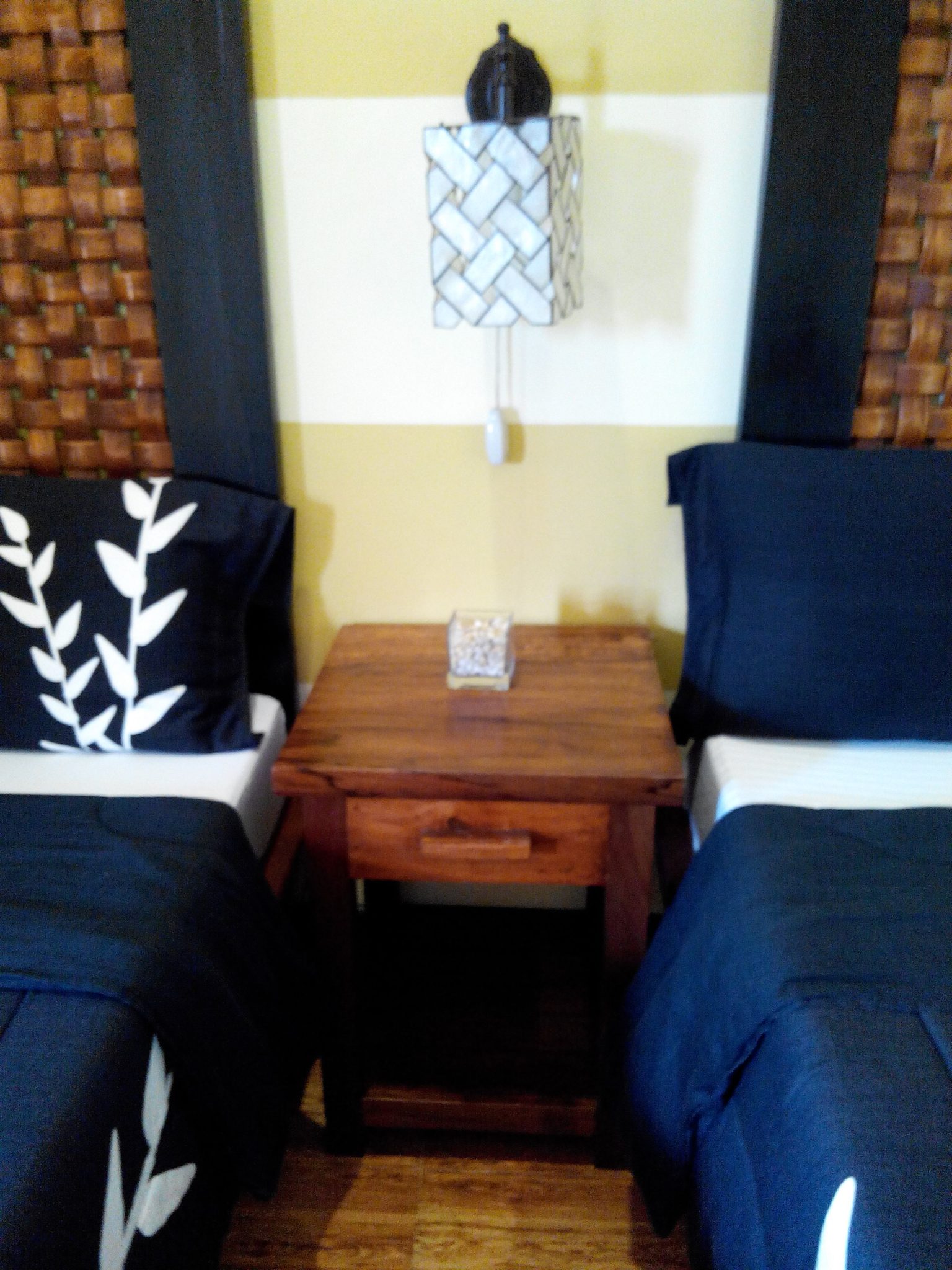 There was enough leg room to walk around  though we found ourselves buried under the covers most of the time we were in the room.
The bathroom was okay. I didn't like that the water spilled from the shower area and soaked the rug outside its glass door, but the water went straight down the drain by the potty and didn't leave eeky puddles for long.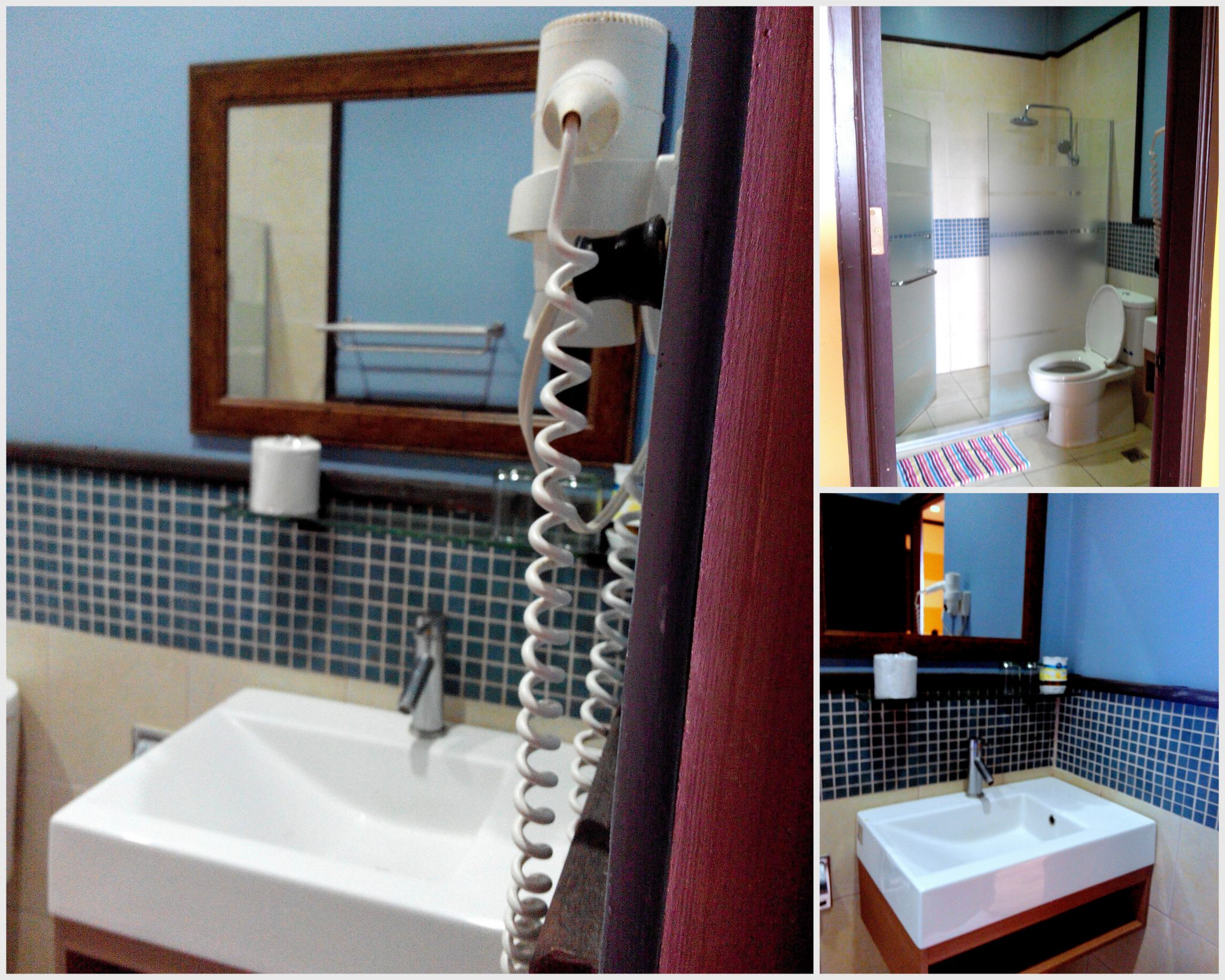 They provided the basic towels, liquid soap and shampoo, and there was a hair dryer by the mirror.
We didn't see any rubber slippers that we were supposed to be provided with but it wasn't a big deal. In fact, I only found that out when I checked the resort's website. Jay said he was informed but forgot all about it.
Just breakfast
The team was allowed to bring cooked food so other than the complimentary breakfast, we didn't get to try their menu.
We were tempted to.
The menu prices were very affordable, Crispy Pata which usually costs Php 600++ nowadays was only priced around Php 400. Jay said he's tried Lechon Kawali and loved it. Lechon Kawali and a few other meals in the menu are only at Php 90+.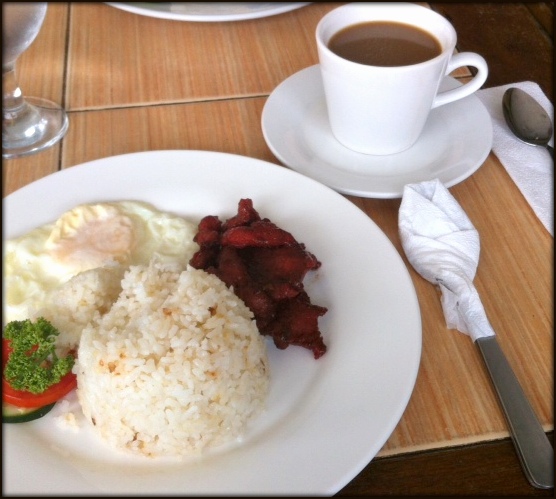 The breakfast of garlic rice, egg and Tocino was okay. I noticed that they serve everything with plastic wraps which was very hygienic, I guess, especially when they delivered our iced tea to the room. (That is if no one spoke or sneezed during the preparation and plating of the food, haha).
Good service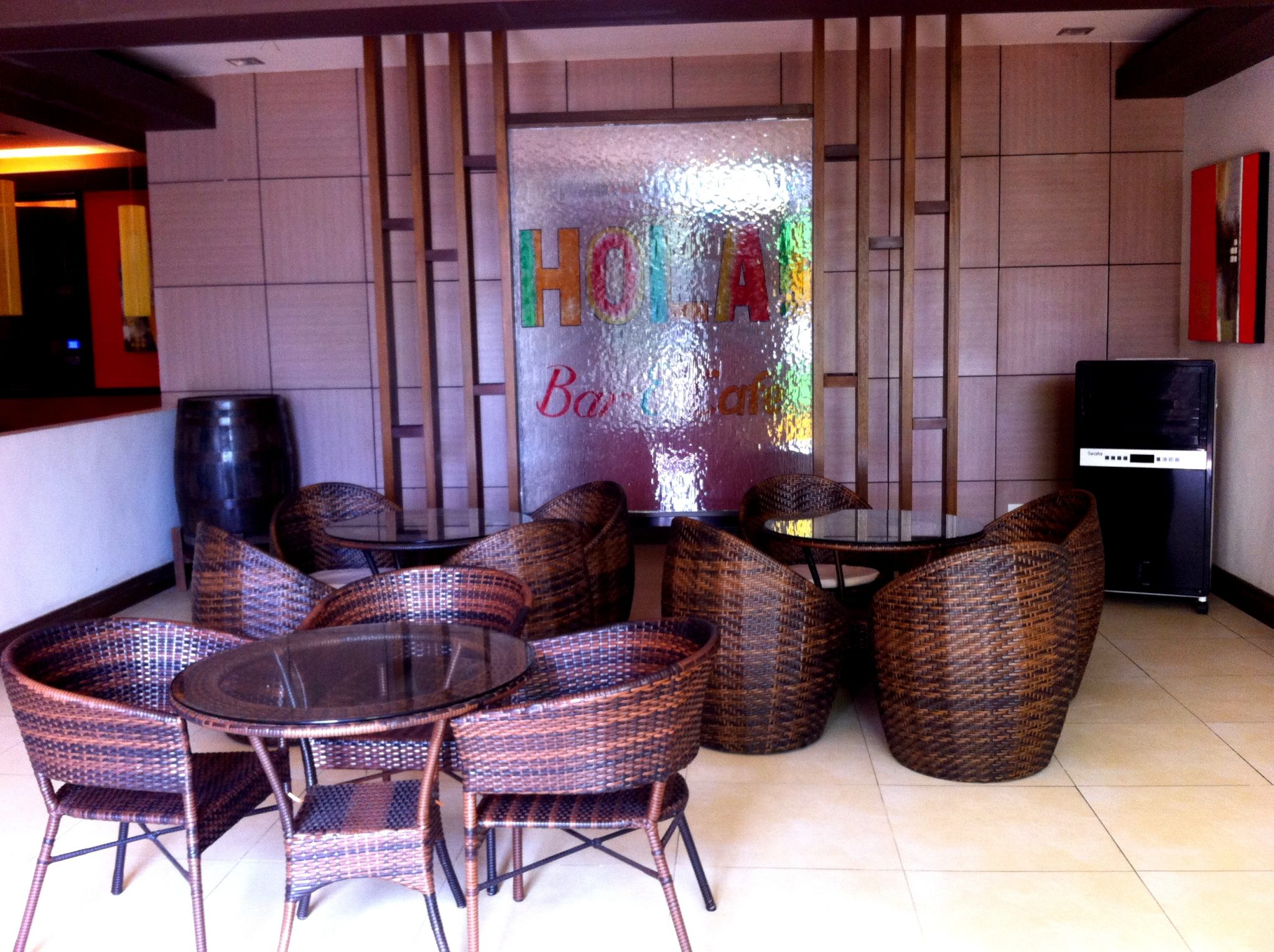 The staff of La Traviesa were low-keyed, kind, polite and willingly answered our inquiries.
We were greeted when we arrived and that evening, they even told Jay that if we need anything beyond 10 PM, they will be willing to extend for another hour.
That's great service!
Bar and Cafe and other amenities
We passed by a bar at the entrance and I thought it looked very intimate and private. I can imagine me and Jay sitting on those stools, sipping on whatever, talking nonsense as we did before, sigh.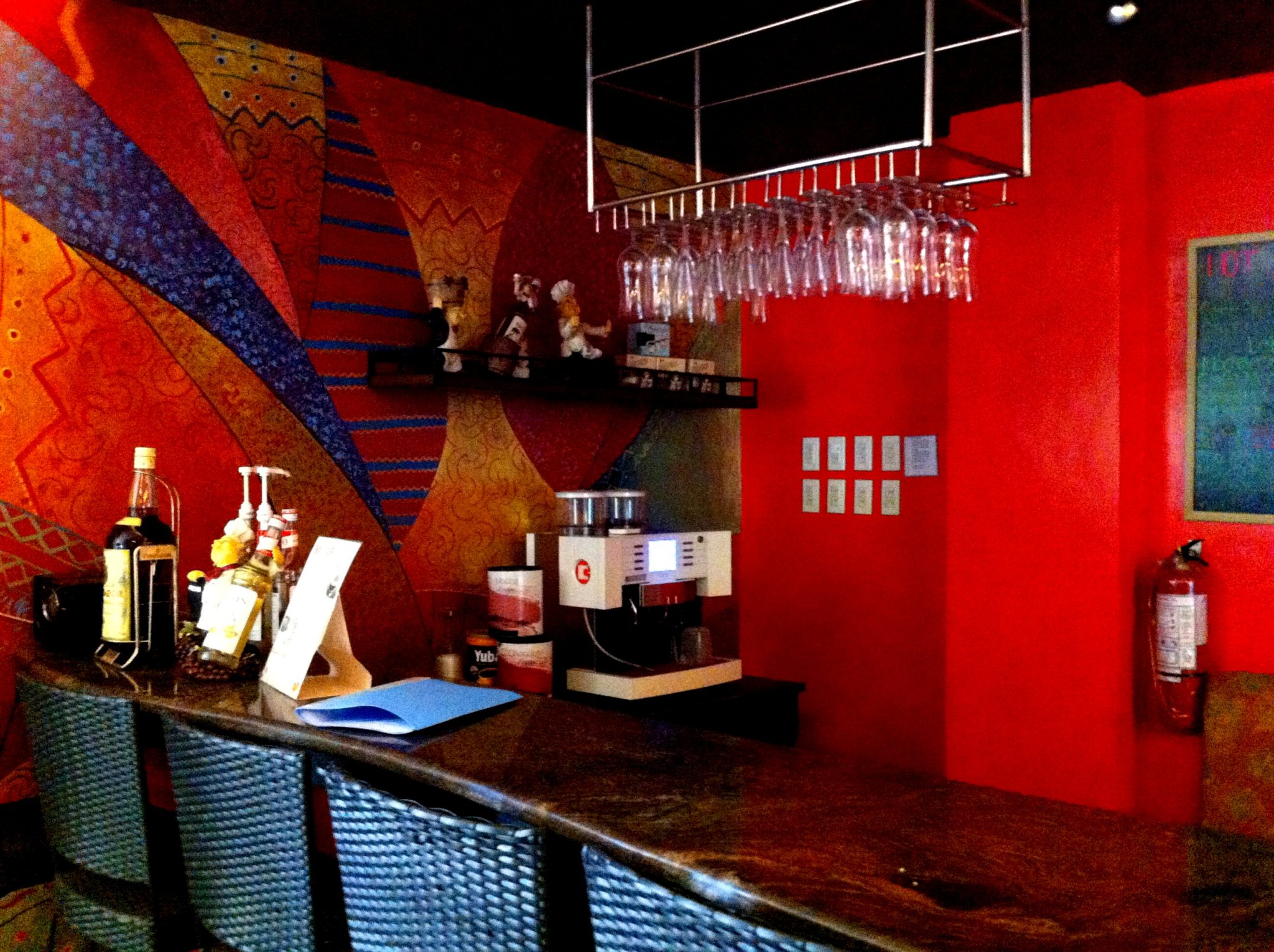 That corner was so us.
La Traviesa has a spa but I didn't get to wander in that area. We stayed in the pool area most of the time because our kids didn't want to leave the pool.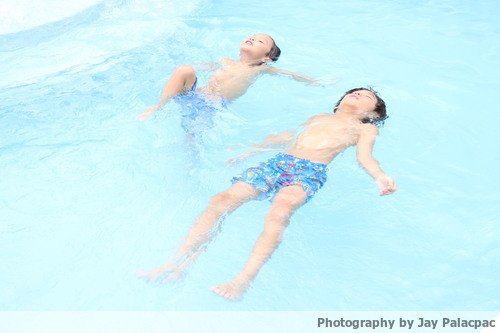 In fact, they swam in the afternoon, swam that night and swam again the next morning. They were charred by the time we left the resort!
La Traviesa also offer functions rooms and have a couple of gardens, which, according to their site, are ideal for weddings and other outdoor celebrations.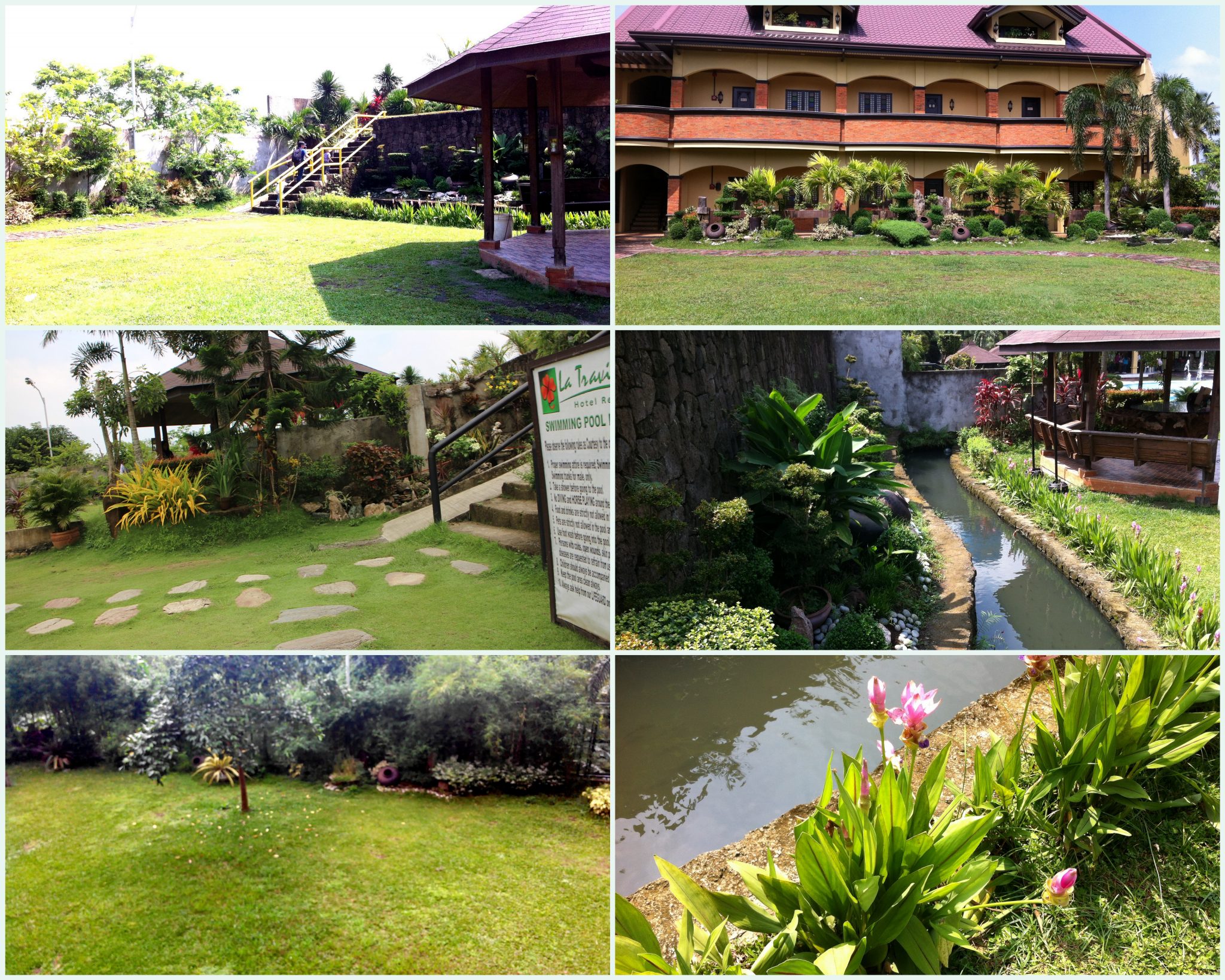 Some room for improvement
I have nothing to complain about, really, we would really love to go back as a family someday. Those beds were really cozy and comfy, I can sleep in all day, seriously.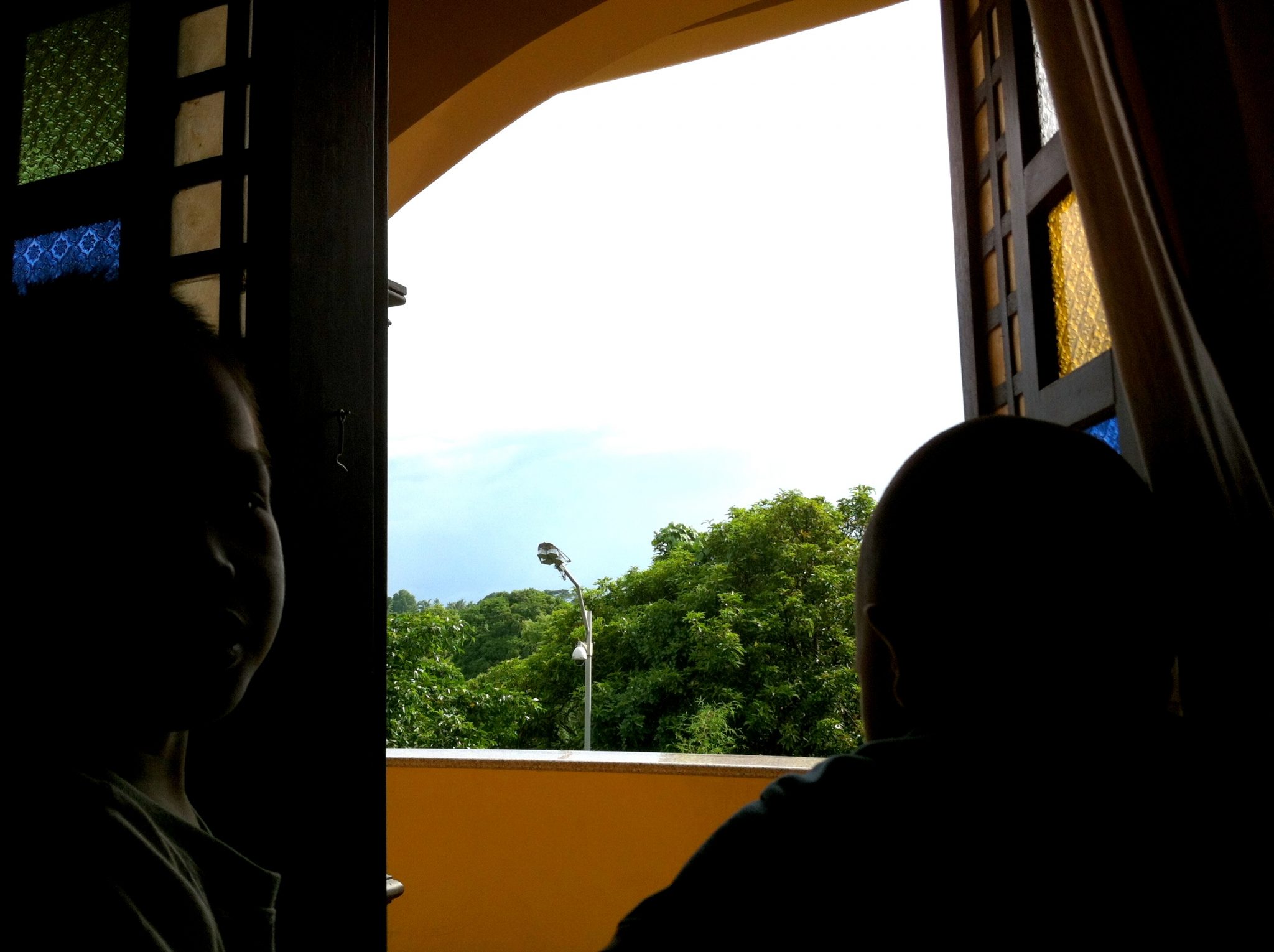 I just wish that we can see the hills from the room without opening the windows and risk having Judah leap out through it or having to go out into the veranda.  I love that view and the sunset was nice too.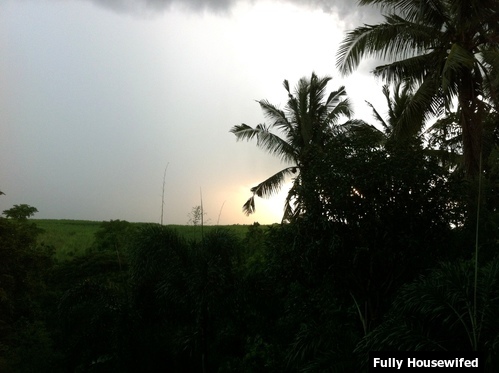 Also, I know that getaways are supposedly unplugged, but I like watching a little TV before dozing off and the cable signal during our stay was bad, it kept blinking off our shows.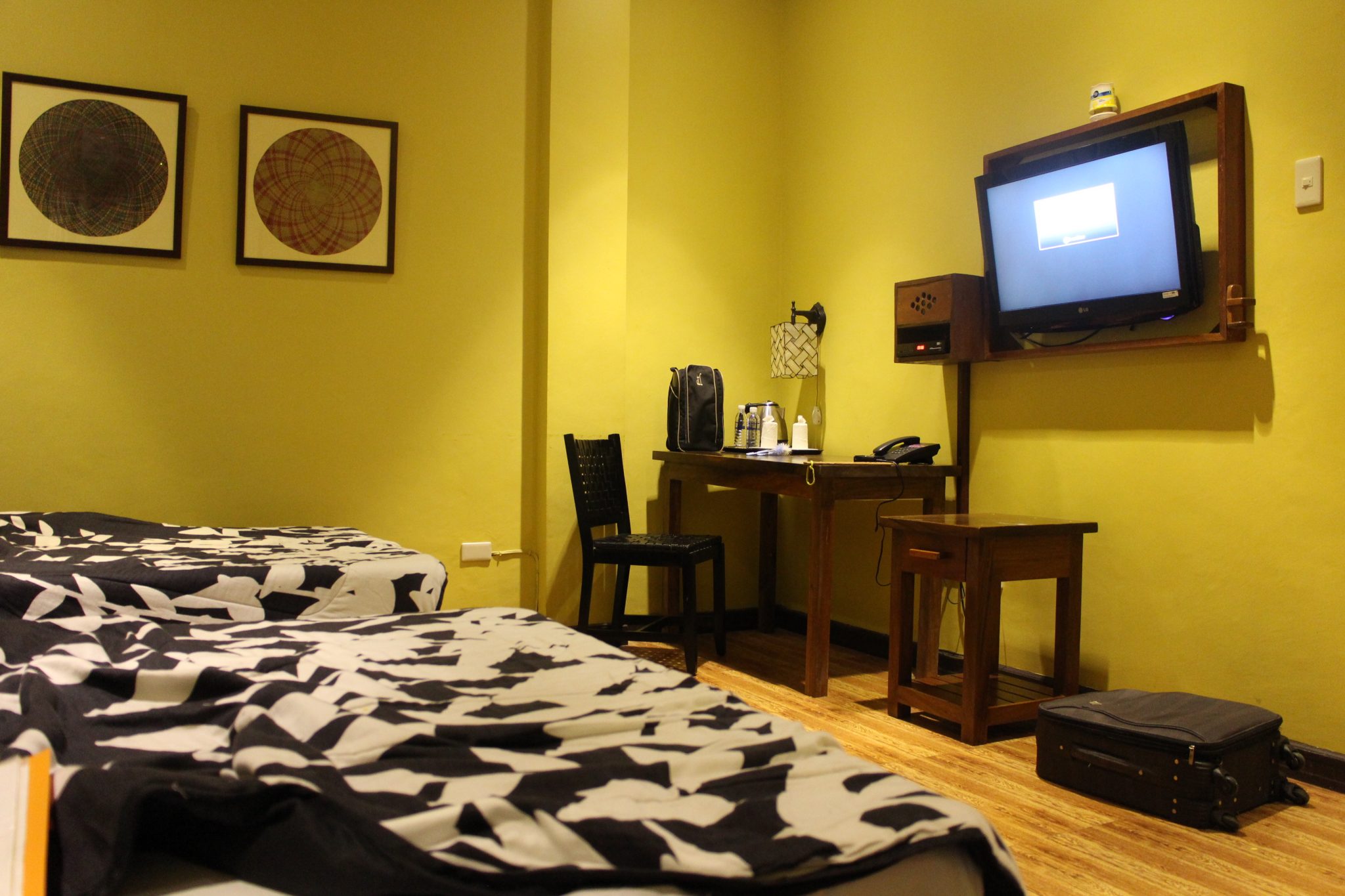 Plus, I was hoping to be able to log in for work last Friday but there was no WIFI in our room and was told that I can have WIFI at the cafe area by the entrance.
I log in for work at 5 AM, there is no way I'm going to walk across to the other building with my laptop and stay there all by myself at 5 AM in the morning.
All in all, La Traviesa is worth the buck
Other than those minor setbacks, I still think that La Traviesa is worth the trip.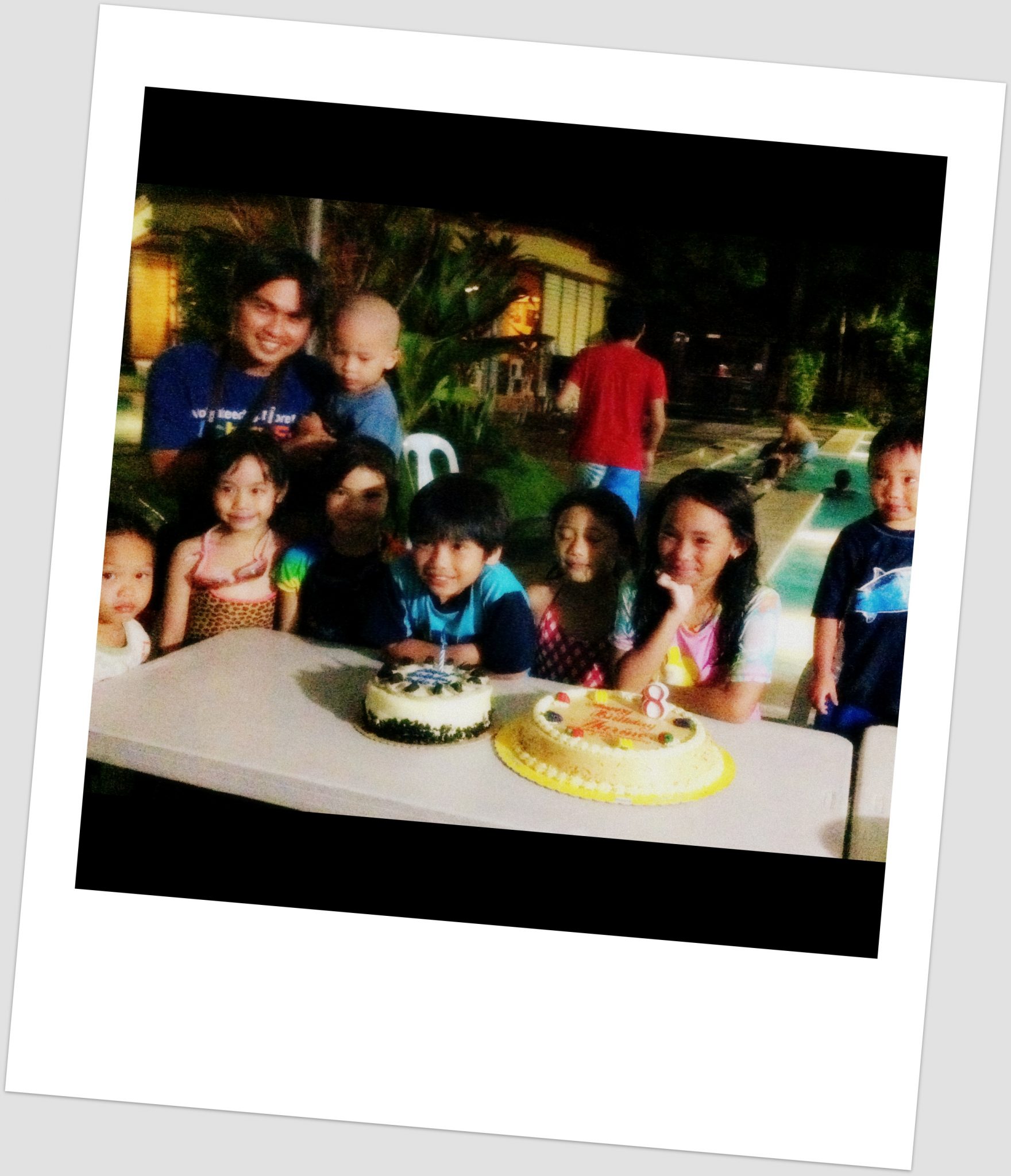 We're very happy that we came along and celebrated Pablo's birthday with Maxene and some of our friends at La Traviesa. He said he really enjoyed it and wished that we didn't have to go home so soon.
In fact, he liked it so much, he said he wants to live there, gaaaah!
We got a really good deal because we came with the team, but you can opt for Ensogo or simply check out their rates at their website.
We're planning to come back, definitely, since the place is only a few miles away from the university I graduated from. I've been wanting to take my family there to see the grounds.
Plus General Trias is a historical place, it would do us some good to go, see and learn a little more.