Easy Recipes: No Churn Creamy Vanilla Ice Cream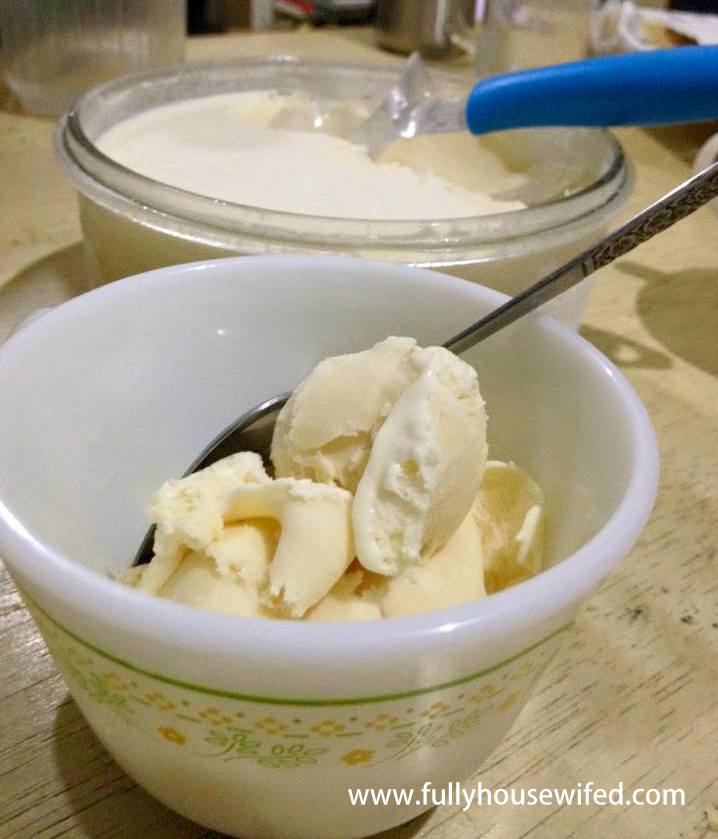 So where were you last night for Valentine's? We were home catching up on a Pinoy teleserye on iWantTV and eating our homemade creamy Vanilla Ice Cream.
Since Sunday is a work day for my husband and we're on a really tight budget, I thought it would be best for us to have a home date when he gets back from the office.  So I took pains in carefully writing down our menu and supermarket items so that I could prepare something a little more special for the evening.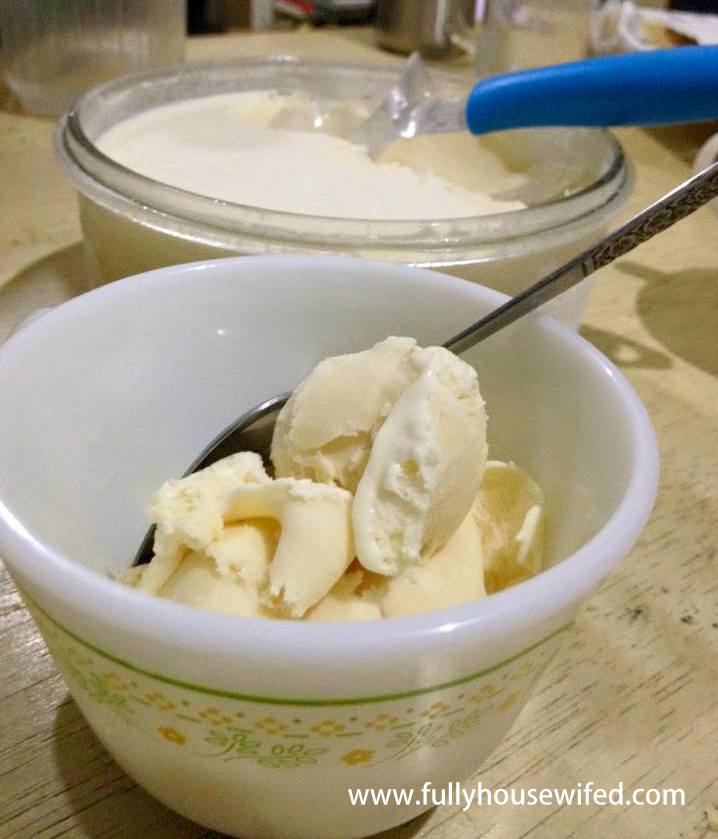 Anyway, the Vanilla Ice Cream turned out perfect! It was pretty to look at, tasted creamy in  my mouth and oh so delish! The kids thought it was fantastic too. In case you noticed, our home date became a family date. Long story on how that happened.
Not planned
The Ice Cream wasn't part of the plan. I originally wanted to bake Chocolate Cake by Chef Nikko but the supermarket ran out of cocoa (which I thought was weird considering cocoa is a basic product) so I tossed the plan out altogether and decided to just simplify things.
I came across a simple Vanilla Ice Cream recipe on the web and though I really wanted to go for Avocado, I thought that I should just stick to the basics for my first time. I had no other dessert in my menu after all, so I didn't want to blow this one.
Besides, my two younger kids prefer Vanilla (and flavors like Macapuno, Mantecado, Mango and Ube) over Chocolate. Go figure!
So anyway, here are the ingredients I used:
Ingredients:
1 tetra pack (300g) of Condensed milk
2 tetra packs (600g)  of Alaska All Purpose Cream
1 tsp Ferna Vanilla extract
How to make:
1. In a blender, put together condensed milk and 2 packs all purpose cream.
2. Add in the Vanilla extract.
3. Blend for 2 minutes (or until blended well).
Note: The original recipe says you need to use an electric hand-held whisk for the mixture to become stiff. I don't have that but I saw a tutorial on YouTube that used a blender. My blender did not have any speed options (another tutorial says it needs to be on medium speed to stiffen) and it was past midnight, I was afraid the neighbor below us would be awakened by the noise, I couldn't wait to find out if blending it would stiffen the mixture. However, even without a stiff mix, our Ice Cream was still good.

4. Pour into a tin container and cover with cling wrap.  Or in my case, I used a microwavable glass container with a lid. Then freeze until ready.  I made our Ice Cream at 1:30 AM and served it after dinner.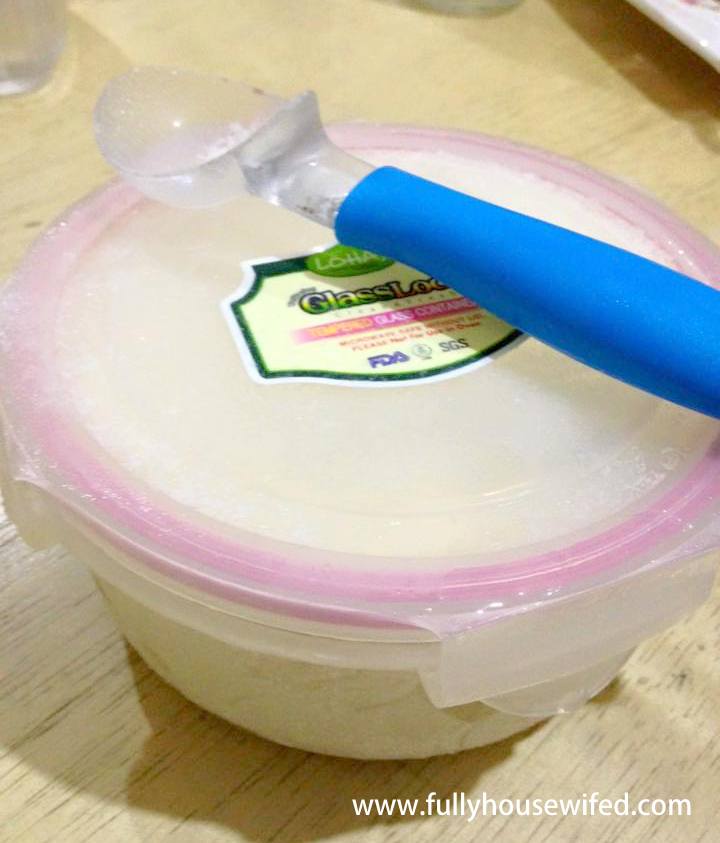 5. Serve.
Note: If your Ice Cream is too hard, just leave it on the counter for a few minutes to soften a bit.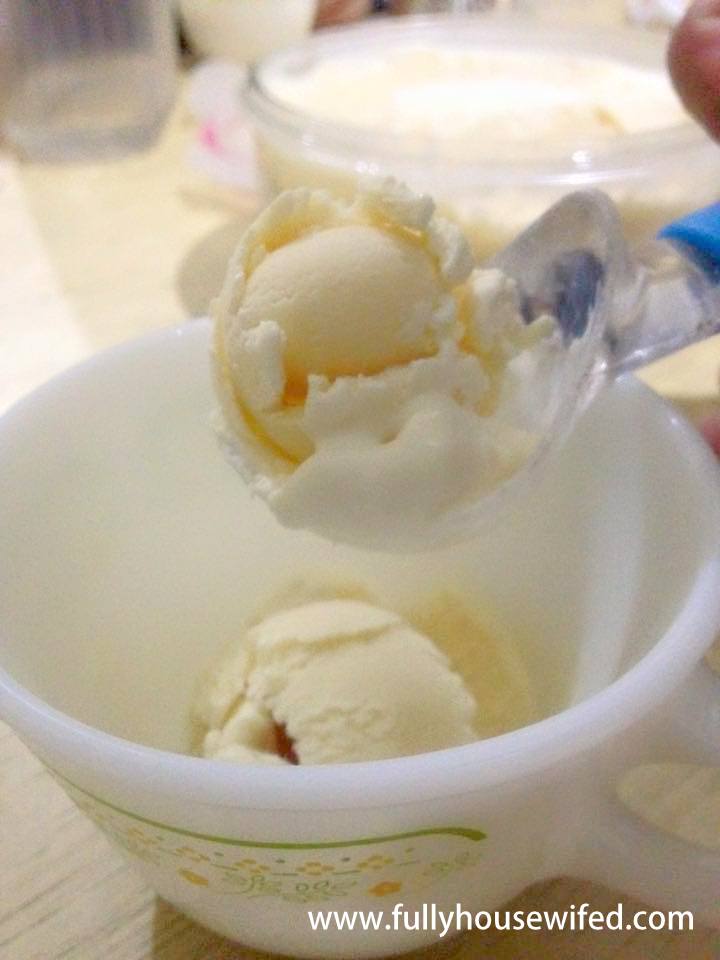 According to the original recipe, the secret is the condensed milk. It's what gives the Ice Cream the creamy texture. This Ice Cream really tastes like something you'd buy at the store, seriously. I'm really going to make more after this for sure.
I've already some other flavors to experiment with, like Chocolate, Double Dutch, Cookies & Cream; and Avocado seems like a refreshing flavor. Been dying to make one for months!
I'll share my Ice Cream experimentations with you soon. For the meantime, enjoy your Vanilla Ice Cream. Don't forget the drill! Tag @fullyhousewifed on Facebook or IG if you're posting your Ice Cream creations too, okay?