Success to Significance: Sun Life introduces the Money E-Planner and the Bus to the Future
Attending Sun Life events is one of my most favorite thing to do as a blogger. There's always something new and useful to learn and they push me to focus on our investment goals. So when Brian Micasa and Arnel Bautista of Travel Mate Philippines told me about Sun Life Financial's Ri5e towards Money 4 Life event, I cleared my schedule to be able to go.
Sun Life Financial has declared the month of June as the "Financial Independence Month" and is introducing a new tool called the Money E-planner and the Bus to the Future.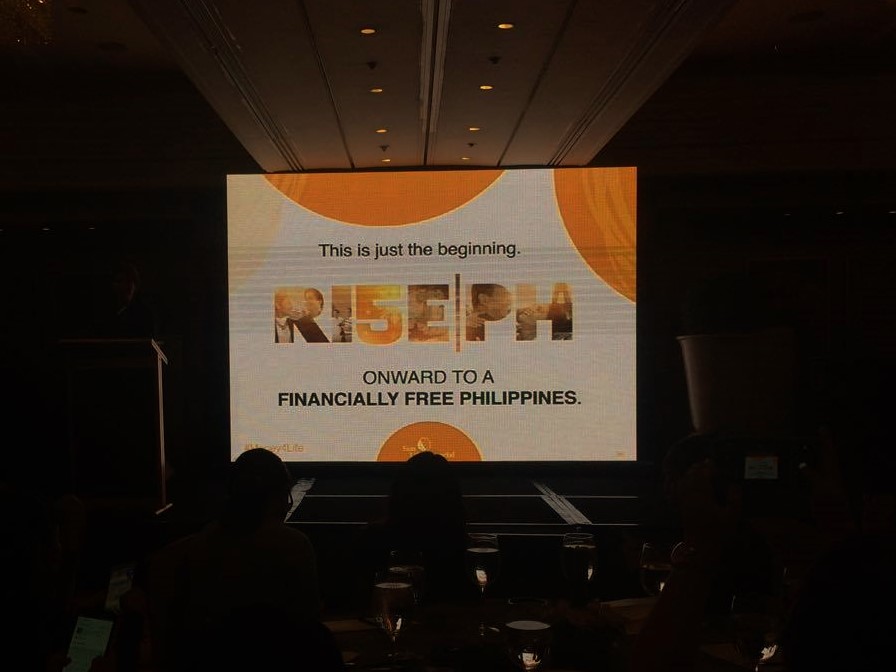 The Money E-Planner
The Money E-Planner  is for those who would like to know their investment possibilities first before they actually meet with a financial advisor.
The Money E-Planner can help you figure out the right insurance plan for you based on your life stage, how much you're willing to invest and how often.
This is how it looks like: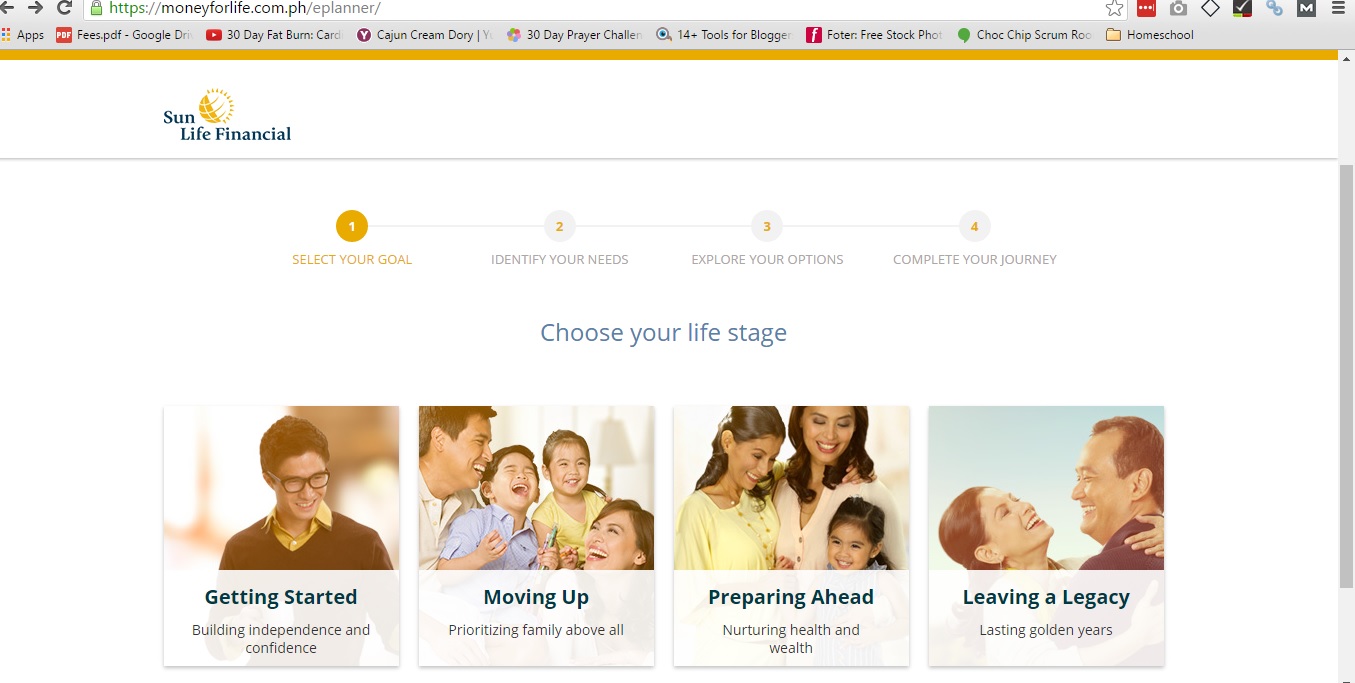 It also helps you weigh them out with your goals for, let's say, the next fifteen to twenty years.  You will need to say how much experience you have in investments and your attitude towards investing as these are important as these details will help the system draw results customised to your needs and personality:
Here's how it looks like: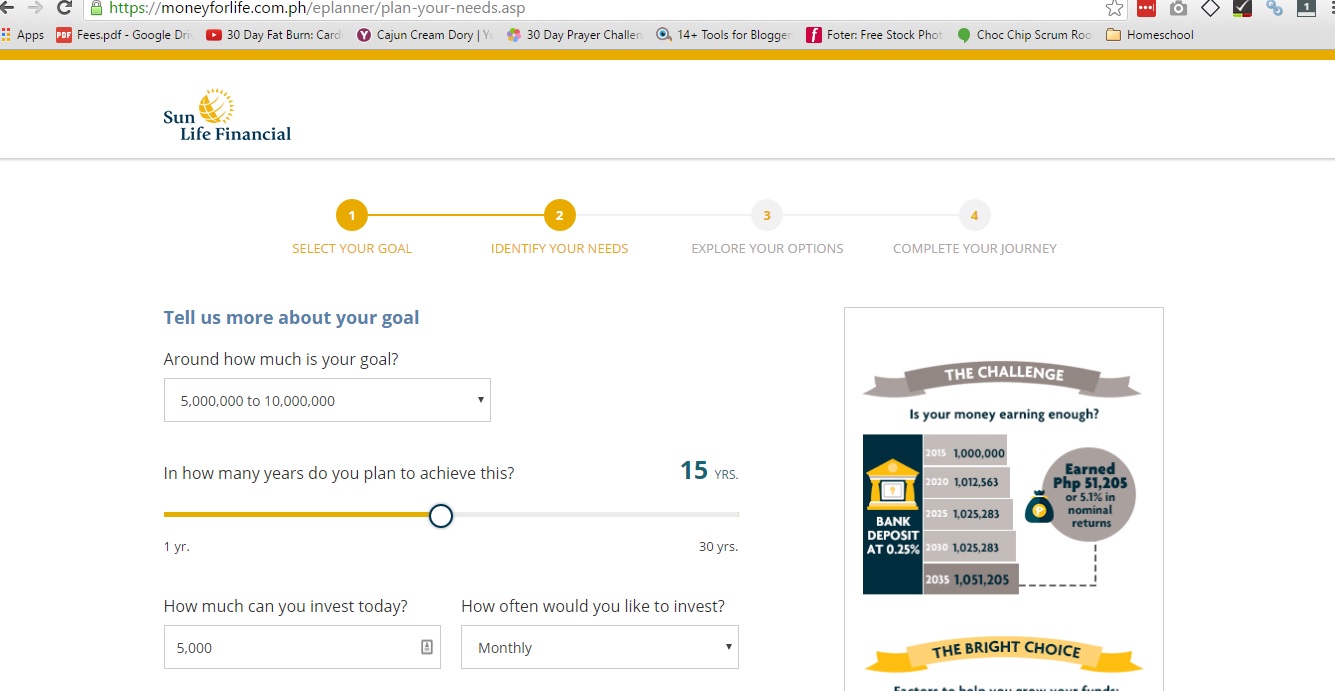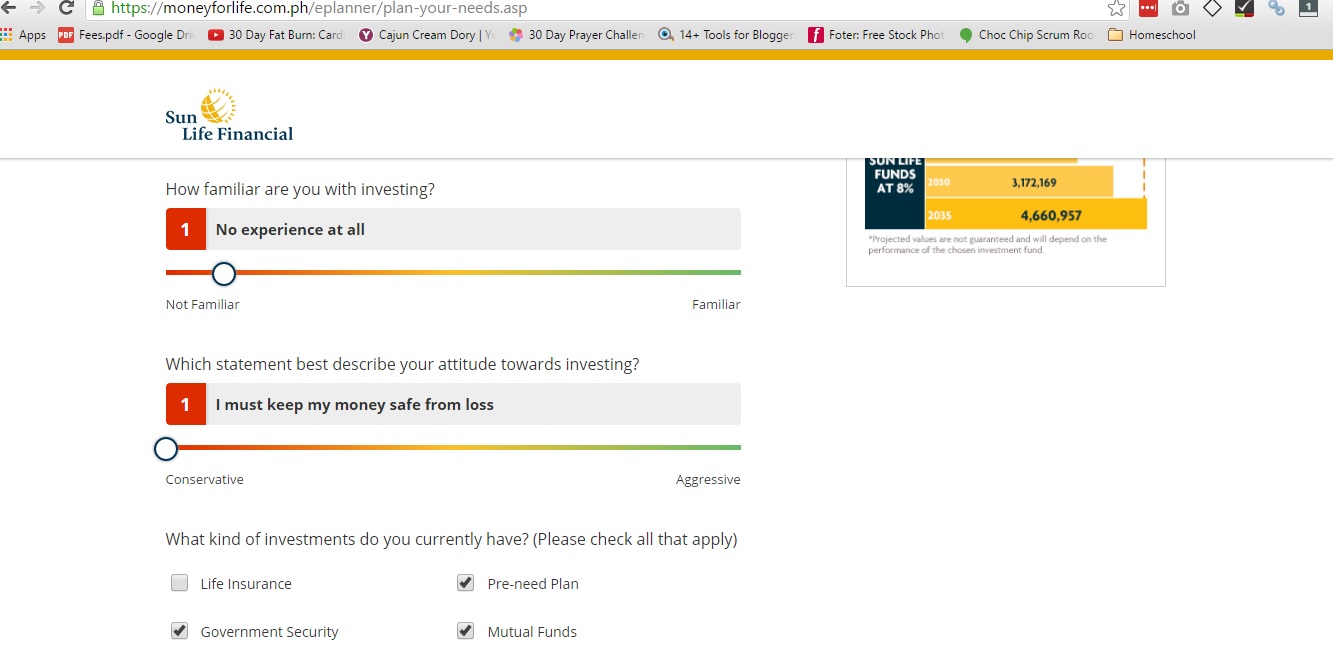 After inputting some of these details, it will drum up investment plans for you to look through and consider. You can choose to read through the content to know more about it or you can request to talk to a Sun Life financial advisor once you're ready.
Mine came up with Sun Maxilink Prime, Sun Maxilink One and Balanced Fund.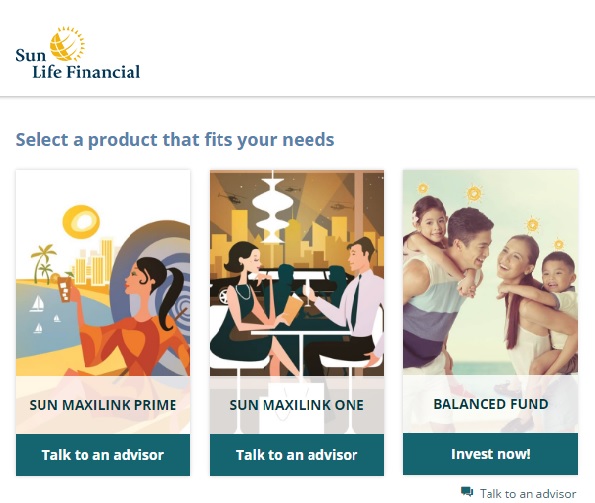 I don't know about you, but whenever I learn of new investment possibilities for us, it excites me even more. All is not lost! I'm definitely going to study these options and talk to my financial advisor about it. Preparation is key.
Why don't you try out the Money E-Planner now? It's fun!
The Bus to the Future

Sun Life Financial is really being proactive about educating people about finances. I think I mentioned before that I sense genuine concern here for the Filipino people. In fact, Brighter Life Coach and Finance Expert, Aya Laraya, said that it doesn't even matter where you choose to invest once you've set your goals and have chosen the right financial partner for yourself; as long as you invest in your future.
The bigger goal is to help the people and contribute to the nation's progress.
According to Sun Life CEO Riza Mantaring, this year, Sun Life is shifting their focus from Success to Significance. For me, that says a lot. It tells me that the people behind this company have their hearts in their right places.
Going back to the bus, Sun Life Financial has come up with a technology that would provide Filipinos a way to visualize your future based on your chosen life stage.
Maybe I'm easy to impress, but it's really cool when you put on those pair of goggles (haha!) and see how your financial future may look after a few years.
The Bus of the Future will be touring the metro and beyond, making stops at Bonifacio Global High Street on June 11, Eastwood on June 19, SM City Cebu on June 25, and Solenad, Nuvali on July 2.
The Bus will also visit several universities and colleges, such as the Mapua Institute of Technology on June 2, Ateneo Graduate School of Business on June 12, De La Salle University on June 16, UP Diliman on June 17, San Sebastian College on June 20, University of San Carlos in Cebu on June 24, Lyceum of the Philippines University Manila on June 29 and UP Los Banos on June 30.
Sun Life Advisors will be around to accommodate queries and inquiries, so if you have any questions, ask away.
Now if you belong to the younger generation…
The best time to invest in your future is now when you're still single and has less financial obligations. It gets harder to start on it when you're already married, paying bills, purchasing diapers and milk, or sending your kids to school.
Some young people commented in my previous blogs that they're still too young to think about insurances and would like to enjoy their youth first.
Listen, I thought the same way and trust me, it was the wrong way. You can retire and enjoy the rest of your life earlier than most if you're being smart about your money now.
Many Filipinos find themselves at a loss when something unexpected happens because they did not prepare for it. We know it because we've been there. And even when we've wised up on our finances a few years ago, we still suffer the consequences of those bad decisions we made when we were your age.
So invest in your future. The earlier you do it, the better it will be for you and for the people you love.
(READ: Plan your retirement)
Where we are…
We opened our first mutual fund last January. We marked it our "retirement fund." Our goal is to bring our investment up to at least Php 30,000, which I learned in my research is a good amount to maintain for MF's, before we start on the kids'  mutual funds.
I have to admit we were sidetracked a bit so we have not been able to add to our initial investment of Php 5,000, but since we've steered back the right financial route, we can now resume our plans to deposit every month. The minimum deposit is only Php 1,000. It's very doable for us.
It's a good thing, too, that during one of the sessions, we were handed a blank checklist where we can jot down our goals for the next 6 months to three years and so forth, indicate the level of importance of each goal to us, jot down how we plan to achieve these goals and set an estimated deadline for them.
It looks like this: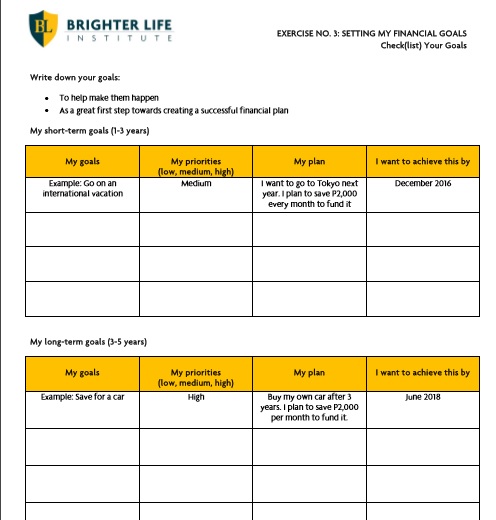 I'm familiar with this form because I've already accomplished it when I went through Brighter Life Institute online to learn more about how to create a financial plan. I've even emailed a copy to my financial advisor so she can thump me on the head when I tend to be forgetful, haha!
The beauty of this simple activity is that it helps us lay out our financial goals and plans. It also simplifies what seems to be such a complicated thing to do. I'm glad we were made to do it because it reminded me that my children's future is at stake here. It also helped me weed out the unnecessary so I can stay focused on what is necessary.
The checklist was handed out was during the talk given by Coach Aya Laraya of Pesos and Sense.
In his talk, Coach Aya addressed a particular Filipino mindset where he pointed out how we have been pre-conditioned against gaining wealth. As an example, he compared the popular Hollywood superheroes to their local counterparts.
Batman, Professor X, Arrow and Iron Man are all wealthy, while Darna, Captain Barbell and Panday all hail from proud but poor families.
The point he was driving at was that many Filipinos are subconsciously afraid of getting wealthy because they associate the good with being poor, because this is what we are exposed to in our culture.
He then said that you can help more people if you have the financial means to help them, (not just the heart and the skills). BOOM! (hahaha, I feel so awkward saying Boom!)
Anyway, I'm looking forward to learning more from him in the #Money4Life challenge workshops. I'm sure that my husband and I still have a lot to learn in terms of managing our earnings and making financial decisions.
Jay and I know that if we are to succeed in this, we need to work hard for it, commit to it, and  learn more about it. We need all the help and expert advise we can get.
Sun Life of Canada (Philippines) is a member of the Sun Life Financial group of companies, a leading financial services organization that provides protection and wealth products and services to individuals and corporations.