Learning something new…like brush lettering
I read once that it's common for women who hit the age of 40 to try out new things and explore more possibilities. They said that there's a sudden sense of the value of time and how fast it runs that we become bolder in setting aside our inhibitions to go for the things we really want to do in life.
Maybe in my case, when I got married, I decided to live my life. I used to be so obsessed with my so-called career, I did not give time to other things outside my gigs, rehearsals and workshops. The only thing that may have deviated my attention somehow was young love. Alas, I was a romantic, haha! But even that somehow jelled well with what I was trying to accomplish.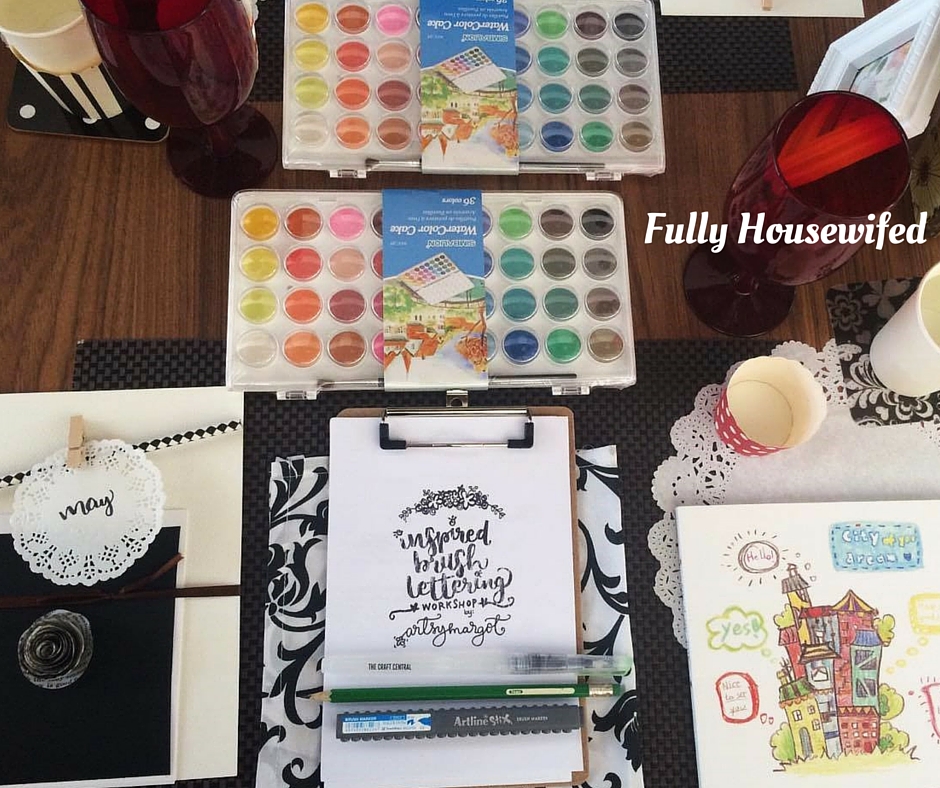 When I accepted Jesus into my heart and became part of a church, I learned to serve others, open myself up to friendships, recognize authority and appreciate life beyond what I knew.
So you can say it's not me turning 40 because I just turned 40 a year ago, but it was Jesus. He opened my eyes to how beautiful life can be and taught me to appreciate life's simplicities to its complexities.
So yeah, I learned to have fun and see the possibilities beyond what seem like limitations.
That's what joining my friend, Margot Uy's Inspired Brush Lettering workshop is for me, among other things.
From admirer to doer
I started out just as an admirer of the works of friends who do calligraphy. Alelie, who gave me my very first watercolor lessons; Milona, who designs mugs with her beautiful calligraphy; and Margot, an artist and godmother of my eldest son.
Margot has always been very supportive of my attempts at lettering and calligraphy. She would give me tips and encouragement on my social posts. Her works are some of my most favorite ones!
Anyway, when she started giving workshops, I just had to sign up for one even if it meant travelling to the South just to learn from her.
I signed up for one held at Red Kitchen + Bar last June 25th. I hired a babysitter and excitedly rode the bus going to Alabang carrying along a big pink water spray and a pack of 6 paper towels. TALK ABOUT EXAG!!
Okay, so Margot said to bring just a small spritz and a roll of tissue, but the plant spray and the pack of towellettes were what I found so they were what I got, haha!
Doing it right!
I've always known Margot to be two things – artistic and classy. So I wasn't surprised to see how pretty the set-up was when I got there.
Margot welcomed all of us to the workshop, shared about how God gave her an opportunity and a purpose to share her talent in art.
In her words, "I have 2 goals why I wanted to share my passion: First, to know God's word through my works. Second, To get to know and inspire more people. I don't count followers just to be famous, I want them to follow me so they will follow the One who created me."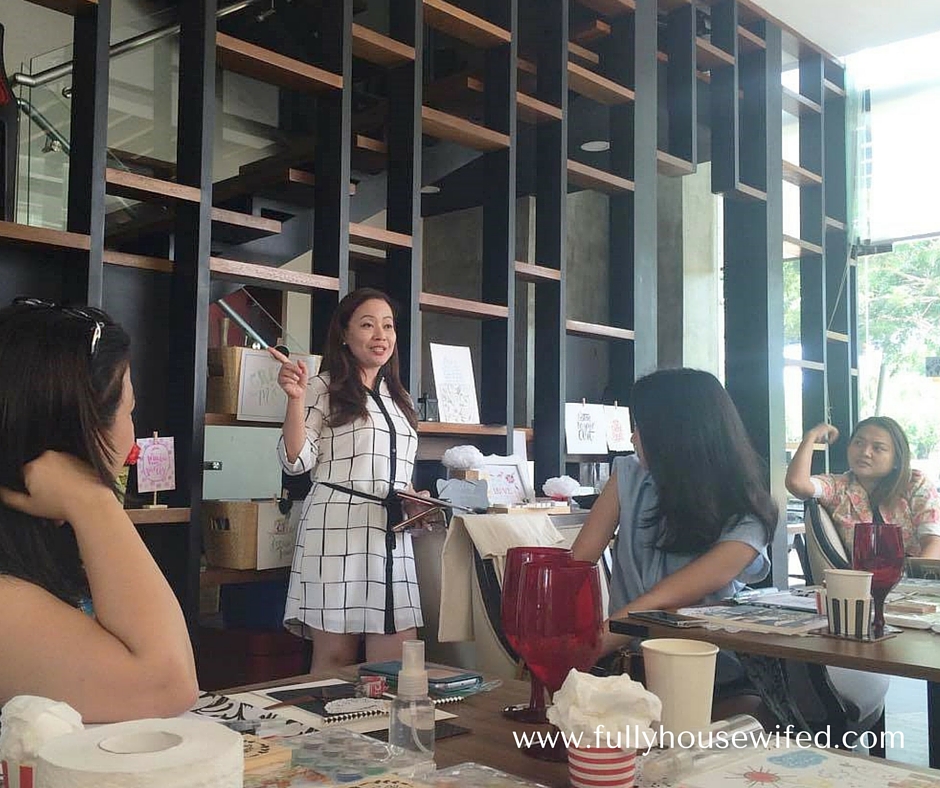 The basics of making pretty letters
Margot explained that Calligraphy is basically your handwriting made pretty and lettering is drawing your letters. She taught us the basic strokes – thin and thick lines, how to use a regular brush pen and how to handle a watercolor brush pen.
She demonstrated strokes and styles as we eagerly looked on, and gave tips and comments on our individual works. It was so much fun!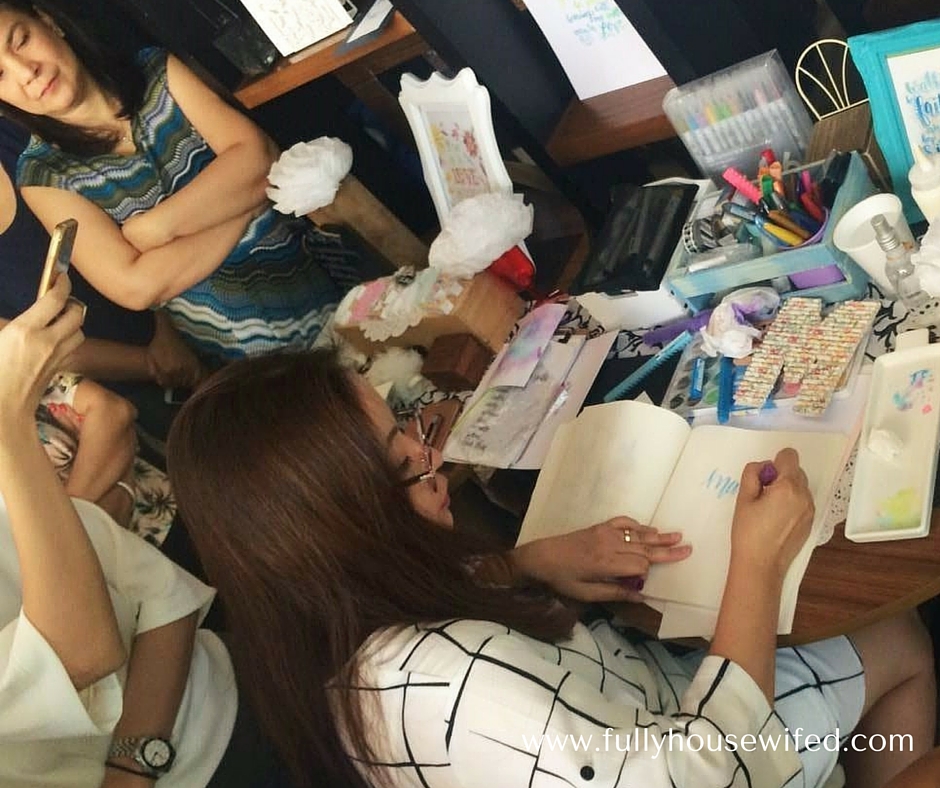 She discouraged us from being content with just imitating other works and basically licensed us to develop our strokes based on our individual, unique styles. "I want your letters to dance!" She said.
This was my very first attempt at lettering, or whatever you call it, in 2015:
My first "real" output at the Brush Lettering workshop was this: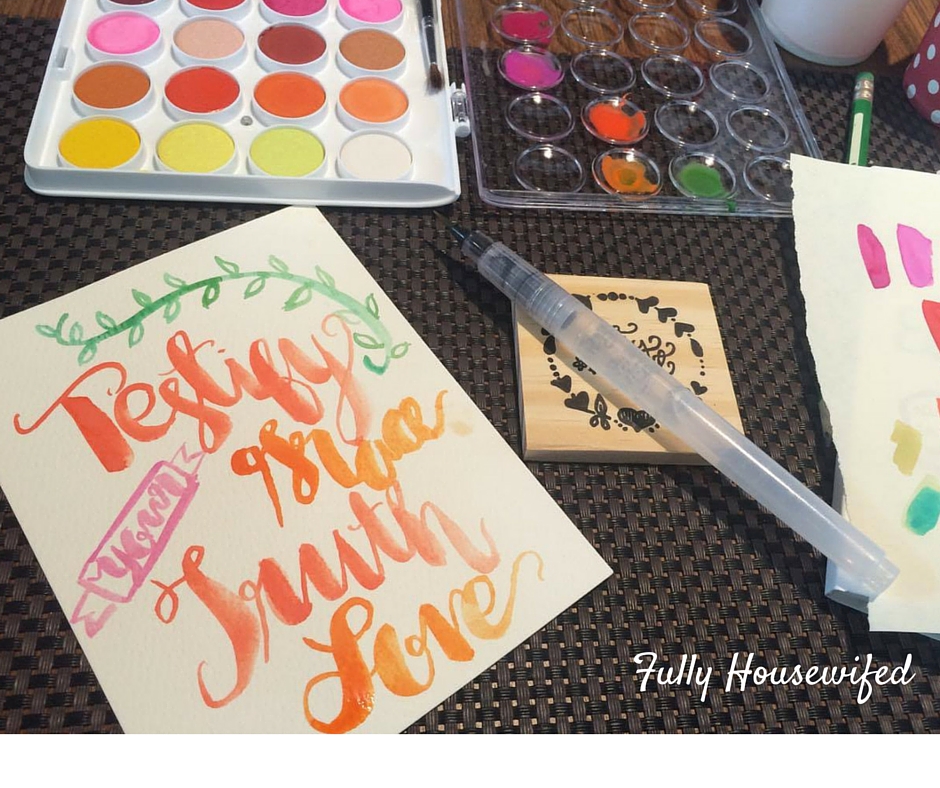 And because Margot continues to give us exercises and tips through our Facebook group thread even after the workshop, here is my first homework: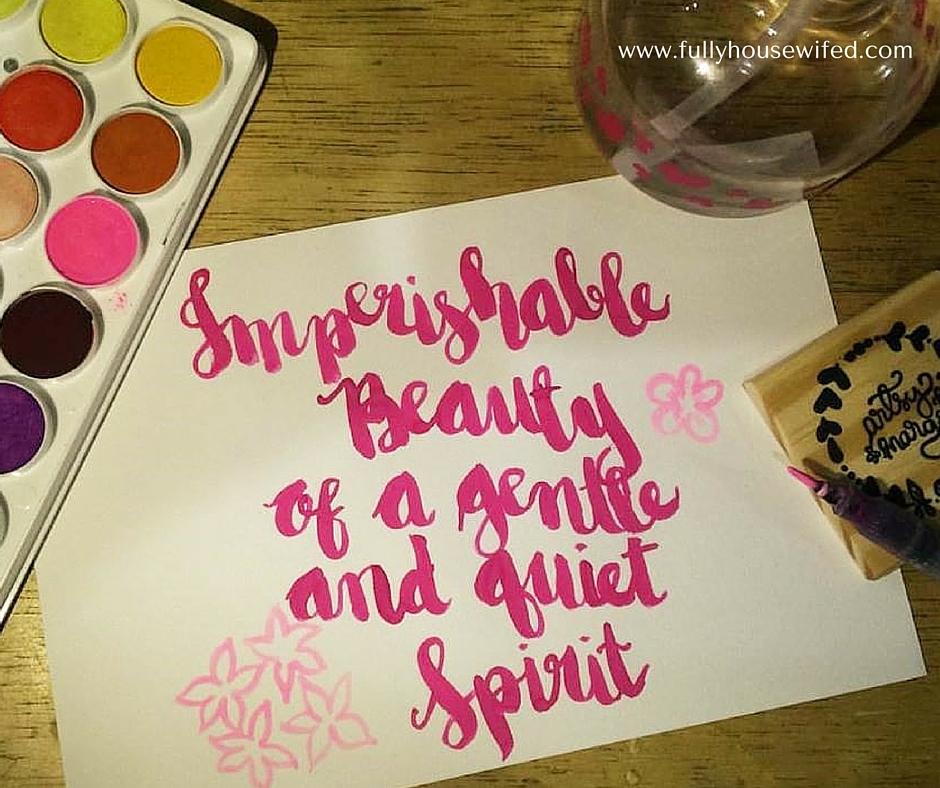 And this was one of the most recent I've done during my quiet hours:
The practice she had us do last week was write the 26 letters of the alphabet. I found out that the uppercase ones are harder to do than the lowercases!
I also think that watercolor brush pens are easier to handle than the regular ones simply because they just need a bit of pressing for thick strokes, whereas I need to angle the regular brush pen to get the thickness I like.
Last summer, my friend Alelie patiently taught me the basics of watercolor painting:
So I tried integrating what I learned with Calligraphy. Here are a couple of what I've come up with:
This is about what Jesus has done on the cross for ALL OF US…
And this one is about my reflection on marriage during my prayer time:
Staying focused and capturing every thought for Christ
Writing down Bible verses and encouraging quotes and song lyrics help me focus more on God's promises and his faithfulness. Two years ago, I went to visit a psychotherapist regarding bouts of sadness I was experiencing. She told me that I have a mild case of clinical depression which is common to women approaching their 40's.
When I was younger, it was easy for me to ignore or let pass unkindness, rejections and the harsh realities of life and relationships because I had the stage to run to. Whenever I would go up the stage to perform, all the pain I was feeling would fade away. With that gone, it had been pretty overwhelming for me to have to face situations that confront my emotions.
The onslaught of discouraging thoughts can be disabling and at times, focusing on the things that matter to me such as my work, my husband and my children can be difficult. But writing down God's word in beautiful letters helps me capture these thoughts and make them obedient to Christ (2 Corinthians 10:5).
Brush lettering also helps me shut out the noises of the world when I need to quiet my mind. The development of my artistry (naks!) is just a bonus for me. Doing brush lettering has become a useful tool for me in celebrating God's calling for my life. Thank you Margot!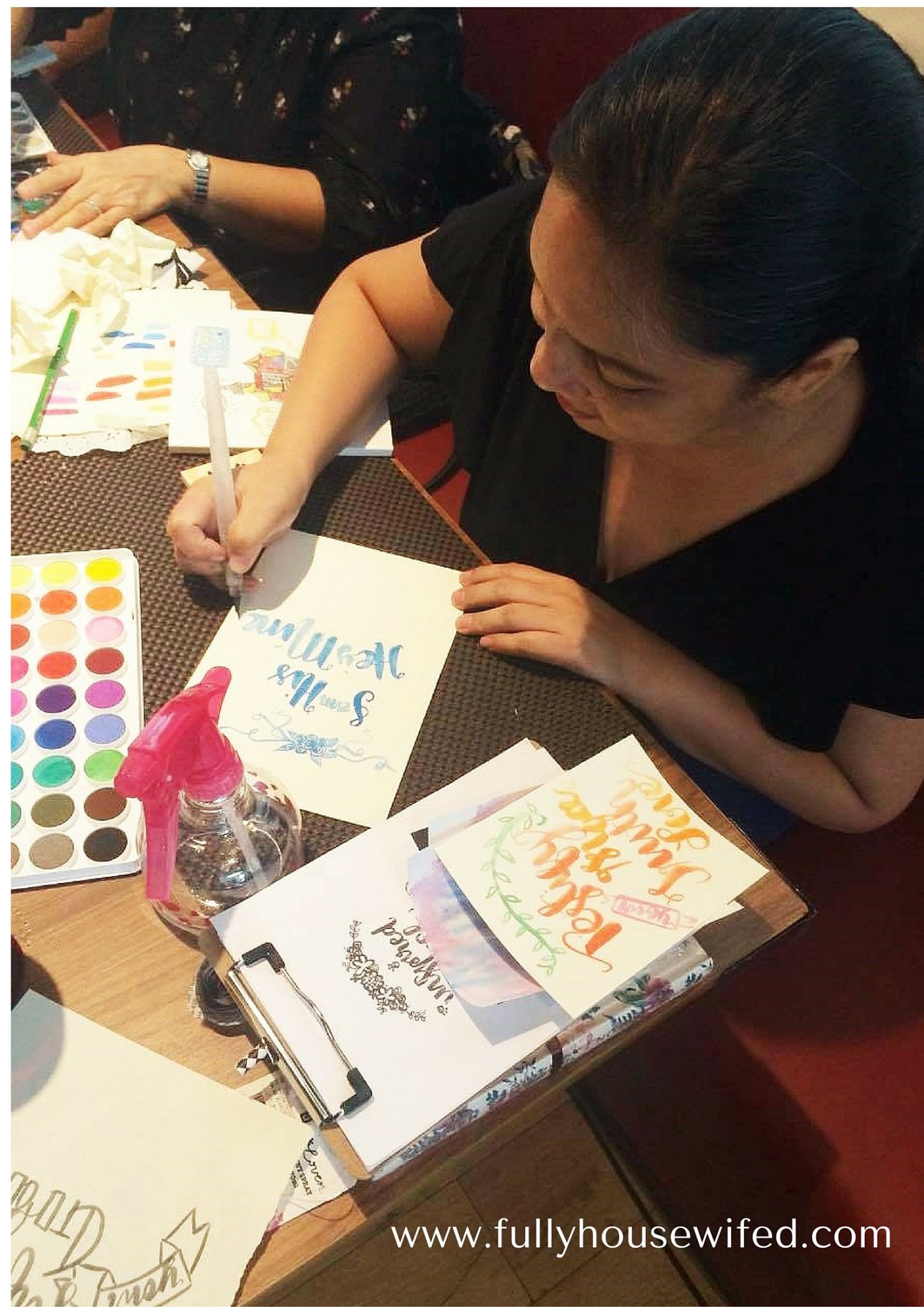 "Finally, brothers, whatever is true, whatever is honorable, whatever is just, whatever is pure, whatever is lovely, whatever is commendable, if there is any excellence, if there is anything worthy of praise, think about these things" Philippians 4:8.
#CalledtoCreate
Margot Uy has a series of Brush Lettering Workshops coming up. The latest would be on July 30, 2 to 6 PM, at the Mushroom Kitchen in Molito, Alabang.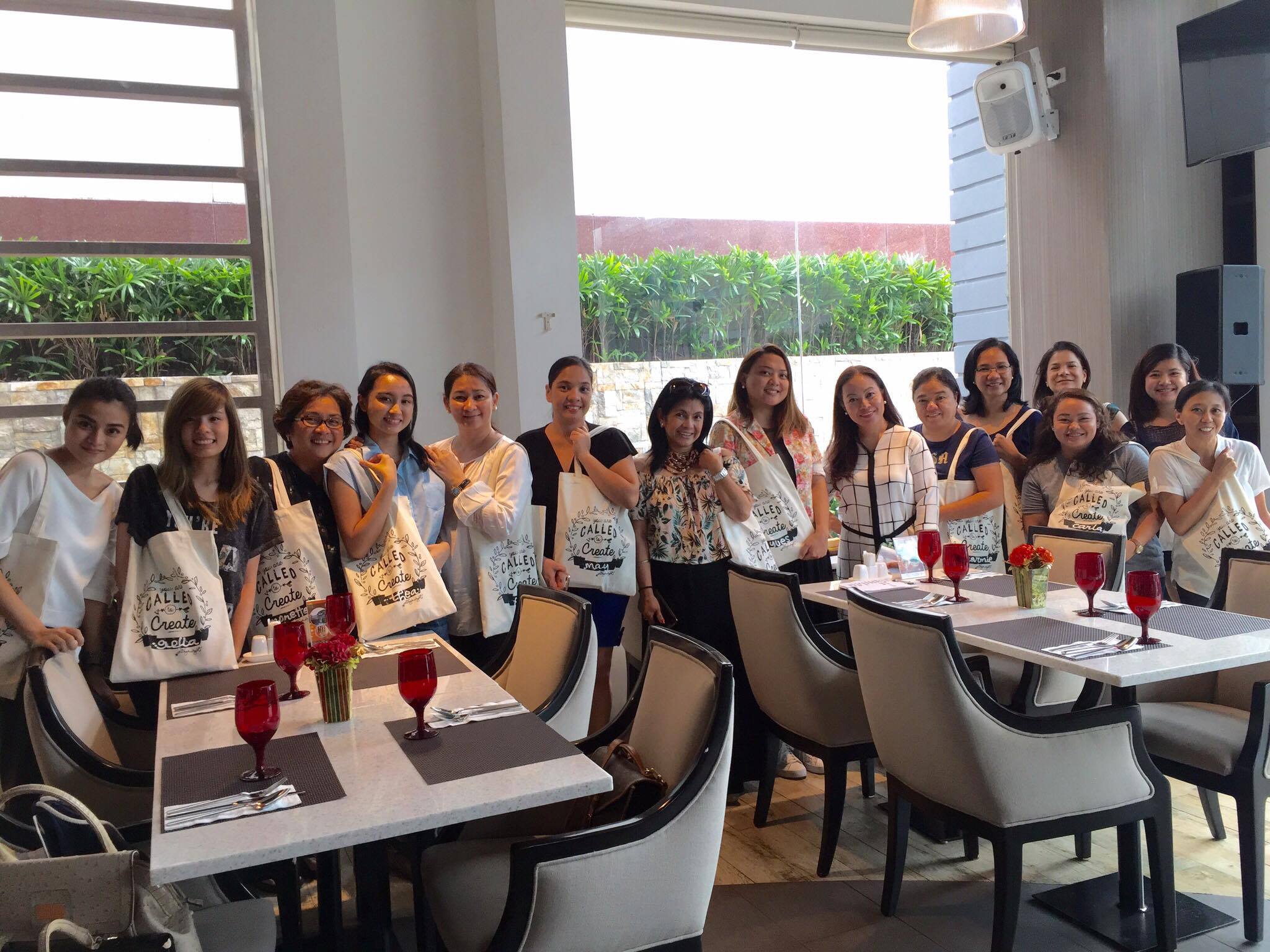 I was told that she also has a mom-daughter workshop coming up. So if you're interested, just connect with Margot and message her in her social media:
Margot Uy on Instagram: https://www.instagram.com/artsymargot/
Margot Uy on Facebook: https://www.facebook.com/margot.uy
Margot is also giving away a FREE slot at one of her Inspired Brush Lettering workshop. Check out the mechanics here:
I hope you get it!