Our eldest recently turned 11 and he didn't want a cake. He just wanted an additional model to add to his Gundam collection and put together for his video channel. He says he's not much into cakes and would much rather have ice cream instead.
So okay, we got him his Gundam and we had Ice Cream, but since his birthday falls on a holiday, we decided on having a staycation. We originally planned to check into Island Cove and give the kids a little nature kick, but it's been raining a lot since the beginning of the month and we felt we may not be able to enjoy the outdoors as much as we want to.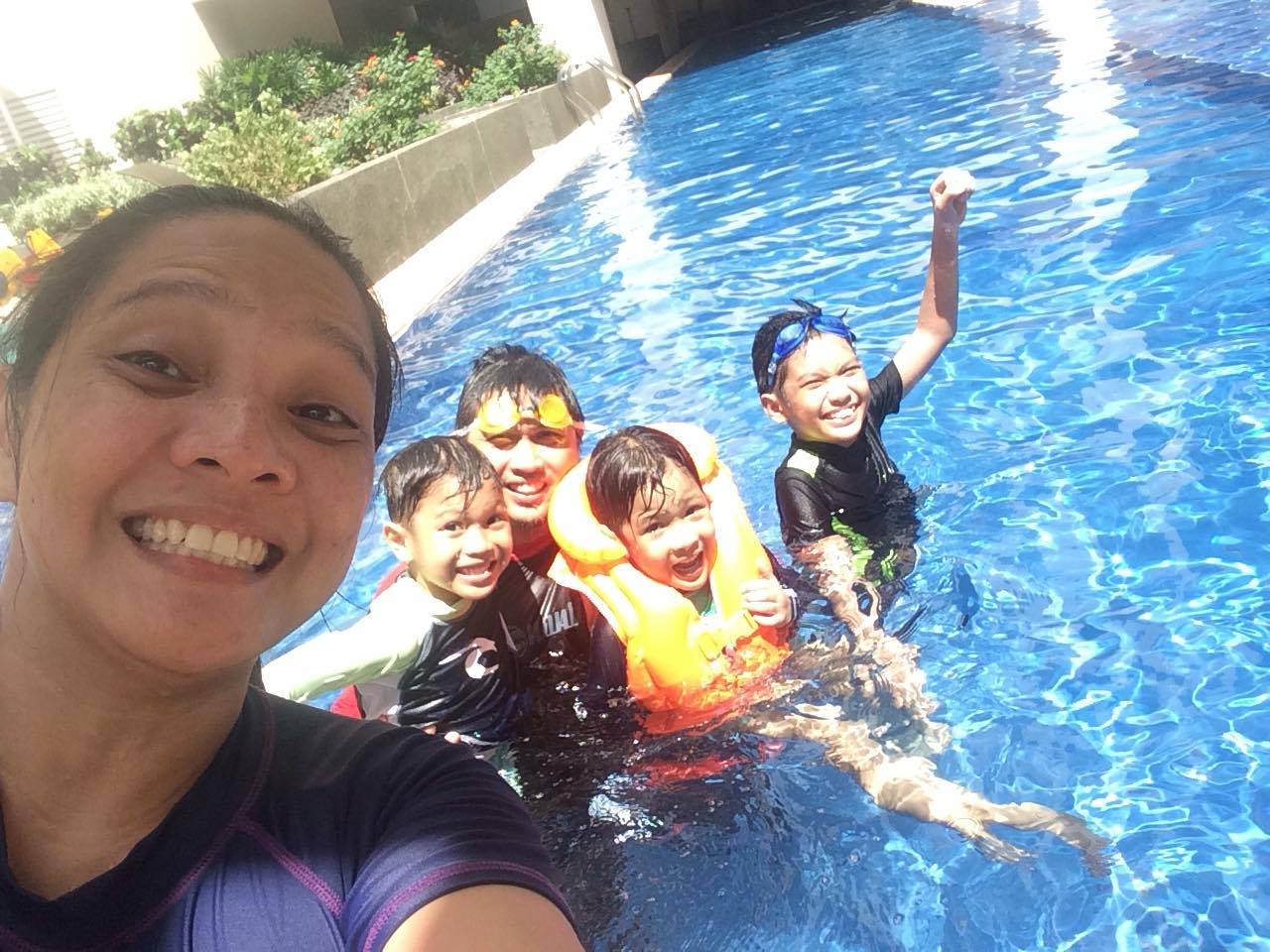 So our staycation requirement came down to a swimming pool and a stable internet connection.
We tried booking at Privato  but they were fully booked, so we decided to try AirBnB instead, at the suggestion of a couple of friends.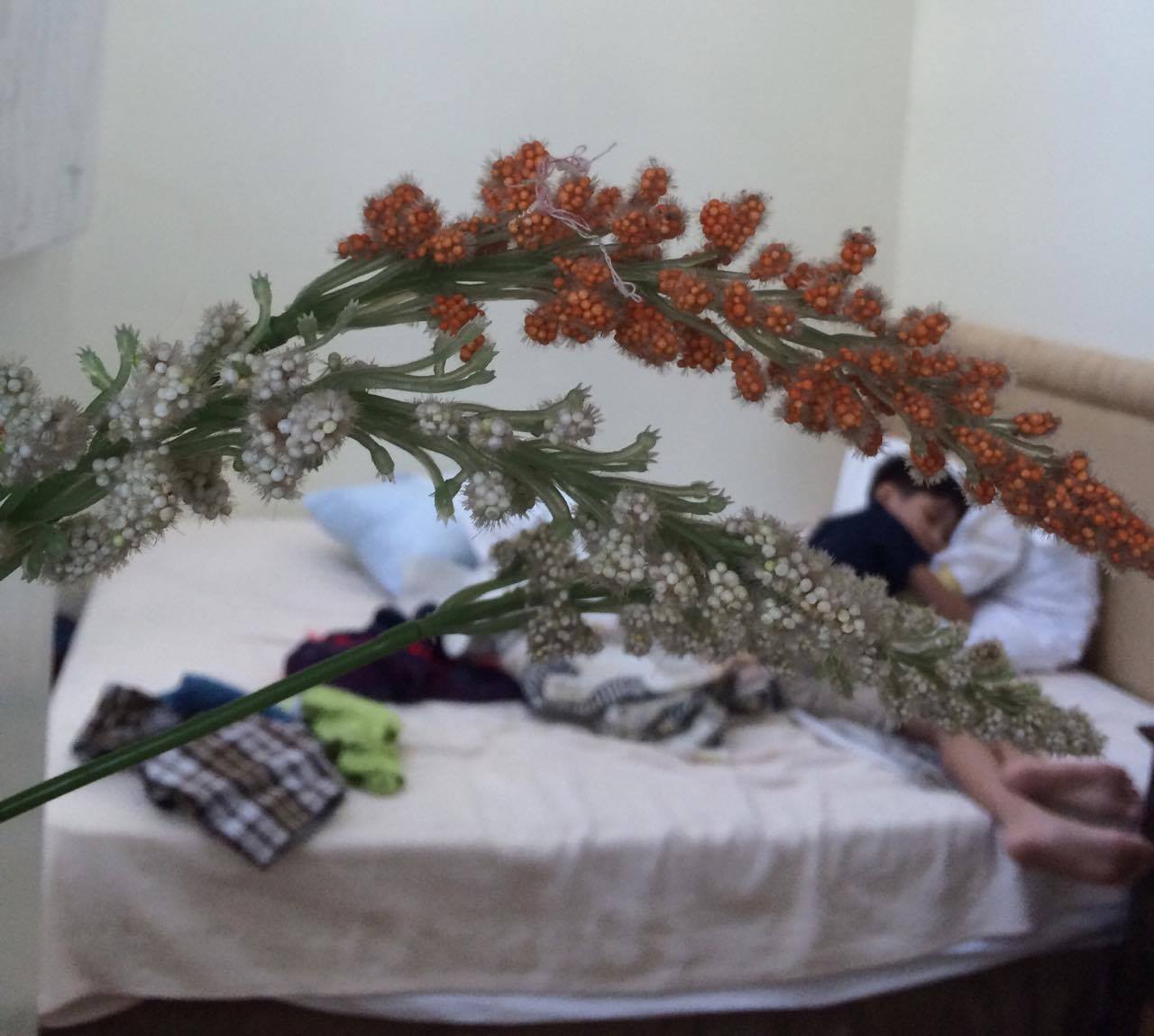 I registered at the site and started browsing for a place to book.
We found an available loft at McKinley Park Residences. The host, Mark, was very quick to answer our queries. We only booked for an overnight stay but asked Mark if we could extend until 4 PM (instead of checking out at 11 AM) the next day so the kids could swim before we go.
He agreed and just charged us for the additional hours even though it meant they cannot accept another booking for that day. Overall,we only paid Php 5,289.
The decision to extend turned out to be a good idea because they cleaned the pool early Monday morning. The kids had to wait until after lunch to swim before we packed our bags to leave.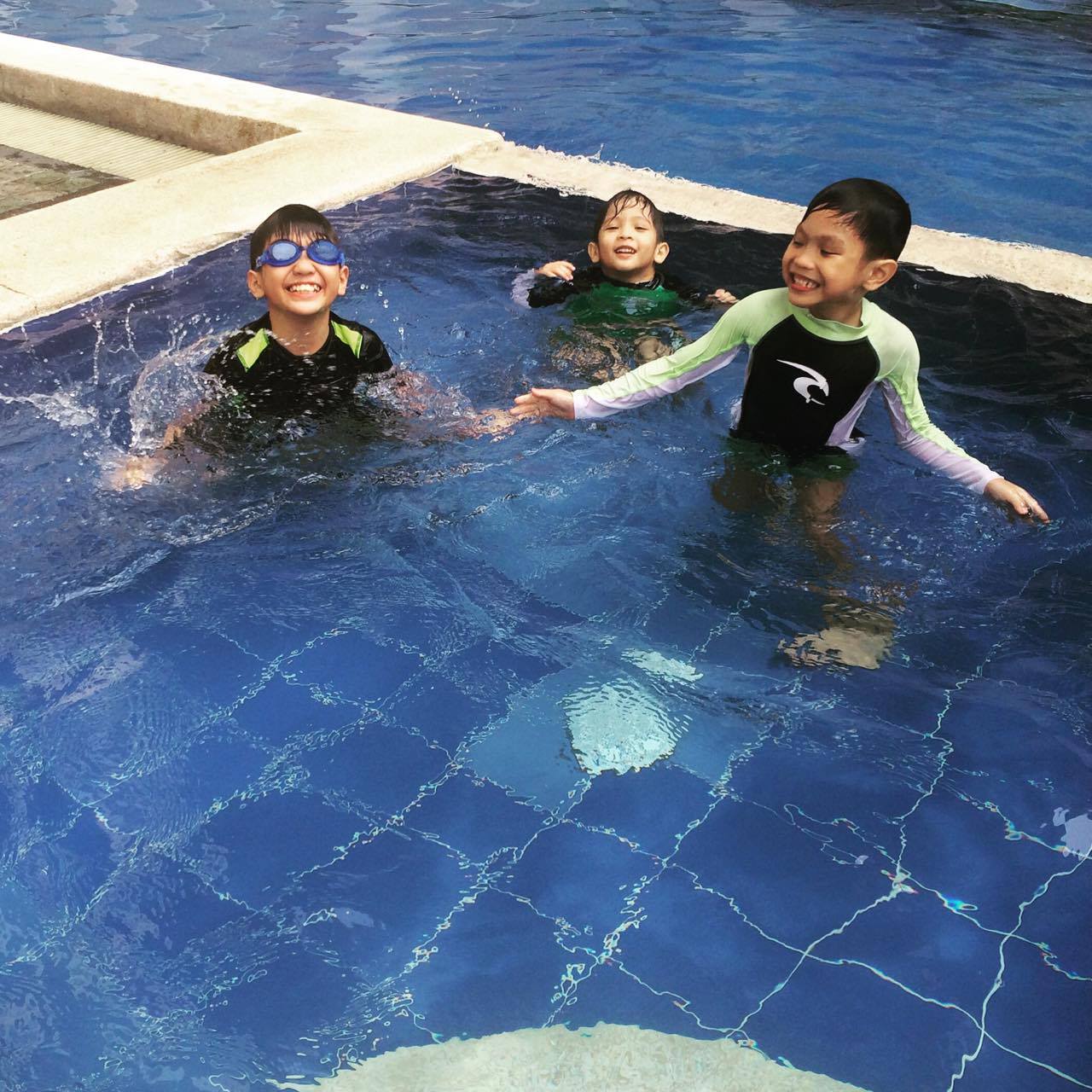 The loft at McKinley Park Residences
It was our first time to see a loft-type condominium and thought it was very cute. Jay and I were imagining how we would arrange the place to suit our family's needs if it were ours. Just two adults playing make-believe, heehee.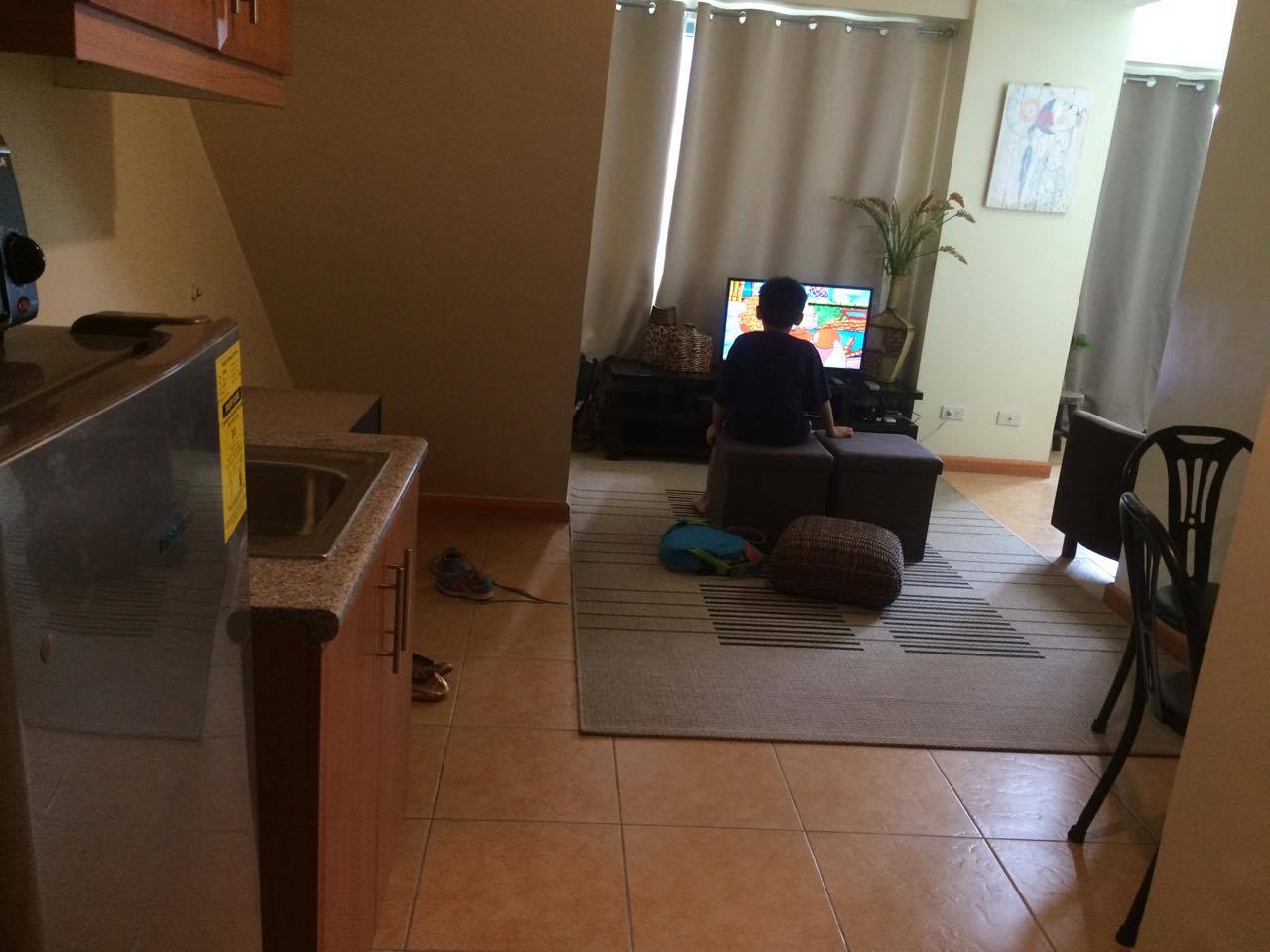 The place didn't have a functioning kitchen. There was barely any counter space and there was no exhaust installed.
It didn't even have an electric kettle to heat water for instant coffee.
We had to scrap our original plan to buy a few groceries and prepare dinner to celebrate. We ate almost all our meals at Bonifacio Stop Over which was located right across the building.
It rained that evening so we just ordered pizza. Jay had to go down to the lobby to meet the delivery guy and when the rain stopped, he went over to the nearest 7-11 to get us brewed coffee which I felt was inconvenient. The place should have at least provided an electric kettle. I mean, I had 3-in-1 coffee packs with me but we couldn't use them.
We learned later on from Mark that the place was still new in AirBnB and the owner hasn't had the opportunity to fix it up yet.
Mark was a cool guy, the staff were polite and the swimming pool was very nice, but we will consider the extra expenses the next time we book for a staycation.
Update: Mark informed us via AirBnB that they now have an electric kettle at the unit.
Internet problem
I had a bit of a problem with the internet connection. It suddenly turned off at around 5 AM in the morning while I was in the middle of uploading a video as part of my work task. It was a good thing that I was able to do the rest of my work before it happened so one video didn't really hurt much. But if it were any more than that, I would most likely have a fit.
So maybe that will also be something of consideration when we book.
I understand that staycations are meant for unplugging, but it's not applicable to me. I've got to do some updating daily. It's a minor task but it's crucial to the business I work for, so no internet means trouble for me.
The internet connection provided was just a Globe Tattoo device, so it was either the signal in the area or it could mean that the load ran out, because you load those things, right? I could be wrong. We used to have the stick, but I'm not sure if it works the same way as this one.
(Read: That Bellarocca Summer)
Advice for first time AirBnB users
When I posted about our first AirBnB experience, I received a lot of links in my inbox from friends who apparently rent out their condo units via the booking site. There were a couple of listings that would have been perfect and we already bookmarked one for our next staycation.
So my advice is to ask your friends first, especially if you're only looking for a place around the city. You might be as surprised as I was when I found out that there were many among my contacts who rent out.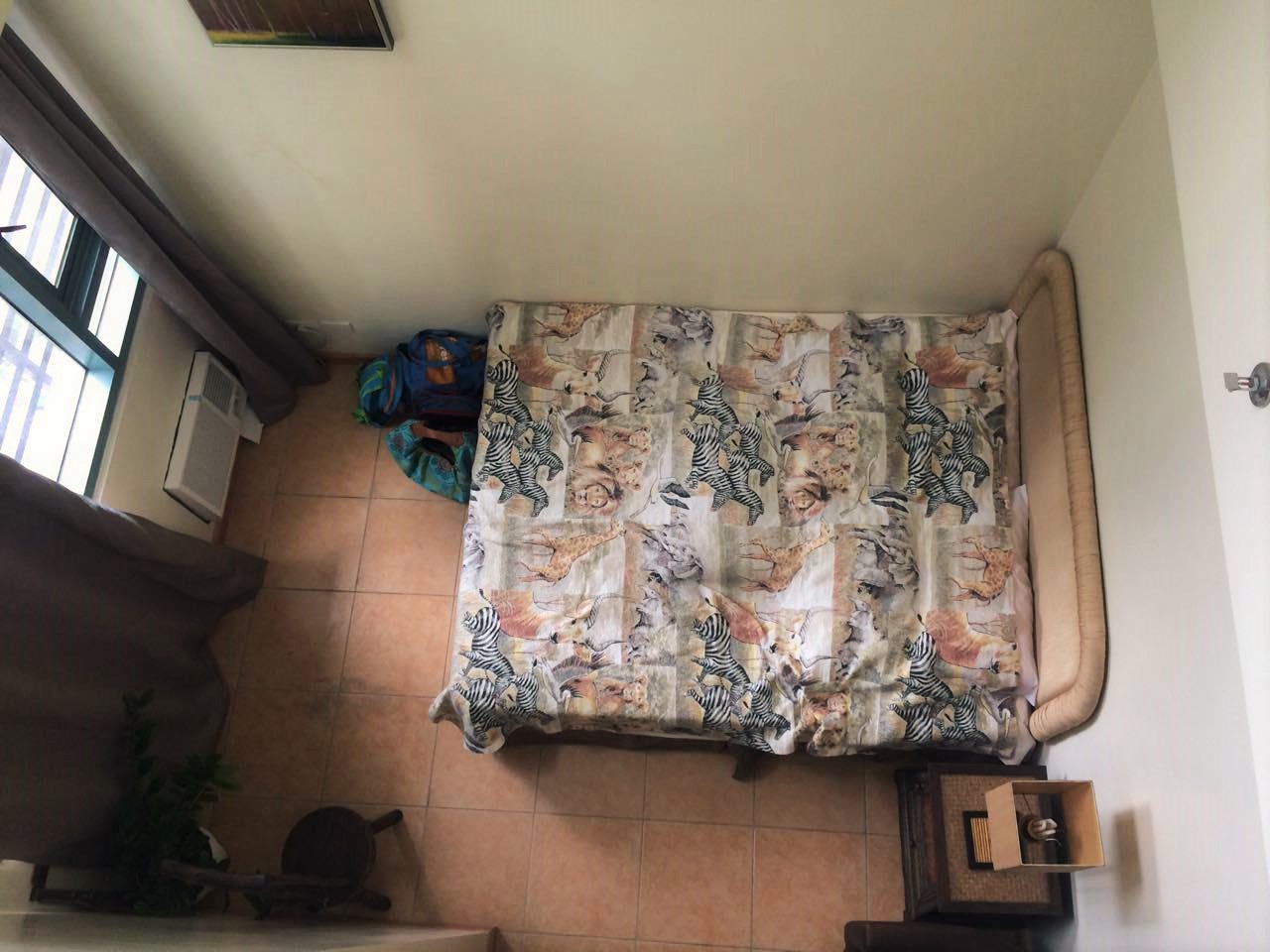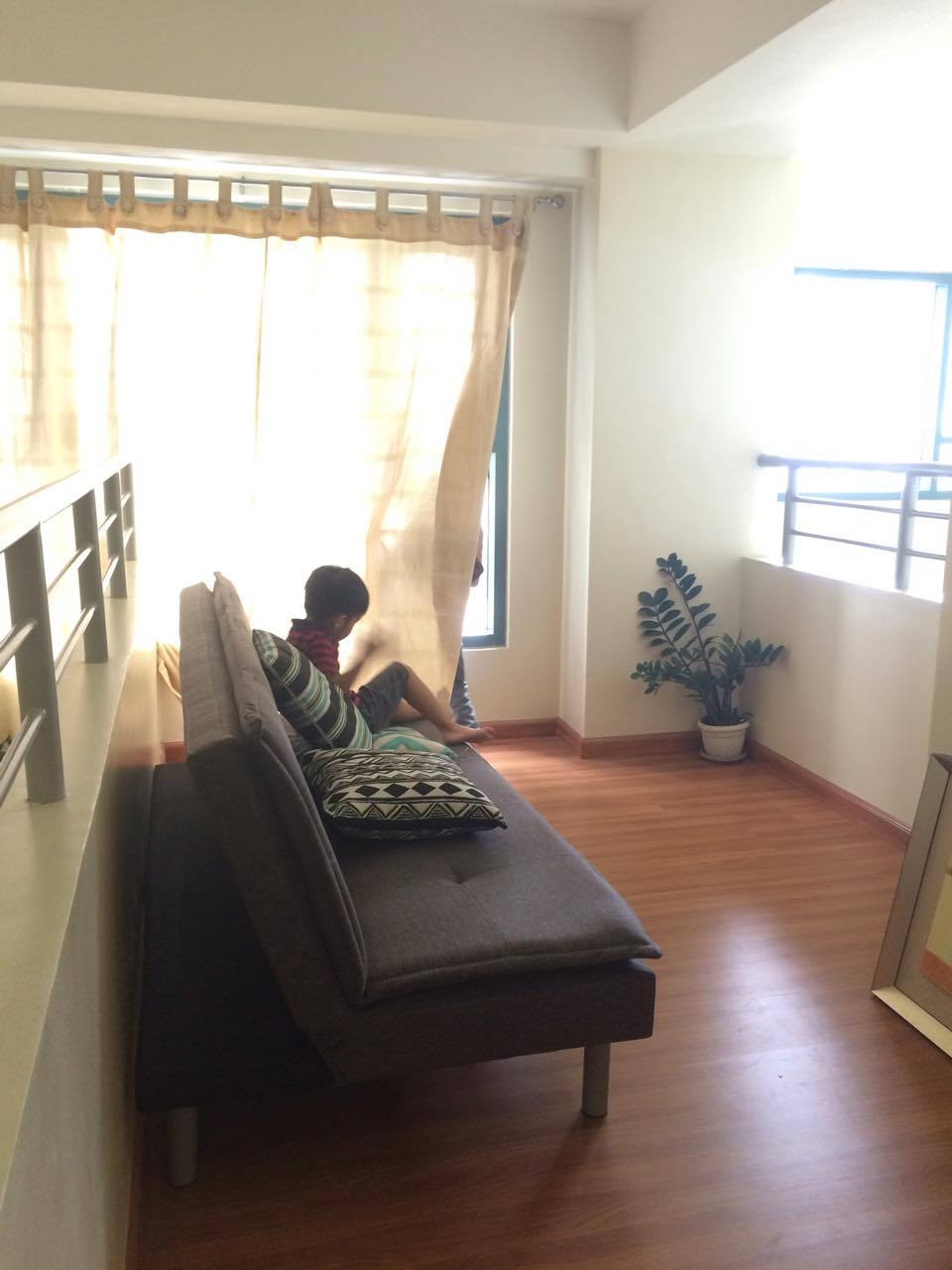 Was it worth it?
Any amount spent to build memories with our children, whether small or steep, is always worth it. It was a pleasant stay and we wished to have stayed longer so we could swim more.
There were none of the free food that was mentioned in the listing, but there were bottles of water for us and towels readily available for us to use. Like we always say, we're a low-maintenance family so that was fine.
If anything, our time in the pool made the experience wonderful for all of us. We had it all to ourselves for most of the time we were there.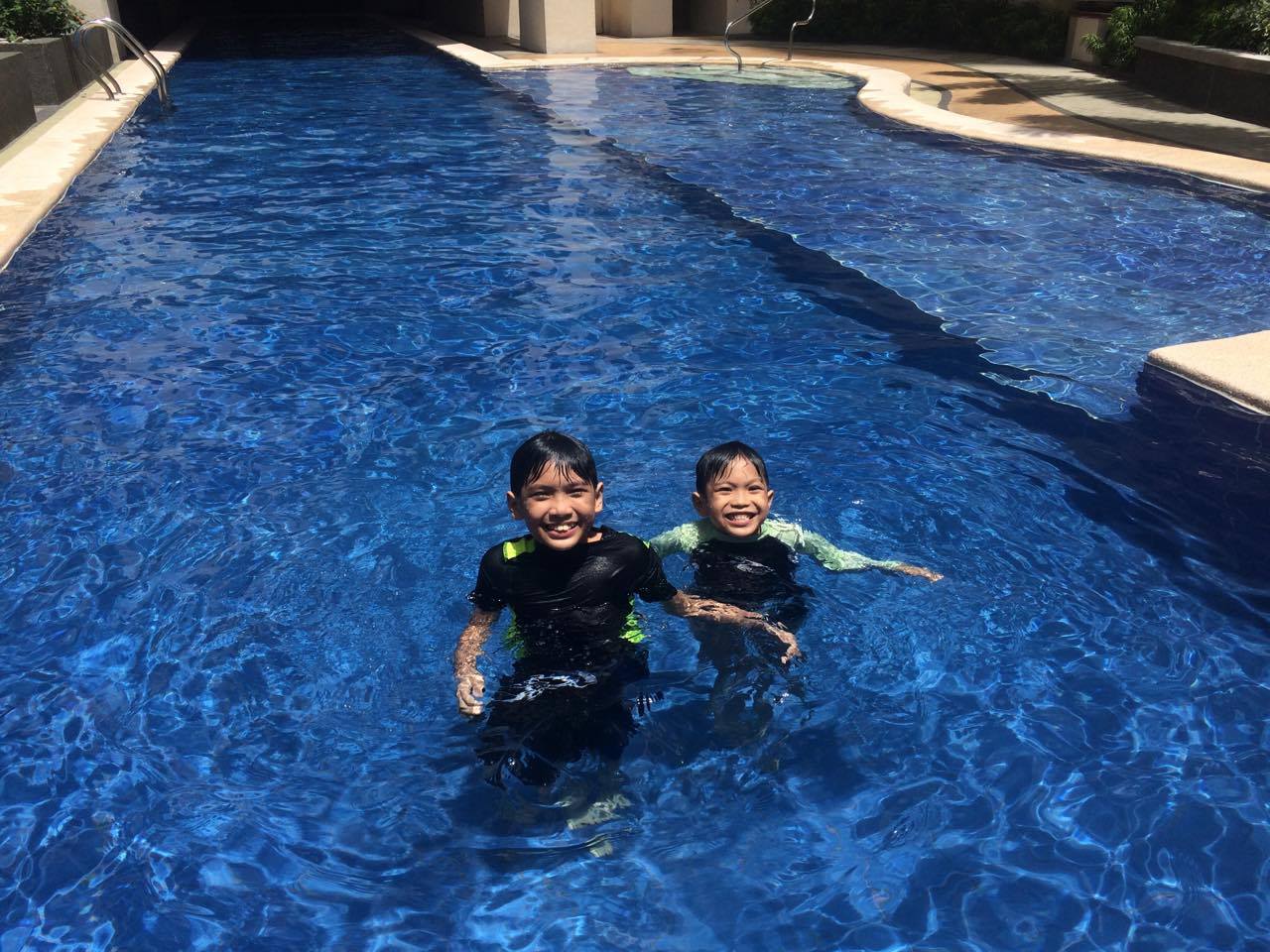 There was a sign that says there's no lifeguard around but there were some security personnel who lingered and kept an eye on us and our kids. One even asked Jay if Lukas can swim and was poised to jump into the pool when our tornado started moving towards the middle part.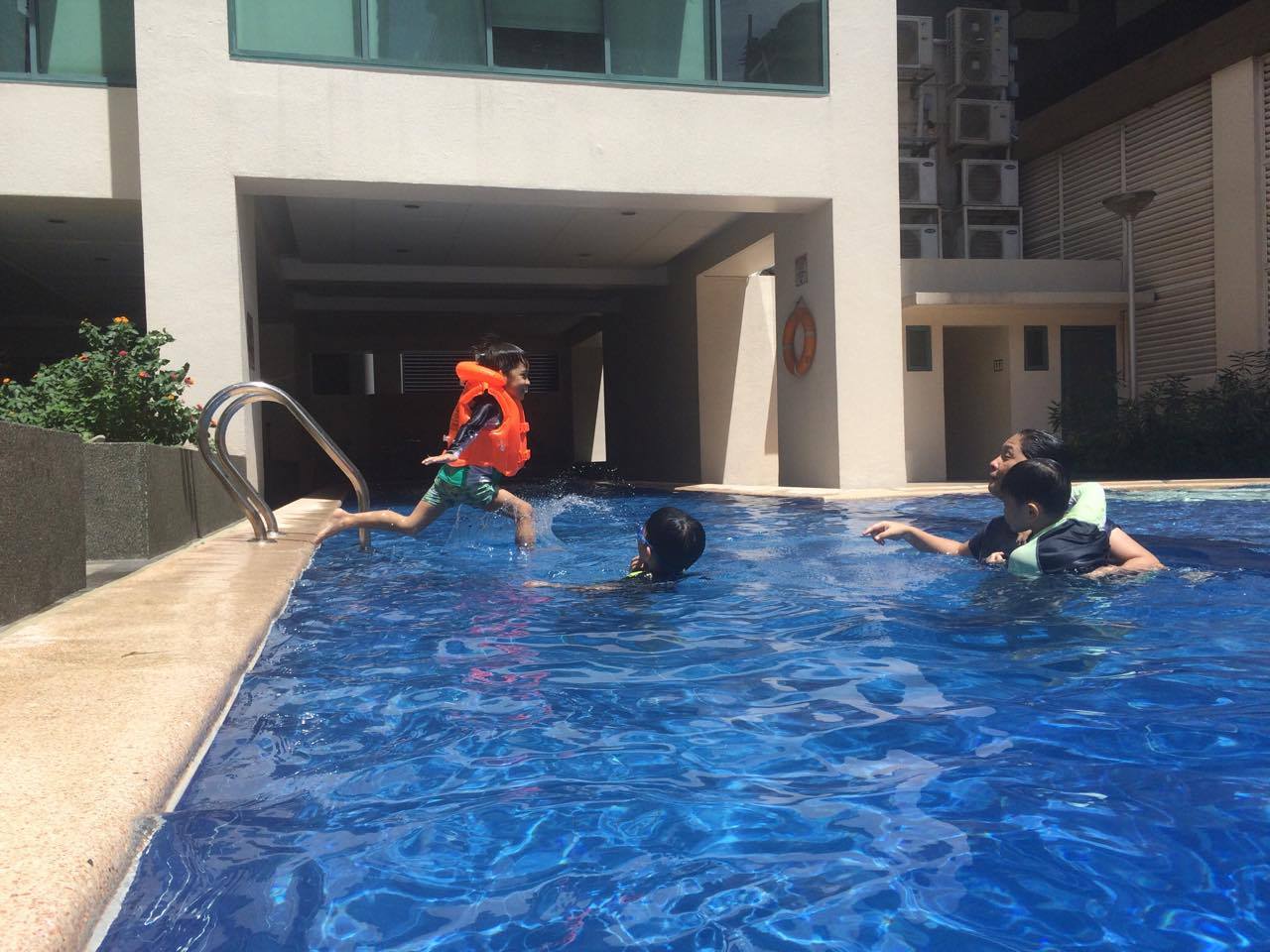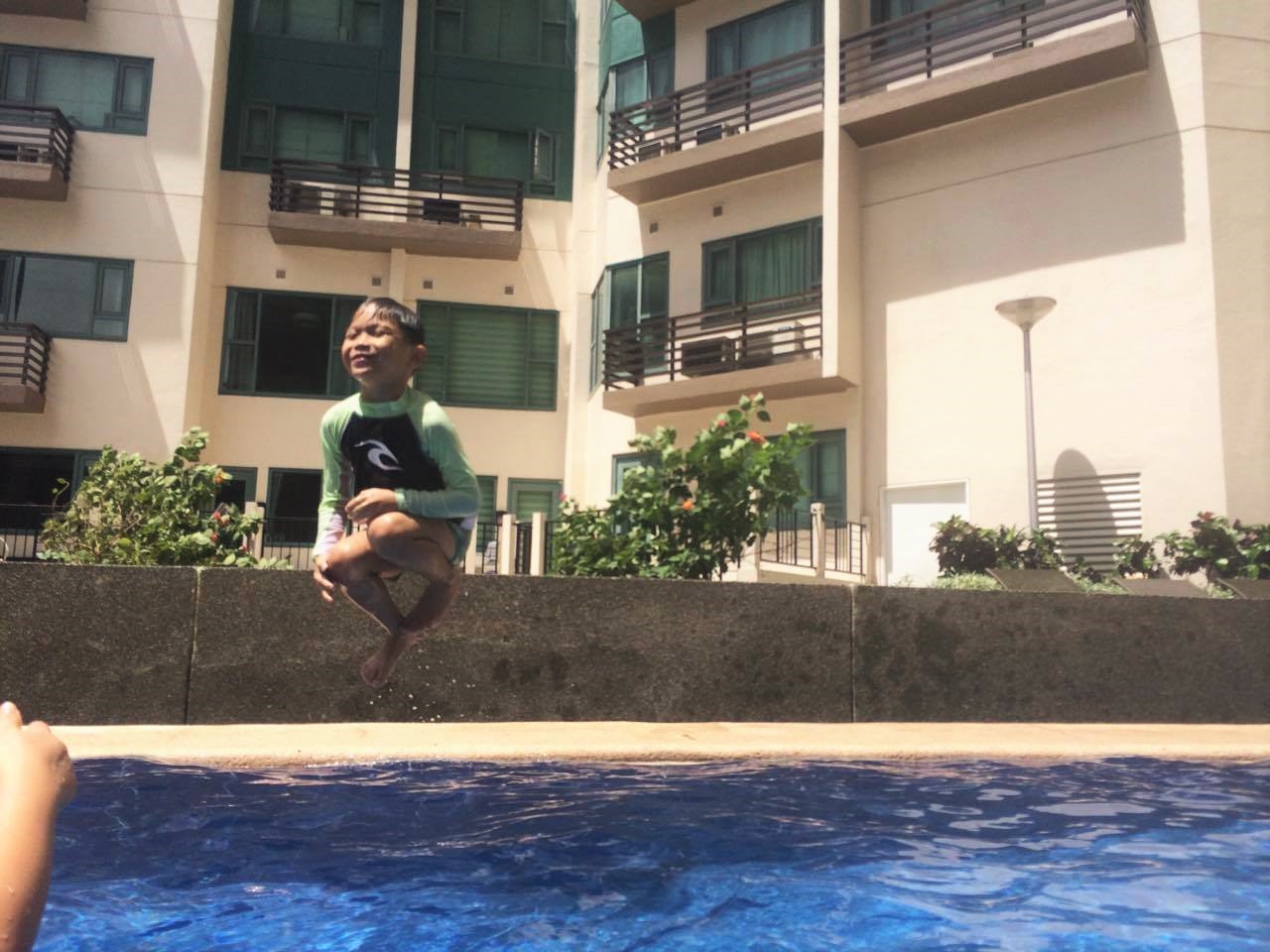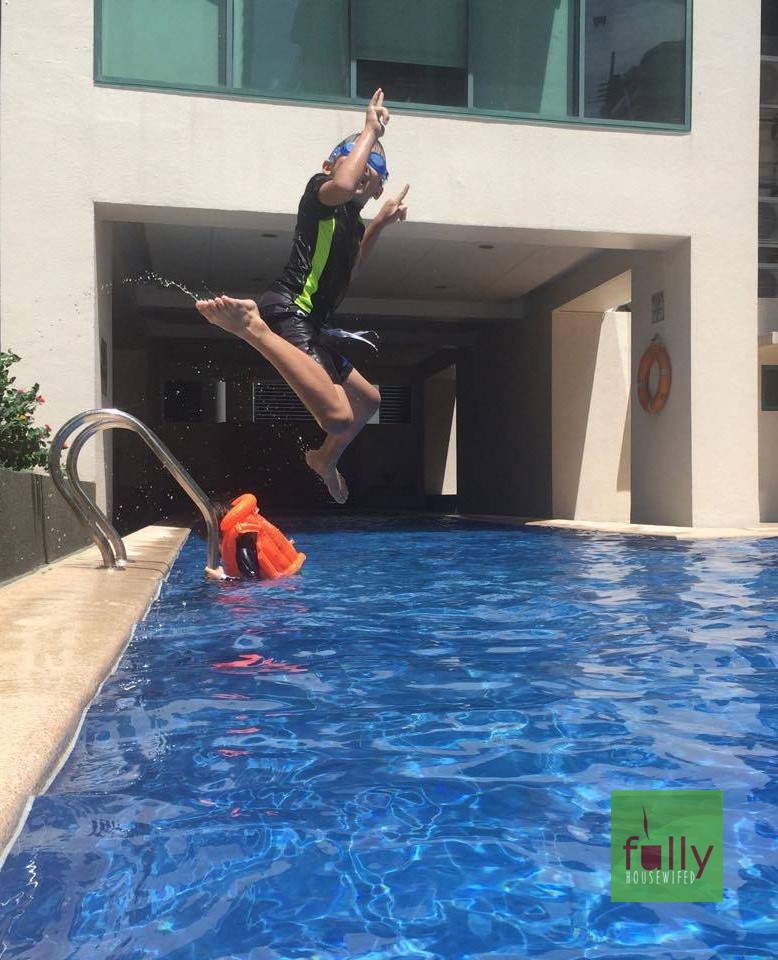 There are memories to keep, too. Pablo and Lukas are getting better in the water and all three of them enjoyed racing back and forth with Jay.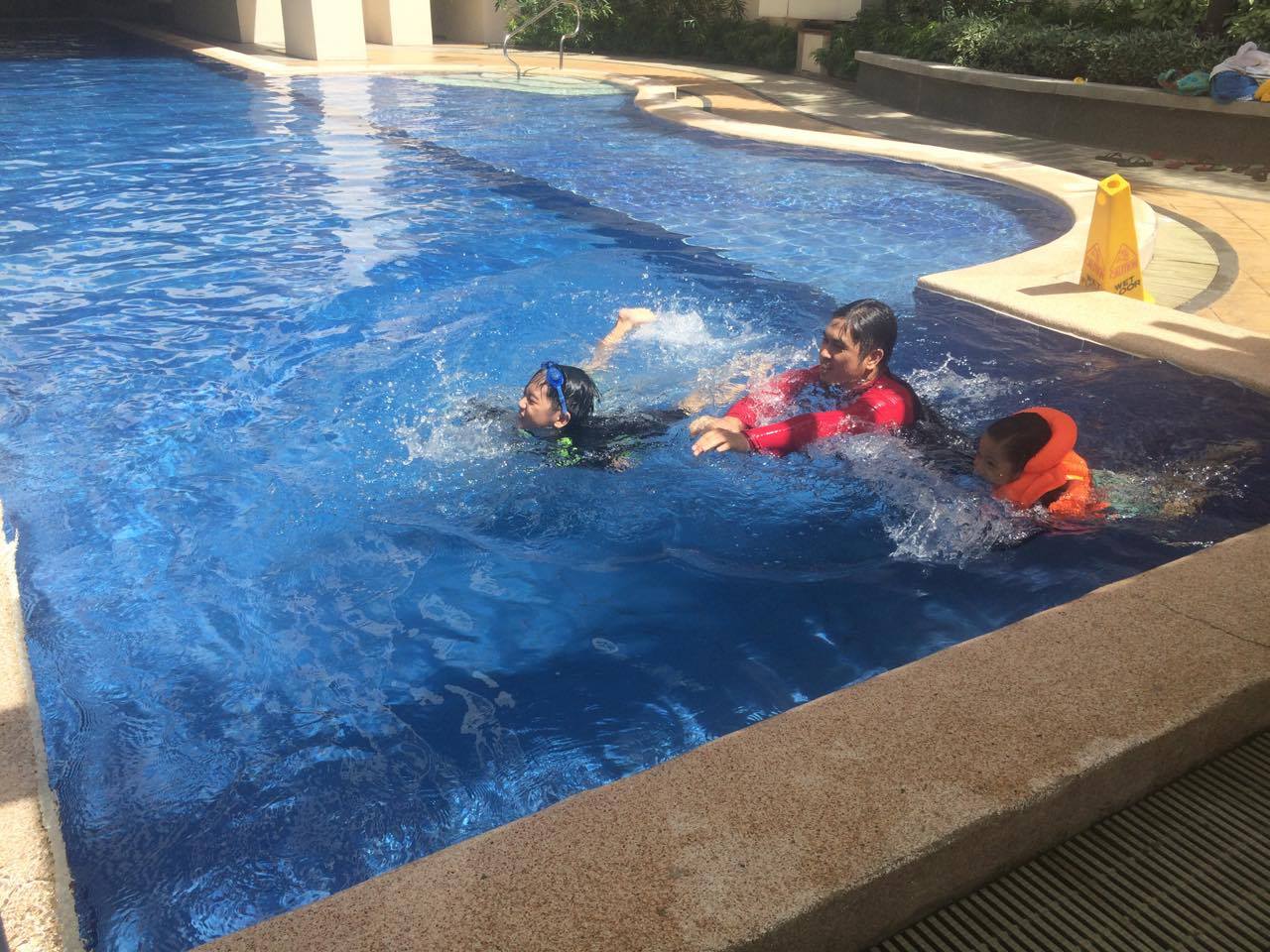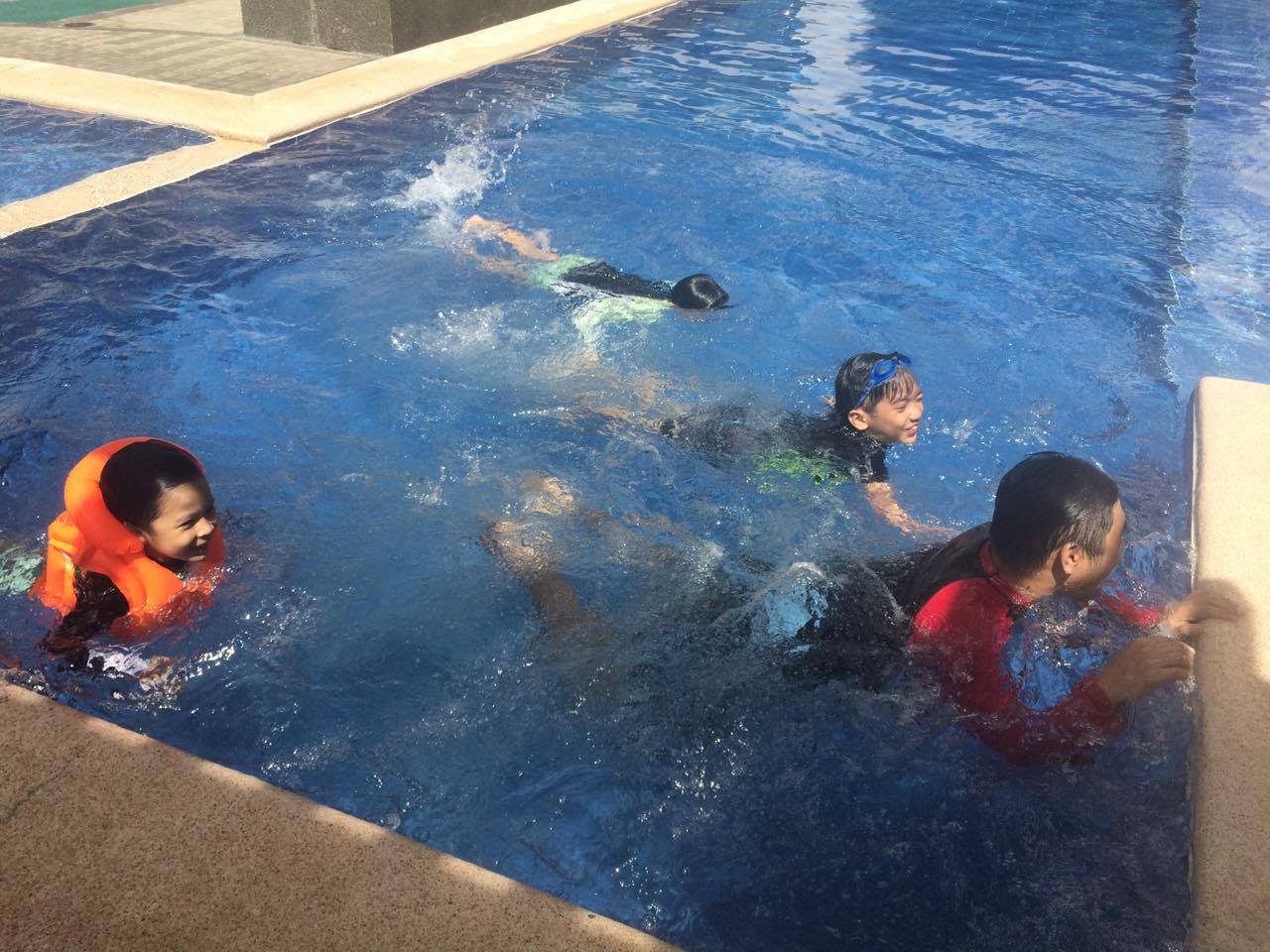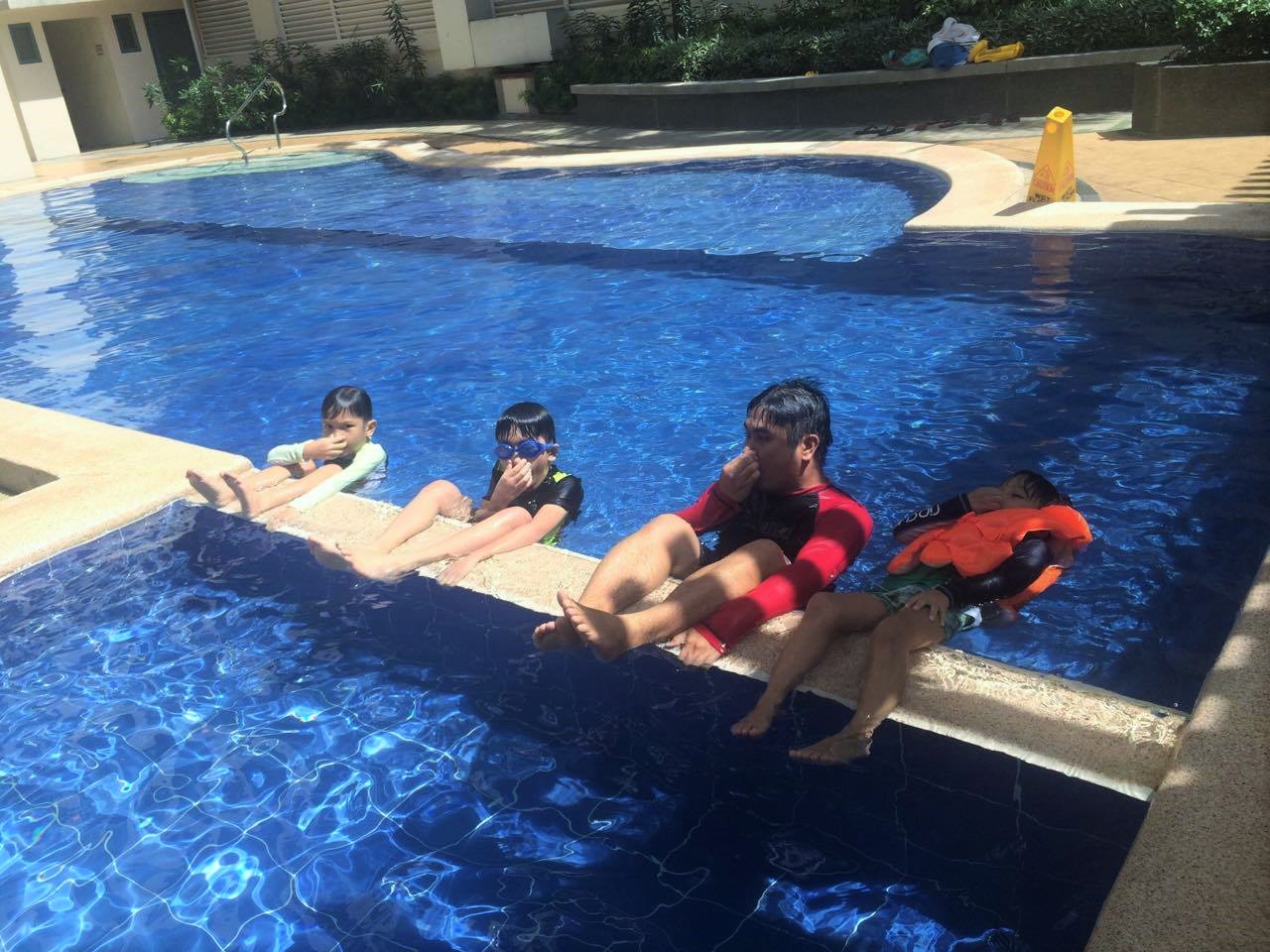 Judah, our youngest, also showed some progress in the water. For the first time,  he was able to to lift his legs off the floor and float in the water.
In fact, he was so brave, he decided to go into the adult pool without his arm floaters and jump. It was a good thing we were there because 4 feet is still too deep for him, haha!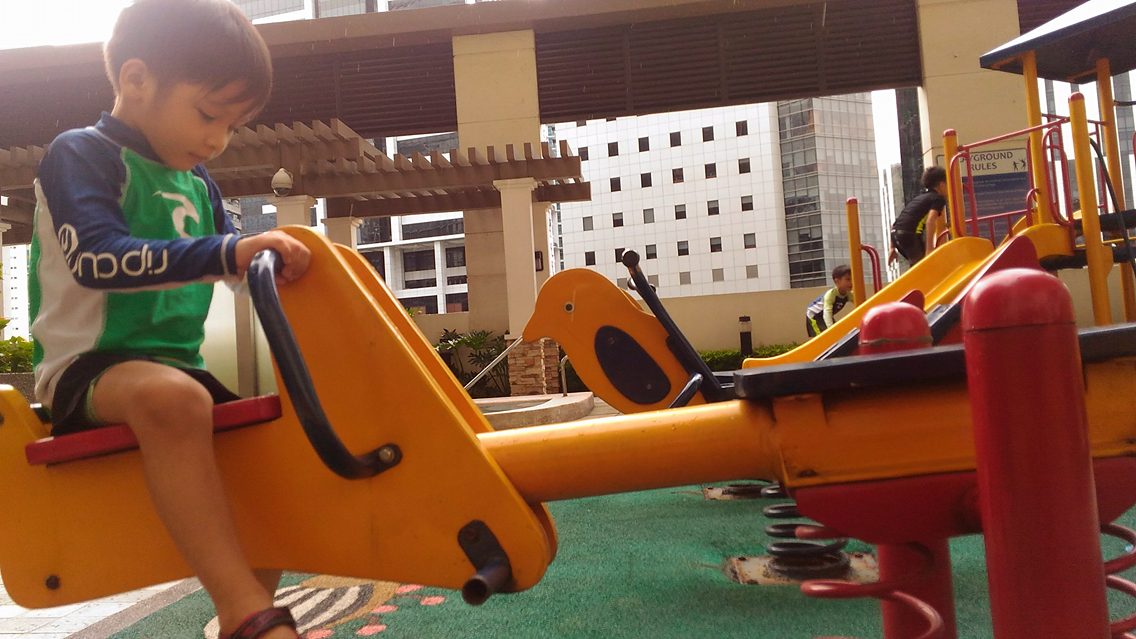 Did I tell you that there was a playground, too? I'm no helicopter mom, but the news on rampant kidnapping and kidnapping ploys in public places had caused us to stay away from crowded public play areas; so this was quite a treat especially to our two younger kids who had been asking us to take them to a playground.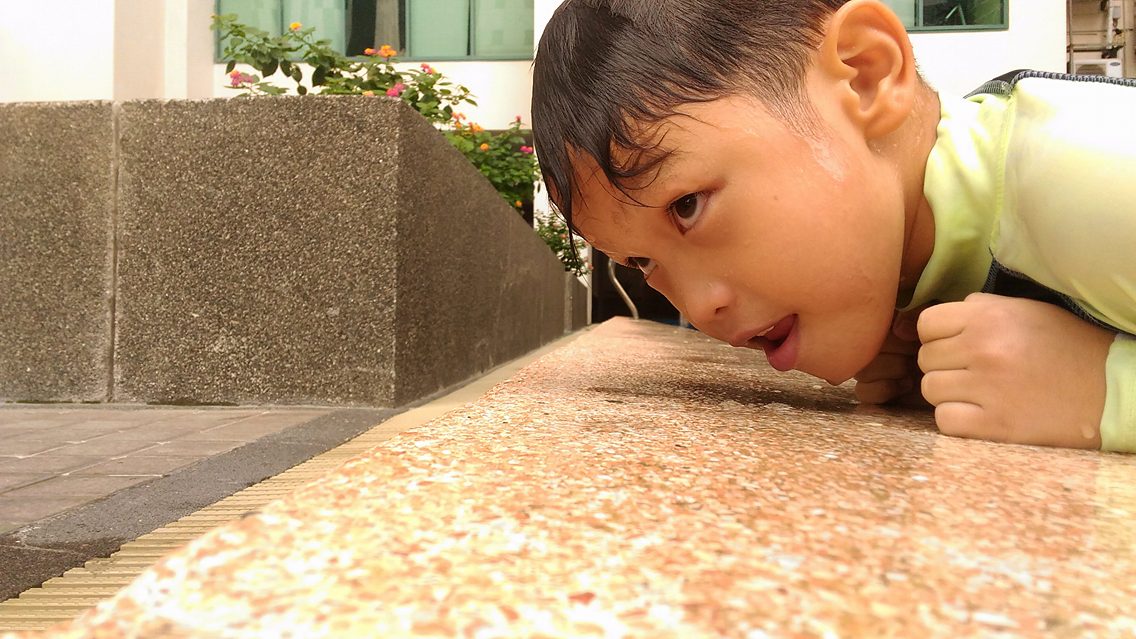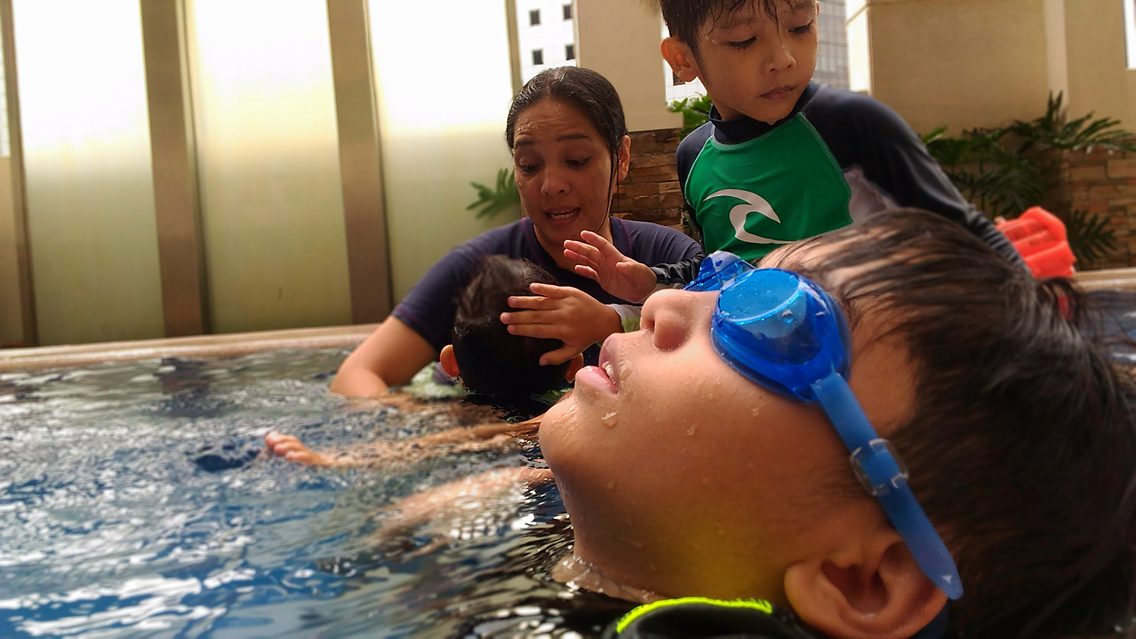 The lack of basic kitchen amenities and not-so-good internet connection were the only things that threw us off, otherwise, it's a nice place for anyone on a business trip who needs a place in BGC. The accessibility and safety of the location and the quality of the loft itself justifies the price.
Mark says the place is still on its first 4-month trial and there are plans to refurbish the place. And since he asked for our feedback, I have hopes that the place will be so much better the next time around.
Are you planning to book a place via AirBnB? Here's Php 950 off your first stop.