We had the opportunity to review one of Tuttle Publishing's books recently. The title of the book is "All About the Philippines: Stories, Songs, Crafts, and Games for Kids,"  authored by Gidget Roceles Jimenez and beautifully illustrated in watercolor by Corazon Dandan-Albano.
It is the best supplementary book in Filipino history and culture for kids that we've used so far and let me tell you why.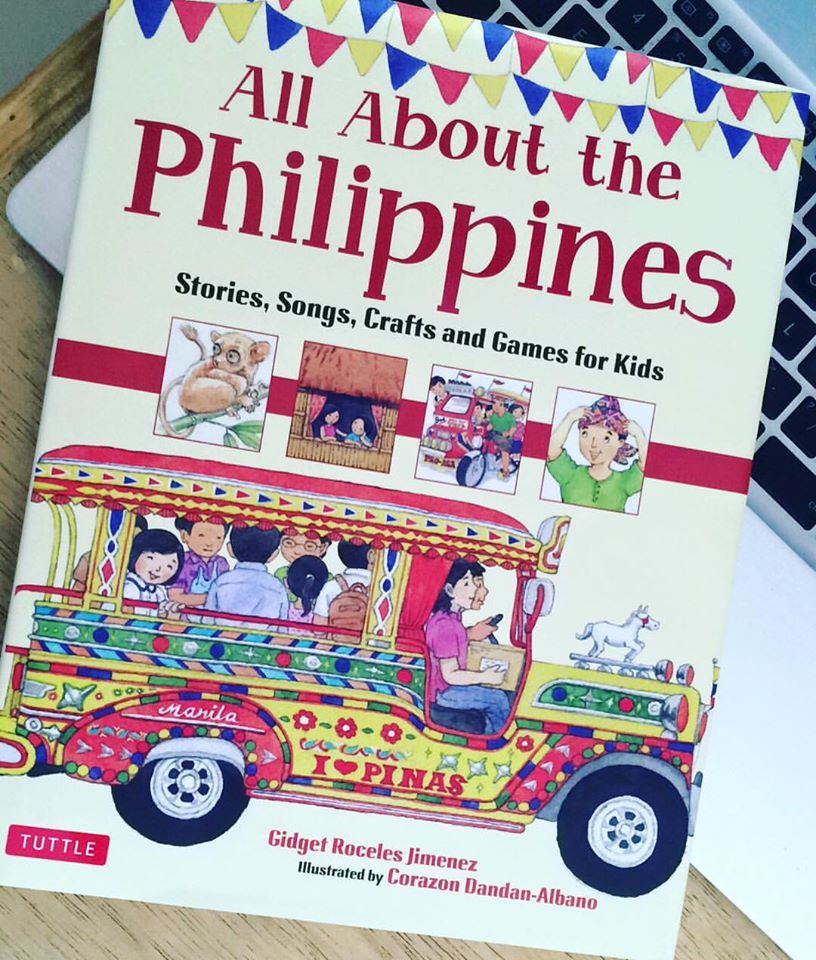 First of all, it celebrates the richness and diversity of our history, heritage and culture as a people in the most honest and colorful way. And the simplicity of the text and it being served in small chunks makes for an easy and interesting read for kids.
I actually paused our Civics books and decided to discuss this book first with my kids. I figured it would be easier for them to digest their textbooks if they would get more familiar with who we are as a people first through this material.
Filipinos represent!
There were 22 topics in the book. It started with an introduction of three kids from the three major island groups of the Philippines: Luzon, Visayas, Mindanao.
From the beginning of the book, our diversity is already defined.
Mary Ong, who represented children of Luzon, was of Chinese descent. She has chinky eyes and speaks Tagalog, Luzon's most prominent dialect.
According to the text, Jaime Lopez has Spanish ancestors. He has brown hair and speaks Visayan.
And Ari Abaza is from a Muslim family who lives in Zamboanga. He has Arab blood in him, he sports curly black hair and speaks Chavacano, a Spanish-based dialect.
The book says that the three kids are related and yet they are so different. I have to say that it's the best representation of the Filipino people.
The numerous dialects we use and our ancestry were also discussed in other sections in the book.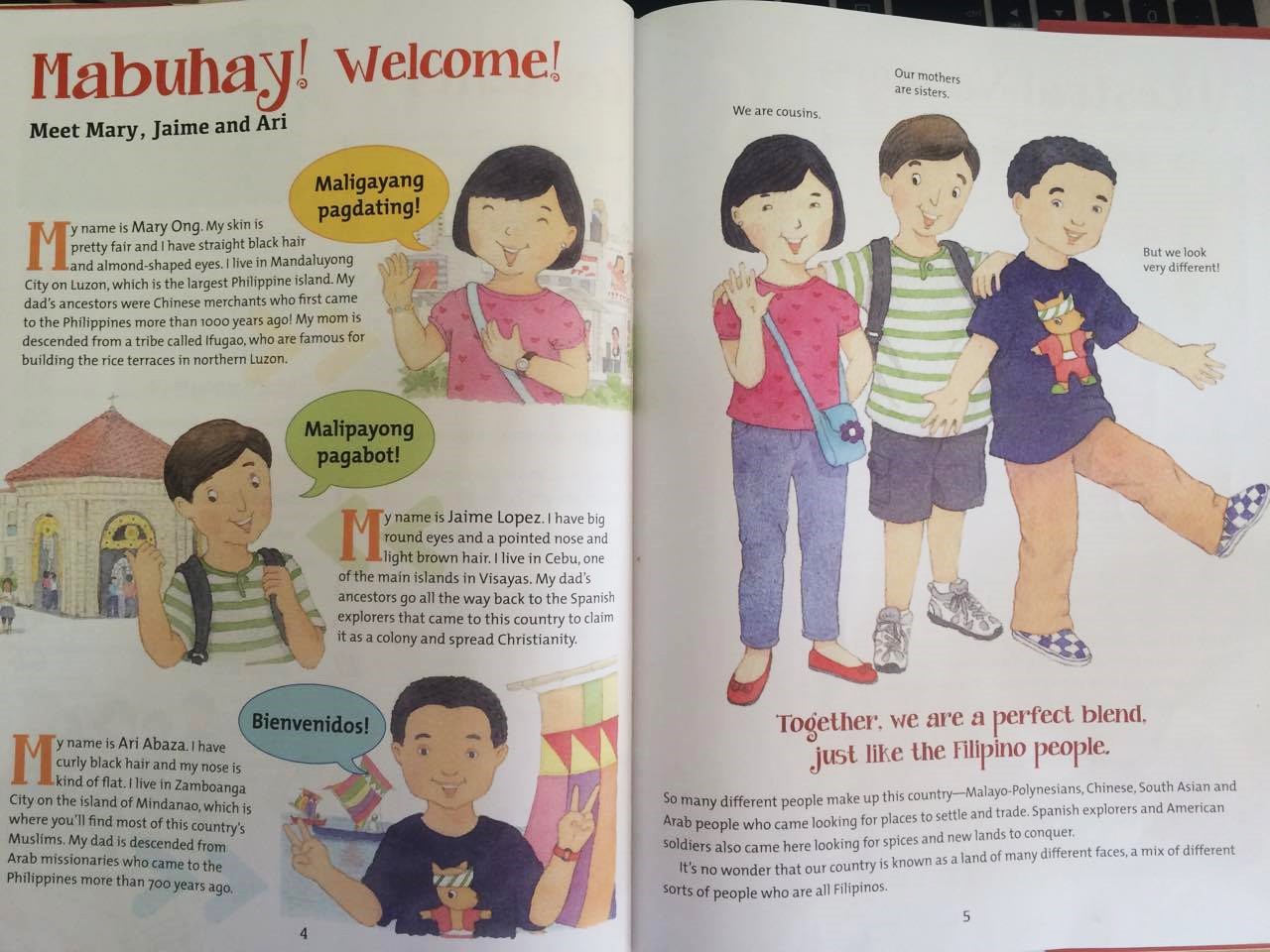 (READ: The Tricky Business of Teaching Tagalog)
The Why's
Many of today's school text books are outdated. I like how All About the Philippines explains where the lush greens and forests they talk about in our text books had gone and what happened.
It also subtly raises awareness on the effects of progress and somehow offers a platform for discussion with the children on it. I see it as an opportunity to talk to my kids about eco-friendly and biodegradable products, recycling and other actions that will encourage them to be mindful of how they treat their surroundings and how their decisions can affect their world as a whole.
I've been wanting to create eco-friendly projects with them, so maybe this is my chance.
Sights, Celebrations and Beliefs
My kids are now asking me to see the Chocolate Hills of Bohol and the underground river in Palawan. What once was just an interest to see their favorite characters in theme parks abroad has developed into an interest to travel and see what our country has to offer.
I honestly think that the book is helping my English-speaking kids connect to their roots and in effect, encourages them to be persistent in learning our national language – Filipino.
It also got them interested in Visayas and Mindanao, now that they realize that there's life outside Manila, haha!
On my part, I am all the more determined to take the kids to see the different places in our country and see our culture beyond the books we read,– from playing sungka with them or pushing Jay to teach them sipa, to seeing the parades in our Fiestas, even if it means joining a backpacking group that will welcome kids to come along (still trying to convince Jay on that last part).
The book also touches on the different belief systems and many other things that will help our children appreciate and understand how Filipinos are.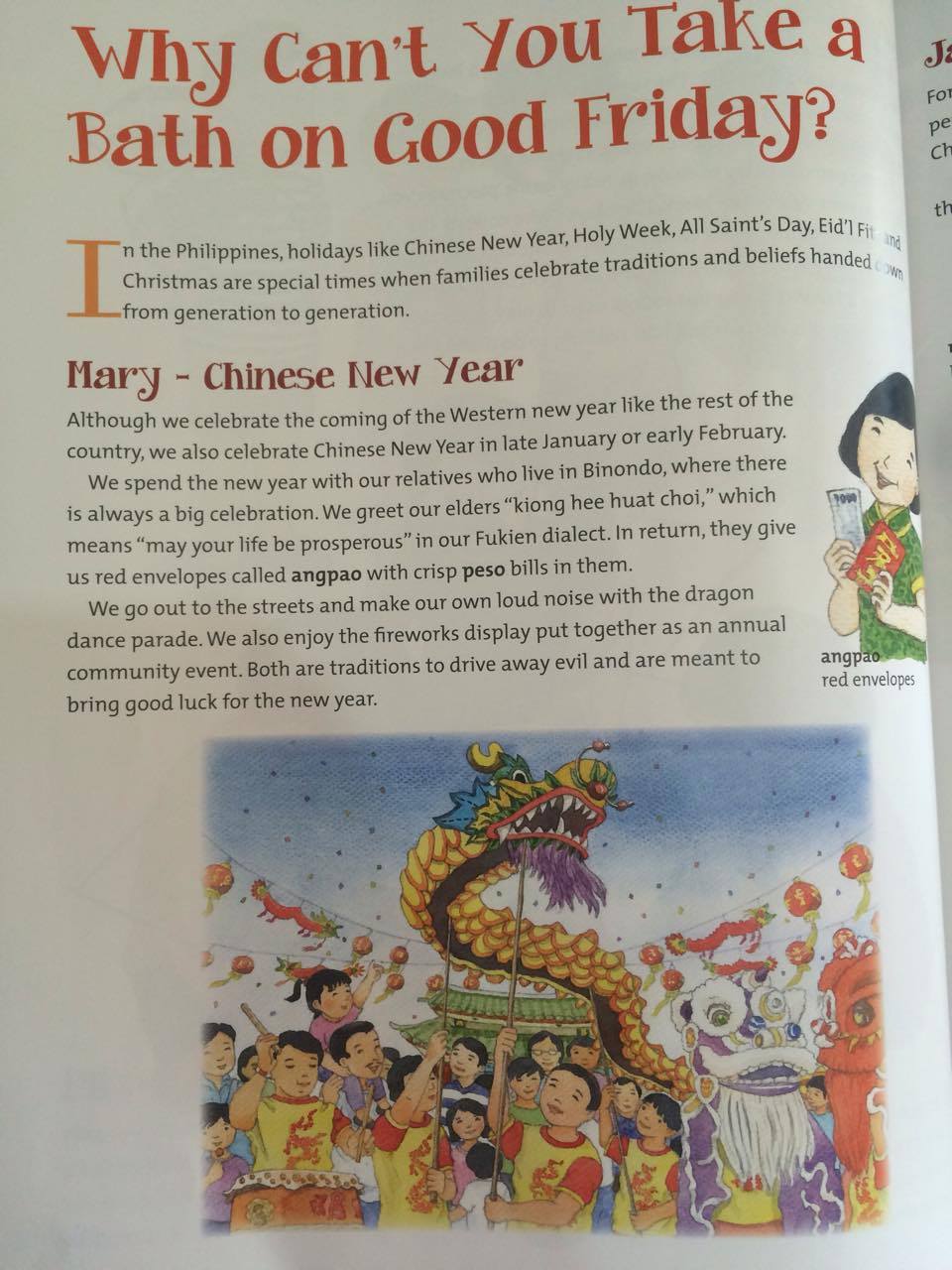 My only critique, if there is any, is that there was only one song in the book but music was discussed, so I think changing "songs" to "music" in the title is more appropriate. Otherwise, I have to say I love this book!
Maybe it's because a fellow Filipino wrote it. Who can better explain our culture but our own, right? And you get a sense of pride and nationalism, it's contagious.
Personally, I think that it's worth getting for all Filipino kids – homeschooling or not.
The book is printed in high quality materials. The covers are hardbound and the pages are thick and glossy.
Here's a video to give you a peek of the pages of All About the Philippines:
All About the Philippines: Stories, Songs, Crafts, and Games for Kids by Tuttle Publishing is available at National Bookstore and Power Books, or you can order directly from their website.