Christmas Traditions: Thanksgiving and the Christmas Tree
Our Christmas season kicked off 6 days late this year. I honestly do not remember our December being as toxic as this year –We had the kids' musicale, with rehearsals and photo shoots leading to their show date; Jay had a lot of events at work; our 7-year old Lukas joined this year's Christmas eve service special number, and us madly scrambling to do as much home school as we could before the Christmas break.
But wait, there's more! I had to set up things for the holidays at work and was working on back logs on my blog. Plus, we decided to redo our tiny apartment, repainting and reorganizing it. Our schedule was really crazy!
But now as I look back, I am happy that despite the busyness we threw ourselves carelessly into this year, we were able to prioritize the activities and events that we consider important during the season despite a few delays.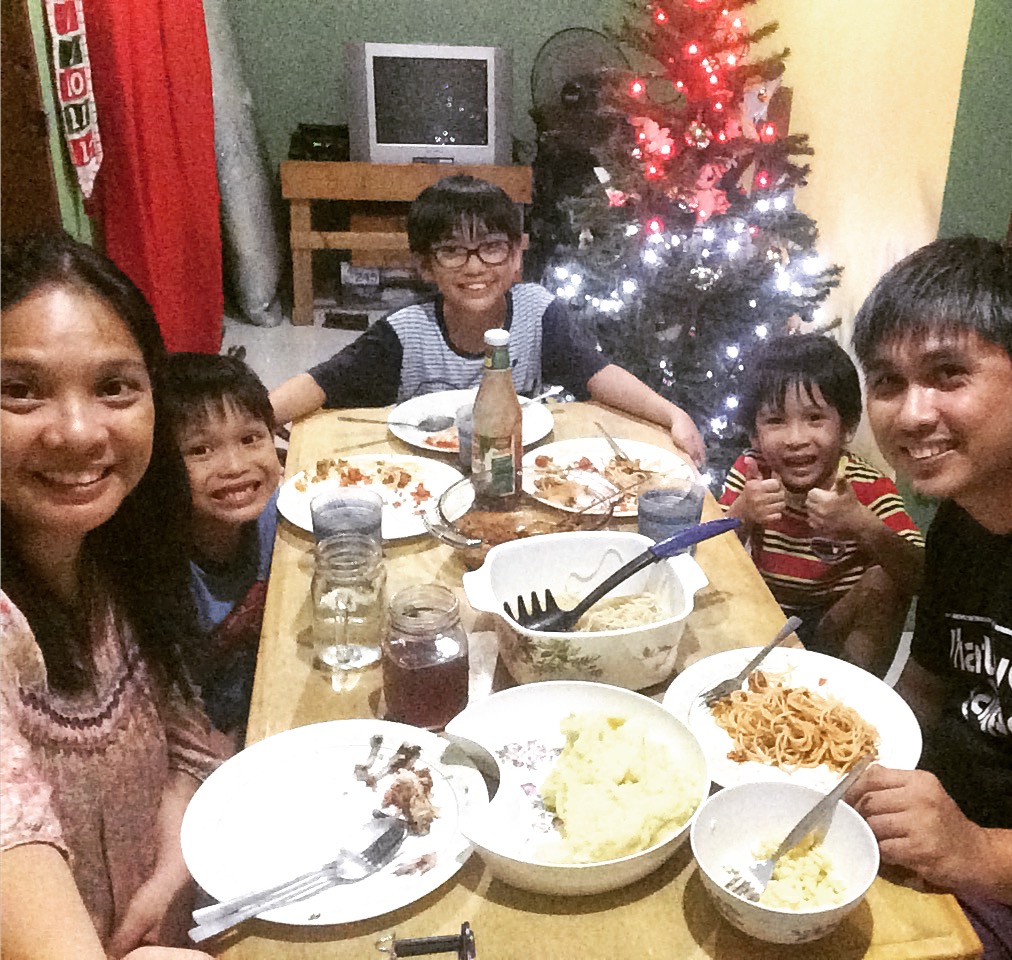 Oh Christmas tree!
We normally start our December celebration with Christmas tree day, one of our kids' favorite Christmas traditions.
For years, the highlight of our Christmas tree day was the topping of the star, but two years ago, we decided to make it our thanksgiving night as well.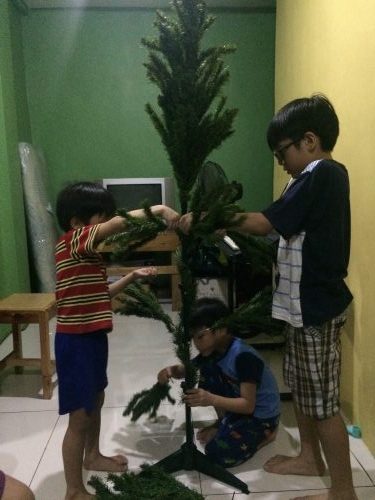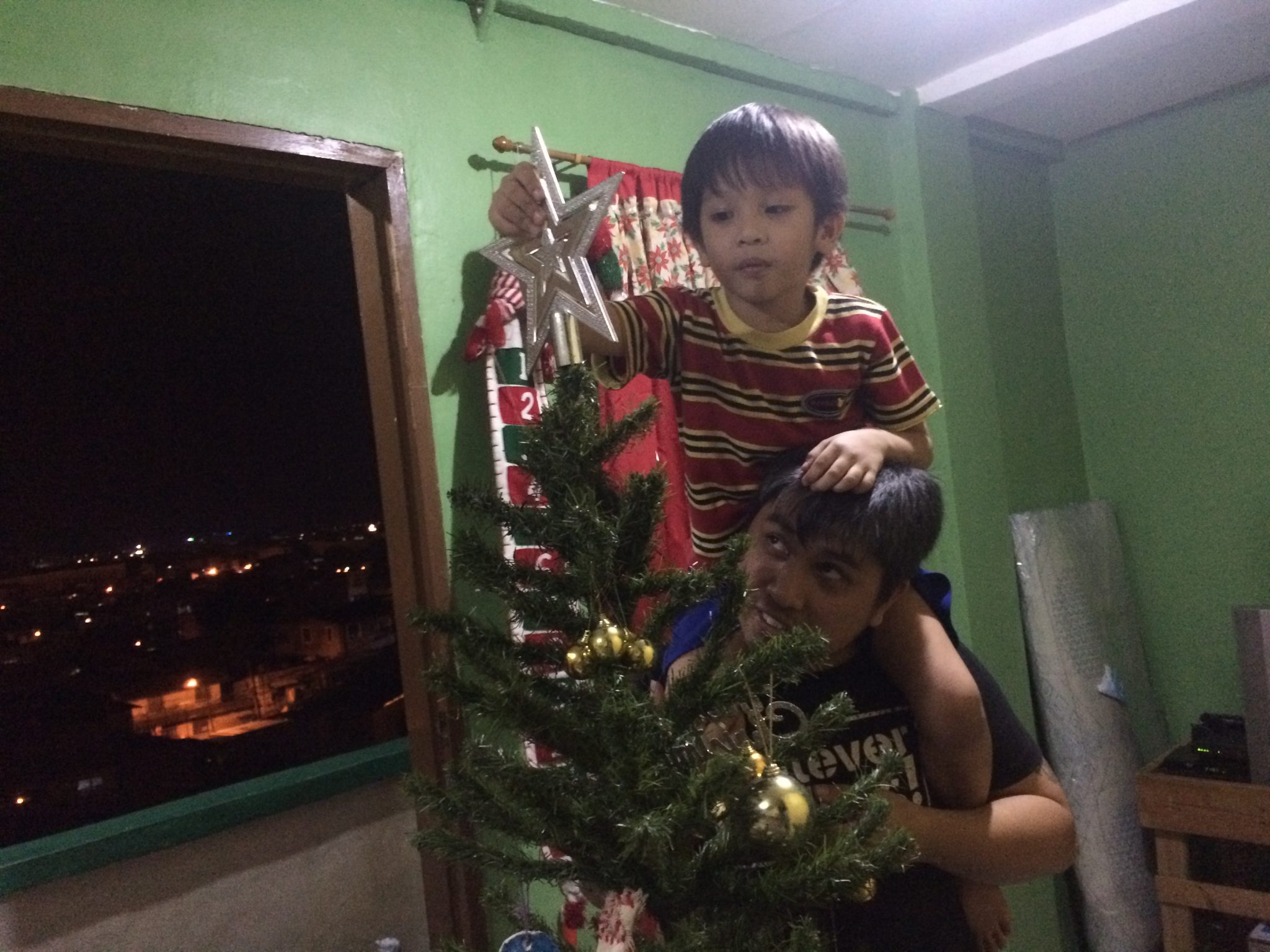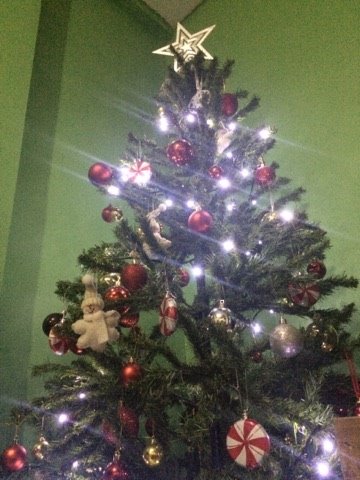 Dinner was pretty simple. I roasted chicken, prepared mashed potatoes, and cooked spaghetti for our two tornadoes (Lukas and Judah), and we all came together to eat and pray together as a family.
Before we ate, Jay led us into a thanksgiving prayer unto God, then we all took turns saying our thanksgiving prayers out loud.
Afterwards, each of us thanked every member of the family. It was my idea. I think that it's a good time to be aware of the existence of every member of the family and role we play in each other's lives, and also to show appreciation to one another because our family is a blessing, too. Our next biggest, in fact, from God. (The first being our salvation.)
Rounds of thank you's
Listening to our kids was such a joy! I love that they know what God has done for them this year and I love that they pay attention to what their siblings have done for them.
They thanked God for their friends, their MAPEH center, toys they received this year and the things they were able to do that they know God provided for.
Then they thanked each other, and me and their daddy.
I love how their little faces lit up every time they get thanked for doing or being something to any of us. I wonder if God's face lights up like that when we remember to thank him for all he has done for us….
Judah, our five-year-old, was the revelation of the evening! We were so surprised at how much of what we've all done for him he remembers.
"Pablo, thank you for turning off the light at night," he says, referring to when his older brother would turn off the light at bedtime. All our kids sleep with the lights off.
He also thanked Jay for loving him even when he disobeys and thanked me for being patient with him even when he's creating messes while I work. So adorable!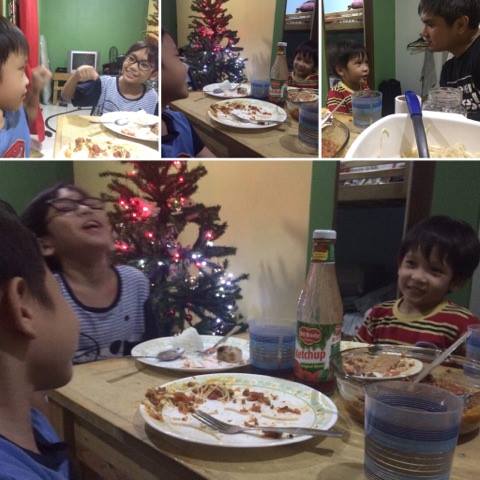 Thanksgiving how-to
There are many ways to plan a thanksgiving night. Through the years, we've learned of many different styles of doing it from friends.
My friend, Margot, shared with us their thanksgiving tree once. Every time someone in the family has something to thank God for during the year, he would write it down in a piece of colored paper and put it in their thanksgiving jar. During Christmas season, they would hang these pieces of paper on their thanksgiving tree and they would set aside a night for them to read through what they've written, reminisce and praise and thank the LORD for it.
You can have your own thanksgiving night, too. You can try our version or you can do Margot's, or you can totally do something else. The important thing is that the family remembers the goodness of the LORD throughout the year and praise and thank him for it.
It doesn't matter if you do it on the third week of November, first day of December, or after Christmas. But I advise that you do it before the year ends.
I believe that it's important for each of us to have a thankful stance in life. Life can get very tough and one of the weapons that we have against discouragement is having a thankful heart.
Go ahead, try it yourself.
---
Give thanks to the LORD, for he is good; his love endures forever. 1 Chronicles 16:34.
"Do not be anxious about anything, but in every situation, by prayer and petition, with thanksgiving, present your requests to God." Philippians 4:6.