Last Wednesday, Sun Life Financial treated mom bloggers to Mom's Day Out at I'M hotel. We were welcomed to a hearty buffet at Bloom restaurant in the 4th floor where I enjoyed Japanese Tempura and assorted Maki.
Yes, you read it right! I'm now starting to appreciate Japanese food more. I was actually disappointed to not have eaten sushi, haha! But I'm so bad with buffets, I just couldn't go for another serving. I do want to go back there with the hubby with whom I'd be less shy to pig out, hahaha!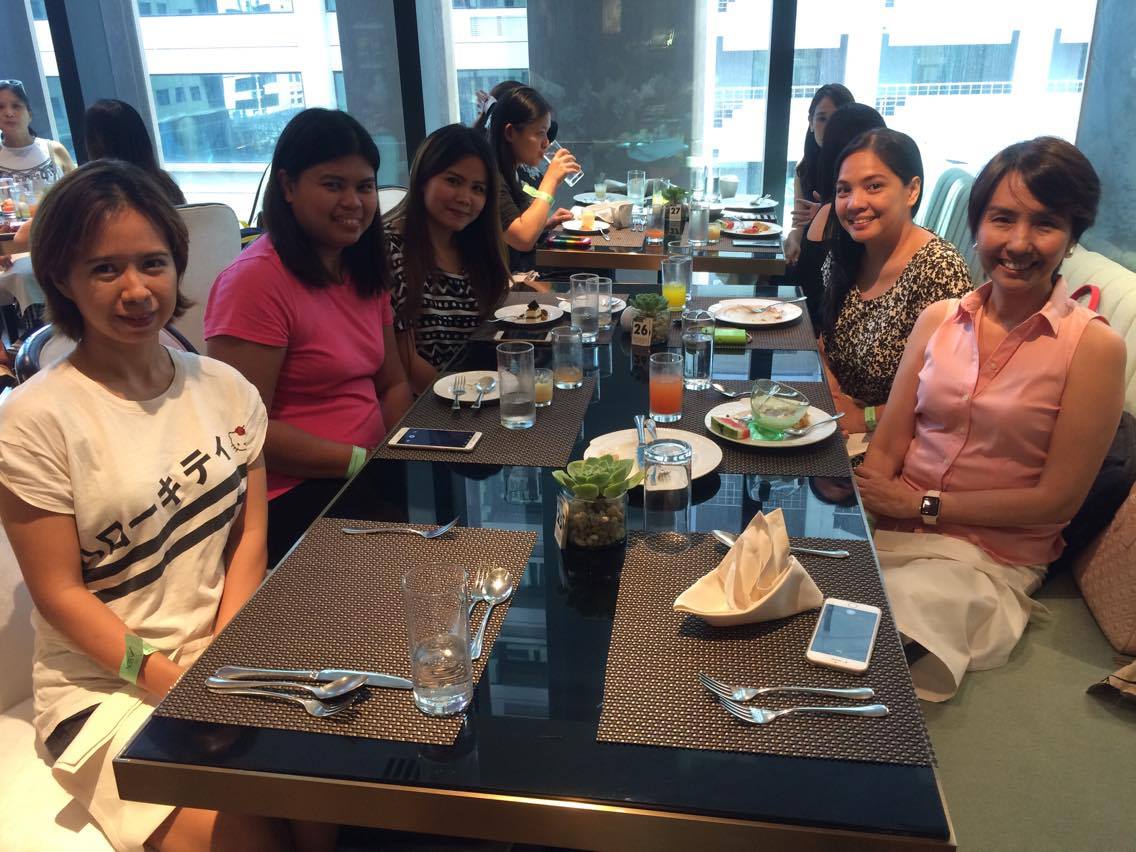 Stock meal
Buffet was lovely.
I shared table with personal financial advocates, Ms. Rose Fres-Fausto, author of Raising Pinoy Boys and respected finance speaker.
At the very same table were #Sinag 2015 Financial Literacy  Digital Journalism Grand Winner Lace Llanora, Tipid Mommy Gracie Maulion, and Lally's Reflection's Lally Gonzales, so the conversation naturally gravitated towards personal finances, mutual funds and the stock market in general, with mostly us soaking up Ms. Rose's views and insights, hah!
A little about my massage experience at I'M Hotel Onsen spa
We were then asked to proceed to I'M Onsen Spa where each of us were treated to 60-minutes massage.
We had a handful of massage options to choose from. I wanted the Aroma massage but I must have not been very clear because I ended up being given the Signature massage.
But all's good. The masseuse assigned to me was small and thin, but man, she was strong!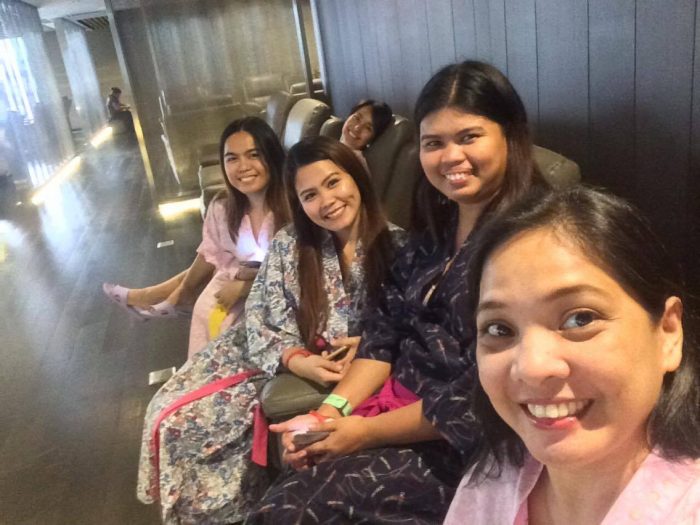 I wouldn't have minded being with other bloggers in the same room, but I really appreciate that we were given separate  rooms for the treatment. It felt very private and I love being private.
The lights were dimmer than usual which is cool because it somehow helped eased the awkwardness of being naked and vulnerable in front of a person you just met.
I work for Massage Champions which is based in Australia, and one of the things I've learned is the importance of sufficient covering provided by the therapists to their patients. Protecting their clients is part of their training in work ethics, so on this aspect, I give Onsen spa a thumbs up.
The lady at the reception also informed us that all their masseuses have undergone extensive training and are licensed by a "medical" board to practice. I'm not sure if it's the same with the Massage Therapists we work with in Australia who go to university to be certified to practice, but it's assuring to know that we have bodies that oversee this side of the health industry.
I was looking forward to Sauna time after my massage, but unfortunately, we didn't have time to do anything else because the talks were about to start. So we hurriedly put on our clothes to join the other batch of bloggers who were already at the conference room.
The Balanced Motherhood
The first talk, Balanced Motherhood, was given by Michelle Alignay who is a professional Family and Life Counselor. She challenged us to redefine the term "balanced motherhood."
A lot of us moms sometimes fall into this mindset that we think we have to be a super mom to be considered a good mom. For me, I think that the term Super Mom is relative. Every mom is super to her children in her own special way.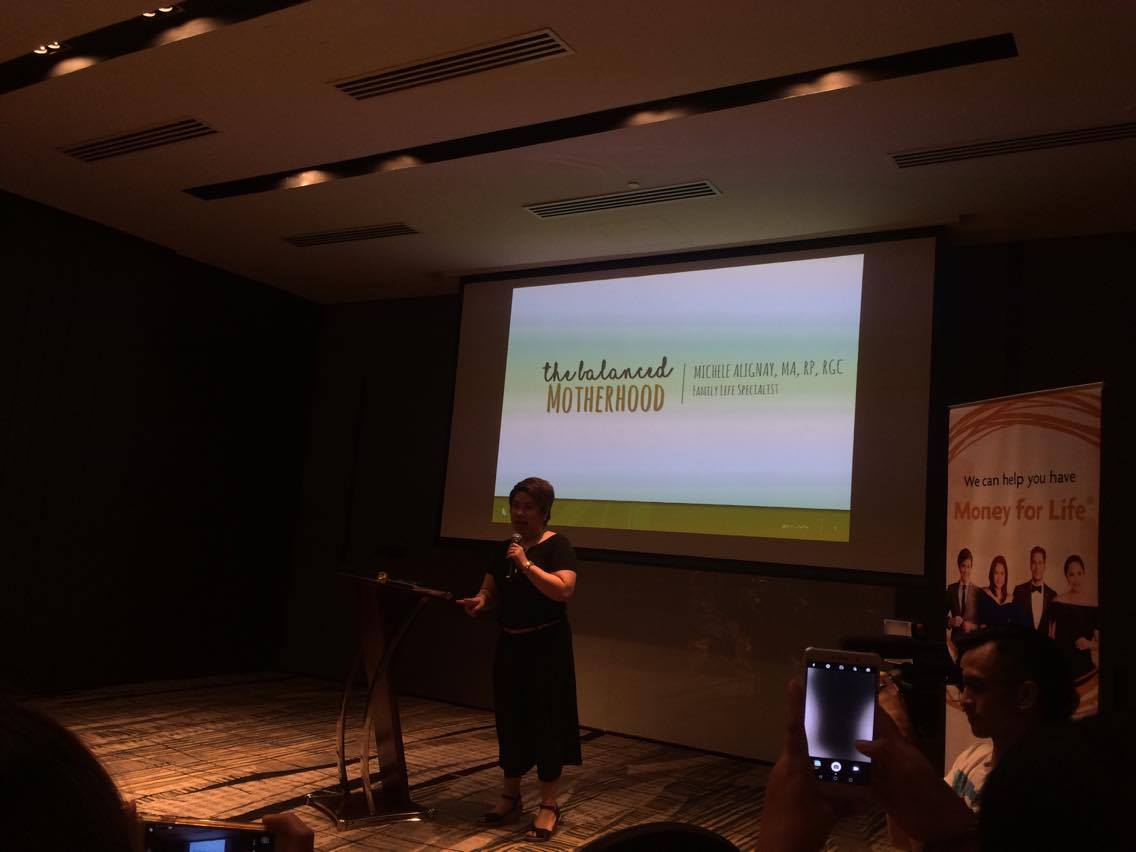 In not so many words, Ms. Michelle Alignay touched on how motherhood has its seasons and how life's imbalances happen in these seasons, which I agree to 100%.
While it's wise to have plans and structures in place, you must also know that life is unpredictable and every person in your family have their own set of qualities that make you all unique from each other. There will definitely be imbalances.
As I've mentioned in my blog on She said, she said which I published prior to this one – even your kids have their own ideas, aspirations, emotional experiences, and journey that may sometimes clash with your own growing pains. You need to be flexible enough to adjust what needs to be adjusted to regain the balance that was lost.
(READ MY THOUGHTS ON SUN SHORTS "SHE SAID, SHE SAID" — When you feel like a failure at motherhood)
Ms. Alignay stresses the importance of self-care. As moms, we tend to make everybody's business our business, but who takes care of us? Michelle says if no one will care for your needs, you need to do it for yourself. We are able to care for the people we love if we, ourselves, are cared for.
One of the points she mentioned that made me really think was delegating responsibilities.
She said not everything needs to be perfect and that sometimes, it's okay to settle for "pwede na" if it contributes to the balance overall. She said it comes with being able to honestly assess what you can or you can do at a particular season.
There was so much to chew on for this session, so maybe I'll write a separate blog on this.
My Future Fund
The second talk was on planning your child's educational fund given by one of Sun Life's executives, Ms. Mylene Segismundo.
Just like any talk on educational funds, Mylene showed us a chart of the anticipated College tuition fees of top universities in the country until year 2035.
Ms. Segismundo highlights three important factors to consider when you prepare for your child's future: Time, Money and Interest. She said that while we can always work on money and interest, we can never get back time.
It was her way of encouraging us to prepare for our children's education early instead of worrying about it in the future when the future's already here.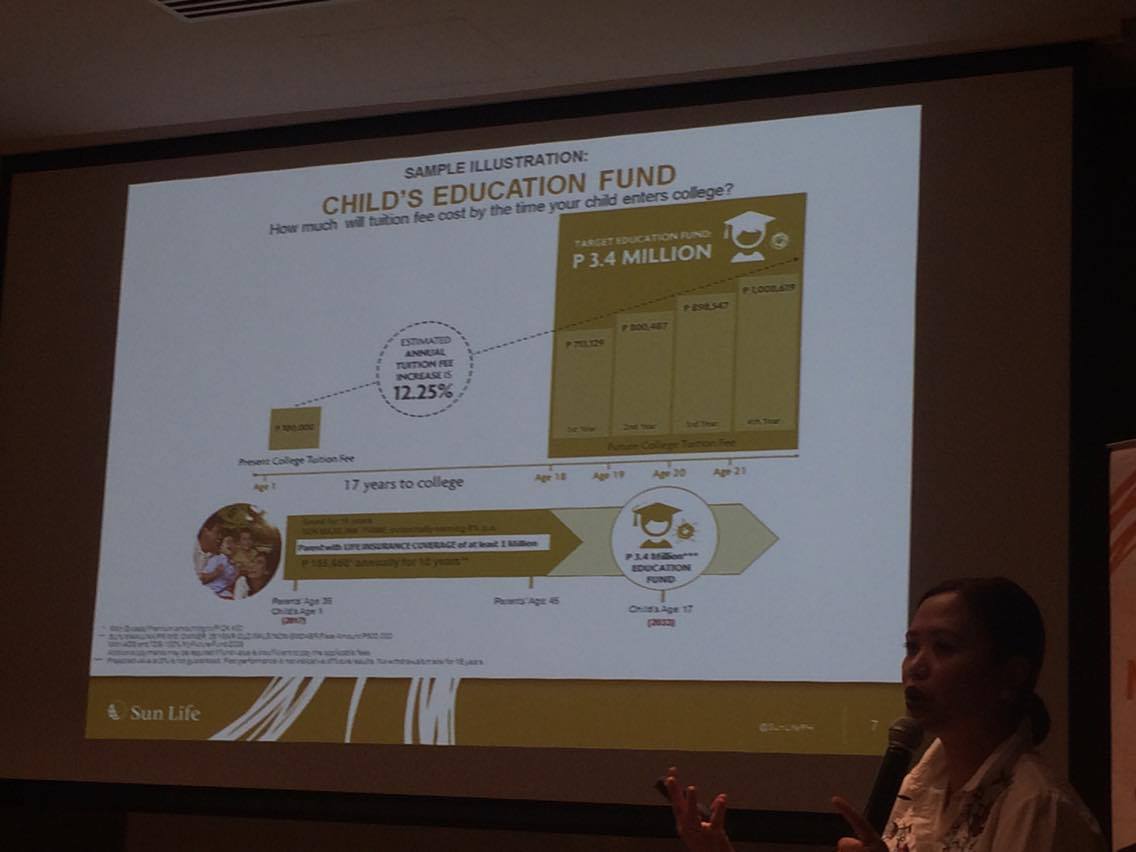 Pablo already has an educational insurance, but honestly, with his interest in animation and technology, and when you look at that chart, I think it's just enough for one semester, hahaha!
Anyway, Mylene said something that caught my ear. She said that with an educational fund, even if you end up not using it, you still have savings. I honestly want to know more about this!
Non-traditional thinkers
You see, although we do not discredit college degrees, my husband and I are not exactly traditional thinkers when it comes to education. In fact, we want our children to see it more as an option among the many other options they have.
Here in the Philippines, if you apply to work for a company, your college degree matters. But then, with the continuous expansion of internet and technology, working for a local company is just one of the many options this generation now has.
Times are changing. So why am I still interested in My Future Fund?
If in the future, my kids will want to go to a university to learn something, then it's good to have something saved up for them to use; but if they're not going to university at all, I want to know if they can still make good use of the investment we will build for them. If that's the case, then it's a win-win situation for us.
I have soooo many questions, so the best way is to call my Financial Advisor (Hello Clariz!) to get her to talk to me about this so I can share more about it to my readers.
Stay tuned!
Sign up for Mom's Day out!
Sun life is inviting moms to have a Mom's Day Out experience on July 1 & 15.  All you need to do is share the Mom's Day Out post on your Facebook page.
The event is FREE for moms with 7-year olds, but you'll have to pay a reservation fee of Php 500 which will be REFUNDED to you upon registration at the day of the event.
The massage is great, the food is great, and the learning is great, too. So lose the stress and sign up for your day out!
To register, email Harvie Monroyo at [email protected].
Check out Sun Life on Facebook to know more!
Super extra thank you to Sun Life Financial for the wonderful afternoon at IM Hotel, and to all the other sponsors of Mom's Day out. The break was what I need!