Last September 29 was Lukas' first time join an ALOHA class. He's been doing lessons on a one-on-one basis with Teacher Kim every Thursday, but at the recommendation of Teacher Kim, I thought it would be interesting to see how Lukas would fare being in a class with other kids.
For one thing, Lukas is an introvert.
Oh, he loves company! But like me, he has moments when he withdraws from people and just wants to be left to himself. This is how introverts recharge. We need those moments.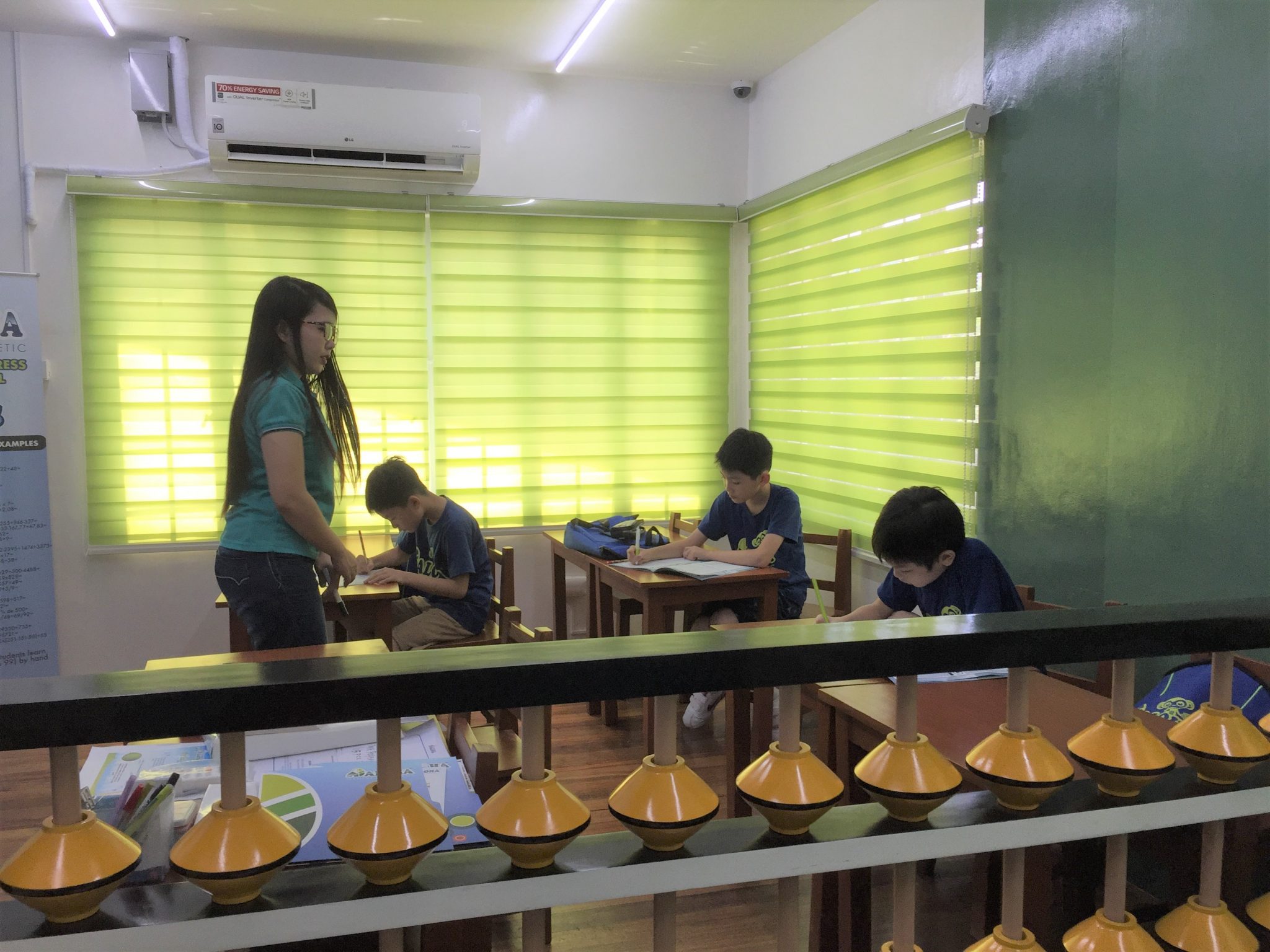 Anyway, Lukas has been progressing well, but Teacher Kim says we can assess him better when he's in a class. I agree. After all, competitiveness (healthy competitiveness, that is) in Math is a quality that ALOHA develops.
So I brought Lukas to class that Saturday where he was put in the same class with two more advanced Level 1 students – Myles and Miguel.
Pitting against more advanced ALOHA learners
Myles and Miguel were two sessions away from graduating from level 1, so they were a lot quicker in solving equations and doing the exercises. In fact, I think Myles already computes without using his fingers and his abacus.
Miguel was also naturally competitive and vocal about his intentions to join the international competition. I thought it was a good thing for Lukas to be around someone who is more competitive than he is. It keeps him on his toes.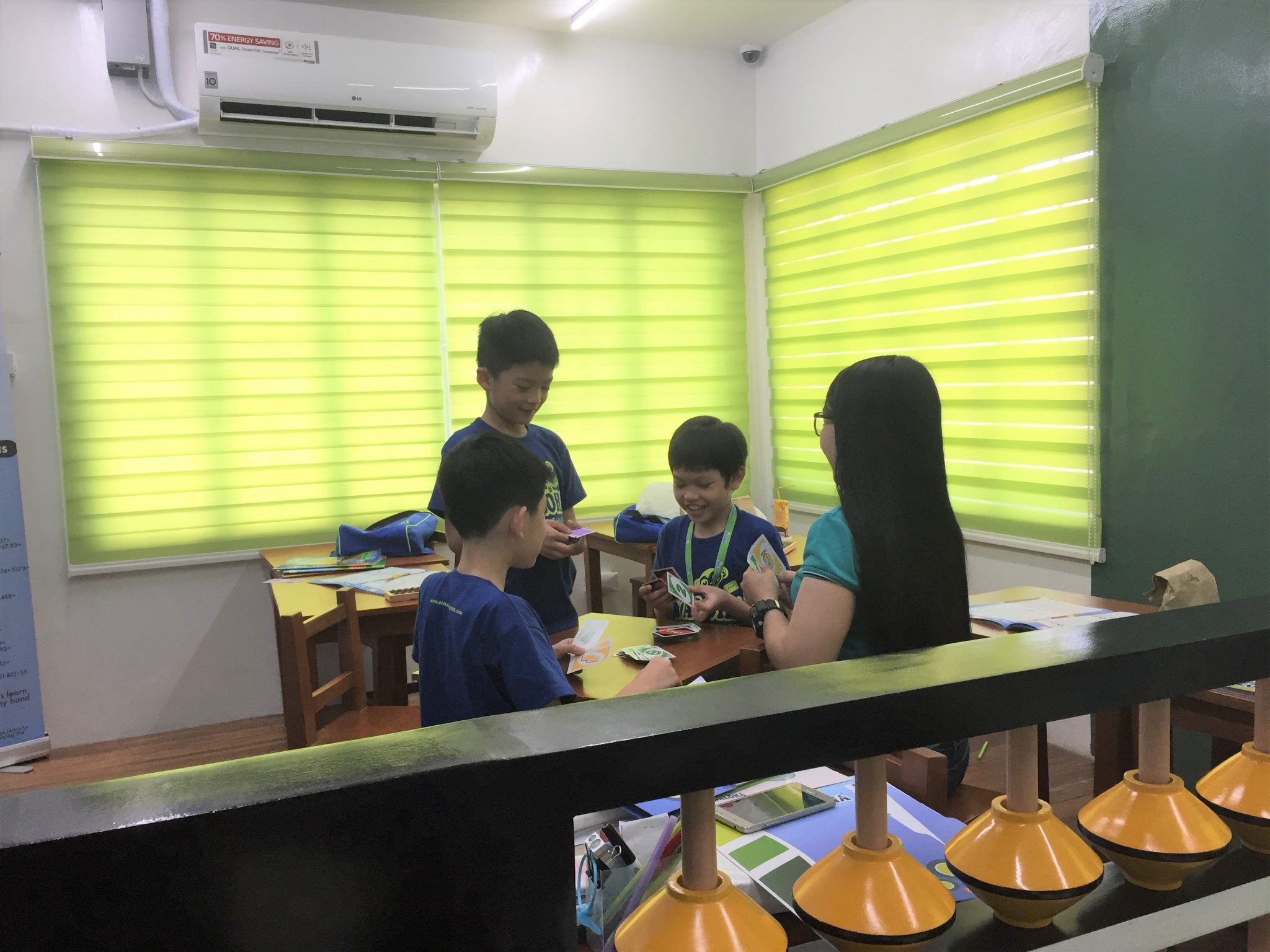 Class Activities
Teacher Kim got the kids to do flash cards together. They also had games that practiced their speed in solving equations. She had the child who answered each given Math problem correctly first take a step forward.
Lukas was obviously behind the other two in terms of speed and skill. Teacher Kim allowed him to use his fingers to calculate and even gave him opportunities to answer equations so he could take steps forward.
The rule was to raise their hands and the first one who does gets called. Lukas had a hard time remembering not to blurt out the answer before the teacher calls him, haha! He was much too excited that he knows the answers.  I think that being given the chance to step forward helped him gain confidence in what he already knows.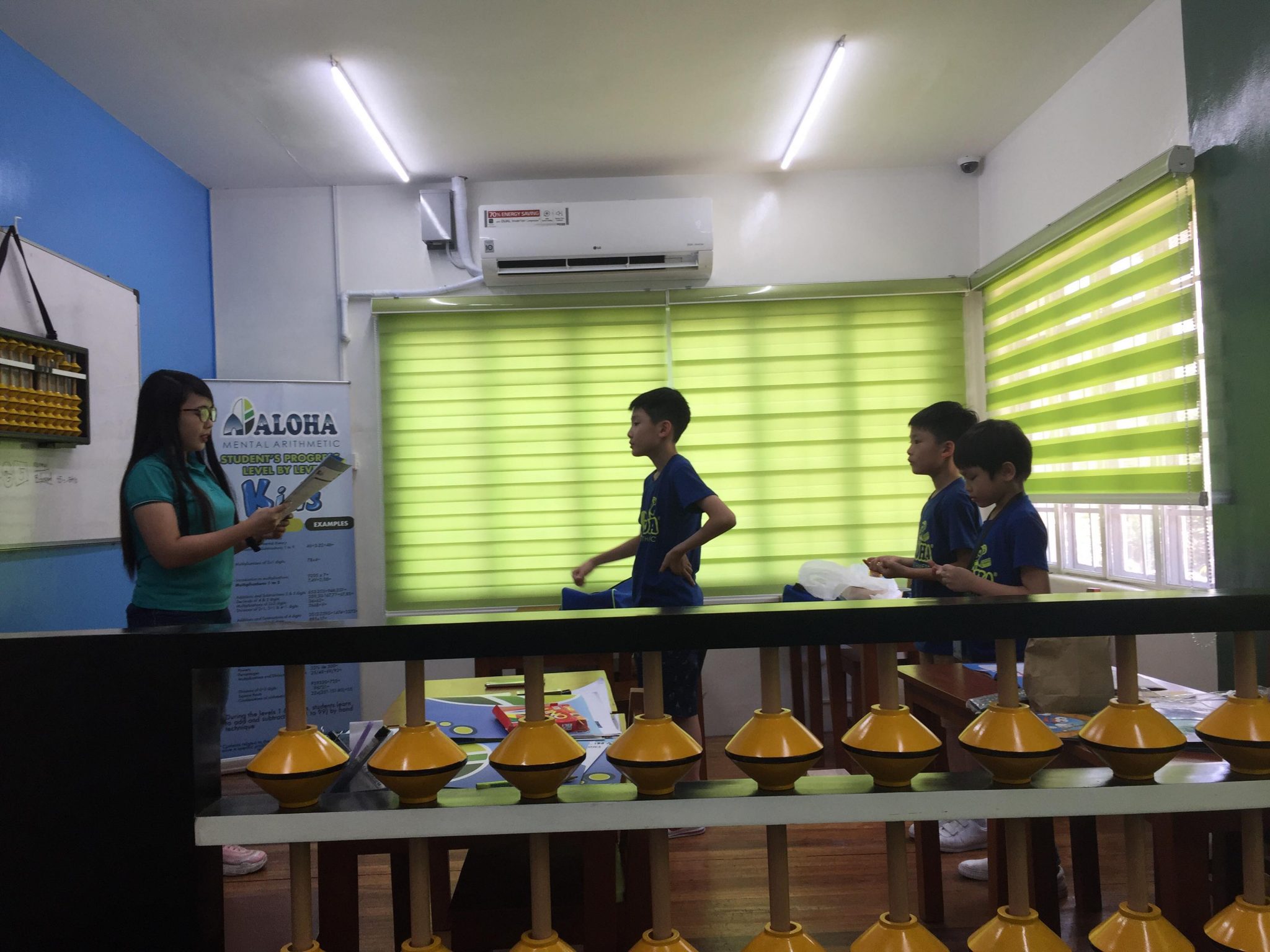 Facing Challenges head on!
At one point, I saw Lukas hold back tears on a worksheet activity because he couldn't seem to keep up with his faster classmates, but it's these times that it's good for parents to step back and see how they'll handle the situation without you.
I'm so proud to say that the tears, though they welled, didn't spill. Lukas, at the encouragement of Teacher Kim, plowed on with the equations and answered them all correctly.
Teacher Kim also mentioned it to me, saying she was afraid he was going to cry and lose interest in learning altogether. I like this teacher a lot, don't you?
I assured her, though, that Lukas is just the sensitive type but that he was not discouraged at all.
In our home, we think it's okay for kids to cry when they find something difficult. Sometimes, they just need to let out the emotion before they can collect themselves and figure out what to do.
As  a parent, I kiss them and wipe away their tears, but I also push them to go back out there and kill it.
Challenge is a natural part of life. I believe that we should teach our children to learn how to face life's challenges and tackle them. So I'm glad that Lukas is not running away from Math. I consider it a victory.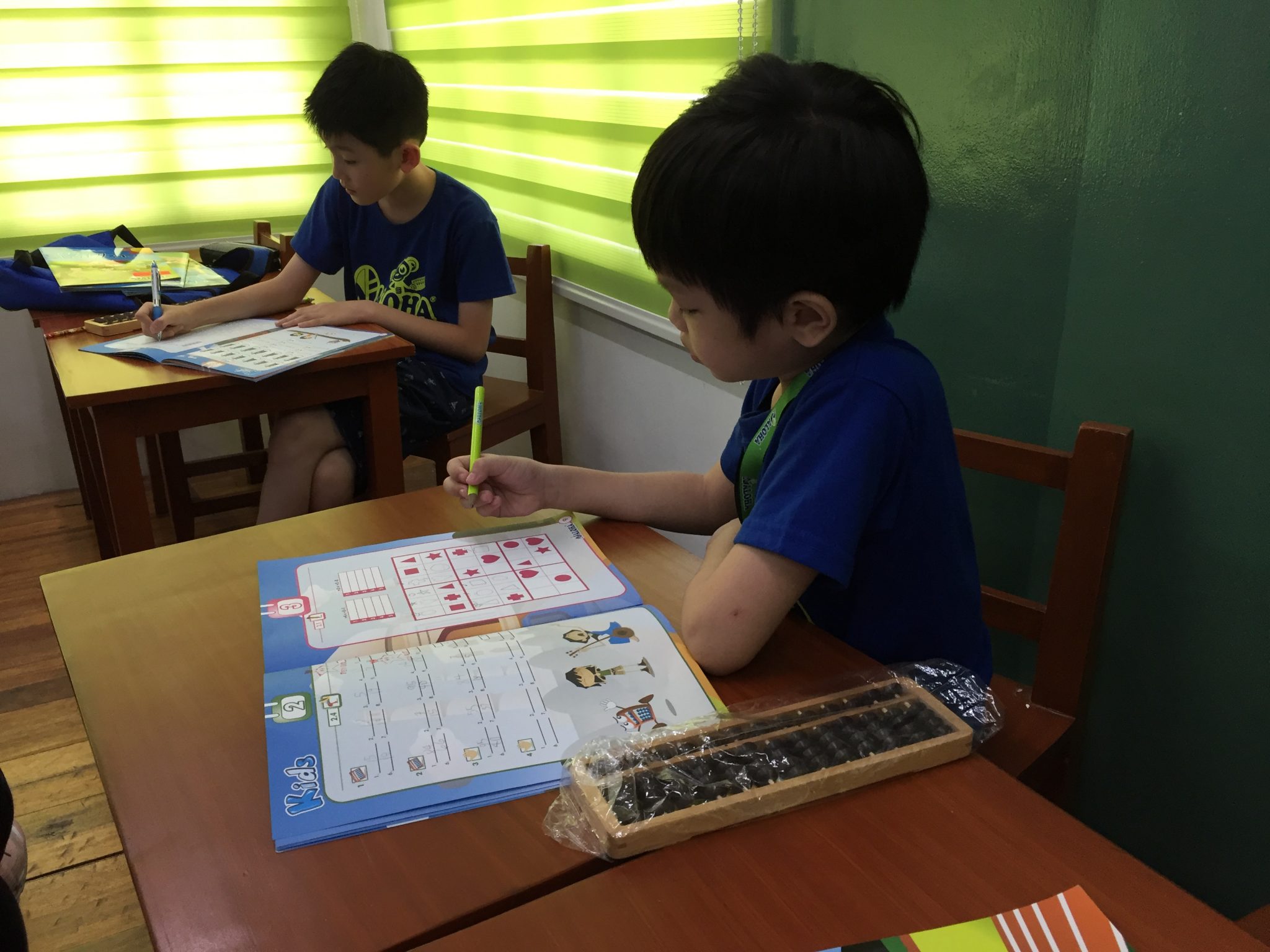 Cheers to more enjoyable ALOHA classes!
Lukas joined the class again the following Saturday, but that's for a totally new blog for me to write, hehe!
He enjoyed the class so much and has been very excited to do his practice exercises whenever we can. And I love setting up the timer and supervising him because I could tell how much he's enjoying it.
He's also starting to use the program when he answers his Math PACES, so another victory right there.
Lukas is not quite up there yet with top ALOHA learners. His progress is more slow and sure, but I'm confident that in time, he'll get there. He just needs a little more push from me, I guess. As you may have known from all my other blogs about our homeschooling, we're a bit more relaxed and laid back than most.
Our principle is this – you can put your child in the world's best programs and have them taught by the world's best teachers, but your parenting plays a crucial role in how they'll fly with what they've learned in class.
Lukas has all the potential to grow in this because of his competitive personality, his enthusiasm, and his aptitude for learning. And in my humble opinion, the ALOHA process in developing all these traits and translating them into results is pretty good. I trust the process.
It's important to note, too, that Math was Lukas' least favorite subject (next to Araling Panlipunan, haha!), but look at how he loves it now.
Anyway, here are my previous blogs about Lukas and his ALOHA journey:
Introduction to ALOHA : Mental Math Fun with ALOHA Mental Arithmetic
First day of ALOHA Mental Arithmetic: Learning to use the Abacus
ALOHA Mental Arithmetic: Of Games and Sharpening both Brains
Bring ALOHA to your community!
As of the moment, there is only one ALOHA center. This is the one located in Greenhills where I take Lukas.  It's accessible if you live in QC, Ortigas, or even Makati and BGC.
But for other locations, you can bring this wonderful program to your community and help other kids fall in love with Math and be excellent at it!
If you're interested to franchise, call 02-357-6800.
To know more about ALOHA Philippines, you may visit www.alohaphilippines.com