Celebrating Lukas' 10th Birthday at Sofitel Manila
We were gifted with an overnight stay at Sofitel Philippine Plaza Manila for our anniversary last March. We decided to use it to celebrate Lukas' 10th birthday as a family. It would be our gift for him and we hope that it would serve to be a reminder to him that God hears even the simplest requests of his young heart.
He wanted to swim with friends and treat them, too, but we couldn't grant it right away. So, we told him about booking a room at Sofitel where we will have access to the pool.
I asked him, ''would you be okay with it?" To which he replied, ''Yes, that's alright with me,"  giving me a huge smile.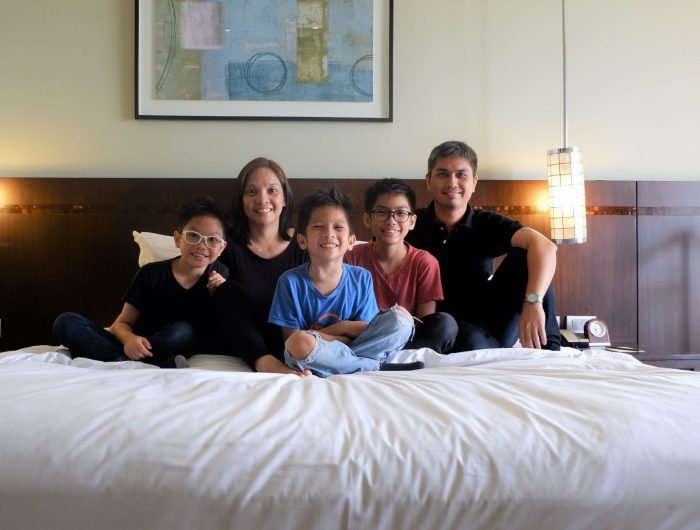 Lukas has a penchant for hotels and I was pretty sure he was going to love this one, after all, Sofitel is one of the grandest hotels here in Manila.
Prompt email reply
I had an issue with the gift certificate because of some details printed on it, so I was a bit apprehensive to book a room, and almost changed my mind. But I guess, my love for my son overpowers any pride. I emailed the hotel and sent them screenshots of the gift certificate to find out if we can use it.
I received a favorable reply a few hours later. I was told that they can accommodate our Gift Certificate, and was asked to give them another date because the first one I requested was fully booked.
We were approved for April 29 to 30. Yay!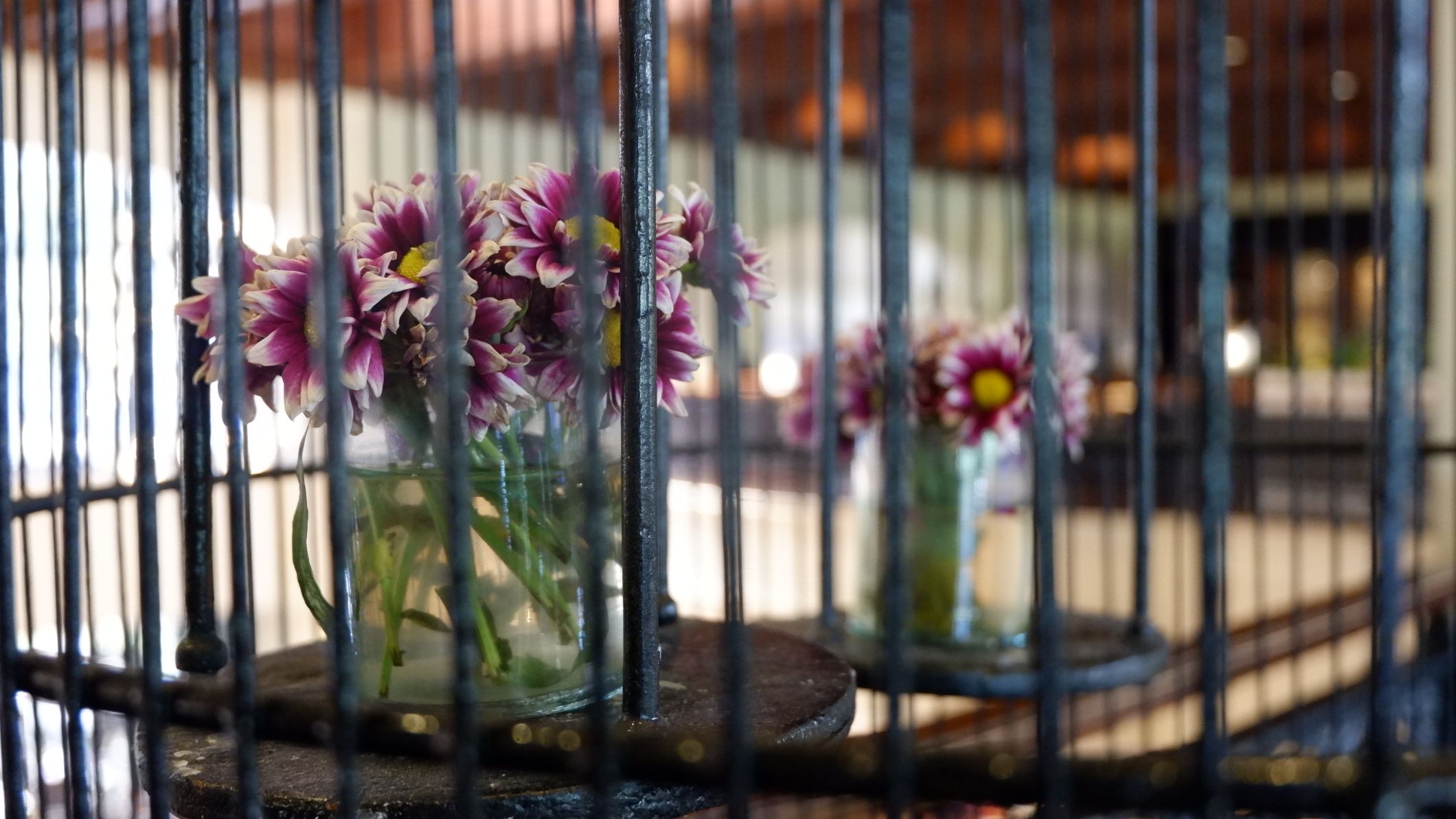 I had more questions. I asked if we needed to pay for an extra bed for our eldest son, Pablo, and if we had to pay for the kids' breakfasts at Spiral. The GC was for 2 adults and 2 kids.
I also asked if we all have access to the hotel's lagoon-shaped swimming pool, to which we had.
We were told that since Pablo, who is 13, is no longer considered a child, we have to pay PHP 2,300 (45 USD) for his bed, which includes the complimentary breakfast and access to the pool.
In the email, we were also told that we had to pay PHP 1, 100++ (22 USD) for the kids' breakfast. Presumably, 50% off the adult rate.
It was pretty steep, but the kids love buffets, so Jay and I agreed it would be best to let them experience breakfast at Spiral instead of taking them to a fastfood for breakfast.
Personal touches
We arrived at the hotel to check in at exactly 2 PM. I was surprised that the attendant, dressed in traditional Filipino baro't saya, met me at the very entrance and addressed me by my name.
It's probably part of their guest relations strategy to look up people on the internet, or perhaps they just took note of the number of adults and kids coming. However way they managed to do it, I think it works!
There was a bit of a short, but slow line at the front desk, but one of the staff, John, ushered us to another desk and attended to us. John was very nice and didn't make us feel like we're riding on a freebie with our GC. I felt that the staff treated us just as they would treat any of their guests in the hotel — with proper courtesy.
John also informed us that the two younger kids didn't need to pay for their breakfasts, yay! Truly when the LORD blesses, he adds no trouble to it! (Proverbs 10:22)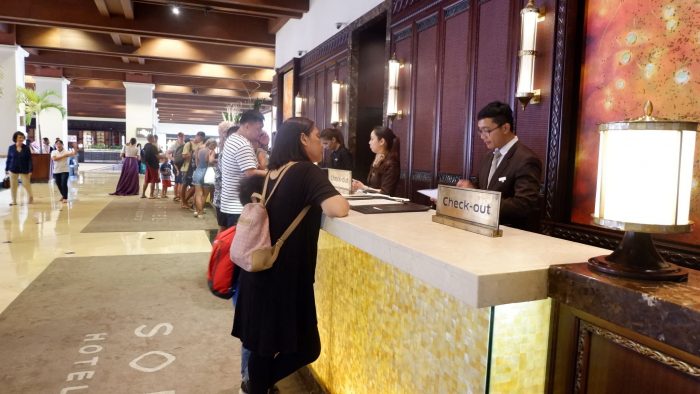 We were given the room 1101 and had a great view of the city across the waters of Manila bay from the balcony at  night.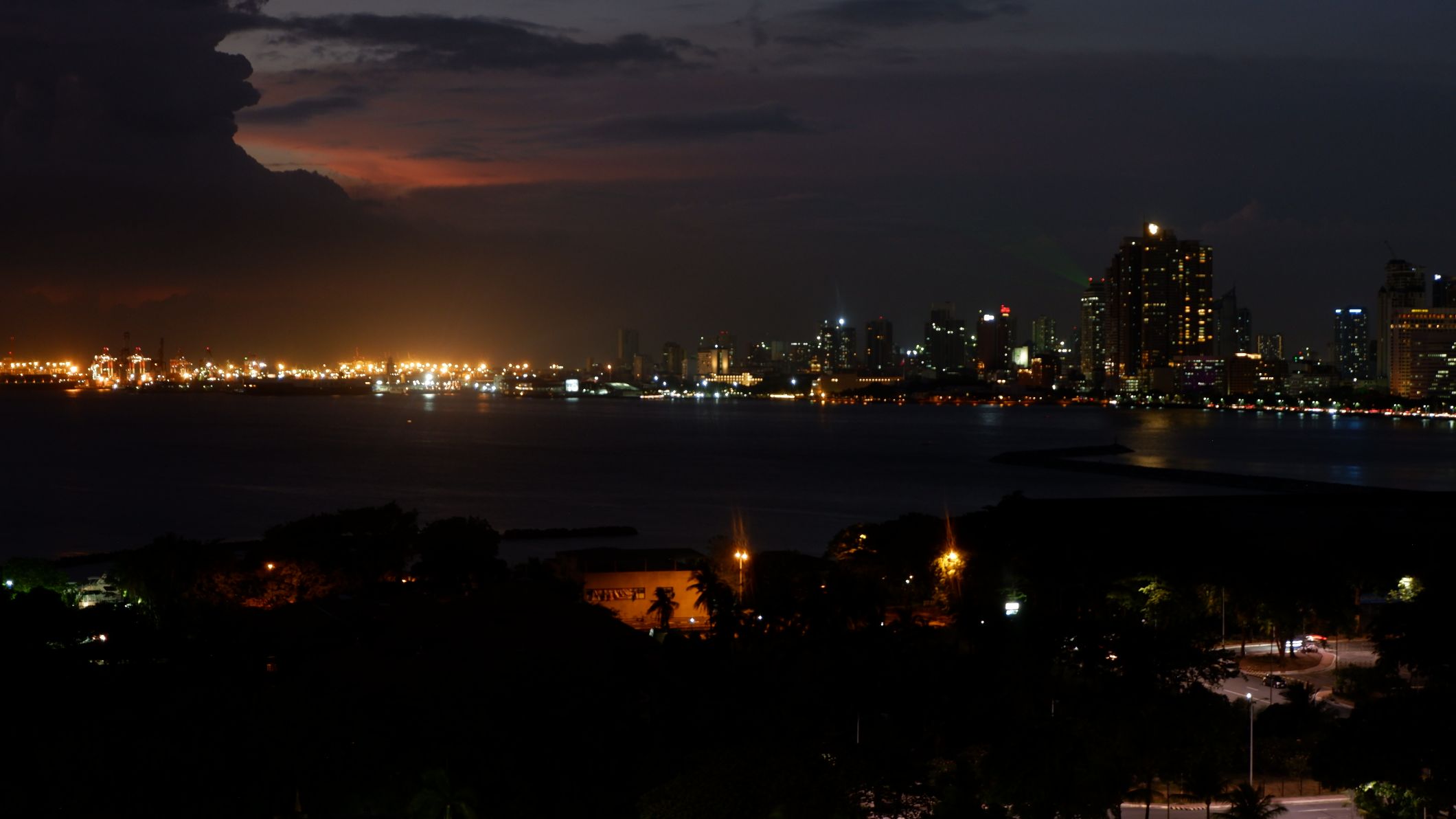 The extra bed was brought to our room a while later. We were already set to go to the pool to swim. We only had a couple of hours to swim because we were going to walk to Max's Restaurant a few blocks away for dinner and didn't want to do it so late at night.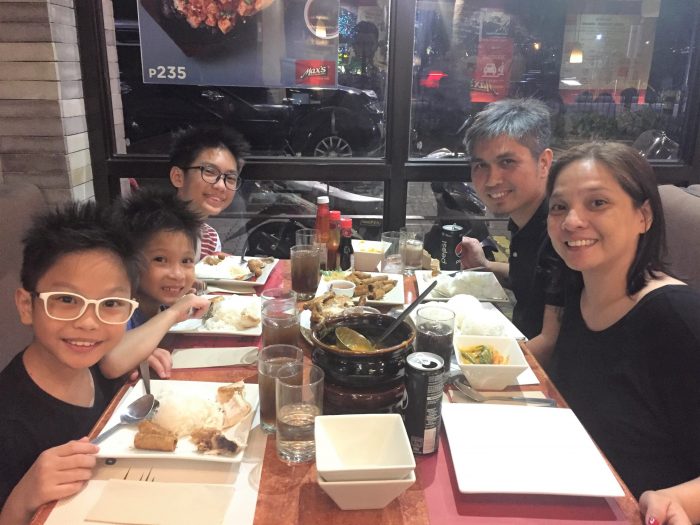 Sunset at Manila Bay
Jay was waiting for sunset. One of the things that Manila is known for is our beautiful sunset by the bay and Sofitel has made sure to highlight this by providing guests a good view of it, with a walkway, hammocks, and green grass to boot.
When the kids were ready to get out of the pool, we took them to the bay side to see ships sailing against the backdrop of the city. We caught the sun just as it was going down. It was magnificent!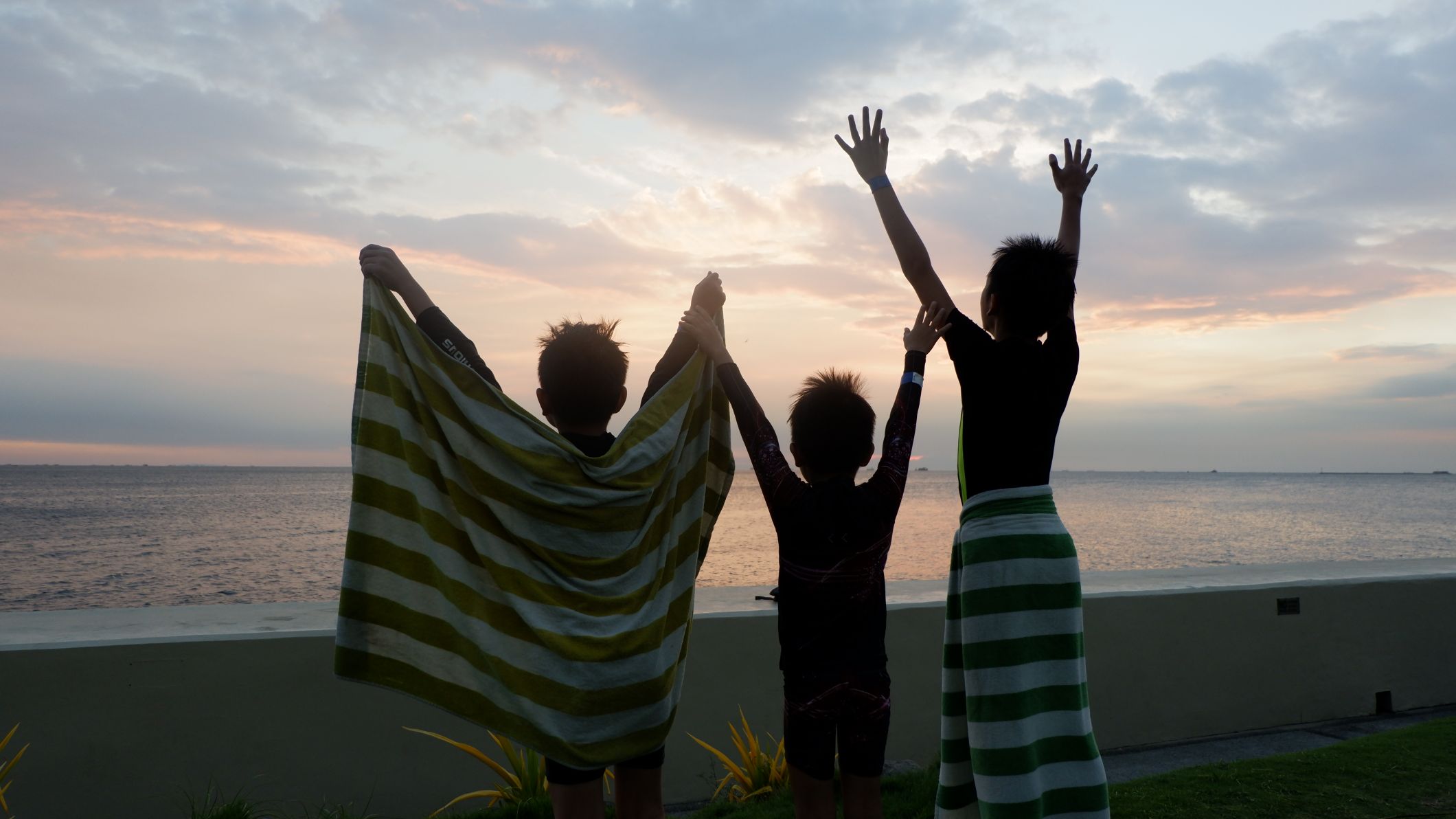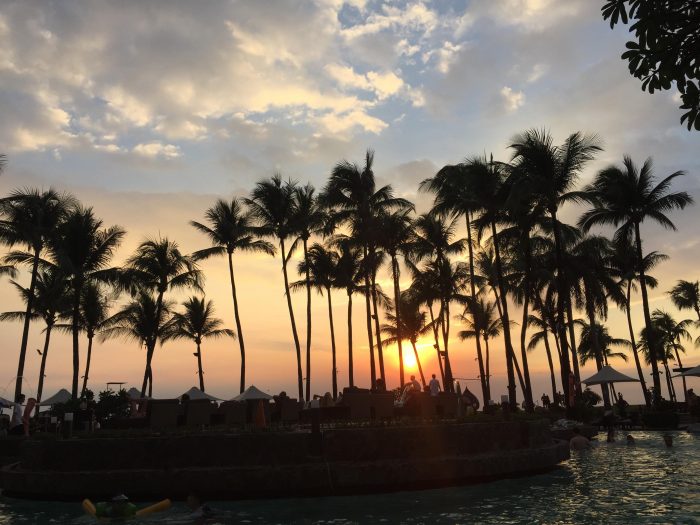 The pool, itself, was a treat. The kiddie pool was big enough to accommodate so many, and it features slides, a play area and waterfalls!
View this post on Instagram
View this post on Instagram
And when we went back to the room to prepare for our dinner out, a jar of chocolate chip cookies and a note from John and Romy, were waiting for Lukas.
It was a small gesture, but a beautiful and personal one. Lukas' birthday was on the first week of April, I was worried he won't feel that it was his birthday celebration anymore; but the gift made him feel that it was his day. And I'm so thankful to the staff because of it.
View this post on Instagram
View this post on Instagram

And just so you know, John, the front desk staff who checked us in, even sent his regards through the staff who checked us out. I really appreciate the effort the hotel gives to make their clients feel warm and at home in their fancy hotel.
The Luxury Room
1101 is a Luxury Room. We got the one with a king-sized bed and a small chaise at the corner that Lukas decided was to be his bed for the night.
He was supposed to sleep with us on the king-sized bed, along with Judah, but he preferred to have the chaise for himself.
The room had an office table, which was great, because I brought my work lappie with me so I can log in in the evening to see if there was anything I needed to attend to, right before the Game of Thrones replay.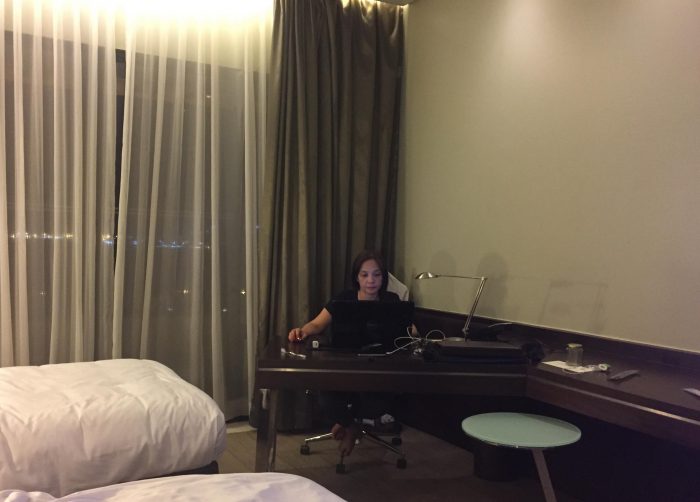 Unfortunately, GoT didn't register well on their TV. They didn't have HBO in HD (or we just didn't find it). So,  I decided to just sleep on the Battle of Winterfell so I can do a bit more work in the morning the  next day, then wake the family at 8 AM.
I figured, if we're done eating by 9 AM, we would be able to take a dip for a couple more hours before preparing to check out at 12 NN.
If there was anything we saw that needs improvement, it would be the number of sockets to recharge our gadgets. We only had one working in our room.
Jay, also, had a difficult time adjusting to not having a lock to the bathroom door. But that's basically all we had problems with.
Breakfast at Spiral
Spiral is known to serve the best buffet in Manila, offering the widest range of cuisines than any other hotel restaurants in the country.
The kids love the freedom of being able to go around and pick as much foods and drinks that they want. They started off with cereals, pancakes, waffles and juices, and finished up with rice meals, haha!
View this post on Instagram

Judah, though, couldn't keep up with this older brothers' appetites and threw up before he was even able to finish his rice meal.
I was also overwhelmed, as I always am with buffets. I got a few pieces of bacon and finger-sized hungarian sausages, and a piece of croissant, and was not able to go back for another round of servings after that.
Oh, I did enjoy the taho served in a small paper cup by a vendor-outfitted man hauling around traditional taho aluminum buckets.
View this post on Instagram
Checking out with happy hearts
We were able to have another go at the swimming pool. We were there for two hours before we went up to fix up and check out. And we checked out with happy hearts!
It wasn't 100% perfect, we ran into a bit of confusion at the pool area because an attendant didn't want to allow Pablo to swim at first.
But we informed that that we paid for him and they no longer made a big fuss about it.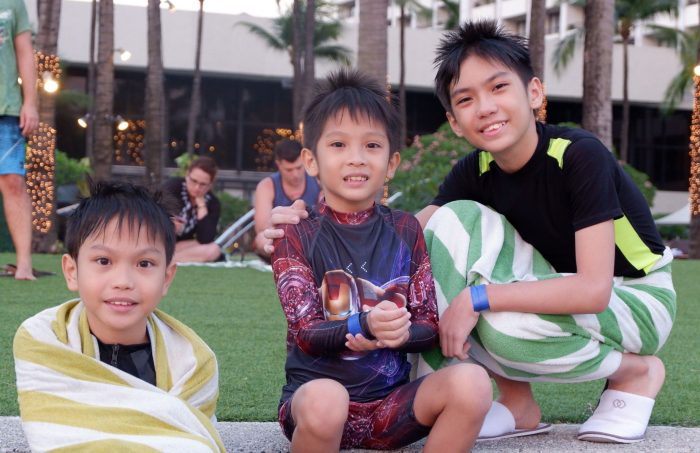 The next day, a different towel attendant told my husband that he couldn't get more than 4 towels. He just shrugged it off. Everything else is heaven, anyway, there's no point ruining it by making a big deal out of a small thing.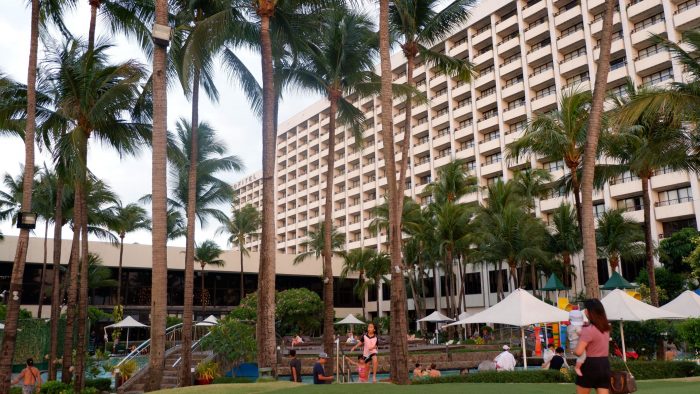 We've tried other hotels before, but this one, by far, has been our best, most satisfying hotel experience to date.  Jay and I both felt like not a minute of the two days we stayed was lost. It was stress-free, hassle free, and  nothing got in the way of the quality time we wanted to spend with our children.
Everything flowed so smoothly, from the time we walked in to the hour we checked out. And we rested like babies all through the night.
Thank you, Sofitel! We shall see you again.
Sofitel Philippine Plaza Manila
Address: CCP Complex in Roxas Boulevard, Pasay city.
Landline: 02-573-5555 
Email: [email protected]
Facebook page: https://www.facebook.com/SofitelManila/