Celebrating Pablo's 17th birthday at Hotel 101 Manila
The stay was a gift from good friends a few months ago and we instantly knew we had to reserve it for our eldest son's 17th birthday which was coming up. If you've been keeping up with my blog for a long time, you'd know that we usually celebrate our birthdays on either short trips or staycations.
A trip is not possible at the moment, so staycation within the city it was!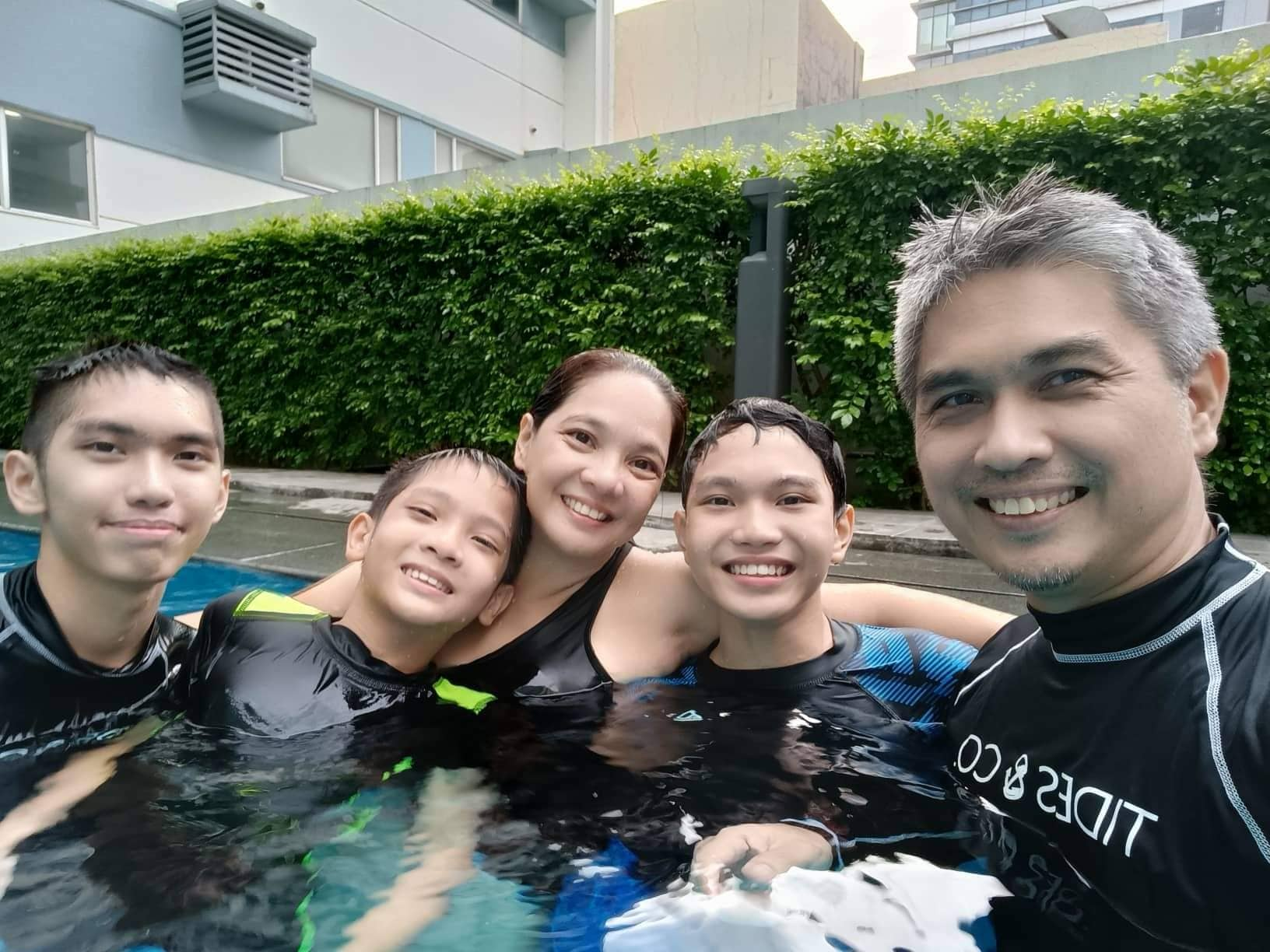 Booking Hotel 101
We called Hotel 101 to inquire and book our rooms. I tried emailing but didn't get a response, so I asked Jay to call them instead.
Since it was our first time there, we made sure that the swimming pool was accessible, because unless it's in Boracay, Baguio or Tagaytay, a hotel booking with no pool access for us is a bummer. Fortunately, we were told that all the facilities are now open for their guests to use, including the swimming pool.
We're used to booking family rooms and just paying for an additional cot, but we were told that they only allow a maximum of 3 people per room, kids included. We were also informed that we can only use one GC a day (we had 2), and since we couldn't book for two days because of work commitments, we just used one and paid for an additional room.
For the first time in history, the boys stayed in their own hotel room!
We asked if it was possible for the boys' room to be next to ours, but the most they were able to do was to make sure that the rooms were in the same floor. It took me a minute to get used to the idea of the boys room all the way at the end of the other hall, but Pablo is 17 and the boys were obviously excited to have a room all to themselves, so I just shrugged my paranoia off and just reminded them to keep the door locked at all times and call us if someone knocks on their door.
I was mostly afraid of the boys being harassed or what by unruly guests or whatever, but thank God, there was none of that. Truth be told, Jay and I were just as excited to have the room all to ourselves, too, hahaha!
(READ: Celebrating Lukas' 10th birthday at Sofitel Manila)
Small rooms, clean bathrooms
The rooms were pretty small compared to the other hotels we've stayed at. It has cable TV which we didn't use much. I guess someone ought to tell hotels that people now prefer streaming services like Netflix over cable channels. AirBnB's are more updated on that aspect, I think. But maybe it's because of their guests? There were a lot of Asian channels when we browsed.
The room was clean, the beds were soft and comfortable, and the internet was strong enough for Jay and me to sneak in some work in between and continue bingeing on our current favourite series from our laptop.
The AC worked well, too.
The bathroom had all the basic necessities, soap, shampoo, conditioner, lotion, toothbrushes, toothpaste and earbuds. It was clean and the flush and the shower worked fine except that the heater doesn't get hot enough to enjoy a warm shower. I asked my son if it's the same in their room and he said, yes. He also said that the internet signal from their room is not as good as it is in ours.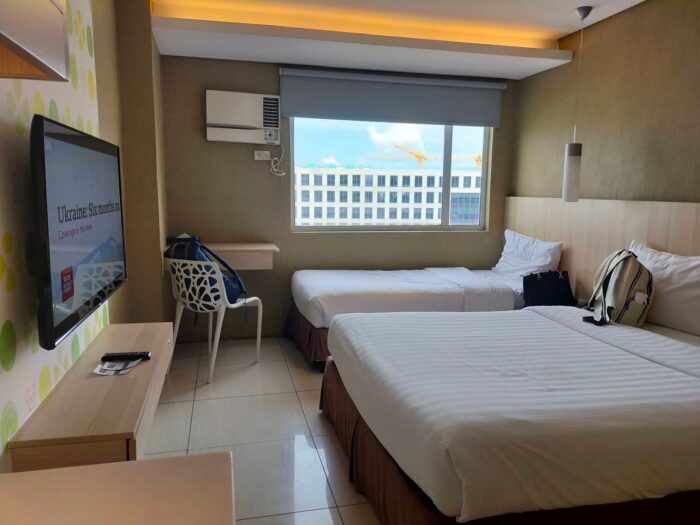 (Read: Celebrating my 40th birthday at F1 Hotel BGC)
No balcony for me!
Neither of our rooms had balconies. If you know me well enough, you know that the way to my heart is the balcony, haha! But all's good because there wasn't too much of a view to look at anyway, and the storm just passed and humidity resumed, so a balcony wouldn't have made that much of a difference.
We took the kids back to their room after dinner at Burger King at the E-Commerce building, but went out again to get coffee at UCC Clockwork. I wanted to try Cafe Mocha from the cafe in the hotel, but they were closed by the time we got back.
Just to be clear, there were complimentary coffee and water bottles in the hotel room, but I wasn't feeling it at that moment and wanted something else.
I spent some time looking out at the busy street below us while having my coffee. Jay had to do some work but eventually joined me. We received a message from the boys at around midnight letting us know that they're going to bed, so we said our goodnights. (wink)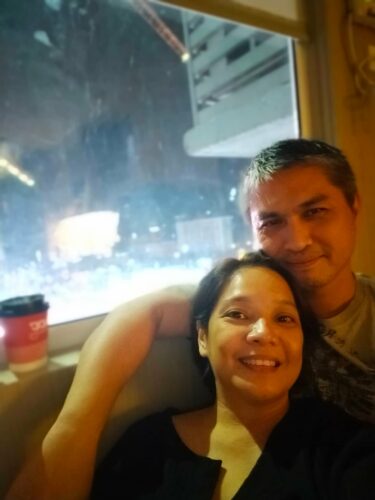 Buffet Breakfast at Horizon Cafe
Buffet Breakfast at Horizon Cafe downstairs was at 7AM – 10AM. Our bookings didn't include breakfast, but I didn't want to go out to look for food so early in the morning and the kids wanted to swim some more, so we decided to try it and paid Php 400 each for 4 people.
Judah was allowed to eat for free.
Here's the menu: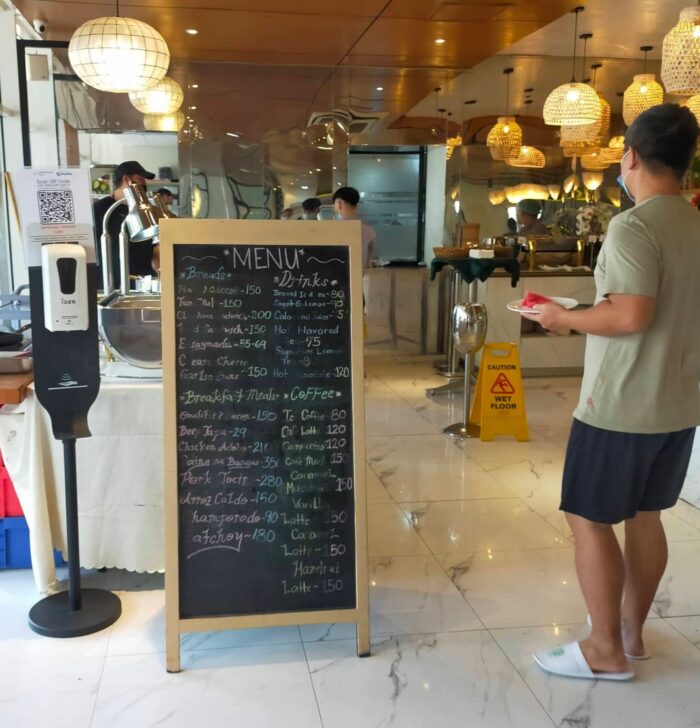 Horizons had toasters and ovens ready for heating food, if you want them heated. They also have a bacon & egg station if you want newly cooked ones.
They didn't have too many food selections especially for kids, except for the pancakes, cereals and rice crispies.  I noticed that they seem to be leaning more on "brunch" type of food.
We came down past 9AM, so breakfast was almost over. But we still have one more GC, we have another opportunity to try them out.We've gotta wake up earlier!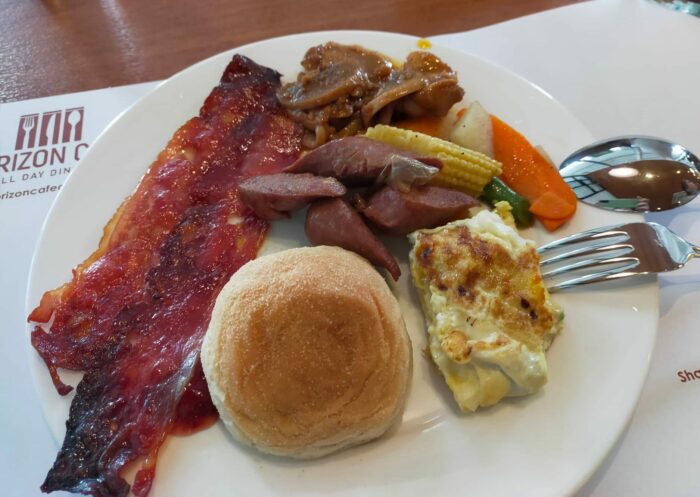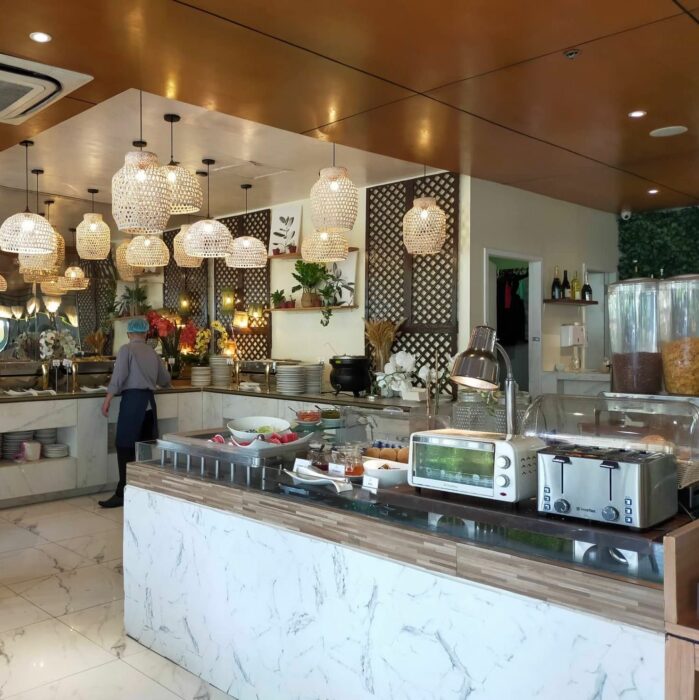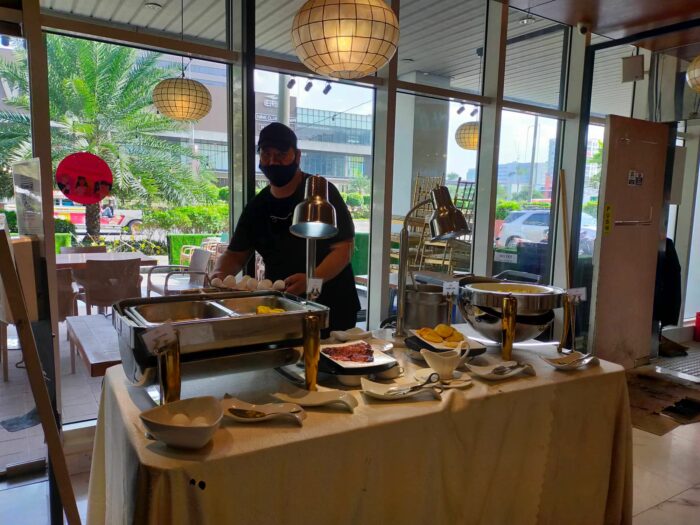 Three things we love about Hotel 101 are:
1. We almost had the pool all to ourselves.
I'm saying almost because there were a handful of people who were at the pool when we first came, but the other guests seemed to prefer the Jacuzzi and the dipping pool more.
According to a friend of mine who owns a condominium unit nearby, most of the guests in that location are foreigners and they don't use the pool often. We did notice that there were a lot of asian foreigners and a handful of caucasians when we checked in.
The pool was only chest-deep, so I wasn't worried about any of my kids accidentally drowning, and Jay and I were able to relax and swim laps while the boys played and goofed around.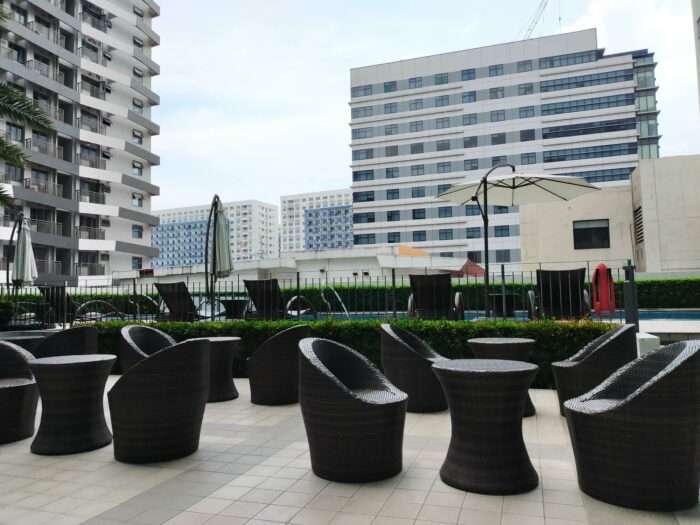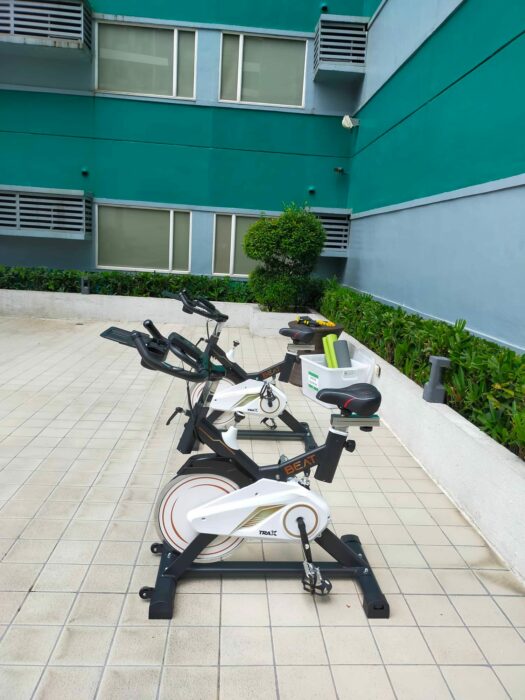 2. One of the best things about Hotel 101 is its proximity to SM Mall of Asia, currently the biggest mall in the Philippines.
It was just a 5-minute walk and there was actually a sidewalk to use.
Pablo wanted to eat at Army Navy so we went looking, but ended up eating at Burger King, the next best thing, because Army Navy was gone.
We also dropped by Ikea to check the frames they have available for my paintings. The kids weren't so thrilled to be back there again, but started choosing furnitures they want anyway, hahaha!
After checking out the next day, we went back to the mall to have late lunch. SM MOA has an overwhelming number of restaurants to choose from, but we opted to stick to tradition (and practicality) and ate at Max's.
View this post on Instagram
3. They have patient, kind and courteous staff. 
Our supposedly short trip on the way to the hotel almost ruined our excitement. The traffic was horrendous and the air conditioning system of the Grab AUV we got couldn't handle the heat. We had to roll down our windows and what should've been just a 20-minute drive turned into an hour.
We called the hotel before our 2PM check-in schedule to let them know that we might be late but that we were coming, but after we filled out our forms, submitted IDs and paid for the additional room, we were told to wait for an undetermined time while they find us rooms.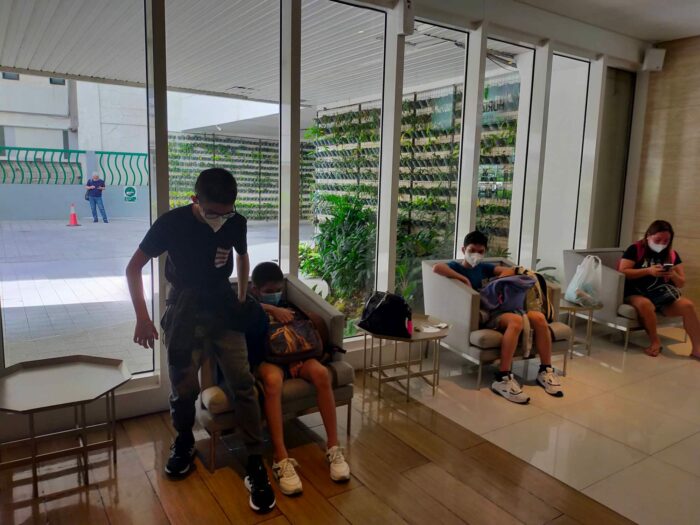 There were a lot of people waiting in the lobby. According to the staff, they came as a group. We were worried that the waiting would eat into the boys' swimming time, and we had plans to eat out, we weren't sure what time the restaurants in the area would close. So we pretty much pressed the staff to shorten our wait and pointed out that we were not walk-ins and have, in fact, booked our rooms weeks ahead.
They explained that they were short on housekeeping staff and extended our time for a couple more hours before check out, which counts a lot. And once we had the boys in the pool, I was able to process the situation better.
We are, after all, still coming out of the lockdowns wherein businesses such as this hotel were forced to lay off many of their staff, so yes, it does make sense that they didn't have enough manpower to keep up with the number of guests they had that day.
What I do admire is their self-control. They were polite and spoke softly without any trace of annoyance when we were obviously a tad irked when we arrived.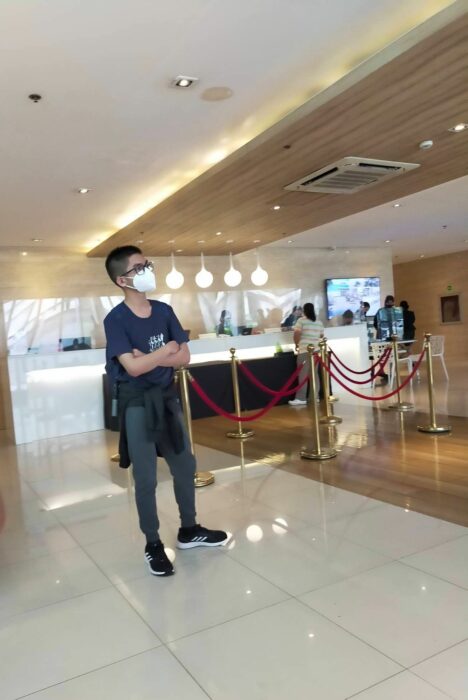 Along the hallway once, we were greeted with a smile by one of their housekeeping staff. And when we called for help when the door of the bathroom got stuck the next day, they immediately sent a housekeeper to our aid. She was nice and even giggled at Jay's joke!
The one whom we had the most privilege to interact with the most was the staff they had at the pool. I'm not sure if he was also the designated lifeguard (not that there's a need for one), but at one point, he came to open the big umbrella for me when it was starting to get too sunny.
I think that whatever my issues have been were minor, and that the pleasant attitude of the staff was everything.
(Read: Staycationing at Taal Vista Hotel)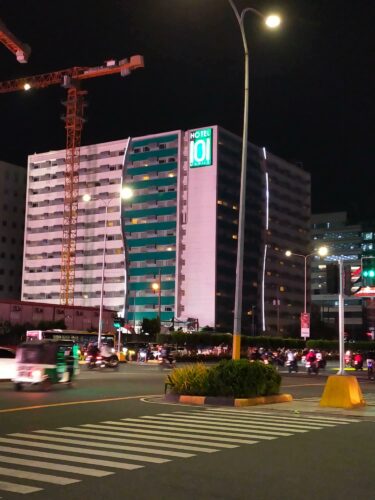 Hotel 101 is a 3-star hotel located along EDSA extension in Pasay City. The current room rate is only Php 3,400, inclusive of buffet breakfast for two. But they have an ongoing promo of Php 2,900 without the food this month.
Special thanks to our friends, Czikoi and Gepay Bautista, for our lovely staycation at this hotel.