The 4×4 Ride and Sand Boarding Experience at the Paoay Sand Dunes
Paoay Sand Dunes was one of the first sites our tour guide took us to the morning we arrived in Ilocos. It's one of the most popular sites in Paoay, Ilocos and an experience not to be missed, he reiterated.
It's also the most pricey experience we had that part of the world, haha! We had to pay PHP 2,500 for the 4×4 ride that would bring us on a rollercoaster-like ride on the huge, sandy hills.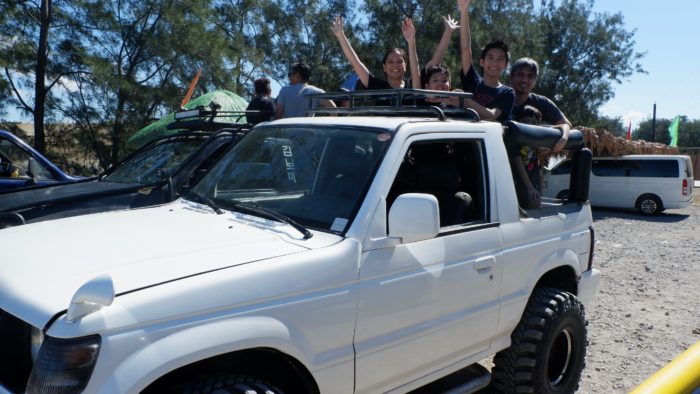 All the screaming and crushed ribs
The usual maximum number of people was 5, but since we were a family of three kids, they let us take one 4×4 with one extra person. Judah was a tad too small to stay with us, so the driver and his companion took him to sit with them in front, while the rest of us had to hold on for dear life at the back of the truck.
The kids were particularly thrilled by the ride. In fact, they told me that it was their most favourite activity in our trip to the North. They loved how the truck sped downhill and careen left and right on the sand. I suspect that my screaming for each time the truck swerved or zoom down added to their excitement. (There's a little exaggeration to all the screaming I did…they love it when I'm terrified, haha!)
I wasn't as happy as they were with it. All three of them – my husband, Jay, Pablo and Lukas, unintentionally leaned hard on me and crushed my ribs against the side bar of the back of the truck whenever it made turns. And I thought that the ride took way too long for my taste.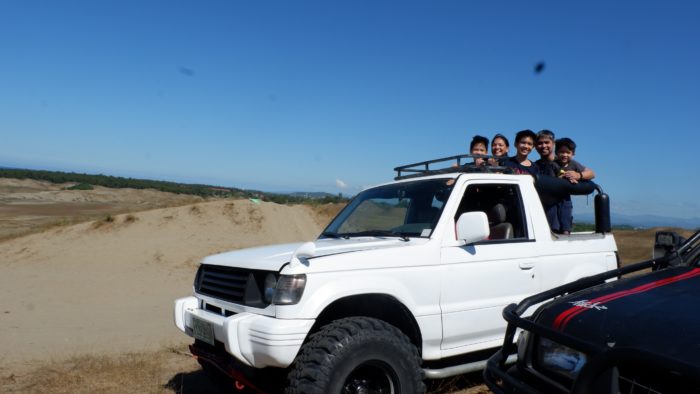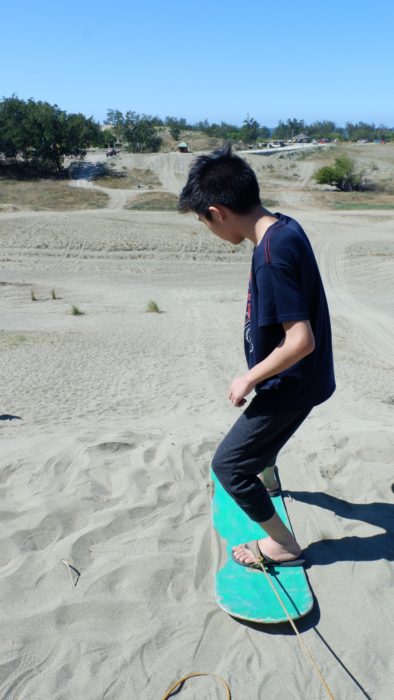 Sand Boarding
Before the date of our tour, the kids and I have been watching videos of other vloggers who visited Ilocos and the Paoay Sand Dunes experience was in every single one of them.
My kids had been looking forward to this part of the trip, so although I wasn't keen on getting too dirty that morning, the sand boarding down the hill had to be in our must do list.
I'd stick to just the sand boarding if I could, but you can't do the sand boarding without the 4×4 ride because it's your ride going to the area.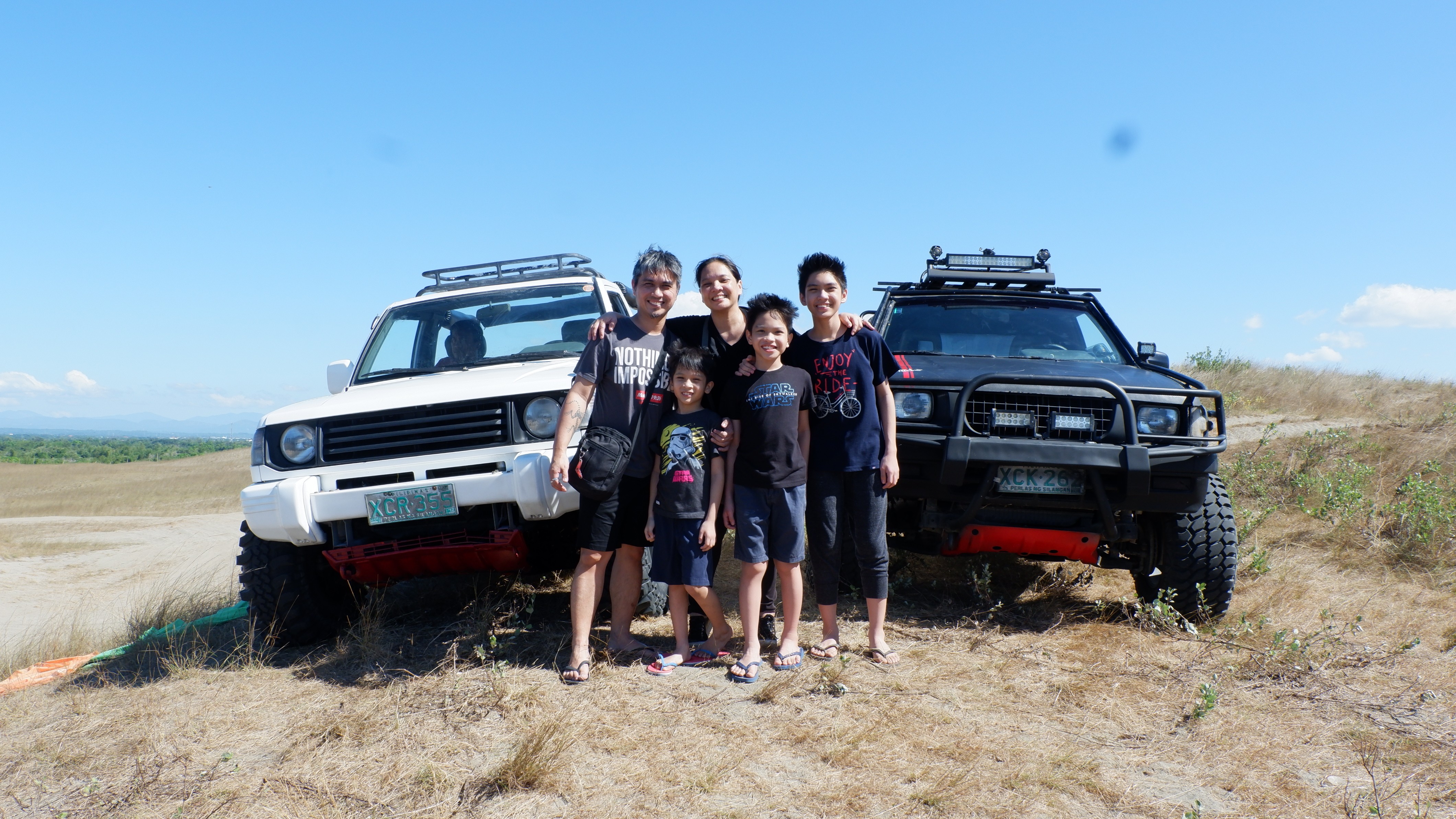 The hill was pretty steep, but if there's something I learned about raising boys, it's not to withhold them from adventurous activities.
So yeah, we all took turns sliding down that steep dune and I felt almost proud that none of the boys were afraid to do it.  They even wanted to do it again!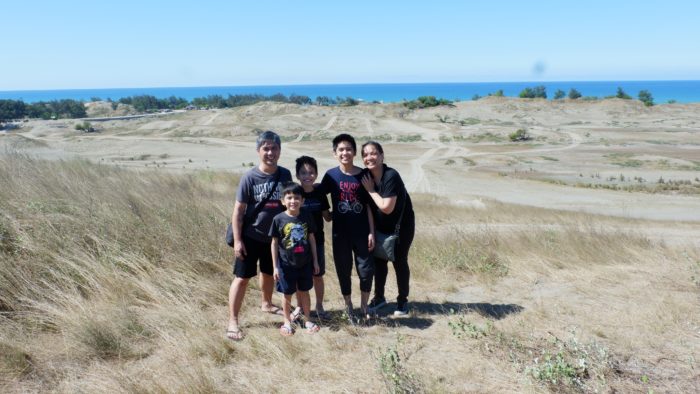 Photo stops
The Paoay Sand Dunes experience included two stops for photo taking, which we took advantage of. We asked one of the manongs to take our picture as a family. I love being in our photos even if they're so generic to look at, haha!
After the sand boarding and the 4×4 ride, we were taken back to where our van was parked and we finally headed to our Bed & Breakfast unit to freshen up.
If it were up to me, I'd probably not go back to do the Paoay Sand Dunes all over again, but the kids will most likely put it in their priority list when they revisit the North in the future.
Go for the dips and bumps!
Do I recommend that you do it? Hmmm, since it's one of the much talked about sites in Ilocos, you might as well. Besides, liking it depends on your personal preferences. I may not have been as thrilled as my kids, but they were, and so was their dad.
So my assessment is this:  If you have medical issues such as having intense emotions may trigger a seizure or attack, then don't. But if you don't have any heart condition and you can handle a few bumpy dips and twists, then go for it! Who knows, you may love it just as much as the bonggos I live with, haha!
We went to so many places in Ilocos! If you want to know where we went, what we did or where we ate, check out my blog, Getting to know Ilocos in 3 Days.