Sending our Teen to High School at Abot Tala Self-Directed Centre
We're at a crossroads with our eldest son Pablo's education. On one hand, we had acknowledged his interests and educated him using unconventional methods; on another, we live in the Philippines where accreditation hover ever so heavily above you.
To give you a brief recap on our homeschooling, we had been on an independent, interest-led homeschooling journey for many years, so when we decided to go back into the system, our children were only allowed to enrol at the grade level next to their last DepEd-accredited levels  This poses a great challenge for our family, especially if we want to keep the option of them going to local universities in the future open.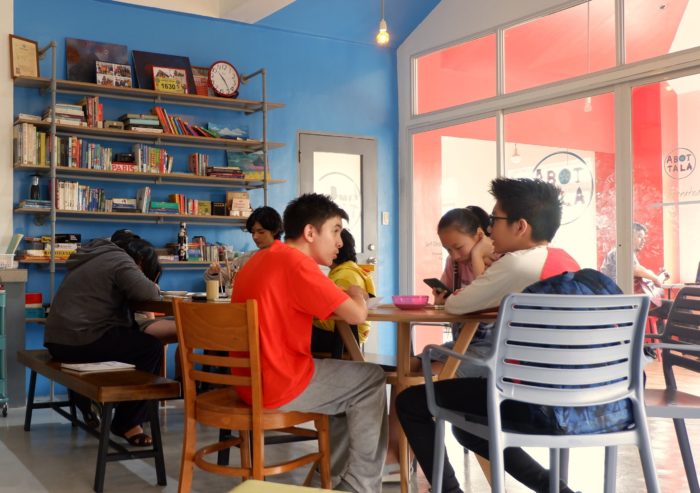 Currently, they are working on their PACES under the Philippine Christian School of Tomorrow (SOT) umbrella.
While the two younger kids are having a ball and from the looks of it, will be able to catch up to their right grade levels much easily, our teenager, is struggling on completing all the modules – 4 grade levels worth of work – to get back to his level.
And it's not really the difficulty because we have covered the basics in English, Math and well, they read and research a lot on Science, but the bulk of the modules that he has to complete that bogs him down.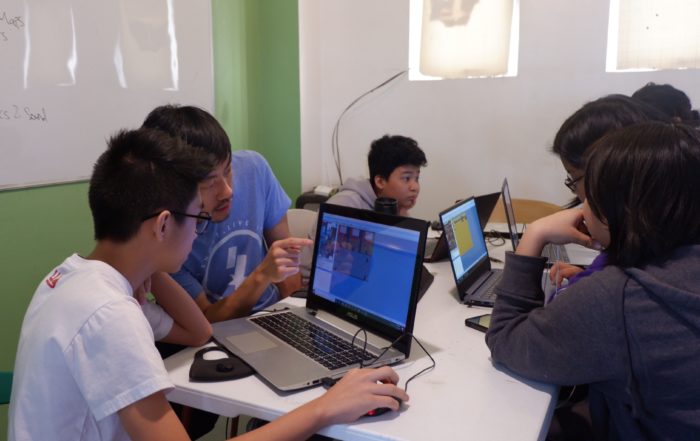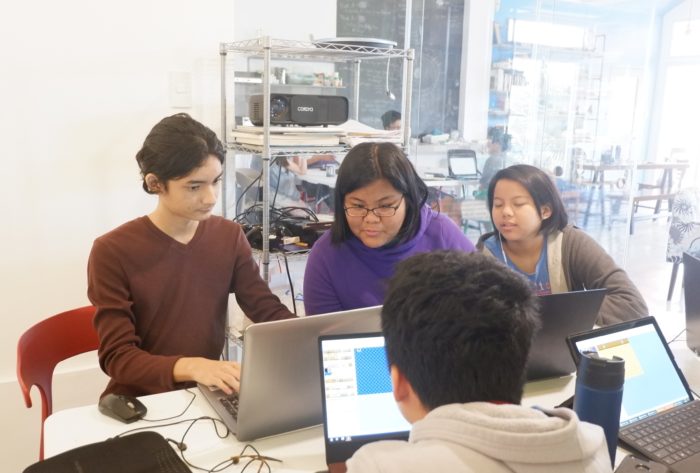 Unconventional, not rebellious
I just want to make it clear that my son is not being rebellious or prideful about it all and insisting we do it his way, as someone insinuated once when she heard our son's plight. He has been obeying us and has been working hard on his PACES even though it's killing him.
However, while we're thankful that he continues to honour us in this way, because he is now a teenager, I believe that it's only right and fair that we should consider how he feels about all of this.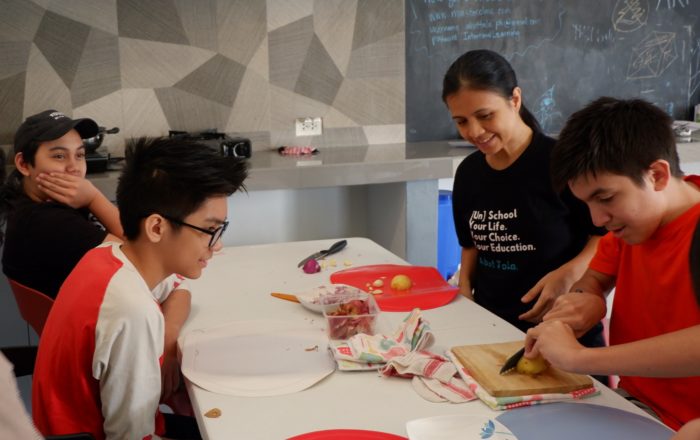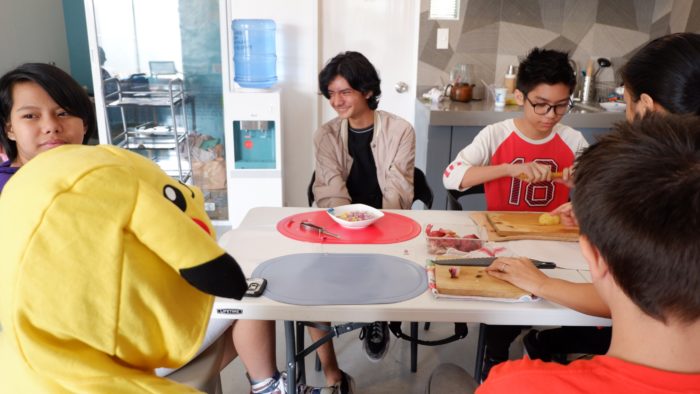 So, we had been looking for alternatives on how to go about with his accreditation process. Right now, we are preparing him to take the PEPT and we are also looking at an ALS program based in Makati. In fact, I plan to attend the seminar this weekend to know more about it and see if it can help us accomplish our goals.
At the moment, aside from his PACES, my son continues to work on his animation shorts, train in ballet and musical theatre, play the keyboards like some mad Anime scientist, and work on his online tutorial business.
Which is one of the reasons he is attending Entrepreneurship classes at Abot Tala Self-Directed Learning Center, under the mentorship of Abot Tala founder, Joei Villarama and guest mentors invited from the industry.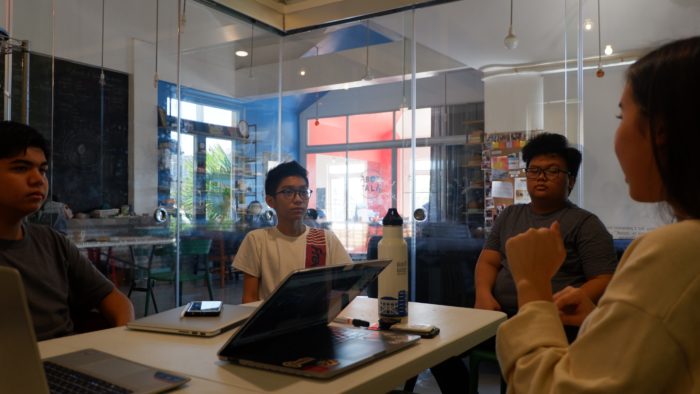 Guest mentors in Entrepreneurship class
The last time I visited Abot Tala, the guest mentor was young entrepreneur and founder of a non-profit organization, WiTech Founder, Audrey Pe, who, despite all the odds she had to face in the tech industry as a woman, started her own non-profit tech organisation at the age of 15.
More than just the technical knowledge in business, she imparted vision in using ones' passion to do social good.
One of WiTech's many accomplishment is equipping Marawi libraries with laptops to help upgrade the learning resources in their area.
They also had the opportunity to meet with Olivier Amprimo, who is a PhD and has designed and taught MBA courses at the Asian Institute of Management (AIM), and Quintin Pastrana, President of WEnergy Power Pilipinas, Inc.
My son had the privilege of discussing with them his ideas and plans for his business, which they looked through and gave him pointers for. Pablo has been spending time on his business model for weeks and discussing to us his proposed tweaks.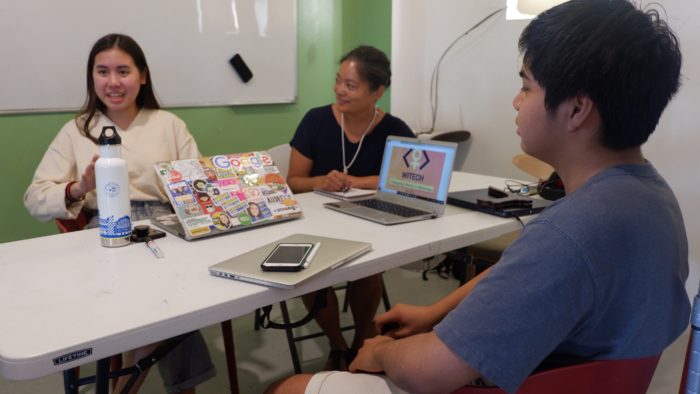 The feeding, feedback and motivation Pablo derives from the people from the industry is priceless. I'm so grateful to Joei for bringing these experts to meet and impart to these aspiring, young entrepreneurs.
And it's not just in Entrepreneurship. The mentors in other classes are all practitioners in these respective fields.
Not your average High School
In this block (January to March) at Abot Tala, Pablo is also doing Materials class where the teens are given random materials to use to create and design only with what they're given. Two weeks ago, they were handed only popsicle sticks and glue and here's what he came up with:
View this post on Instagram
He also joined the Filipino Martial Arts (Using arnis for self-defense) class with JB Nicolas and has learned the basic of Filipino Sign Language taught to them by Christina and Pauline Guanzon of EARS by Innovable Inc.  My son wants to learn to communicate this way.
View this post on Instagram

Two weeks ago, he told me that their Math Gym mentor, Ericho Fuentes, had introduced to them some Algebraic equations which  got him pumped. "It was so much fun!" he exclaimed, which made me laugh. I don't share the same enthusiasm for Math, but if numbers get him this high, then good for him, yeah?
Other classes my son takes at Abot Tala include RPG Maker, Acrylic Painting, DIY Food with Diane Gabriel, where they learn to make Ramen, Pasta and a lot of other good food from scratch.
He also joins the PEPT Review class.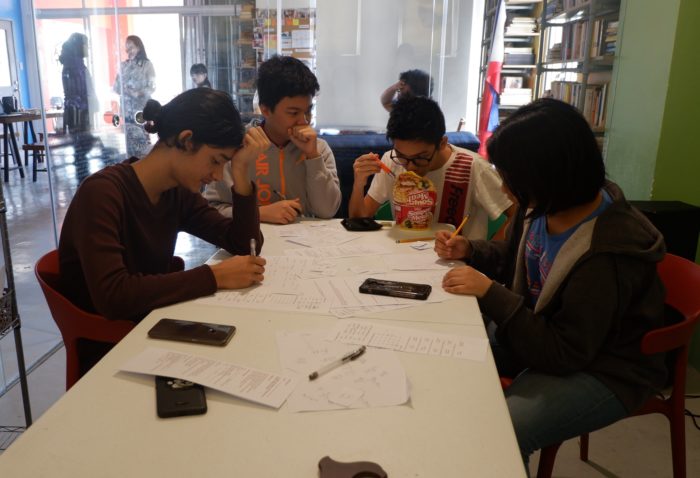 At his last block Pablo learned so much about Online marketing and Branding, and Photography from no less than YouTube personality, Nate Punzalan. His favorite class then was Fencing with Vier Tajonera and he also learned to play the Ukulele.
Our son only goes to Abot Tala twice a week, on other days, he still works on his PACES as he awaits for a better alternative.
This is High School for him.
View this post on Instagram
Education should be more than…..
We're at a crossroads because my husband and I believe that there's more to education than what we have gotten accustomed to. We are both unconventional learners who survived the traditional school system because we were given no other alternative.
I wanted to try out for the Philippine High School for the Arts, but didn't really get a nod from my folks on it. And when I asked if I could home study, I was told it's only for kids who can't keep up intellectually. Of course, I know now that it was a huge misinformation.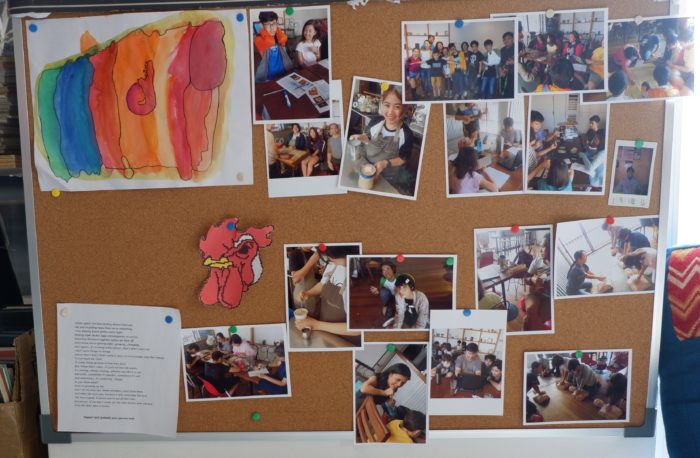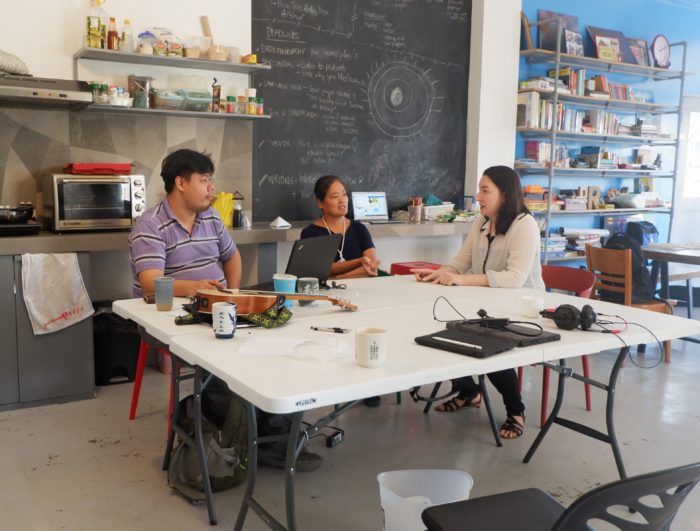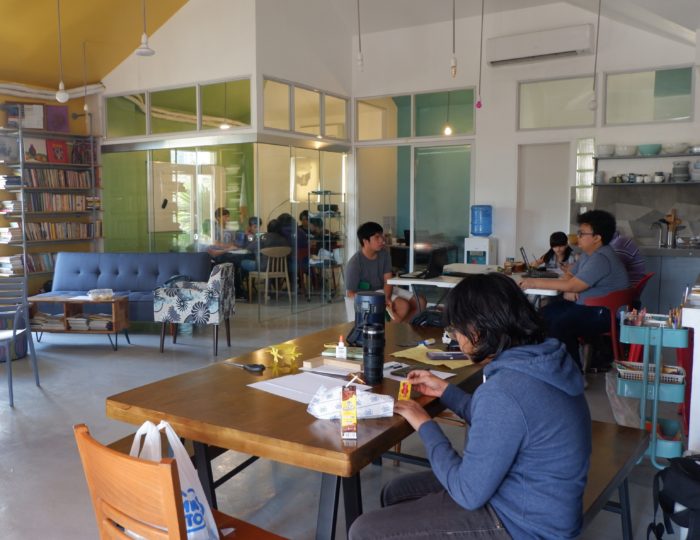 View this post on Instagram
Homeschooling should be the "out-of-the-box" alternative, but where we are, sometimes it feels like just a better way to present the same lessons and curriculum, and not much room to explore beyond what's on print.
We're not sure whether we should let go of the system altogether and dare the roads less traveled. Our son certainly has the guts to go for a non-traditional route. And I've heard of success stories firsthand, too. Times have changed.
But like I said, we're still at a crossroads. There are no final decisions yet.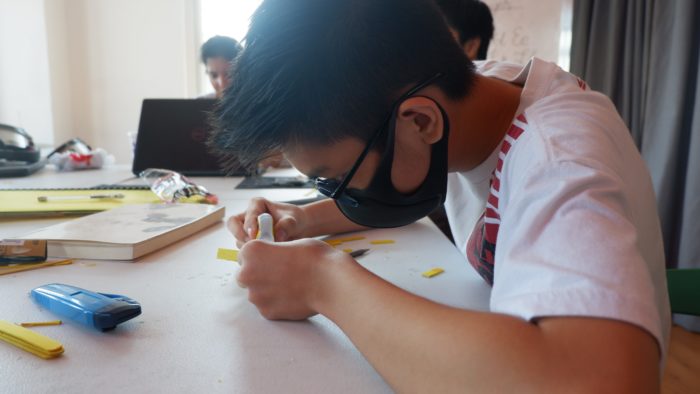 High School should serve as a springboard
At this point, we're so glad Abot Tala is around. What I love about the place is that it's open for all types of learners and personalities and provides the teens an avenue to embrace their own uniqueness, and use their strengths to pursue their dreams.
You should see how diverse these kids are and yet they have learned to laugh together, collaborate together, support one another's endeavours and celebrate each other's accomplishments.
View this post on Instagram

When I was there, I saw how some of the other teens willingly read for the characters of one of their classmates' original works, so that EJ, the aspiring Sci-Fi writer who publishes his stories on WattPad, can visualize what he had written. It was such a beautiful sight to behold.
In many traditional High Schools, dreamers are made fun of. Here, they thrive! They see that their ideas can be possibilities, if they will do their part and work on them as they should.
They also love learning together, isn't that something?
Learners shouldn't be forced to survive High School, High School should be a place to learn how to spread their wings and take flight!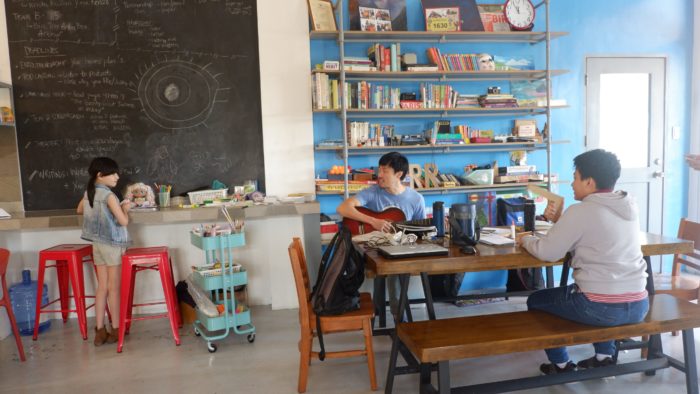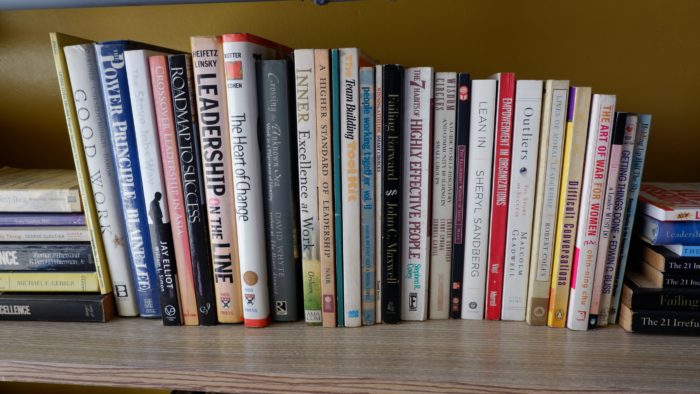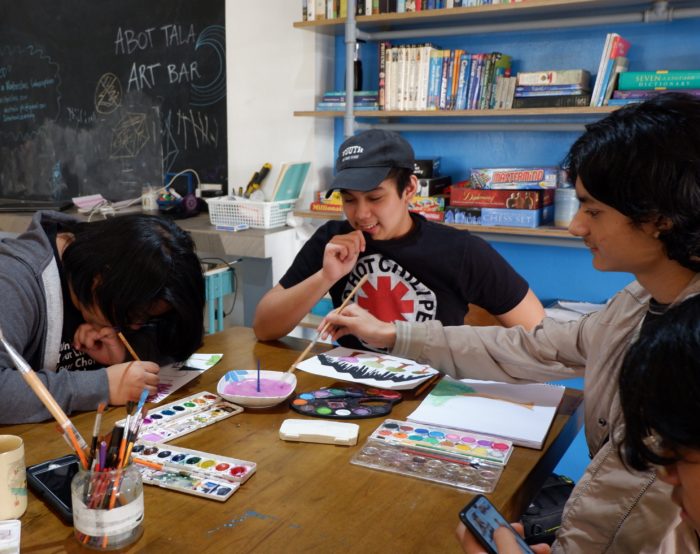 I can go on and on about this, but I'll leave it at that for now. Just so you know, Abot Tala also offers the following classes:
Biography Study Class with Owie dela Cruz
Theatre with Joyce Buen
Historya with Justin Ancheta
Digital Citizen (DigiZen) with Paula Panganiban
Sewing and Prop Making with Stuart Dee Yang
Organic Chemistry with Ericho Fuentes
Creative Writing & Literature with Christina Guanzon
Podcasting 101 with Gabe Gabriel
Penmanship, Lettering & Doodling with Ginger de Guia
Game Show Hour
Safe & Sound Support Group with Paul & Julie Rohrer
Relationships & Adulting Class with Owie dela Cruz & guest mentors
There are new classes offered for each block, but some of the teen's favorites, like Math Gym, Historya and Art Class with Nino Hernandez are consistently in the lineup.
View this post on Instagram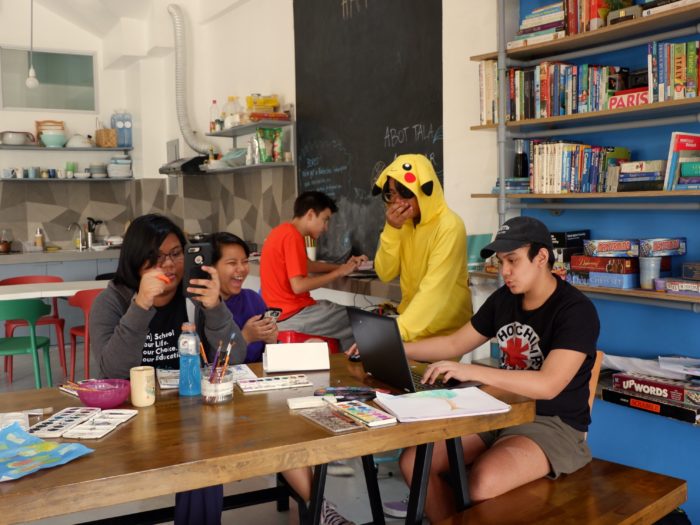 Please watch this interview with Joei & Owie to understand more about Abot Tala Self-Directed Centre:
Abot Tala is open to those who would like to impact a teen's life through Abot Tala sponsorship. If you feel the burden to sponsor gifted teenagers so they can go to Abot Tala, or support Abot Tala's advocacy, call the same number below.
Abot Tala Self-Directed Learning Centre
Official Website: https://abottala.com/
Abot Tala on Facebook: https://www.facebook.com/AbotTalaPH/
Abot Tala on Instagram: https://www.instagram.com/abottala/
Update: Abot Tala continues to run with a new set of staff and board members. Former AT Directress, Owie, is still very much part of the board and the community. The new AT Director is Tina Rodriguez.