Money 4 Life: The poverty mentality
The Poverty Mentality is an attitude wherein the focus of a person is on what he does not have rather than on what he has.
The second session of Money 4 Life workshop I attended at Brighter Life Institute last July 16 was actually entitled "Planning and Managing Expenses," but the point I most remember that day was financial expert Aya Laraya's statement that we should not equate investment with deprivation.
That made me ask myself if our financial decisions lately had, in effect, deprived our children. So far we're still okay, but we're threading thin lines.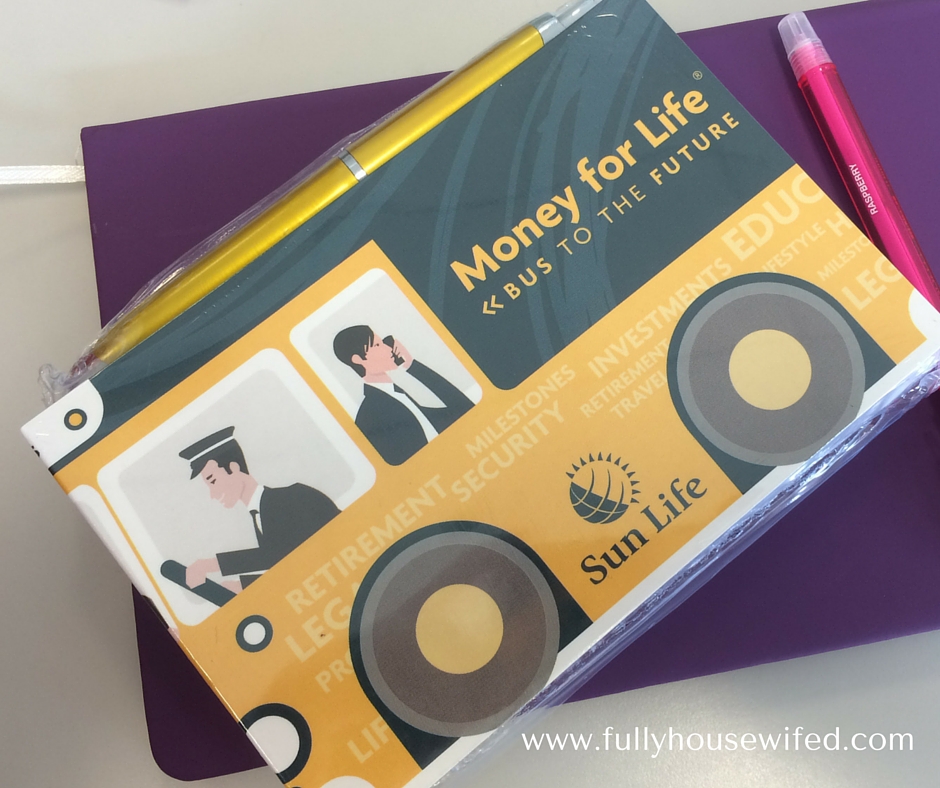 But isn't that a common notion? That sacrifices have to be made in order to achieve bigger goals? It is what it is, especially for the lower middle class, but it doesn't have to be that way all the time. Some successes in life are achieved without too much drama.
One of the things I like about Aya is that he teaches, not only the process, but he also tries to break wrong mindsets about finances. For this one, it's the poverty mentality.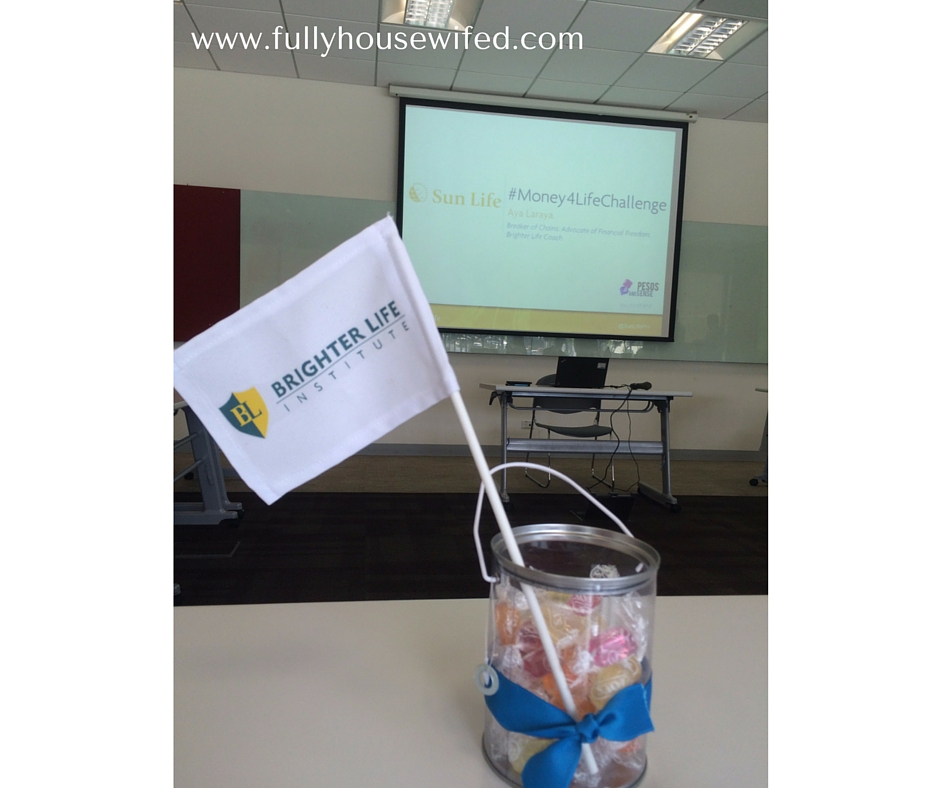 Let me now share with you the 7 principles on planning and managing expenses that I've learned from him at session 2:
1. Track your expenses 
Jay and I have jotted down our expenses using the Brighter Life Institute online forms, but Aya Laraya pointed out that we should make use of technology already available for accomplishing such things. So I downloaded the app he recommended — Wally, then started inputting our cash inflow and expenses.
Here's a peek at what we spent on the past few days: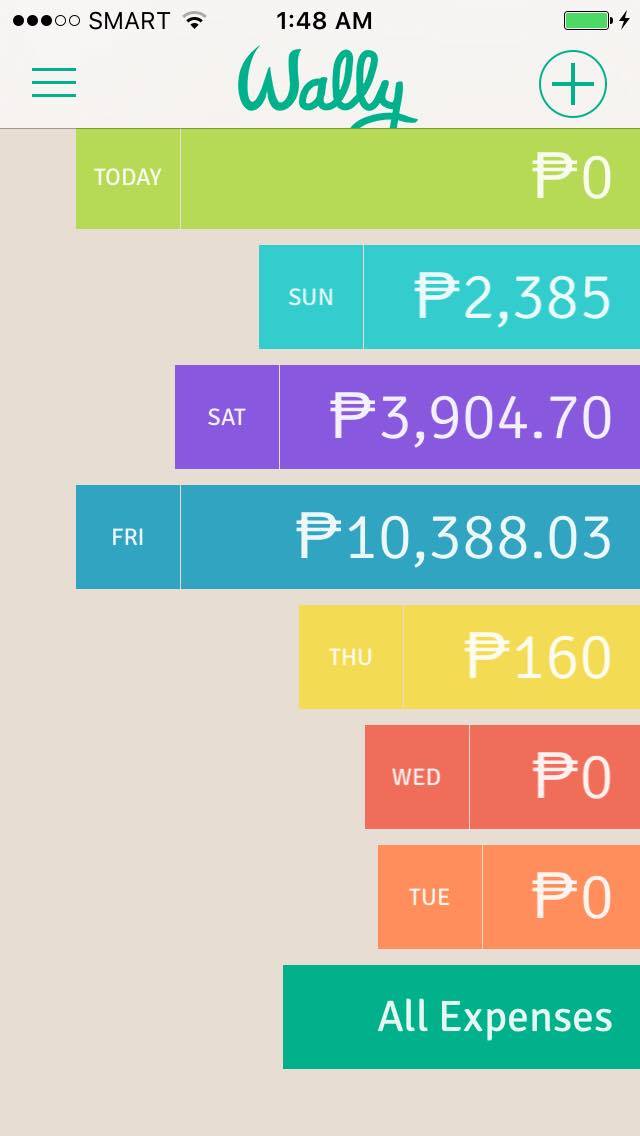 In case you're curious, the highest expense reflected there is for the kids' education. Yes, we homeschool but that doesn't go without expenses. Good education, in any form, does not come cheap.
Anyway, for me, the value of keeping record of your finances is that you can see if you are using your money as responsibly as you think you are. For example, it made us realize that the little expenses such as a tub of ice cream here, a bottled water there, hotdogs on stick here — can accumulate into one big expense and cause our budgeting to tip, if we're not careful about it.
So we agreed that we allot a budget for these so we can regulate our spending better.
2. Be transparent to your Financial Advisor
"If you don't give your financial advisor the right facts, they will resort to and advise you based on the default inflation model."
Aya Laraya  showed us the current inflation model which is not only outdated, but also inapplicable to our family.
I don't keep secrets from Che Gernandizo, our financial advisor, not on our finances anyway, but this made me realize that I haven't really given her all the facts that she needed to know to advise me better. So we chatted on Facebook and she agreed to come and see me so we can talk about what we want to achieve 2.O!
I also sent her a copy of our list of monthly expenses and a list of our financial goals prior to our meeting so she can look them over and prepare for it.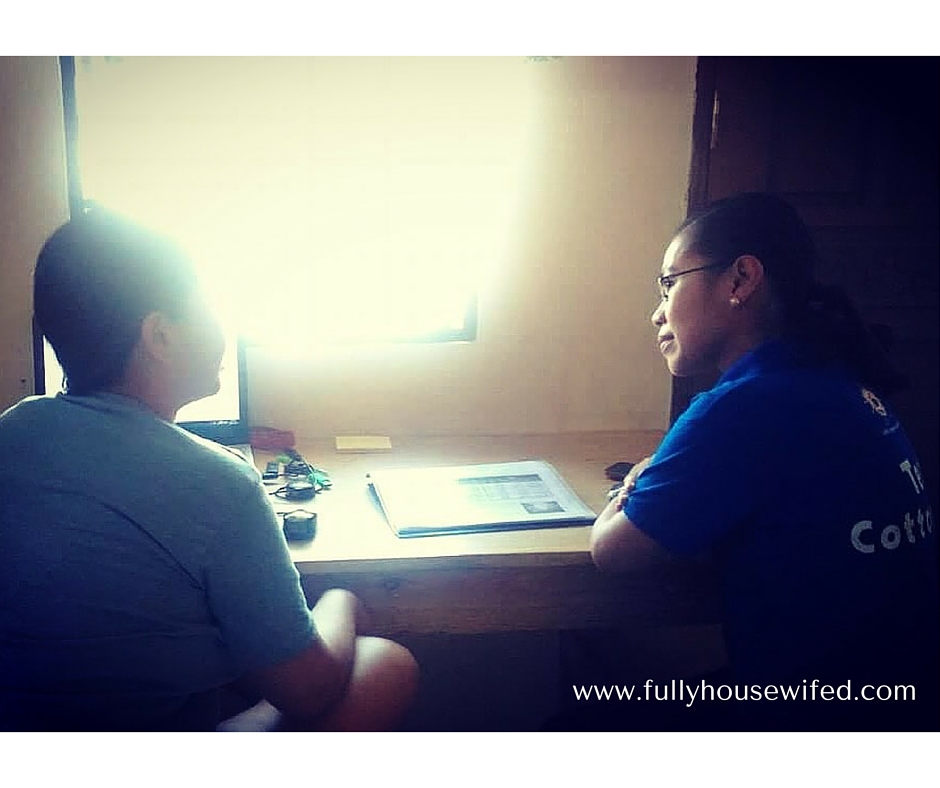 Che was able to give me an estimation of how much we need to invest to achieve our 3-year goal. If we deposit a minimum of Php 3,000 a month in a bond fund, we have a better shot at raising the amount we need to fulfill our promise to our kids to take them to Legoland Malaysia, and maybe even go to Universal Studios in Singapore.
Why bond fund? Che explains that when you're investing for short term, you need to protect your capital and not take too much risks because you know you'll be using the funds soon. Bond funds fall under low risk investments.
3. Live your life
"When do you plan to live your life? When you're old?" 
It sounded so funny when Aya said it but think about it…when do you plan to do it? The best time to explore and do the things that you want in life is when you still have the strength and energy to do it.
We also need to think about lost opportunities with our children if we don't start now. Jay and I want to do a lot of things with our children – mostly take them to see the world. We want to make lasting memories with them. We want them to see many exciting places and give them opportunities to witness and explore different cultures.
Who was it that said, "a vision without action is merely a dream?" So we decided to start investing on that dream.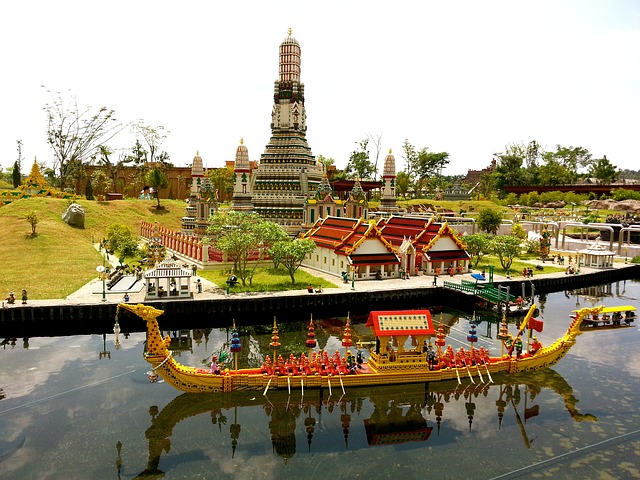 4. Going for short-term goals can be a step towards long term goals
I was confused with this one at first since I thought that going for long term goals is the only way to go. But Aya counted "fixation on long term goals" as one of the mistakes investors make.
Aya said that many who are too fixated on long term goals end up failing at it. So do short-term goals first, then work from there.
We already started a mutual fund for our retirement and setting up mutual funds for each of our kids is already in the list of the goals we've discussed with Che. However, we're also starting a bond fund for a short-term goal – our Legoland Malaysia family trip.
Instead of starting a new fund, we will be depositing in our current mutual fund account, but indicating that we're putting the amount on a bond fund, instead of our retirement's equity fund.
(READ: How to deposit via Sun Link Online)
5. Put a price on your goal
Most often than not, our family is pretty low-maintenance. But much as DIY travels sound so exciting, when you have three young children with you in a foreign place, there are certain conditions that need to be considered.
For example, I don't mind sleeping in a transient house in Singapore, but there must be certain standards set on the type of transient house we will stay at. How big is our room? What's included in the facility? What's the location? Is it kid-friendly?
I also don't want to share a room with other travelers. It took me months before I got used to sharing my bed with  my husband, I am not going to sleep in the company of strangers. End of discussion.
It took the three of us two hours, I think, discussing what we would need — from accommodations, plane tickets, food and travel allowance before we agreed on the amount we would need for the trip.
When you have specific guidelines to follow, it's best to have the cash for it. We set the initial goal at Php 100,000 in three years which is achievable for us.
I realize that we can save Php 108,000 even without putting the money in mutual funds and just by religiously saving Php 3,000 a month, but we have better chances of our money growing if we put it in MF instead of depositing it in a bank.
At Che's calculation, our investment may grow to Php 116, 000 at 4% annual rate of return, and around Php 180,000 if it does exceptionally well at 20% annual rate of return. What are the chances of our investment getting a 20% annual rate? I don't really know, but Sun Life Financial is a strong and stable company with good heads behind it, so who knows?
By the way, Che based the minimum amount of investment we should do on our financial data.
(READ: Money Matters: Of Educational Plans and Mutual Funds)
6. Choose an investment package that will meet your goal
Being specific in what you want to achieve is important when you discuss investments with a financial advisor. There are many great investment packages available, but the real question, according to Aya, is will your money do what you want it to do?
You may be investing in many things but if they will not meet your goals or your needs, then there's no point in investing in them.
There is also your capability to pay that needs to be considered. If you're younger and have no financial obligations like kids to send to school,or if your other investments are already earning, maybe you can afford to go for higher risk investments.
But if you're a middle-aged family man who's just starting out, maybe you should first look into lower risk investments because you have to consider your family who will suffer with you should you end up losing your investment.
Che considered our cash inflow and outflow before presenting to us a package she felt was best for us. We don't need to deduct it from the money we allot for our food budget or bills or from the kids' education costs, not even on the money we use for our family activities or for miscellaneous expenses.  Apparently, based on our bills and budget lists, we can afford to invest more.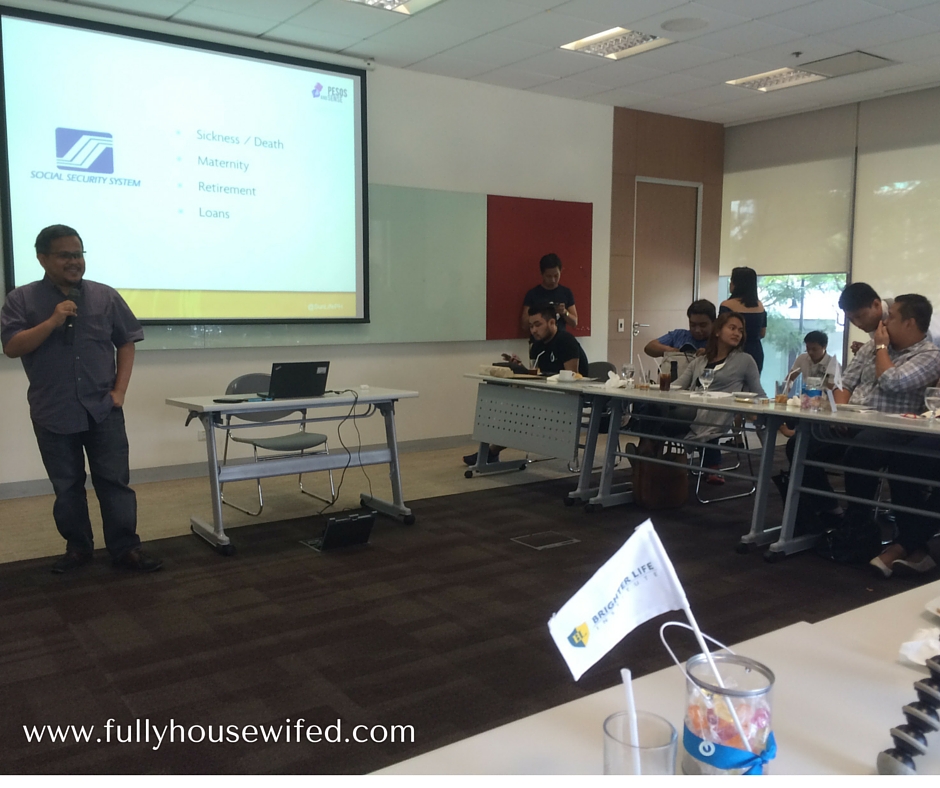 7. Know your numbers
Aya Laraya challenges us to know our numbers. He said that he was able to easily adjust his finances when he got married because he knows his numbers. He reminded us that seasons in our lives change, we need to be on top of our finances so that we can apply changes and adjust accordingly.
Aya says we shouldn't deprive ourselves in the name of investment. He said that we should invest what we can and still enjoy our lives. He even said that if our investments earn, it's okay to take 30% of it and use it to enjoy with families and friends. What he's getting at, if I am right, is that we shouldn't fall victims to greed.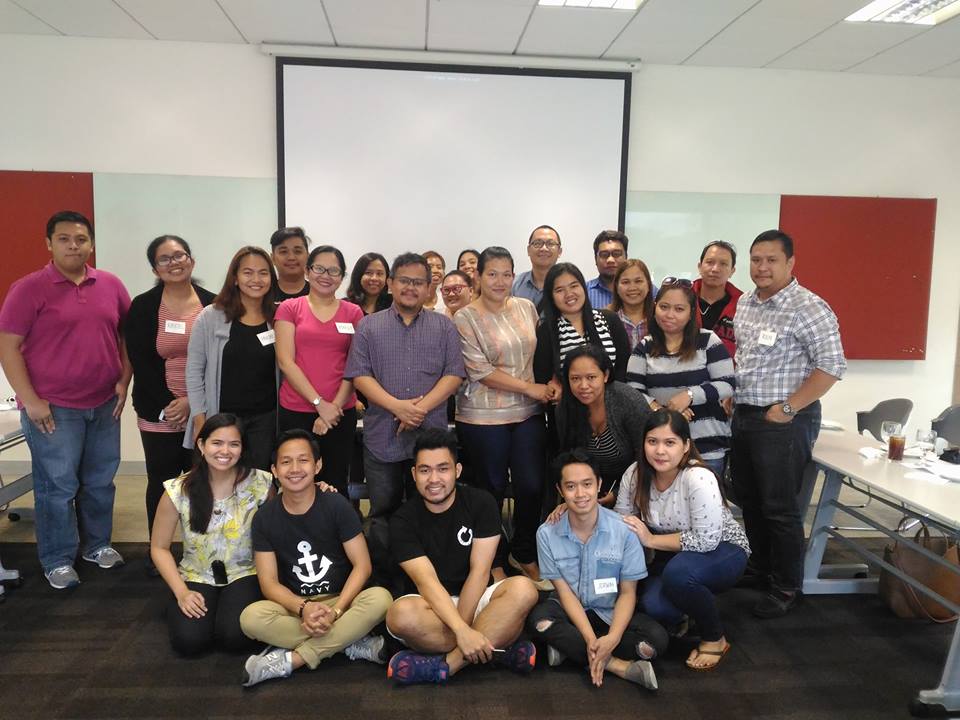 This is what we're doing right now. We're writing down our monthly payables, tracking our daily expenses, listing down our financial goals, arranging our priorities, striving to faithfully deposit into our investment account and trying to live a full life while at it.
I wonder what new things I will learn on our next Money 4 Life workshop. Can't wait!