I was not able to attend the recent launch of Ajinomoto's Sarsaya Oyster sauce a couple of weeks ago, but I was lucky enough to still receive a sample of it, along with a few recipes to try it with such as Ginisang Kangkong (water spinach) with Tofu.
One of my childhood favorites is my mom's Ginisang kangkong in Oyster sauce, but that one doesn't have Tofu, so I was really curious about this recipe.
Anyway, I followed the recipe and came up with this delicious dish.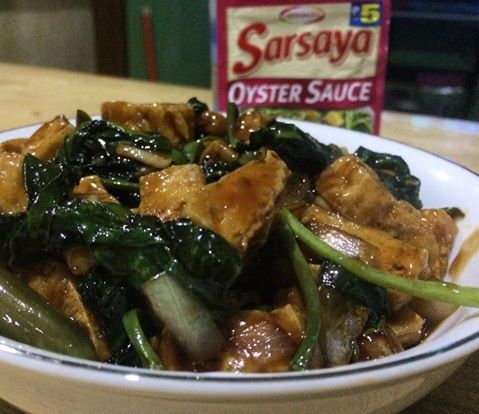 It was Chef Mac who demonstrated how to cook this, as well as the Thai stir-fried chicken, at the launch. Then I heard that two of my fellow mom bloggers were challenged to create dishes using Sarsaya. Ang saya! right? That's the part of the program that I wish I witnessed.
Here's the recipe, by the way:
Ginisarsayang Kangkong with Tokwa
Ingredients:
1 C cooking oil
1 square Tofu, cubed
2 cloves of Garlic, thinly sliced
1/2 small sized Onion, thinly sliced
200 grams Kangkong (Water Spinach), separate the leaves from the stalks
30 grams pack of SARSAYA Oyster Sauce
To cook:
1. Fry Tokwa until slightly brown. Set aside.
2. Saute Garlic and Onion on the same pan.
3. Add Kangkong stalks and stir-fry for about 30 seconds. Put Kangkong leaves and fried Tokwa. Continue stir-frying.
4. Add SARSAYA Oyster sauce. Mix and stir-fry for one minute. Serve hot.
Then, I remembered that the burger recipe I have learned recently from my friend, Rea Azuelo, includes Oyster sauce in its list of ingredients. So I decided to try the Sarsaya brand on it.
The result? We had a great burger lunch that day, hah!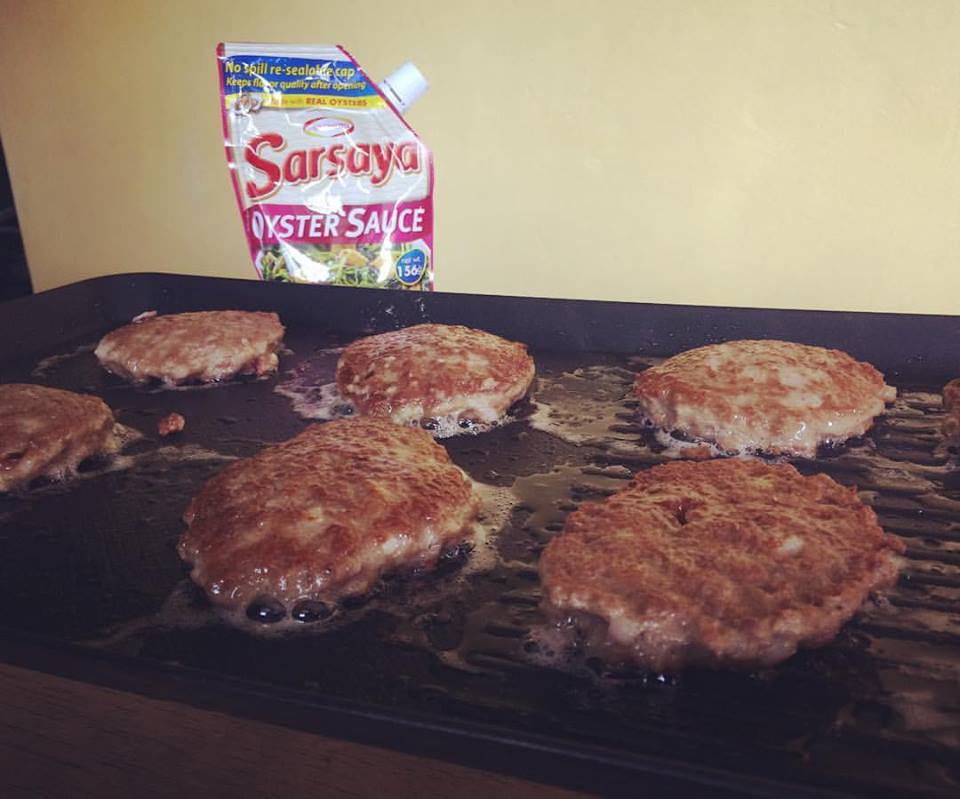 The funny thing about these burgers is that Jay and I have been wanting to learn to make burgers for years, but never really understood the recipes we found back then. Then one day, we came home to burgers that Rea made for our kids while we were away. Rea is one of our trusted friends we leave our children with.
Anyway, it tasted really good so I immediately asked Rea for the recipe. She told me to mix the following ingredients together:
Rea's Burgers
Ingredients:
Onions, minced
Garlic, minced
Black pepper
Oyster Sauce (I used Sarsaya for this one)
Salt
Egg
Flour
Cornstarch
Ground beef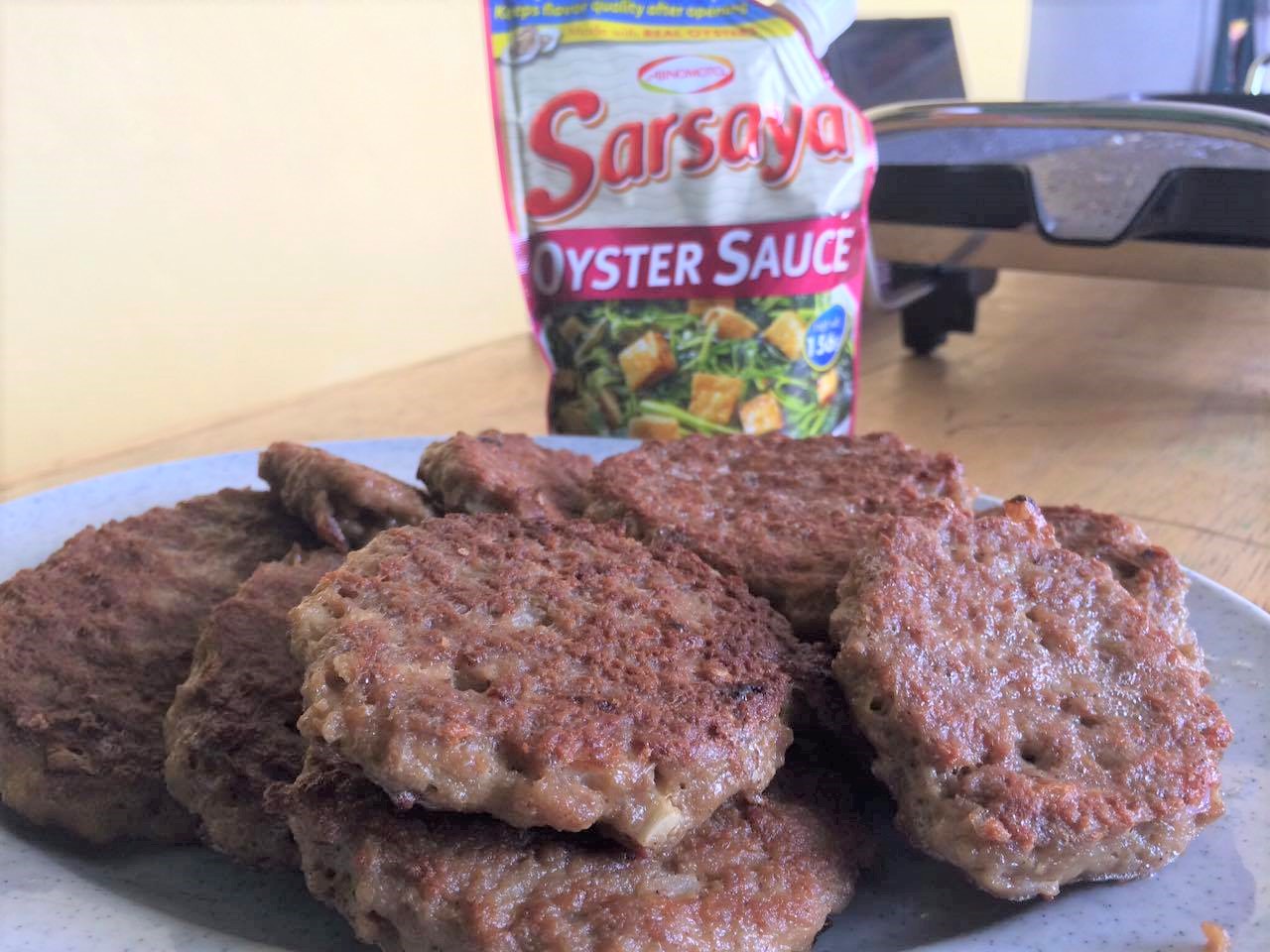 You may have noticed that I didn't put any proportions. That's because, according to Rea, she just hocus-pocused in my kitchen and came up with great burgers. Some people are kitchen goddesses at birth, I guess.
1. So, what I did was, for 1 Kg of ground beef, I added 1 medium onion, 3 cloves of garlic, half a teaspoon of pepper (you can put more if you like it a bit more spicy), a small pack of Sarsaya Oyster sauce, a dash or so of salt, 2 eggs, two spoon heaps of flour and 1 spoon heaps of Cornstarch.
Please note that you can adjust your ingredients to your taste, or to your knowledge (if you already know how to make burgers, you can adjust the proportions).
2. After mixing, cover your bowl with cling wrap and put it in the refrigerator to cool for at least an hour.
3. After an hour, take the mixture out of the refrigerator, and make into balls.
4. Heat your pan or your grill, then put the mixture balls in when your pan is hot. Add oil, of course, if you're frying your burgers.
5. Flatten your burgers with your spatula and turn your burgers once the other side is cooked.
That's it!
Coco Martin gives SARSAYA a thumbs up!
Coco Martin, one of the biggest stars of ABS CBN Network, is the official endorser of SARSAYA. He has a degree in Hotel & Restaurant Management and has a good idea of what good food is made of.  And he says that the taste of SARSAYA Oyster sauce is authentic.
SARSAYA Oyster sauce is made from real Oysters complete with seasonings to suit Filipino taste and preference in food. It is available in 30 grams pack and 156 grams stand-up pouch.
Ajinomoto also offers SARSAYA Sweet n Sour sauce. a delicious blend of pineapple and tomato sauce, that comes in 200 grams stand-up pouch.
For more recipes, visit:
Ajinomoto official website: http://www.ajinomoto.com.ph/
Ajinomoto on Facebook: www.facebook.com/AjinomotoTaste
—————————————————————————————
Disclaimer: I was provided with SARSAYA Oyster sauce to review, but all opinions in this blog is mine.