History Homeschooling at Intramuros
I've never explored Intramuros in all my life, considering that I have been at this historical structure several times.My husband and I even held a gig at one of the restaurants for a couple of months and I sang at a wedding at The Manila Cathedral!
I think it was my lack of interest in Philippine history in my youth that made me pass up on the opportunity to see the place and learn more about it. Thank God for homeschooling! It's what sparked something in me to find out the story behind these walls.
It turned out to be a rather emotional journey for me to discover what this fortress actually stands for.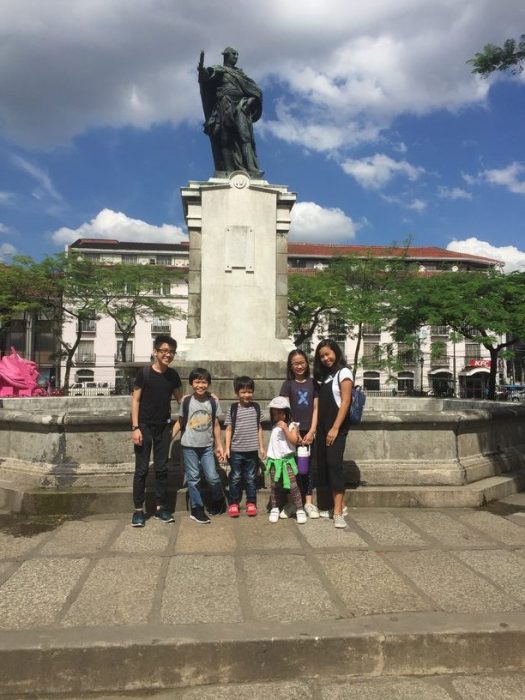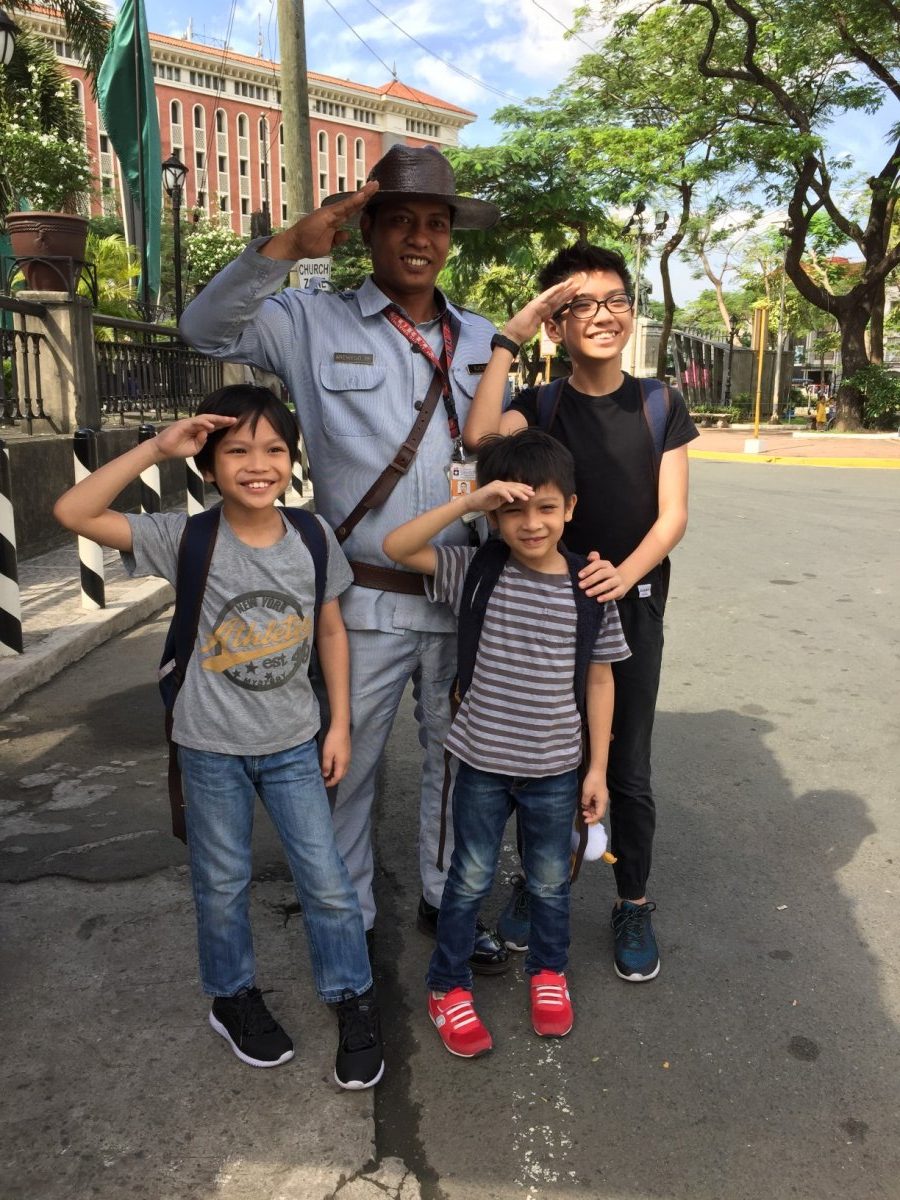 Less historical neighborhood
Intramuros has changed in a lot of ways. There are now more modern structures that cover most of the city's ruins and historical buildings that were once home to our conquistadores.
Trivia #1: Did you know that our Spanish conquerors enslaved our people to build this fort for the main purpose of keeping us and the Chinese traders out?
It was quite a shock for me to see a life-sized representation of it at the Lights and Sounds Museum and realizing how similar it was to how the Egyptians treated the Israelites during the time of Moses!
According to the narration, it was a time when the Filipinos were losing confidence in themselves. I felt that!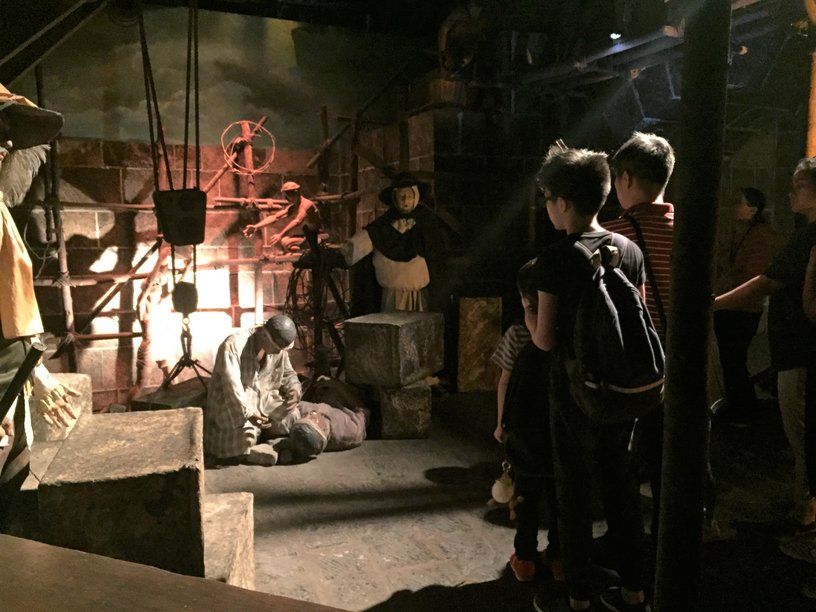 I'm glad that some of the most important structures were preserved and retained. For example, the Beaterio which one of our less familiar heroes started – Mother Ignacia.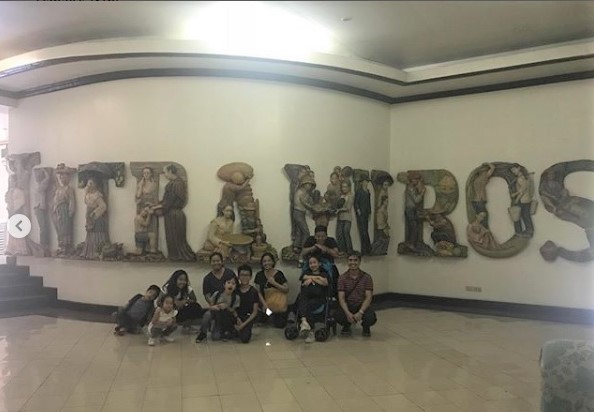 Mother Ignacia's Beaterio
I knew about Mother Ignacia's story because of Bayani, an educational TV show episode about Mother Ignacia that I once participated in as an actor.  Cherry Pie Picache played Mother Ignacia.
Watch the episode here:

Mother Ignacia was a nun who refused to stay within the walls of the convent because she wanted to serve the community. Assisted by two female volunteers, she defied church superiors and her family's wishes to reach out to the poor and the needy.
Eventually, more and more Filipino women joined her cause.
The Beaterio is huge and now houses Bagumbayan Lights and Sounds show which is the site I recommend you go first before anything else.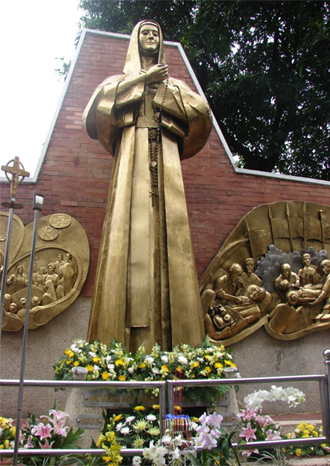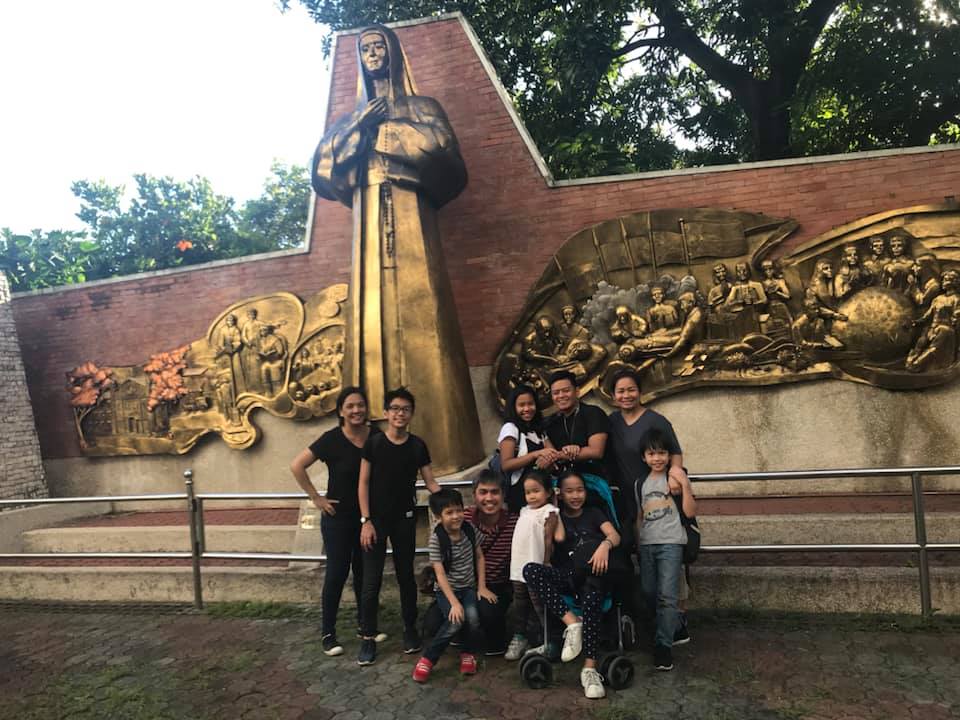 Image source: Phoebe Lucero
Bagumbayan Lights and Sounds
At Bagumbayan Lights and Sounds, you will be able to walk through Philippine history, from the time of Lapu Lapu to the declaration of independence.
It's such a great tour because it gives you a very clear picture of what it was like during those years our ancestors struggled and fought for our freedom.
And it gives you a better understanding of why Jose Rizal is deserving to be our National Hero.
Trivia #2: Did you know that Jose Rizal, as his final act of heroism, despite the bullets piercing his body at his execution, twisted around so his killers and his fellow Filipinos would see his face, hence, marking the beginning of the Filipinos rising and revolting against the cruelty of the Spaniards?
There are many other things to learn, but if you're with a bunch of kids, the narrative and the tour of each station at Bagumbayan Lights & Sounds and the video documentary at the Rizal Shrine in Fort Santiago are enough information for the day.
As my friend Phoebe puts it, the rest of the sites would just be reinforcements of these learnings.
Entrance to Bagumbayan Lights and Sounds is at a discounted price of PHP 150/head for a group of 10, kids included. Luckily, we're a family of 5 and the Luceros, who explored with us, was also a family of 5, so we were able to avail it.
There are no kiddie or student discounts on this one, but trust me, it's worth paying for.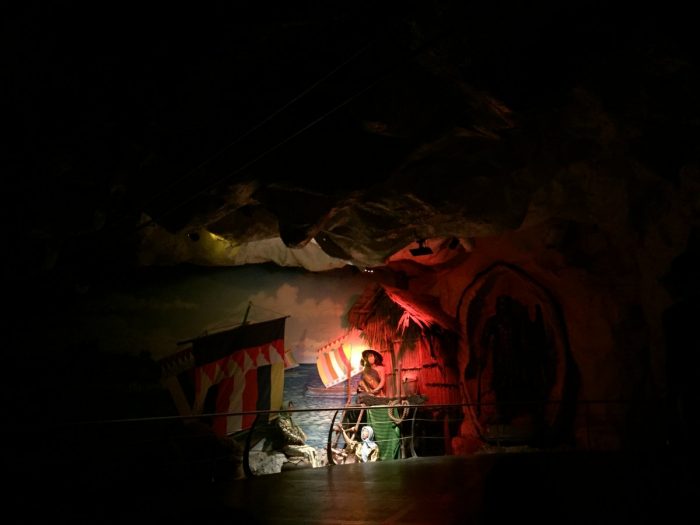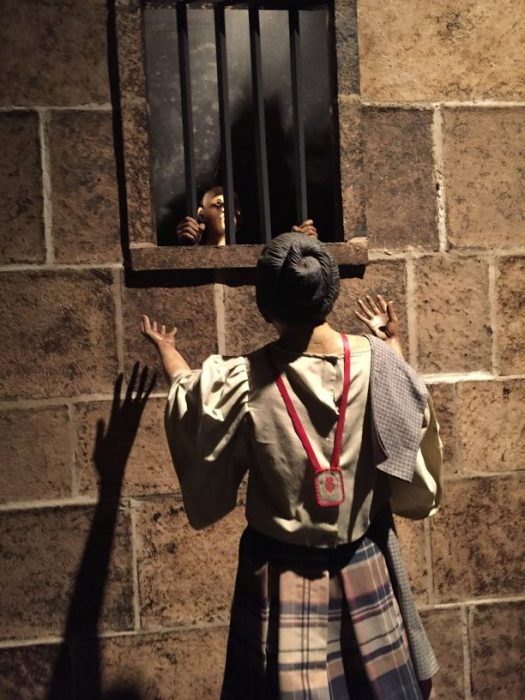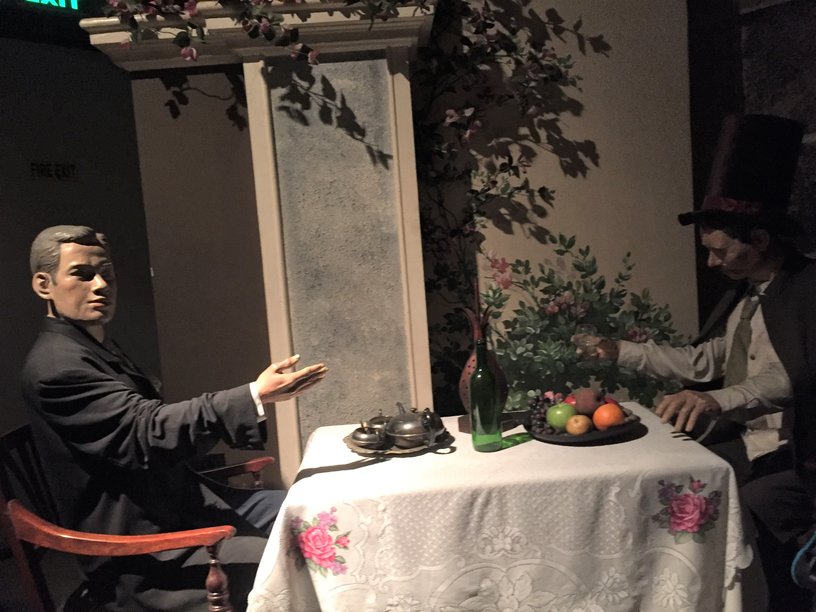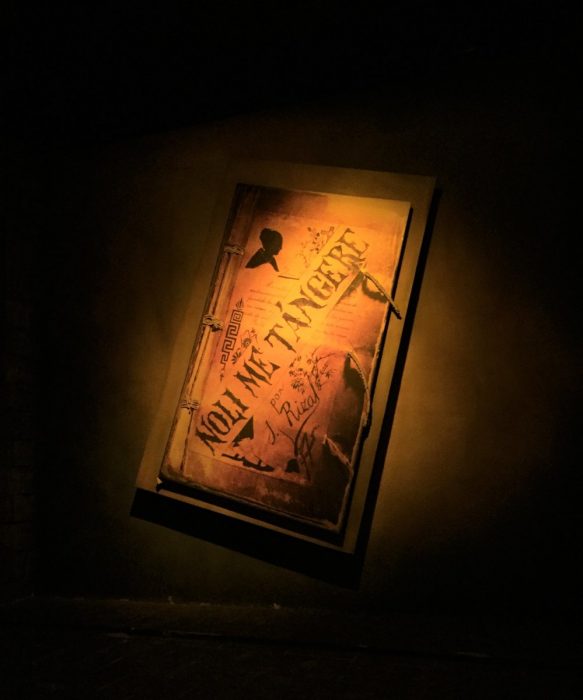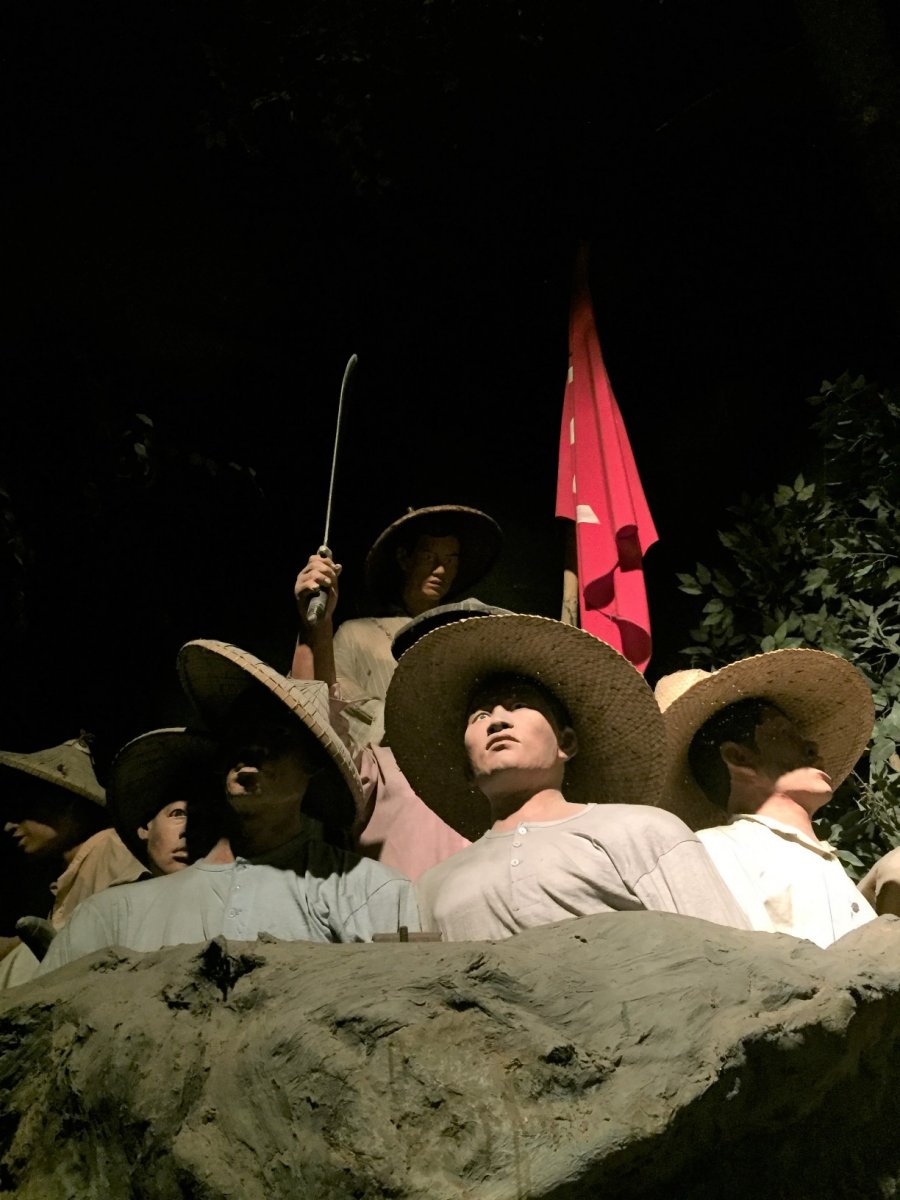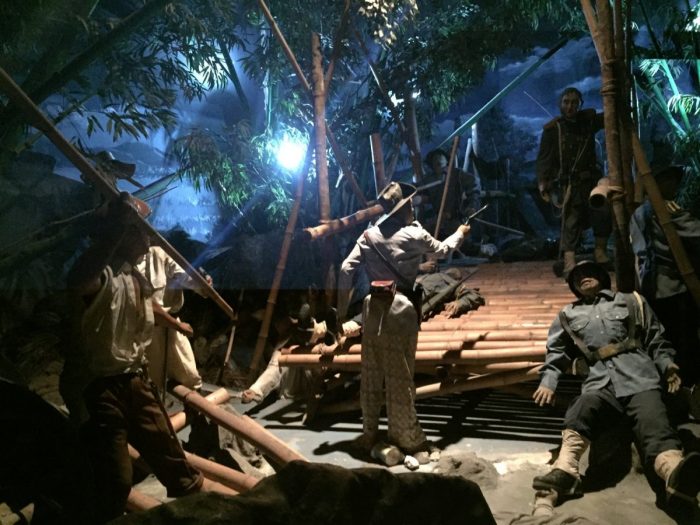 Fort Santiago
El Desvar Cafe
We spent the most time in Fort Santiago. We came before lunch and had to wait for Rizal Shrine to open at 1 PM. Not wanting to brave the heat, we opted to try El Desvar Cafe, which was just by the entrance to Fort Santiago, along the line of souvenir shops, for lunch.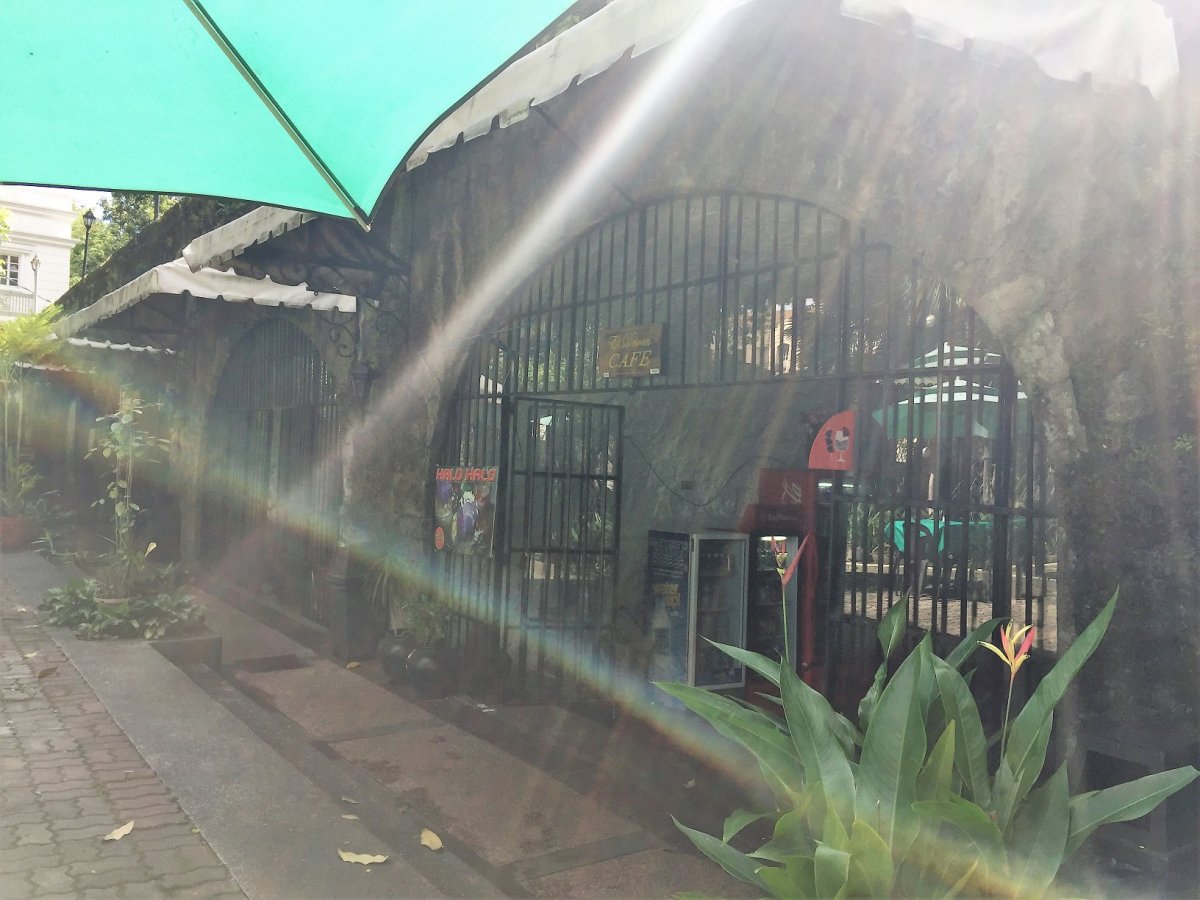 We ordered Pork and Chicken and Chopsuey meals which didn't taste bad at all.  But if you can, bring your own drinks because the drinks are quite pricey.
They serve Pancit, Chicken or Pork with Rice meals, Chopsuey, Burgers, and Halo Halo.
Fort Santiago
Fort Santiago has huge gardens where you can hang out, take photos, and behold the beauty of the place.
There you will find Rizal's jail cell which has been turned into a museum that help you relive his days in Spanish captivity and the hours before his execution.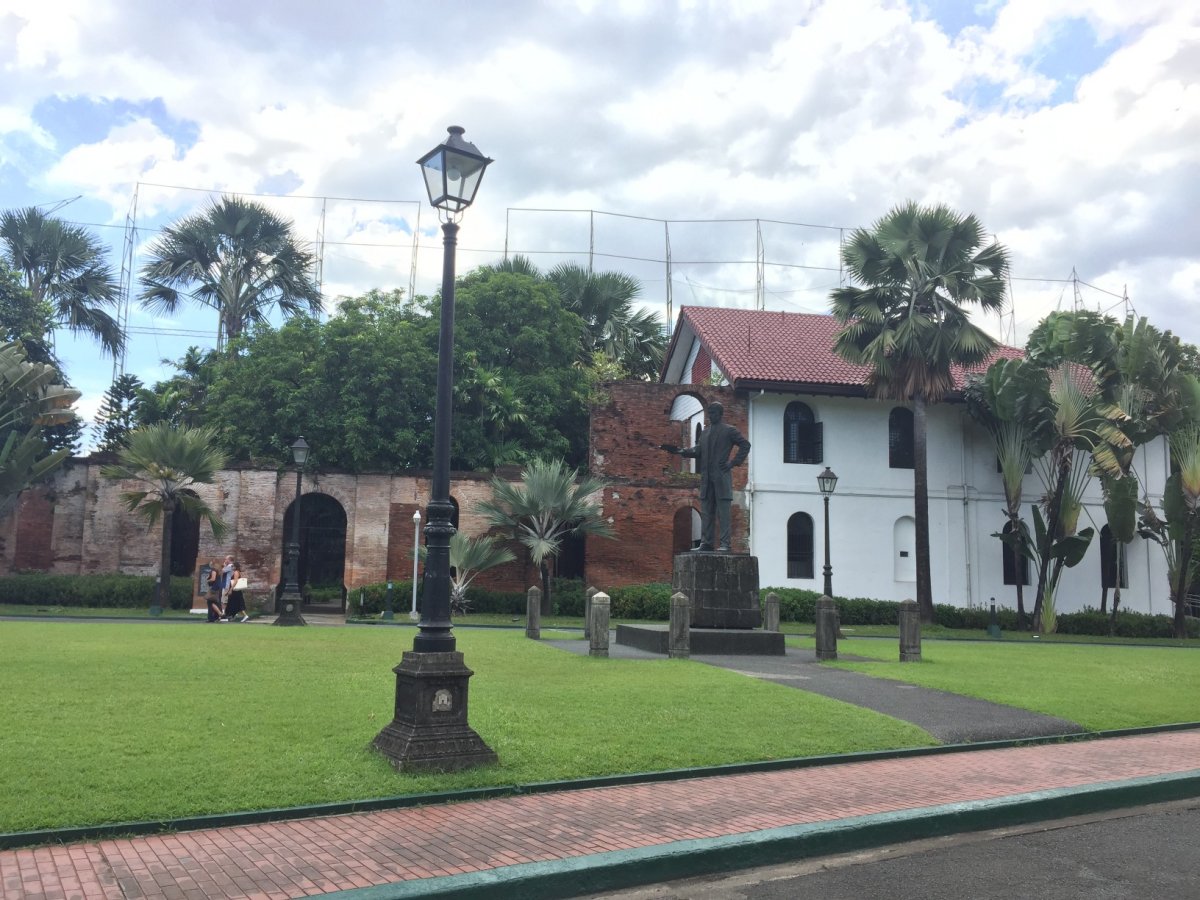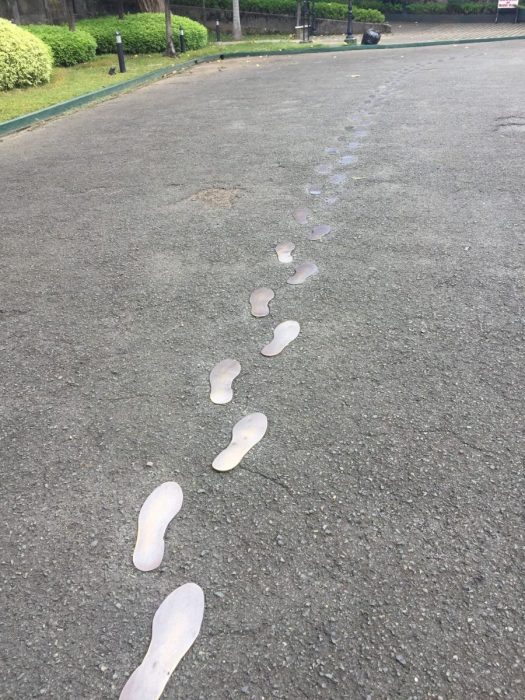 Across his shrine are the ruins of Spanish barracks that is now the Rajah Sulayman theater.  I once watched a one-woman three-part play starring Tetchie Agbayani and produced by PETA here. (Ms. Agbayani was ah-ma-zing!)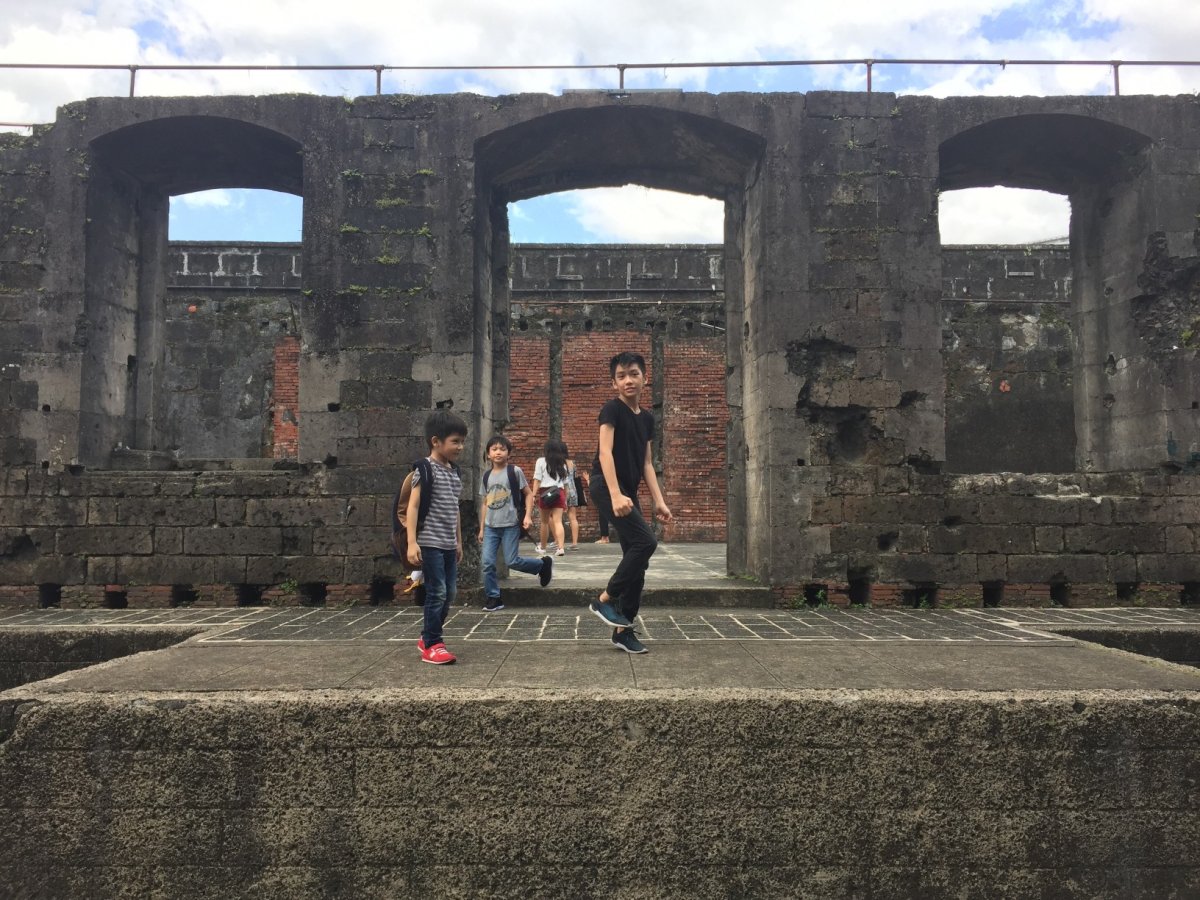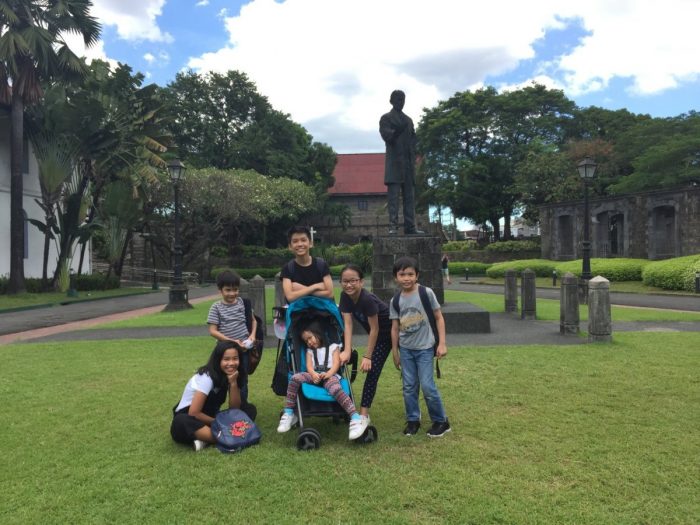 Playing while waiting

Rizal Shrine entrance

Trivia #3: Did you know that many American soldiers died in the prison cells of Fort Santiago due to starvation during the war?
You can also find iFortress in Fort Santiago. It features famous Intramuros structures such as the Manila Cathedral and the San Agustin church built with Lego.
iMake History Fortress
If you're pressed for time, it's okay to skip this part. The Baluartes (defense walls) and dungeons are much more worth exploring.
Fort Santiago was built as a defense wall against attackers coming from the ocean. It sports cannons, tunnels, dungeons, and underground passages. So nice to see!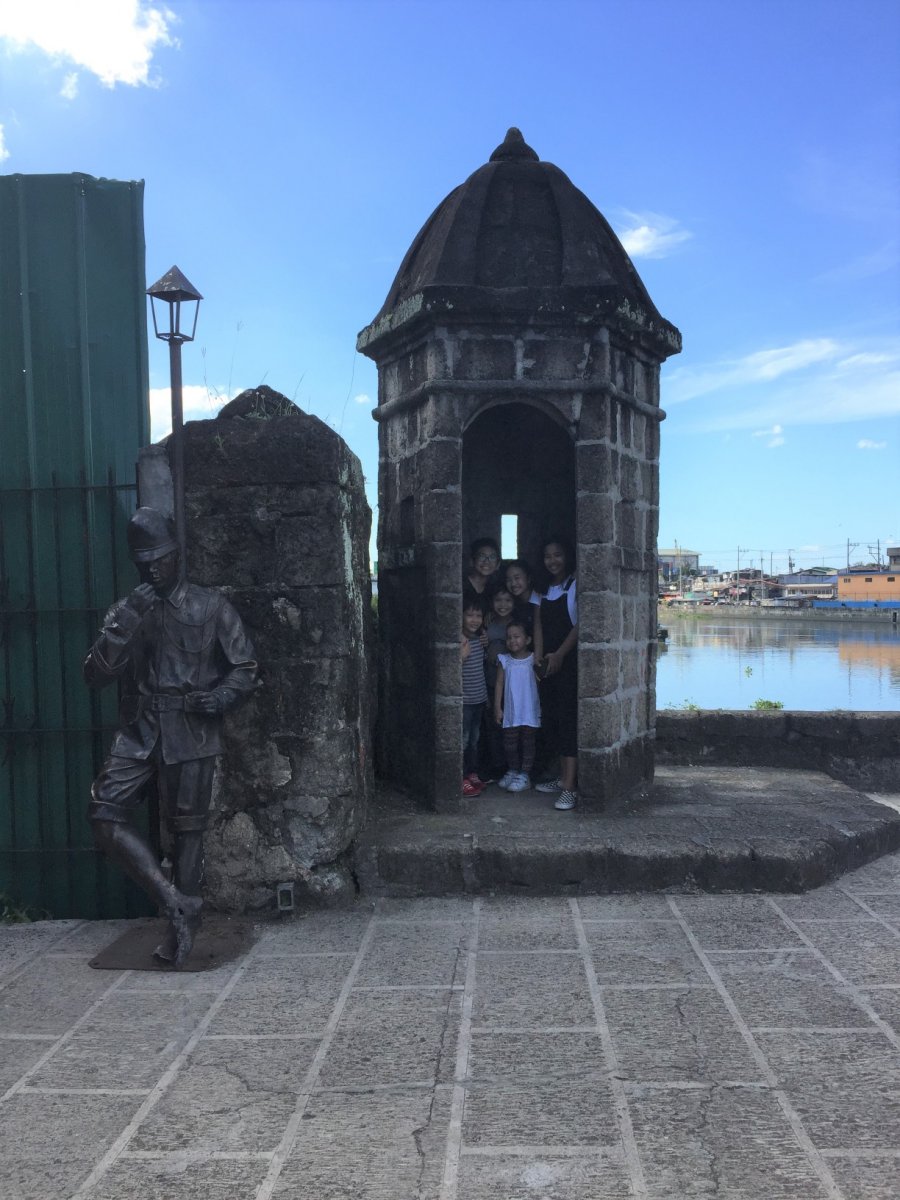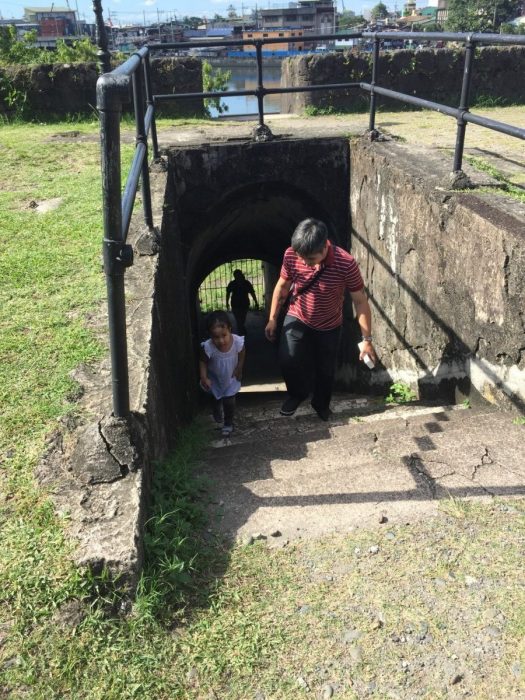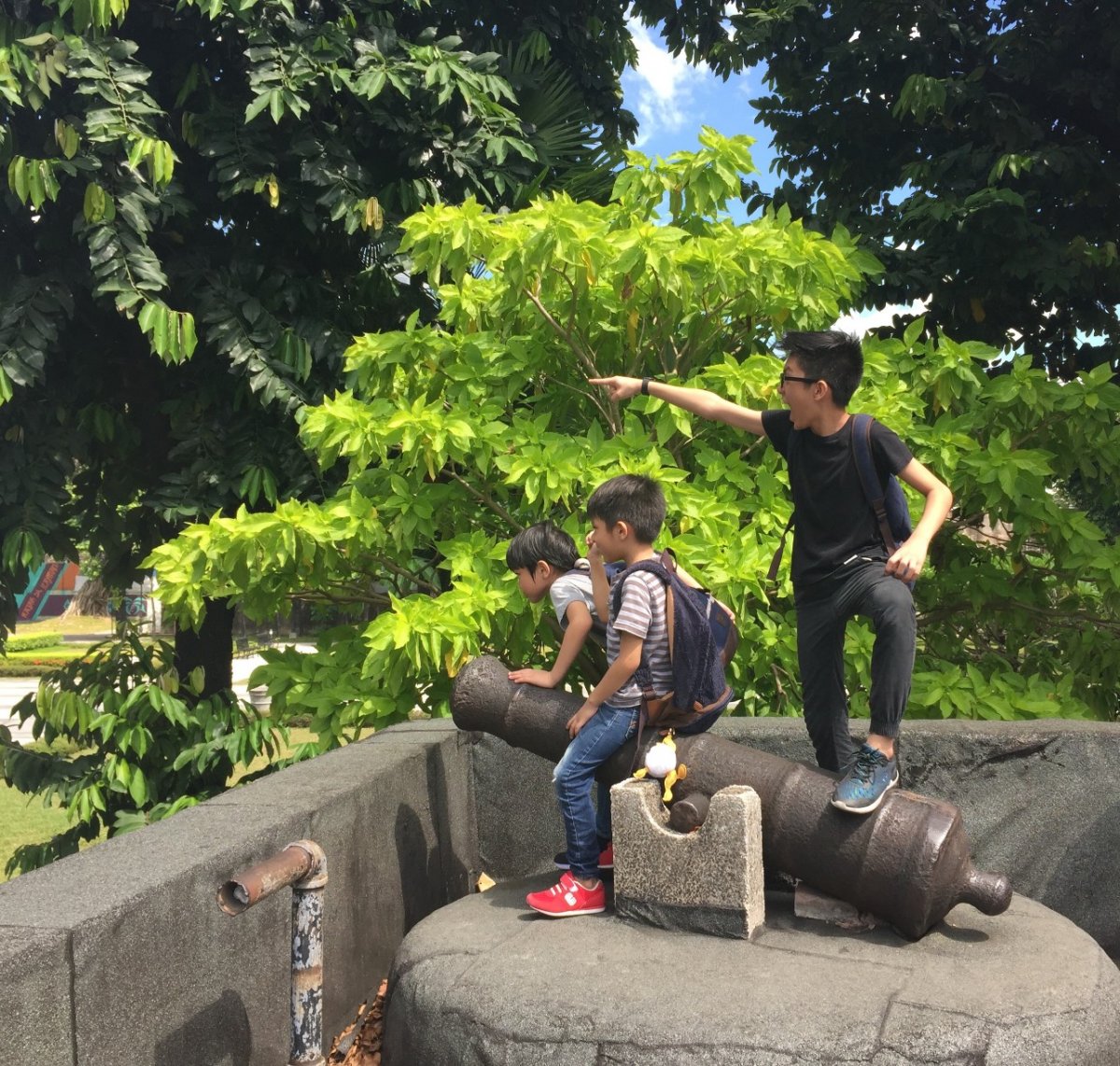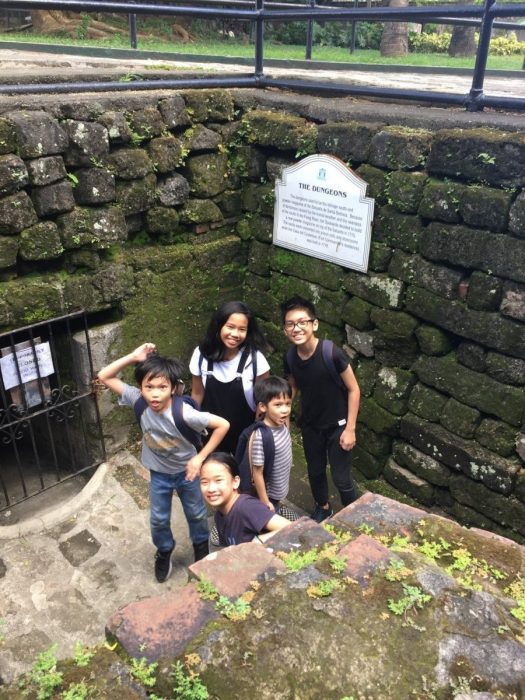 Rizal Shrine
Rizal Shrine opens at 1 PM. It used to serve as barracks for Spanish artillery, but was transformed into a prison cell for Jose Rizal where he spent his last days until execution – from November 3, 1896 to December 30, 1896.
It holds Rizal's memorabilias such as his fencing attire, the alcohol stove where he hid the poem Mi Ultimo Adios which he wrote the night before his execution, copies of Noli Me Tangere (which were very large and hard to hide), photos of him in different ages, photos of him with other Filipino heroes, and paintings of him, including one where he was teaching in Dapitan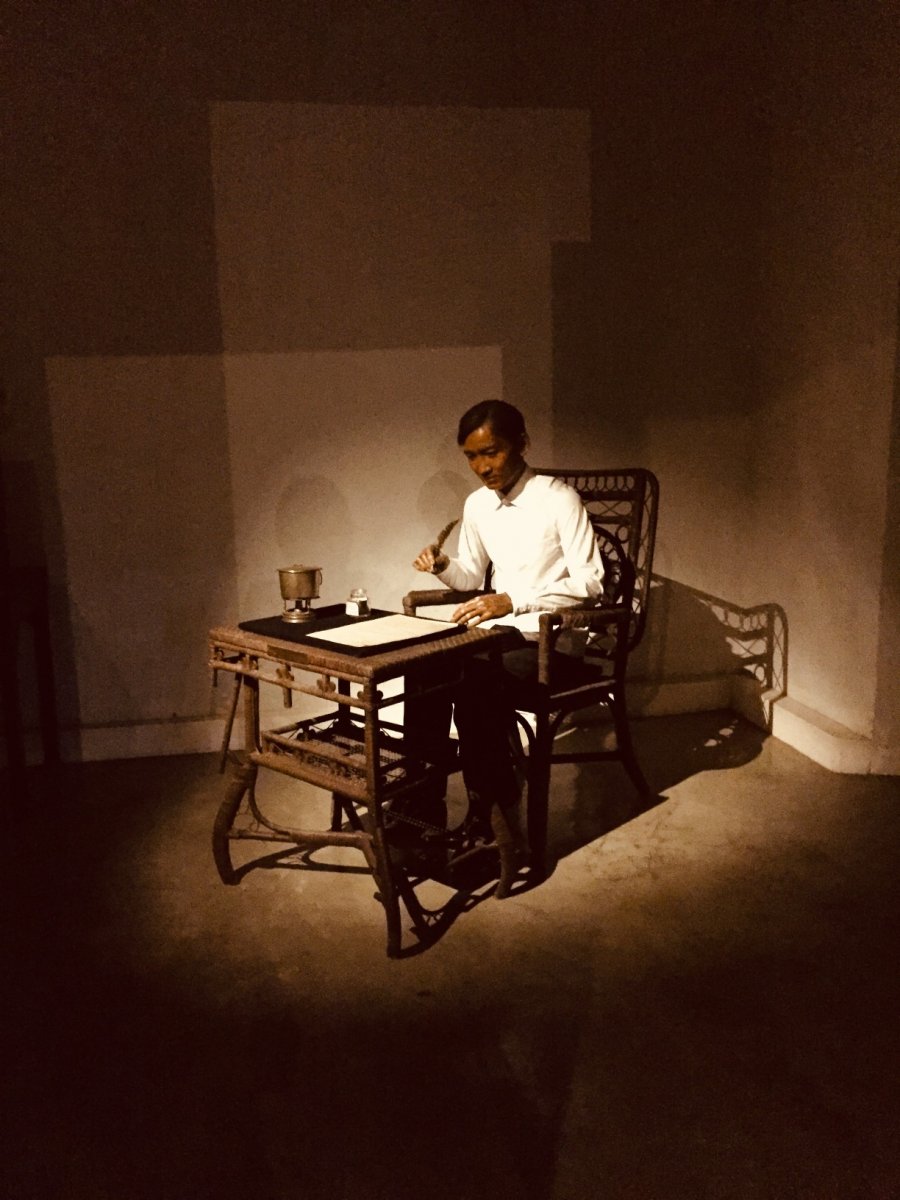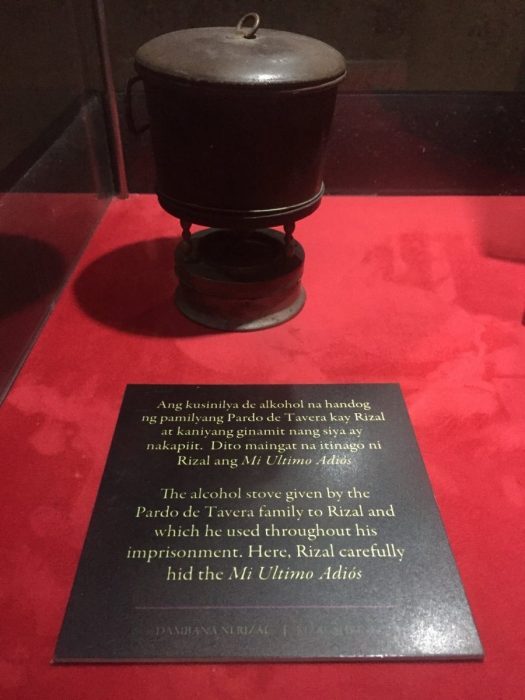 You will also see the tiny court room where he was sentenced to death by firing squad by the Governor-General and the 4-page letter his mother, Teodora Agoncillo, wrote to the Governor-General to ask for pardon for her son.
Instead, Jose Rizal's mother, sister and his beloved Josephine Bracken, were forbidden to approach Jose Rizal, not even for a final embrace, before he was led to Luneta where he was shot. It was such a sad story!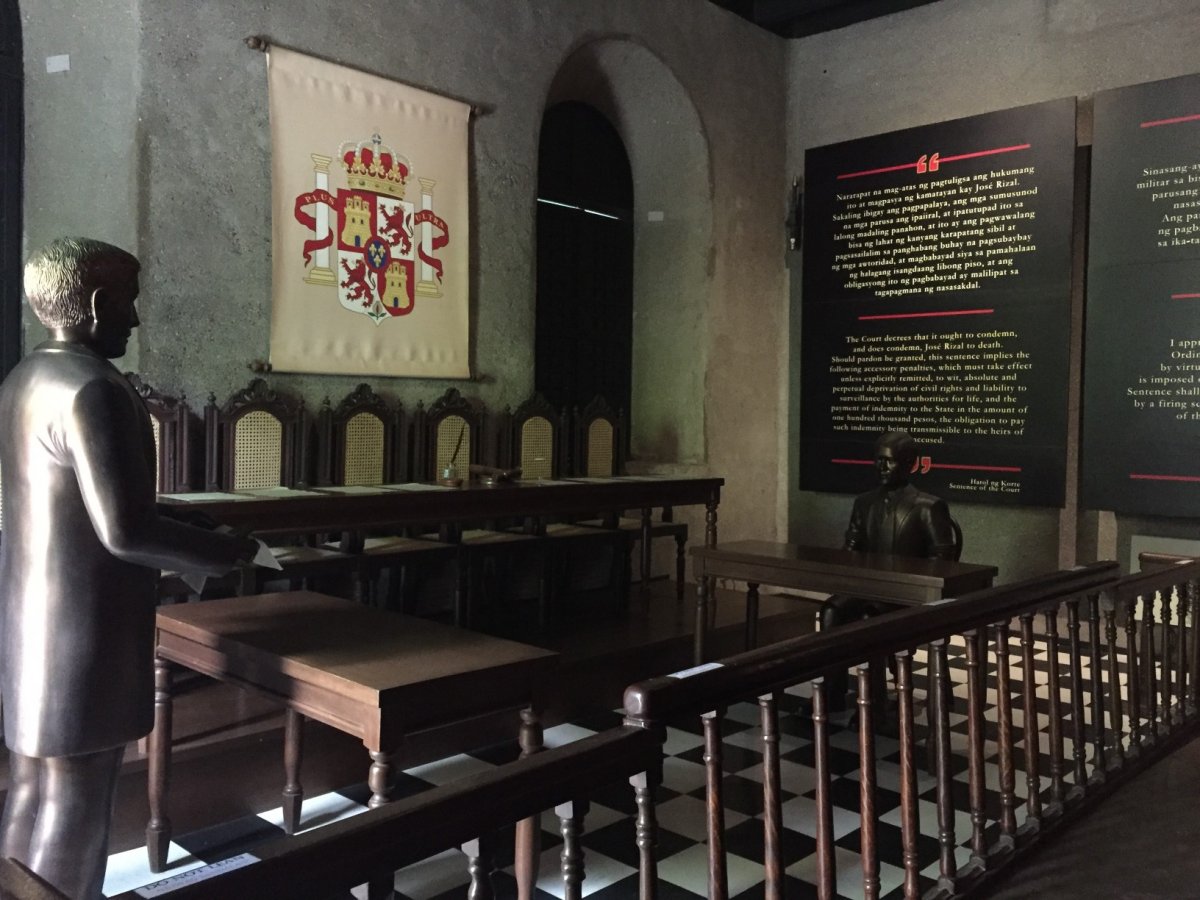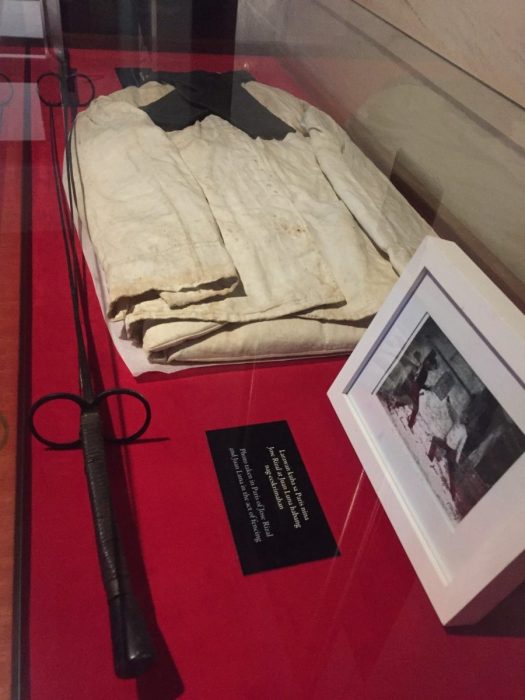 Jose Rizal came from one of the few privileged Filipino families that could afford to get him educated. He had traveled to Europe where his passion for our freedom was cultivated, most specifically in France where freedom and democracy was at its heart in those times.
Trivia 4: Did you know that educated Filipinos were considered a threat by the Spaniards and were executed during Rizal's time? This was how the priests, Gomez, Burgos and Zamora, lost their lives. They were who inspired Jose to fight for his people's freedom  from the oppression under Spanish rule.
Fort Santiago rate is PHP 75 for adults and PHP 60 for children and students. It includes access to the Rizal shrine, Baluarte de Santa Barbara, iFortress, and many other interesting sites.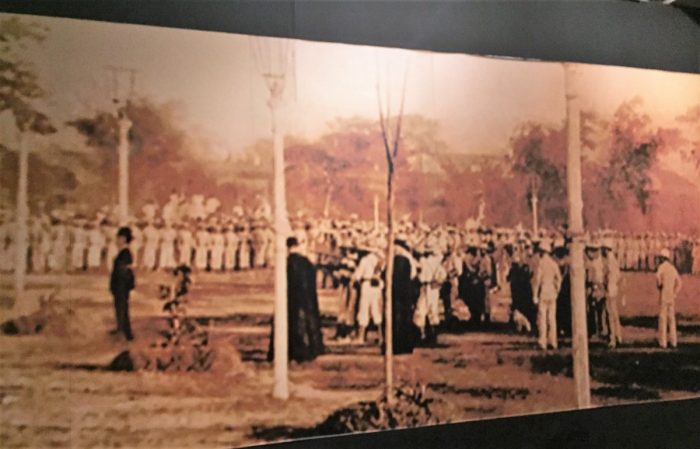 Manila Cathedral
Our first actual stop was the Manila Cathedral. It was where we met with the Luceros at around 10 AM before we went looking for the sites and museums.
Inside the church facility, you will find arts, relics and sculptures that tell stories about the Catholic faith.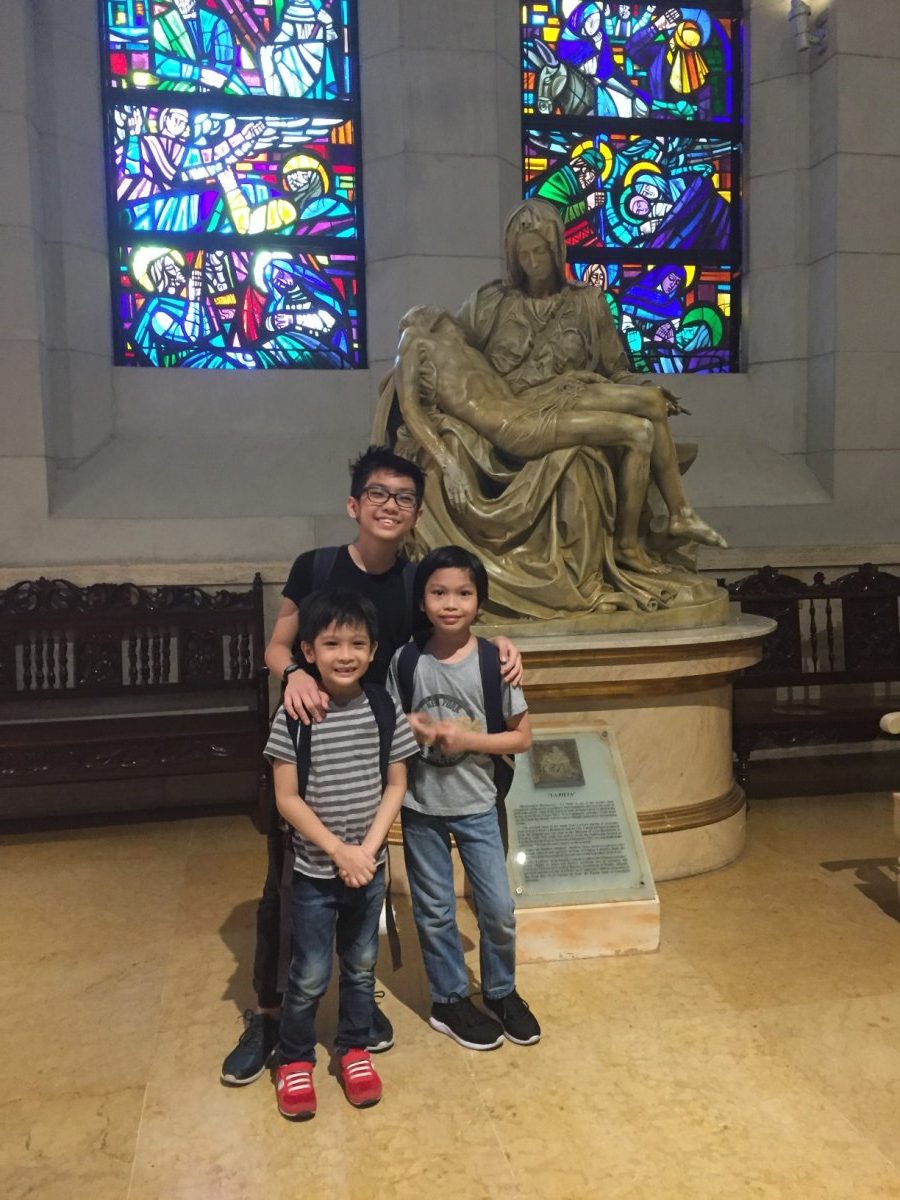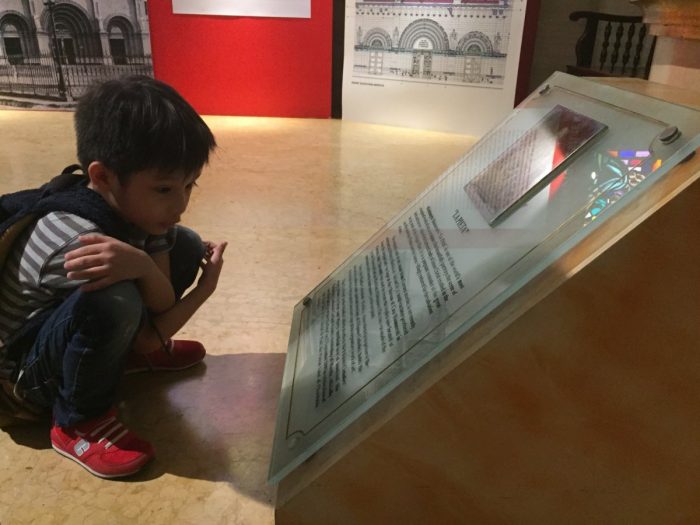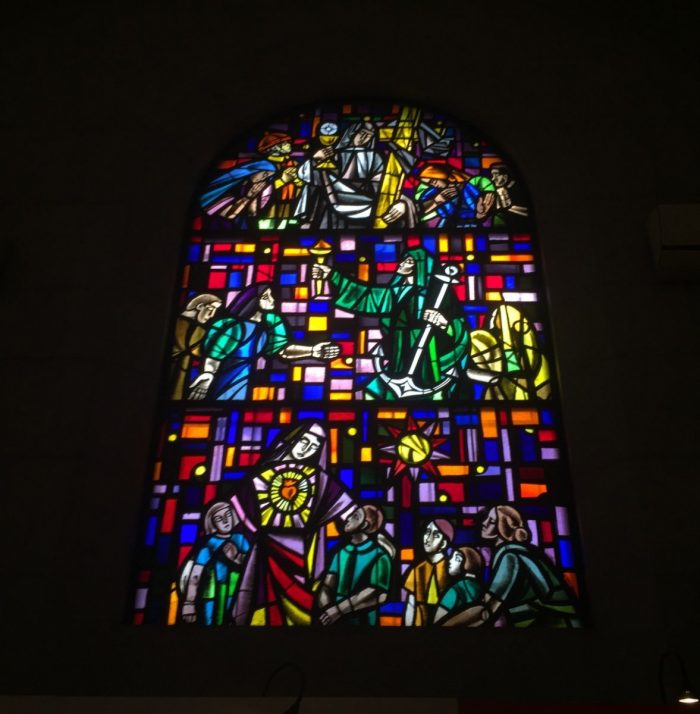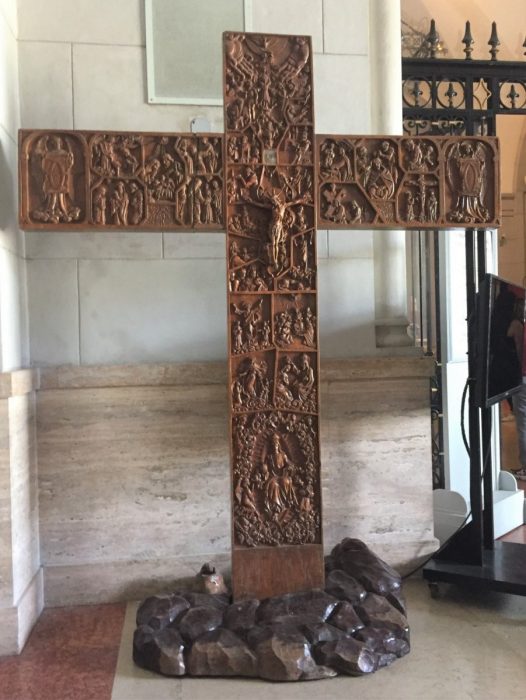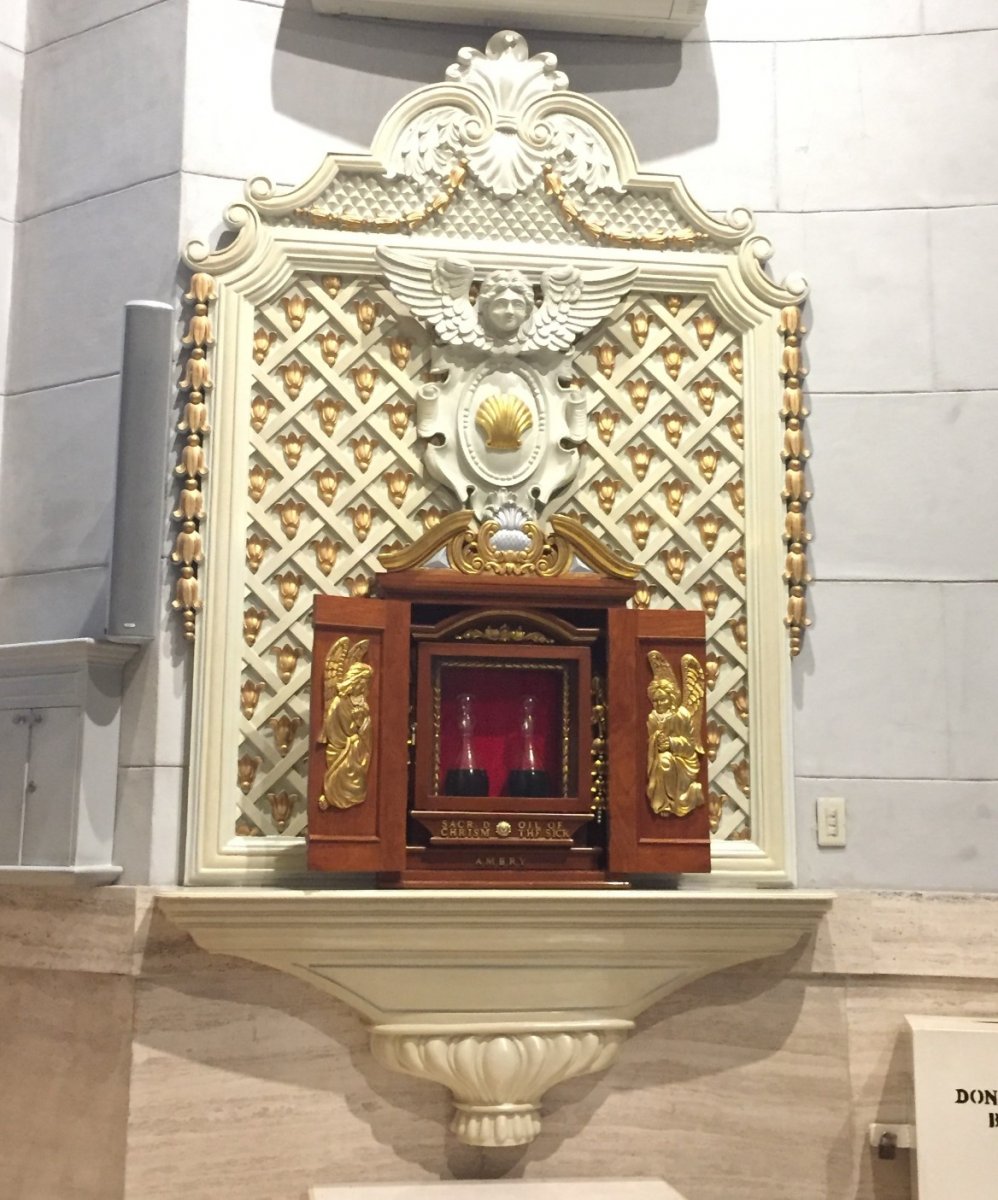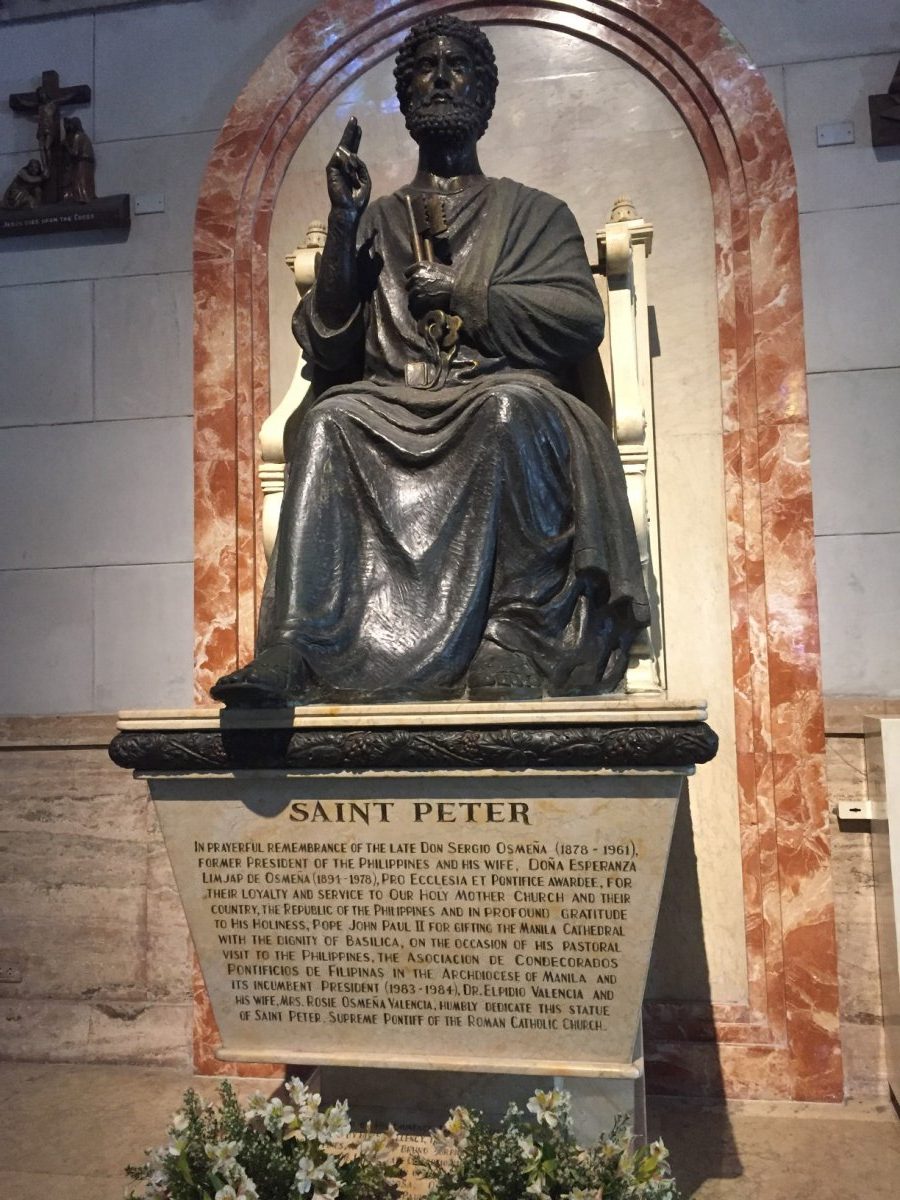 There was also a replica of Michelangelo's La Pieta which is a sculpture of Mary holding the dead body of Jesus.
Trivia #5: Did you know that The Manila Cathedral is the only Basilica blessed by the Pope? All other basilicas in the country were on the authority of the local Catholic church.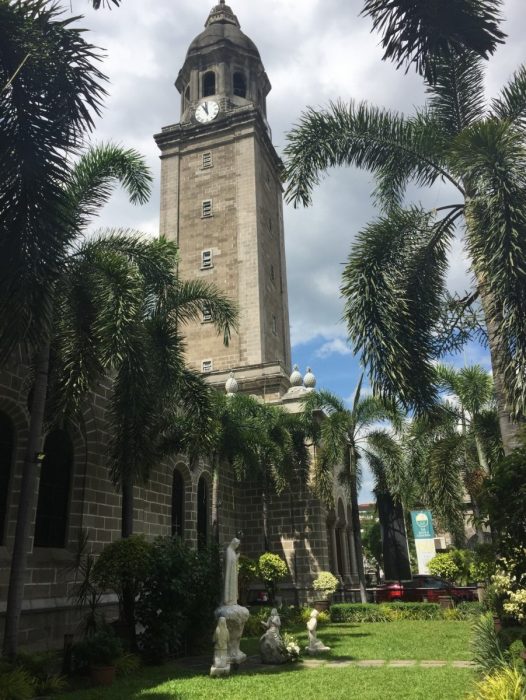 We heard the bell toll at the backyard of the basilica. The bells used to toll to alert people of incoming attacks and dangers, and to call the men to rise up in arms to defend the walls.
The Manila Cathedral had been burned down during the war and felled by earthquakes more than once. The one we see now is its 8th reincarnation.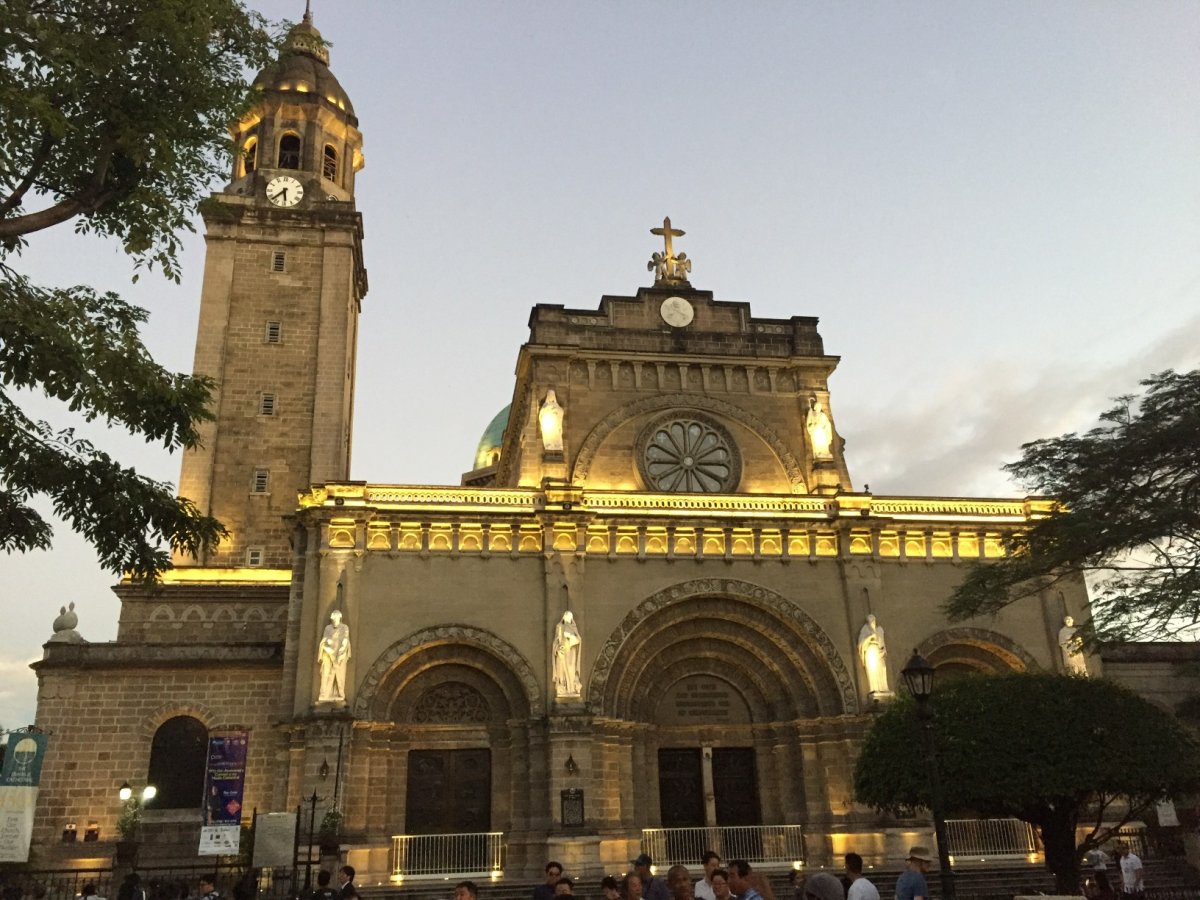 Palacio del Gobernador and Plaza de Roma
In front of Manila Cathedral is Plaza de Roma which was one of the two major plazas during the Spanish times. It served as the central public square that hosted bull fights and other city events.
It has now been converted into a garden with a sculpture-like slide painted bright pink. It was my 7-year old's most remembered spot during our tour of Intramuros, hahaha!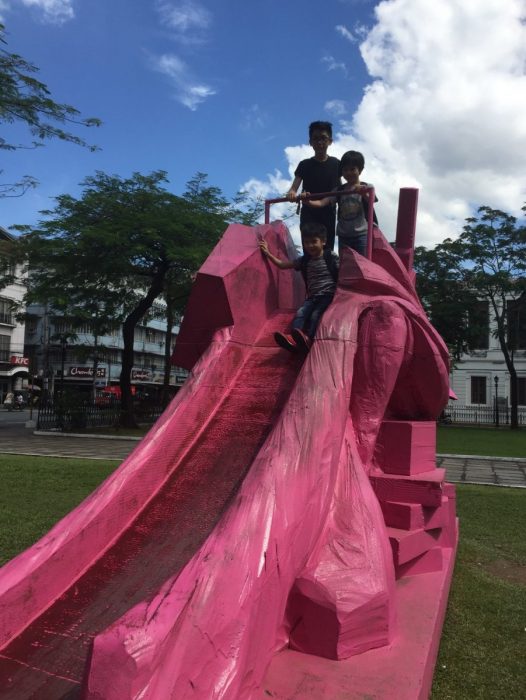 Palacio del Gobernador used to be the residence of the Spanish Governor General. It now serves as the government office for Intramuros.
I'm not sure if tourists are allowed to enter the building to sight-see, there were protesters rallying in front of the building that morning that we came so I didn't bother to find out.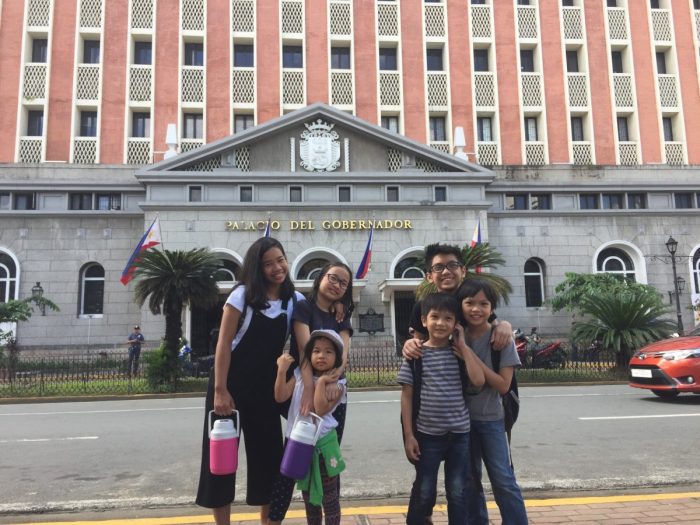 One day is not enough!
We found out that one day is not enough to explore and discover Intramuros on foot.  We weren't able to see Bahay Tsinoy, San Agustin Church, Baluarte de San Diego, and Casa Manila, which were sites we were also hoping to see with the kids.
Actually, we saw San Agustin Church, it was right beside the Beaterio, but instead of entering it, we decided to do the Lights and Sounds tour first and were left with only a few minutes before all sites and museums closed.
We went to Plaza de San Luis instead where Casa Manila was, but it was closed on Mondays, so we just stayed in Spanish colonial designed patio and rode bamboo bikes around the fountain.
(READ: Casa Manila in Intramuros)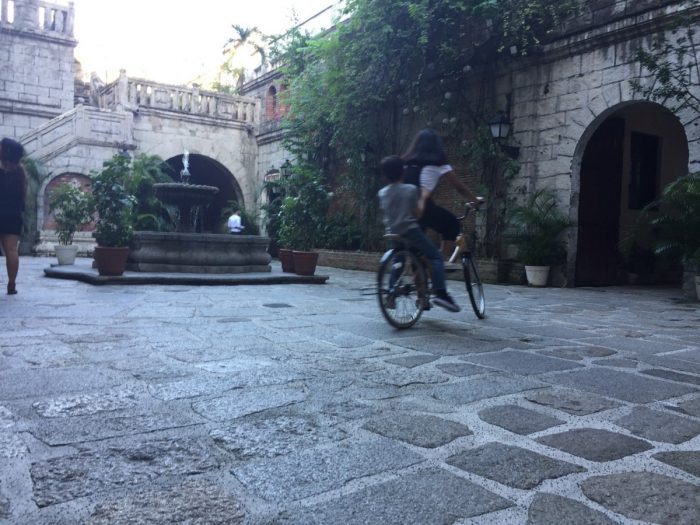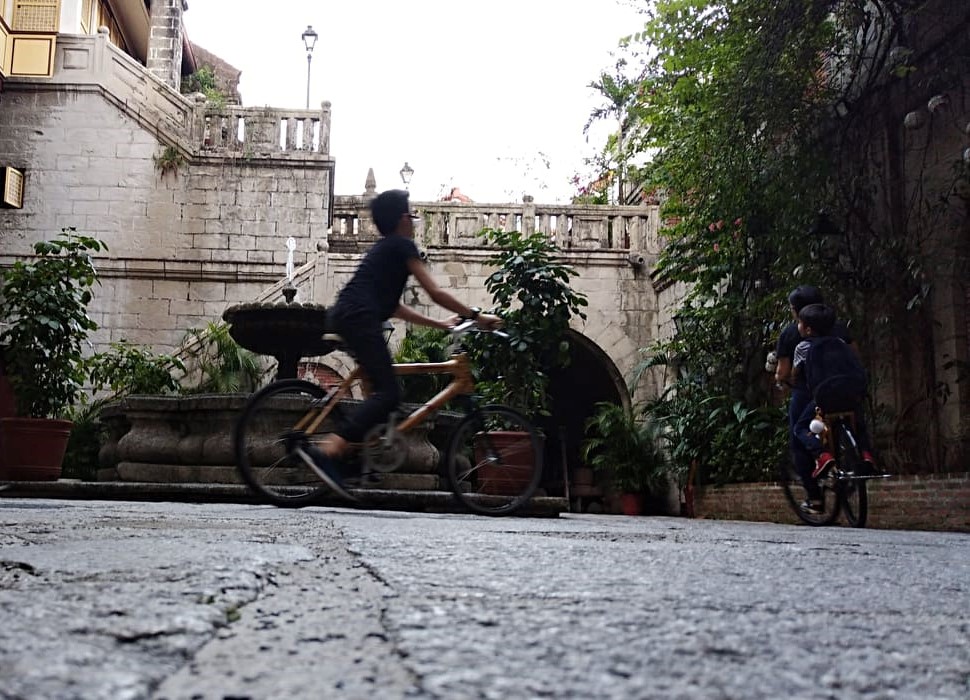 But more than just setting foot on these sites is the emotional experience of it all. You need to put in time to linger and soak it all in.
We now understand the real context of Filipino pride, the horrible maltreatment our people endured in the hands of colonists, and the depth of sacrifice the Filipino warriors had done for us to enjoy the freedom we now have.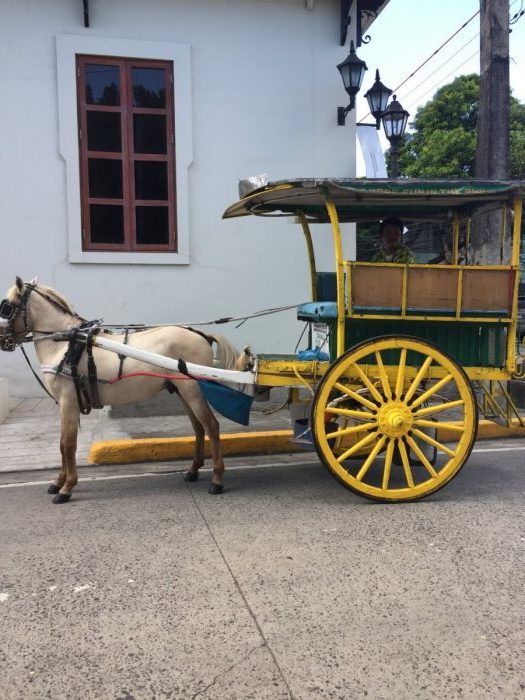 Here's a list of all the museums and sites, schedules and rates in Intramuros: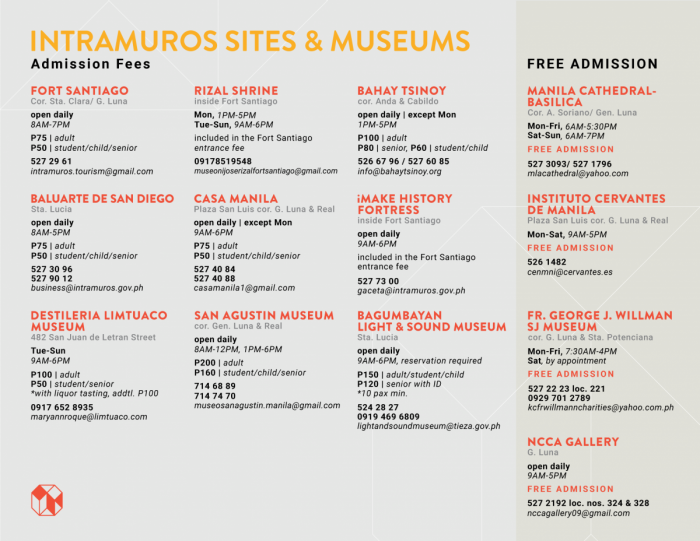 Tour options
Kalesas are for rent at PHP 500/hour for a group of 5 locals. They will take you to all the major sites but they can only stay outside the gates.
Another option to go around is the city tricycle which can take you from one point to another for PHP 25 per person per destination. It can accommodate up to 6 people per ride.
In our case, we walked.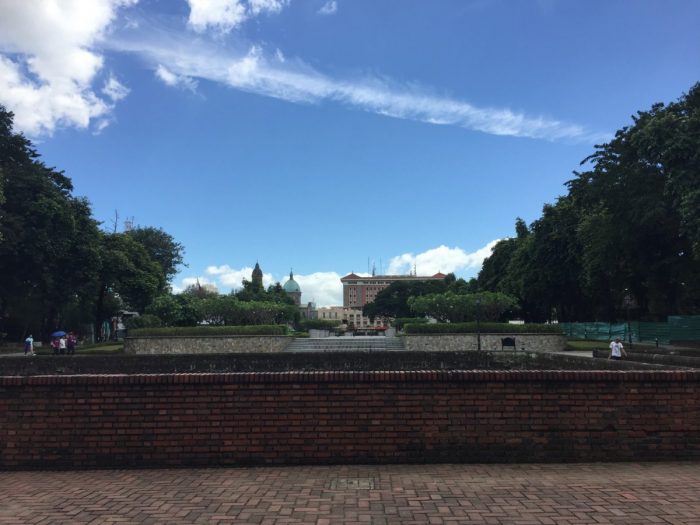 I think that Intramuros is worth going to. There are other remnants of the Spanish colonization, such as in Vigan and Bataan, but if you're from Manila and you haven't explored Intramuros yet, I urge you to take your kids to see it. It's rich with stories of our people and our roots.
We're coming back to see the rest of it soon!
Intramuros sites and museums are open from 10 AM to 5 PM. To get updates, follow "Official Intramuros Administration" on Facebook.